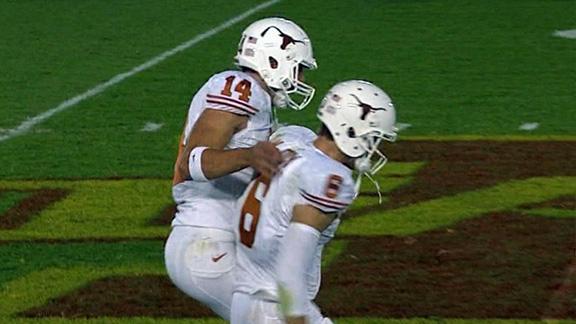 Will two QBs work?
Texas' quarterback issues have aged into the terrible twos.
It comes as no surprise that those responsible for this issue have settled on compromise.
To do that, Texas named David Ash as the starter -- with the caveat that Case McCoy would play. How much and when remains a question.
So too does the logic and strategy behind such a move. True, some might say, two are better than one. But, in quarterback parlance, if you have two that means you don't have one.
To put the issue to bed, or maybe just down for a nap, HornsNation's Carter Strickland and William Wilkerson each take a side of the debate in an attempt to pacify the masses.
PLAY BOTH QBS
LET ASH PLAY
Competition never over for Horns
By Carter Strickland
HornsNation
Archive
AUSTIN, Texas -- Here is the first, best and only argument that two quarterbacks will work for Texas: The opponent is Wyoming.
Any more comments? Didn't think so.
Listen, the reason the coaching staff is hedging its bets when it comes to the quarterbacks and who plays when or how much each plays is that it can. The first three opponents -- Wyoming, New Mexico and Ole Miss -- are no threat. David Ash and Case McCoy won't exactly be passing against air. But there is not a lockdown corner lurking among that triumvirate.
Plus, take a look at the run defense for this trio of teams. Each gave up more than 225 yards per game in 2011. So that whole run-setting-up-the-pass thing should work rather well. On the flip side, if the pass doesn't work Texas has plenty of parachutes for a QB in a free fall.
As for a tumble down the depth chart for Ash if he fails, co-offensive coordinator Bryan Harsin said these games were not an audition. The decision was made.
But, c'mon, every game is an audition. If it weren't, why go back and analyze the film, give out all those weekly awards and evaluate the depth chart? These games are auditions all right. They are auditions on the biggest stage available in Texas.
Besides, Texas got into this mess by not holding auditions every week. Players became complacent because they weren't pushed. Remember 2010? Texas coach Mack Brown, clearly realizing the error of his ways, has repeatedly said since then that no position is secure.
Now Texas has set up the perfect scenario in which Ash can be pushed and tested at every turn through the first three games without the fear of having the team fail. And if he fails as a thrower and a leader, Texas will have another quarterback ready to go.
Sure, it might make for a downfield pass or two during which Ash is looking over his shoulder. But, wait ... what was it Brown said?
"If you're scared about not having enough confidence at quarterback, you shouldn't be playing anyway."
Yep, that was it.
Texas always needs to be looking over its shoulder. Fear is one of the most primal impulses, if not the most, in humans. Always has been. Ever watch the TV show "Land of the Lost"? Marshall, Will and Holly ran like hell when those dinosaurs attacked.
The fear of being replaced as a starter should motivate Ash. If it doesn't, and he crumbles, Texas not only knows he is not the right quarterback for 2012 but also for 2013, the year the Longhorns will be poised to make a serious national title run.
So by all means Texas should play two. If it took 13 games of film, a spring practice, summer conditioning and two-and-a-half weeks of fall camp to name a starter, the Longhorns clearly don't have one. Not now, anyway. And the best way to find out whether they will have one in the future is to play two now.
Stick with sophomore, let him learn
By William Wilkerson
HornsNation
Archive
AUSTIN, Texas -- To this day I don't think I've seen a place erupt into as much sheer joy as the Texas Stadium concourse on Dec. 1, 2001, before Texas' Big 12 title game against Colorado.
The Longhorns entered the game No. 3 in the country and needed No. 2 Florida to lose at home to Tennessee for any chance to go to the BCS championship game. No. 1 Miami narrowly escaped an upset by Virginia Tech earlier in the day.
It felt like everyone who had a ticket to the Big 12 championship game was sardined around televisions near concession stands, watching the Florida game. Those in burnt orange simultaneously lost their minds when Florida couldn't complete a two-point conversion with 1:10 remaining and lost 34-32.
Texas' wishes had come true. Beat the Buffs, a team it had trounced 41-7 earlier in the season, and a trip to the Rose Bowl was all but guaranteed. Simple enough, right?
Chris Simms, then a junior, was finally living up to the hype he brought with him out of high school. He had started every game of the season to that point and his play hadn't warranted much reason for the Longhorns to replace him with Major Applewhite, the overwhelming fan favorite. The Simms-Applewhite debate from 2000 was all but done.
But then Simms had to go and throw three interceptions and lose a fumble in the first half against Colorado, supplying plenty of ammo for those who were pro-Applewhite. And Applewhite replaced Sims and nearly willed Texas to victory in a game Colorado won 39-37.
The redheaded wonder further cemented his place in Longhorns lore by throwing for a Texas record 473 yards and a Longhorn bowl game best four touchdowns in a Holiday Bowl win over Washington at season's end that conjured up plenty of "What ifs?"
What if Applewhite had started the season? What if Applewhite had started against Colorado?
It's easy to ask those questions now, but the fact of the matter is that Simms was playing with a ton of confidence heading into that game, and that he was The Quarterback, indisputably, had a lot to do with that.
He didn't share snaps with Applewhite like he did in 2000, when Texas went 9-3, and the Longhorns were better for it in 2001.
That sort of confidence should be bestowed on David Ash this season, if he can prove his worth. Sims built that trust with his play and led Texas to consecutive 11-2 seasons, including a then-school-record 26 touchdowns in 2002 with Chance Mock clear in his rear view.
For as much as the fear of being replaced as the starter by Case McCoy could motivate Ash, the confidence that the Longhorns can give him by not playing two quarterbacks would go a lot further. Just ask Sims.
Let him learn, let him succeed and let him fail. Most importantly, though, let him play the whole time. The Longhorns just might like the results.