Commentary
Elites suffer (brief?) bout of mediocrity
Texas has one of the richest athletic departments in the country, and the Longhorns got a lot wealthier when the school signed a 20-year, $300 million deal earlier this year to launch its own TV network in conjunction with ESPN.
The Longhorns sit in the middle of one of the country's most fertile recruiting grounds for college prospects, and their football facilities are the envy of just about every other program in the country.
But during last season's disastrous 5-7 campaign, Texas coach Mack Brown learned that none of his program's inherent advantages really matter when the actual games are played.
[+] Enlarge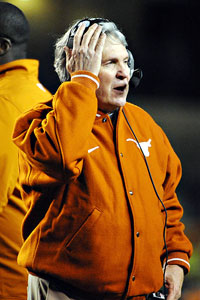 Brendan Maloney/US PresswireIt was a humbling season for Mack Brown and the Texas Longhorns in 2010.
"If you look at places across the country, USC has struggled at times," Brown said. "Nebraska has struggled at times. Michigan has struggled at times. Money doesn't guarantee you wins. Facilities don't guarantee you wins. You still have to line up every Saturday and win."
Last season, Texas didn't win on Saturdays very often. And the Longhorns weren't alone in their futility.
Traditional powerhouses like Florida, Georgia, Miami, Michigan, Penn State, USC and Tennessee also struggled mightily.
The aforementioned teams, which have combined to win 23 conference titles and six national championships since 2000, went a collective 54-49 in 2010.
Suddenly, the programs that were models for consistency and excellence for so long were nothing more than mediocre, over the span of four months at least.
"I'm old enough that I don't get mad and upset about what someone says about me," Brown said. "I probably feel more challenged and probably feel like I've got to go back and make sure I'm on top of my game. I'm probably more driven and more challenged than I've been in a long time."
How much of an anomaly was last season in terms of college football's traditional powers finishing among the game's elite? For the first time since 1937, which was only the second season in which The Associated Press ranked the country's football teams, Florida, Georgia, Miami, Michigan, Penn State, USC, Tennessee and Texas all failed to finish in the final Top 25 poll.
In 1937, those teams we now refer to as traditional powers didn't even have traditions yet. Schools such as Fordham, Villanova, Dartmouth, Santa Clara, Yale and Holy Cross occupied their places in the final AP poll.
Since then, at least one of the aforementioned traditional heavyweights finished in the top five of the final AP poll in 61 of 73 seasons since 1938, including 34 straight seasons from 1976 to 2009.
"Winning is cyclical," said former Florida State coach Bobby Bowden. "People don't understand how difficult it is to win every year. Getting there is hard enough; staying on top is even harder."
Bowden, who is about to enter his second season of retirement, understood how to deal with expectations better than almost anyone. He guided the Seminoles to 10 victories or more and a top-five finish in 14 consecutive seasons from 1987 to 2000.
But in Bowden's last nine seasons at FSU, his teams lost five games or more in five seasons from 2001 to 2009.
"It doesn't matter who you are or what the name on the front of your jersey says, you're going to have a tough season every once in a while," Bowden said. "It's just too dad-gum hard to stay on top."
It's especially difficult when off-field circumstances conspire against a team's success on the field. USC was hit with scholarship reductions and won't be eligible for a bowl game this season as it completes a two-year bowl ban as part of the Trojans' punishment, handed out by the NCAA, for violations dating back to when Reggie Bush was in uniform. USC coach Lane Kiffin declared himself pleased to move forward after the NCAA upheld the Trojans' penalties on appeal.
Speaking of moving forward, Tennessee is in the midst of rebuilding under new coach Derek Dooley after the NCAA turned its penalizing eye toward the Volunteers' program when recruiting violations were found to have occurred under Kiffin's watch in Knoxville.
Brown, who guided the Longhorns to 10 wins or more in nine straight seasons from 2001 to 2009, said his players didn't have time to sit around and mope about their problems during the offseason. After a 24-17 loss to rival Texas A&M knocked the Longhorns out of bowl contention last season, Brown delivered an important message to his players.
[+] Enlarge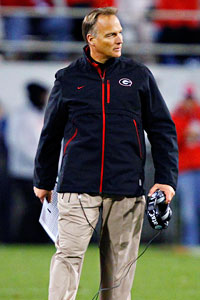 Josh D. Weiss/US PresswireMark Richt called last year's loss to Mississippi State a "frustrating day."
"Y'all didn't come to Texas to go 5-7," Brown told them. "I didn't come here to go 5-7. Let's go get it fixed."
Brown responded by overhauling his coaching staff, hiring five new assistants, including both coordinators. Brown also opened competition at every position. His staff won't release a depth chart until shortly before the Sept. 3 opener against Rice.
For the most part, Brown said his players have responded to his challenge.
"We do have something to prove," Longhorns linebacker Emmanuel Acho said. "We have to prove that last year wasn't Texas."
Added linebacker Keenen Robinson: "Guys that came here last year only knew Texas winning. It's good for us to have to earn our respect back."
Georgia also is trying to earn back respect after falling to the middle of the SEC during the past two seasons. UGA coach Mark Richt guided the Bulldogs to nine victories or more in seven straight seasons from 2002 to 2008. But the Bulldogs went 14-13 the past two seasons combined, including a woeful 6-7 finish in 2010.
This year, Richt has to prove the past two seasons were nothing more than road bumps.
"I know if you walk into the Butts-Mehre building [which houses UGA's football locker room and weight room], there's not one sense of doom or gloom," Richt said. "There's only excitement, only guys that are thankful that we've got a new season and a clean slate. The expectations are just as high as they've ever been going into any season."
New Michigan coach Brady Hoke, who was lured away from San Diego State to replace the fired Rich Rodriguez, isn't backing down from the Wolverines' lofty expectations or rich tradition, either.
Rodriguez was fired after the Wolverines went 15-22 during his three seasons at the school. Even though Hoke and his assistants are overhauling the way Michigan plays -- returning to its blue-collar roots more than anything else -- he doesn't expect Year 1 to be an adjustment period.
"I don't think we're rebuilding, period," Hoke said. "I mean, we're Michigan. We've got kids who understand that they're Michigan. I don't put any stock into that.
"This might sound arrogant, and if it is, it is. We're Michigan. We have a global education. We're the winningest program in the history of college football."
Like Texas, though, Michigan failed to reach the lofty standards it demands of itself -- and its fans expect.
Brown hopes that's what drives his team to better results in 2011.
"There is a certain motivation when you tell kids they're not any good and they're not going to do anything and they're not in the top 10," Brown said. "[You take away] the things they came to Texas for and that they've had and then lost [last] year; there's a certain motivation for that. If you ask me if I'd rather have this or the expectation to win the national championship, I'd say I'd rather have the expectation to win the national championship because it means that we're supposed to be really good."
But even the traditional heavyweights like Texas aren't good every year.
Mark Schlabach covers college sports for ESPN.com. You can contact him at schlabachma@yahoo.com.
College Football and Basketball
College football writer for ESPN.com
Author of seven books on college football
Formerly at the Washington Post and the Atlanta Journal-Constitution
2011 COLLEGE FOOTBALL PREVIEW
After an offseason of scandal and upheaval, it's time to envision a brighter future for college football. Call it a New Deal for a new season. Preview home »
2011 PREVIEW
BLOGGERS
POWER RANKINGS
HEISMAN WATCH
ALL-AMERICAN TEAM
ESPN THE MAGAZINE
VIDEO
MORE COLLEGE FOOTBALL HEADLINES
Adidas Youth Michigan Wolverines #98 White Replica Football Jersey Shop »

MOST SENT STORIES ON ESPN.COM