2012 College Football Kickoff
The Stars Are Out
They're the best the 2012 season has to offer. Whose star will shine brightest? All-America Team »
All-conference picks »Hot Button: Barkley vs. the field? »Heisman Watch »Breakout players

ESPN.com Illustration
COACH SPEAK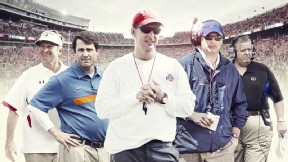 Coaches know how short memories can be in college football. They also know that history never forgets. Ivan Maisel »
• Thompson: Meyer will be home for dinner »
• Adelson: Copying coaches part of the game »
• Spurrier's SEC » Weis, Davie start fresh »
• Schlabach: Hot seat sizzles » Win or else?

BLUE RIBBON PREVIEWS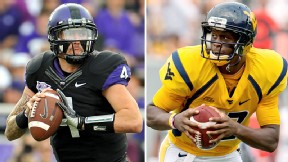 The anticipation is building as the 2012 season is just around the corner. ESPN Insider has teamed with Blue Ribbon to provide previews for all 122 FBS teams. Blue Ribbon home »
COLUMNISTS
Ivan Maisel
The King's Speech
Much has changed in Texas since Jerry LeVias had a secret meeting in 1966 with Dr. King.
Mark Schlabach
Uncharted Territory
Cash-strapped HBCUs will have to get creative to maintain viable programs.
Gene Wojciechowski
COLLEGE FOOTBALL BLOG NETWORK
CHAMPS VS. CHALLENGERS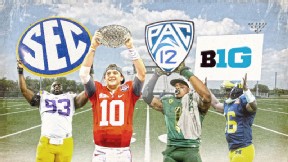 It's the SEC's world; we're all just living in it. The league still reigns supreme. But there are signs that the streak may be in jeopardy.
• Low: SEC's secret weapon » SEC Kryptonite »
• Low: Alabama focuses on the present »
• Maisel: USC survives and prospers »
• McGee: Top 5 SEC challengers

COLLEGE FOOTBALL TV SCHEDULE