Jerry Kill returns to sideline
Updated:
December 28, 2013, 9:40 AM ET
Associated Press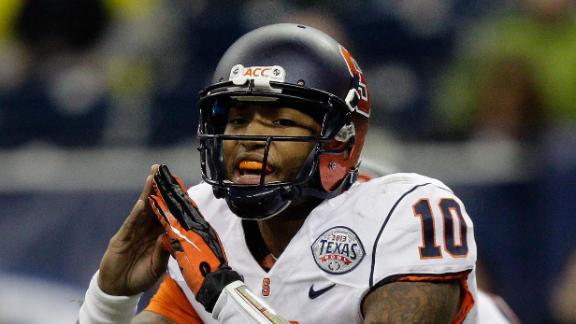 Hunt, Syracuse Battle Past Minnesota
Syracuse QB Terrel Hunt rushed for two touchdowns in the Orange's 21-17 win over Minnesota in the Texas Bowl.
Hunt, Syracuse Battle Past Minnesota
HOUSTON -- Minnesota coach Jerry Kill has returned to the sideline for the first time since Sept. 28 in the second half of the Texas Bowl against Syracuse.
Kill began the Texas Bowl from the press box where he has observed his team since returning from a leave of absence because of his epilepsy. He was on the sideline to start the second half of the bowl game with his team trailing 7-3.
Kill has had five seizures on game day in his two-plus seasons with the Golden Gophers. He took the leave of absence in October and returned a couple of weeks later.

Copyright 2013 by The Associated Press
EDITORS' PICKS
Clemson and Florida State are tied late.
GameCast

No. 4 Oklahoma beats West Virginia on the road.
Boxscore

After an ugly first three quarters, Alabama took over in the fourth.
Analysis »