Blue Ribbon Preview: Navy
Updated:
July 13, 2011, 10:00 AM ET
Blue Ribbon College Football Yearbook
Editor's Note: ESPN Insider has teamed with Blue Ribbon College Football Yearbook to provide a comprehensive look at all 120 FBS teams. To order the complete 2011 edition of Blue Ribbon College Football Yearbook, visit www.blueribbonyearbookonline.com or call 1-877-807-4857 Monday through Friday from 9 a.m. to 5 p.m. Eastern. This information is up to date as of June 25.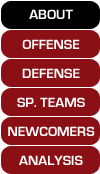 ABOUT
The NCAA allows college football teams 15 spring practices, 12 of which can be in pads, and eight of which can involve tackling. Rarely do coaches take advantage of all eight tackling days. But this spring, Navy head coach Ken Niumatalolo did just that.
"You have eight tackling [practices out of 15], so that means approximately 50 percent of the time you can tackle," Niumatalolo said. "Forty-nine-point-nine percent of the time we were tackling."
Niumatalolo isn't a masochist, but he is a realist. The Midshipmen entered the spring with plenty of holes to fill and depth to build, especially on defense, where they lost eight starters. Niumatalolo knew that shell drills weren't going to help him and his staff figure out the depth chart. He needed to see the players in action.
"The only way you're going to answer any questions is by tackling," Niumatalolo said.
2011 Schedule
Sept. 3 -- Delaware
10 -- @Western Kentucky
17 -- @South Carolina
Oct. 1 -- Air Force
8 -- Southern Miss
15 -- @Rutgers
22 -- East Carolina
29 -- @Notre Dame
Nov. 5 -- Troy
12 -- @SMU
19 -- @San Jose State
Dec. 10 -- Army*
*Landover, MD
•
2010 Schedule and Results
•
2010 Statistics
Niumatalolo didn't limit his pads-on philosophy to the defense.
"Normally, we have the quarterbacks in green, which means they are off limits to hit," Niumatalolo said. "But this spring, the only quarterback that [was] off limits is [Kriss] Proctor. The other guys are going to be in blue because I don't know what Trey Miller or Jarvis Cummings can do."
Senior fullback and co-captain Alex Teich, who sat out the spring recovering from shoulder surgery, saw (and heard) the difference more tackling made in practice.
"Every day, we were having guys going against each other, getting after it," Teich said. "We needed to see who could step up."
THE STAFF
INDEPENDENT TEAMS
Head Coach: Ken Niumatalolo (Hawaii '90)
Record at school: 27-14 (3 years)
Career record: 27-14 (3 years)
Assistants:
• Ivin Jasper (Hawaii '94) Offensive coordinator/quarterbacks
• Buddy Green (NC State '76) Defensive coordinator
• Chris Culton (Georgia Southern '01) Offensive line/tackles
• Justin Davis (Maine '01) Defensive line
• Tony Grantham (Radford '00) Outside linebackers
• Ashley Ingram (North Alabama '96) Offensive line/centers and guards
• Steve Johns (Occidental College '91) Inside linebackers/special teams coordinator
• Keith Jones (The Citadel '75) Secondary
• Mike Judge (Springfield College '05) Fullbacks
• Danny O'Rourke (West Georgia '00) Slot backs
• Dale Pehrson (Utah '96) Defensive line/recruiting coordinator
• Napolean Sykes (Wake Forest '06) Assistant outside linebackers
• Mick Yolkitis Wide receivers
SPONSORED HEADLINES
MORE COLLEGE FOOTBALL HEADLINES
MOST SENT STORIES ON ESPN.COM
BLUE RIBBON: INDEPENDENT PREVIEWS
"Blue Ribbon College Football Yearbook" previews the 2011 season for each Independent school. Take a look:
Independents
Blue Ribbon Central