Commentary
Goals to go
We asked four stars to reveal their 2011 goals for us. Here's what they had to say.
Updated:
August 9, 2011, 10:22 AM ET
By
Bruce Feldman
| ESPN The Magazine
This story appears in the Aug. 22, 2011 issue of ESPN The Magazine.
The old self-help adage goes: People who write down their goals every day achieve them. So we asked four of college football's best -- Stanford's Andrew Luck, Alabama's Trent Richardson, Miami's Marcus Forston and Pitt's Brandon Lindsey -- to do just that and share them with us. We promised we'd check back during the season -- and that we wouldn't judge if they started to slide. After all, they may be busy winning games.
JIM HARBAUGH SAT AT A ROUNDTABLE and was on the cusp of delivering a startling assessment regarding the future of his budding star.
The 2009 season was a few weeks away, and Harbaugh had gone 9-15 in his first two years as coach at Stanford. But he was upbeat about the promise of the upcoming year, specifically because of his redshirt freshman quarterback. The kid hadn't taken a snap in college, but Harbaugh had seen enough in practice to know what he had. Over the course of 30 minutes, Harbaugh lauded Andrew Luck, saying he had Tom Brady-type smarts and accuracy. He might have even invented a coaching term. "Andrew has great memory talent," he said several times, meaning he rarely makes rookie mistakes -- and never the same mistake twice.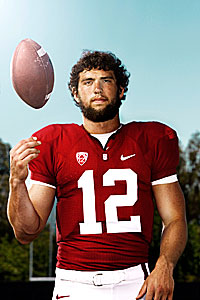 James + Therese for ESPN The MagazineLuck impressed his former coach Jim Harbaugh right from the start.
So it turns out, Harbaugh may have actually undersold his former quarterback. In his two seasons as a starter, Luck has blossomed into the nation's top college football player and is perhaps the closest thing to a can't-miss quarterback prospect in more than a decade. Look at his statistical progression alone. As a freshman, Luck completed 56.2 percent of his passes, with 13 touchdowns and four interceptions. Last season, as a sophomore, his numbers leapt to 70.7 percent, 32 and eight. He also ran for 453 yards and was sacked only six times, the second fewest in the nation. More important, last winter Luck closed out a season in which he led Stanford to a 12-1 record and a BCS bowl win and finished second to Cam Newton for the Heisman. Had Luck declared for the draft, the 6'4", 235-pound junior probably would not have finished behind Newton a second time. "He's very rare in that I just don't see any flaws in his game at all," USC coach Lane Kiffin said in December. "He's going to be a great, great player."
Even coaches who haven't played against Luck admire him from afar. "When you watch him, the thing that is most amazing is that he's in total control of the game," says Penn State defensive coordinator Tom Bradley. "He's one of the few college quarterbacks I've seen who is always one step ahead of the defense -- and the defensive coaches too."
Yet it's August and Luck is back in Palo Alto, wearing Cardinal red instead of counting his NFL green. His plate is full; he's wrapping up his architectural design degree, and he's prepping to lead the nation's No. 7 team, according to our preseason poll. Although Harbaugh has departed for the 49ers' top job, Luck is quite comfortable with rookie head man David Shaw, the Cardinal's former offensive coordinator. "I've known Coach Shaw since he's been here," Luck says. "I love him as a coach, I love him as a person. The leadership from the offices upstairs is still very strong."
Year of the Quarterback

ESPN has dedicated 2011 to examining one of the most crucial positions in all of sports -- the quarterback.
Year of the QB »
Shaw recruited Luck, and those two and Harbaugh have spent hours over the past three years honing the QB's mechanics. His biggest area of improvement? "Understanding how to use my whole body to throw the football, instead of just my arm, and how much understanding your read from the get-go can help you put the ball in the right spot," Luck says.
The offense will stay much the same. With Shaw as the offensive coordinator and Luck under center, Stanford set a school record for points in 2009 (461), then scratched out that record last year with 524. The only tweak may be a bigger reliance on what might be the nation's best tight end group as the Cardinal break in two new starting wideouts. Even that's not a big shift. In the Orange Bowl, Luck threw four touchdowns -- all to his tight ends. "Obviously, we had some good receivers graduate," Luck says. "The focus this off-season was getting back to square one with the receivers, for them to understand where I like to put the ball and for me to get a sense of how they run certain routes."
He still has work to do, he says, and has spent the off-season reminding young players that Stanford hasn't always been a top-10 team with Heisman finalists. Back in Luck's redshirt year, as Harbaugh was watching a future star emerge in practice, Luck spent Saturdays watching Stanford go 5-7, with four losses by 17-plus points. "It's understanding that anybody can beat you any day," the junior says. "You have to bring it every day."
Take it from a guy who remembers.
---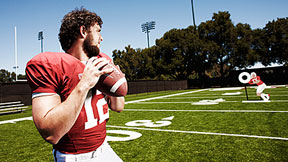 James + Therese for ESPN The MagazineLuck has his sights set even higher for 2011.
ANDREW LUCK, STANFORD QB
After last fall, most NFL scouts saw Luck as a finished product worthy of the top pick in the draft. Luck? He saw two pieces of unfinished business. He placed second in the Heisman voting, and one second-half letdown against Oregon in October kept the Cardinal from winning the Pac-10. To remedy those issues, Luck is zeroing in on an individual goal of boosting his pass accuracy from 70.7 percent to 75.7 percent. "Completion percentage is a big thing," Luck says. That would put him a few great catches away from Colt McCoy's 2008 FBS record of 76.7 percent. And that individual goal might help Luck power the Cardinal to a championship.
Player Goal: Improve completion rate by five percentage points
Team Goal: Win the Pac-12
Personal: Goal Be a better friend
---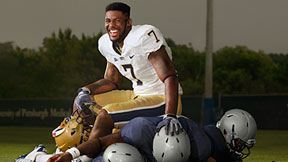 James + Therese for ESPN The MagazineLindsey will challenge West Virginia's Bruce Irvin to be the Big East's sacks leader.
BRANDON LINDSEY, PITT DEFENSIVE END
Only eight NCAA players who had 10 sacks last season are back in 2011. Lindsey, Pitt's supreme QB hurrier, is one of them. As is Big East rival Bruce Irvin of West Virginia. So when Lindsey says that he wants to be his conference's defensive player of the year, he knows his competition well. "Irvin is a high-motor guy who's real quick off the ball," the senior says. "We are basically mirrors of each other." For Lindsey even to be in the conversation is surprising. Coming out of nearby Aliquippa High in 2007, Lindsey was recruited by most of the Big East as a 220-pound running back/linebacker project. In a strong group of blue chips, he wasn't even one of the 10 highest-rated prospects in Dave Wannstedt's signing class that year. Fast-forward four years, one coaching change and 30 pounds of muscle: The 6'2", 250-pounder will play a James Harrison-type hybrid LB/DE position in new coach Todd Graham's attacking 3-4 defense. "He's a guy we think can be special by standing him up," Graham says. "He'll continue to have a really big impact on rushing the quarterback." Lindsey spent June scribbling down his goals, which he taped in his locker. "I write them down over and over in my notebooks too," he says. "Mentally, writing down my goals every day will help me keep my eyes on the prizes." -Morty Ain
Player Goal: Win Big East Defensive Player of the Year
Team Goal: Win the Big East
Personal Goal: Earn my administration of justice degree in December
---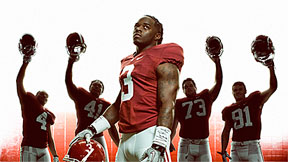 Amy Guip for ESPN The MagazineWith Mark Ingram in the NFL, it's Richardson's turn to seize the spotlight.
TRENT RICHARDSON, ALABAMA RUNNING BACK
It seemed to come so easily in 2009. An SEC title. A BCS national championship win. And a Heisman Trophy for Mark Ingram -- the running back Trent Richardson spent his freshman year sharing snaps with. Richardson studied the way Ingram and other team leaders came alive, whether in the huddle, the locker room or at home. But last season, when Alabama needed someone to step up, Richardson froze. "There were times when something needed to be said, and I had something to say, but I didn't know how to say it," he says. "So I would be quiet." Richardson says things are different this season because he's been writing down his goals each morning, and the ritual has given him the confidence to find his voice. "It's easy to set a goal and slack off or forget about it," he says. "But when you write it down, you're saying, 'I want to achieve this, and I don't want to fail.'" At an early-morning practice in late July, Richardson arrived at the facility to find several of his teammates dragging and complaining about the heat. "I said, 'You've had all summer off and you're here now,'" Richardson says. "I told them, 'Run onto that field like you're walking into the ring. Run these drills like they're the last ones you'll ever run. Run them like we're in the championship game.'" And with that kind of leadership, they just might be. -Alyssa Roenigk
Player Goal: Develop into a leader
Team Goal: Win the BCS title
Personal Goal: Earn Academic All-America honors
---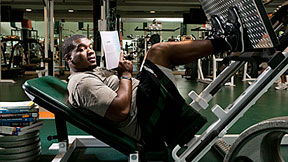 John Loomis for ESPN The MagazineForston wants to bring an ACC title to South Beach.
MARCUS FORSTON, MIAMI DEFENSIVE TACKLE
In January, Forston was on the fence. The junior was a potential first-round draft pick with a 6'3", 320-pound frame and 4.9 speed that had scouts salivating. His mom and dad, a bus aide and a retired longshoreman, had struggled for years to put Forston in school clothes. The tug to leave Miami was inescapable. "It was very tempting, understanding the situation my parents are in," Forston says. But neither parent had graduated from high school, and the three of them decided to put degree before dollars. So Forston opted to return to Coral Gables to play under new coach Al Golden. One of the first things Golden asked Forston and all the Canes to do was start visualizing specific goals and how to execute them. First on Forston's list: Shed about 25 pounds and get down to the 295 range. So this spring he cut out greasy food, sugary drinks and late-evening meals. He also replaced junk food with lean meats like chicken and turkey, and he even ate ... spinach. By midsummer, Forston was at 298. But his goals aren't contained to just his weight or the weight room. Forston has placed special emphasis on his personal goal of graduating with his criminal justice degree. "I'll probably have 30 people there to watch me walk across the stage," he says. He'll probably have at least that many in April to see him cross another stage -- the one where he walks toward Roger Goodell for a handshake. -Bruce Feldman
Player Goal: Be the first DT taken in the draft
Team Goal: Win the ACC title
Personal Goal: Graduate with a 3.0
SPONSORED HEADLINES
MORE COLLEGE FOOTBALL HEADLINES
MOST SENT STORIES ON ESPN.COM
ESPN The Magazine: August 22, 2011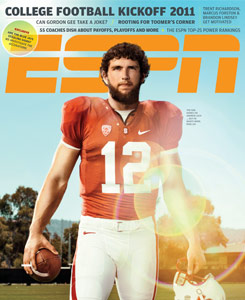 Features
Columns & Go/Play