Arms race proves recession-proof
Indiana athletic director Fred Glass grew up going to Hoosiers football games but rarely felt he was in a Big Ten atmosphere.
[+] Enlarge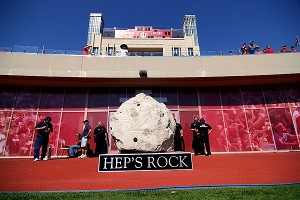 Pat Lovell/Cal Sport MediaIndiana's Memorial Stadium got a major face-lift in 2009.
The school's Memorial Stadium, with its two small grandstands and little else, used to remind Glass of the MAC more than big-time football. Not anymore. Since 2009, Indiana has made several major upgrades to its stadium and surrounding areas, including a north end zone complex that houses what was the largest weight room in the country when it opened.
The Hoosiers have made improvements every year since, with a new scoreboard and an athletes' academic center among the highlights. They've spent more than $50 million combined on the projects and have more on the horizon.
"It's a little bit like [the amusement park] Kings Island," Glass said. "Every year, you've got to have a new ride to show people you're serious."
They are hardly alone. College sports is a carnival of construction, as schools continue to build bigger, nicer, more state-of-the art facilities for their teams. Go around to just about any power conference campus these days, and you're likely to see as many cranes, hard hats and barrier fences around sports fields as you are students.
The New Arms Race
Here's a sample of some current football-related construction projects going on at notable BCS schools:
Arizona: In the midst of a $378 million north end zone expansion at Arizona Stadium that will add about 7,000 seats.
Arkansas: Recently broke ground on a new, $35 million football operations center.
Baylor: In beginning stages of building new stadium at estimated cost of $250 million.
Boise State: Recently broke ground on a new, $22 million football complex.
California: Completely renovating Memorial Stadium at an estimated cost of $321 million. As of April, the school had raised $35 million with a goal of $270 million in donations by summer 2013.
Florida State: Currently raising funds for new indoor practice facility, with hopes of breaking ground this fall.
Iowa: In phase one of a two-part, $57 million plan to build a new practice facility and operations building.
Kansas State: Has embarked on $75 million project to upgrade west side of Bill Snyder Family Stadium.
LSU: Recently approved $100 million expansion of Tiger Stadium, bringing capacity close to 100,000 seats.
Louisville: Has begun fundraising for a $7.5 million, 18,000-foot addition to its football complex.
Michigan State: Installing new $10 million scoreboard at Spartans Stadium that will be largest in the state.
Mississippi State: Expected to open new, $25 million football complex in January.
Nebraska: Finishing a $63.5 million expansion of the east side of Memorial Stadium that will add about 6,000 seats.
Oklahoma State: Construction underway on a $16 million indoor practice facility, plus new outdoor fields that will cost $3 million.
Ohio State: Spending $7 million for new scoreboard and improved sound system and other touches at Ohio Stadium.
Syracuse: Upgrading locker rooms and other team areas at a cost of $5 million.
Tennessee: In final stages of a $45 million new football complex that will contain 145,000 square feet.
TCU: Expected to complete $164 million expansion and renovation to Amon G. Carter Stadium in time for this year's season opener.
USC: Scheduled to open the $70 million, 110,000-square foot John McKay Center this summer; complex includes locker rooms, training areas, football offices and a two-story video board.
Utah: Coaches are working in trailers as a new, $30 million football complex is being built.
Virginia: Planning $13 million indoor practice facility.
Virginia Tech: Has announced plans to build a $20 million indoor practice facility.
Washington: Work is ongoing on a $250 million renovation of Husky Stadium.
Wisconsin: In beginning stages of an $86 million upgrade to locker rooms, weight training and academic areas at Camp Randall Stadium, which also got new turf this summer.
-- Brian Bennett
Not all of the projects are football-related, but most of them are funded at least in part by the behemoth sport. The Big Ten is awash in current construction zones. Nebraska is finishing up a $63.5 million expansion of its Memorial Stadium that will see the addition of 6,000 seats. Wisconsin has begun an $86 million renovation of Camp Randall Stadium that will improve outdated locker room, training and study areas. Iowa is in the first phase of a $57 million upgrade that includes a new indoor practice space and coaches' offices. Michigan State and Ohio State are adding new multi-million scoreboards to their stadiums.
And that's just football. Michigan has fueled an Ann Arbor building boom with all the projects it has undertaken in the past couple of years, which included a $226 million renovation of the Big House completed in 2010 and a current $14 million face-lift for the Yost Ice Arena. A major redo of the Schembechler Hall football complex is planned for the near future. "We're going to do a good job for the economy," Wolverines athletic director Dave Brandon joked. "We're going to be construction mode for quite a while."
The college sports arms race remains one of the few recession-proof industries. According to the U.S. Census Bureau, nonresidential public construction decreased 10.3 percent from 2009 to 2011, despite the influx of federal stimulus money. Yet universities keep breaking ground on expensive athletic complexes, like Tennessee's soon-to-open $45 million practice center (complete with a 22,000-square foot weight room and MMA cage) or California's $321 million stadium overhaul.
One reason why is the influx of TV money. The Big Ten recently announced that it would distribute a record $284 million to its members, nearly $24 million per team. The league's Big Ten Network has all but printed money for its schools. Indiana's Glass said the Hoosiers' cut of Big Ten television money alone went from about $6 million in 2006 to more than $16 million in 2011, with projections near $18 million this year.
"The Big Ten Network is the best thing since canned soup," Glass said. "That's how Rip Van Winkle is waking up here in Indiana. We're investing a lot of that money in not only football facilities, but also track and field, swimming and diving, softball and field hockey. It's not hyperbole to say that every one of our 24 sports have benefited from facility improvements which were driven by Big Ten Network revenues."
The same is true in the Pac-12, which signed a 12-year, $3 billion media rights deal last year. When Utah jumped to the Pac-12 from the Mountain West Conference last year, it celebrated by moving forward with a new $30 million football facility.
"We had a facility that was old, and going into the Pac-12, we thought, 'We'd better do a few more things,'" Utes athletic director Chris Hill said. "There's always some coach knocking on my door. They thought the Brinks truck pulled up when we entered the conference. I've had to say, 'Slow down, everybody. Take a number.'"
TV revenue alone can't fund some of the bigger projects. For those, schools still rely on generous donations from their richest boosters. Michigan's Brandon said he gets more value out of a single major gift than he does from the league's television split, which is just a fraction of the school's $100-million plus athletic budget.
The construction craze is hardly new in college sports. According to Street & Smith's Business Journal, universities spent a collective $15 billion on sports facilities between 1995 and 2005. It goes back much farther than that, though. Many iconic college football stadiums, particularly in the Midwest, were built shortly after World War I as campus pride reached new heights.
What seems to have changed in the last decade or so is how much money has been spent on places fans never see: opulent locker rooms, spacious offices for coaches and state-of-the art practice facilities that are specific to one sport. And despite the late NCAA president Myles Brand's warnings about the destructive nature of the arms race, schools haven't slowed down in erecting fancy new structures.
"You do see an element of keeping up with the Joneses," said Georgia athletic director Greg McGarity. "Some schools will say, 'So and so got a big scoreboard, so ours needs to be two feet longer.' I think that's where some institutions do get in trouble. But bigger is not always better and newer is not always better."
Bigger and newer is fine for schools rolling in TV dough, but what about everybody else? USA Today recently reported that only 22 athletic programs made a profit in 2010-11. Many programs rely on student fees and university support to sustain their teams and pay down debt service on their facilities. Meanwhile, public funding has been slashed at many state universities, leaving some academic departments struggling to keep the lights on.
University of Kentucky professor John R. Thelin notes that his school has a glimmering new basketball practice facility, while the chemistry department has to break out buckets when it rains because of a neglected roof.
"Some of these indulgences have got to eventually merit some reconsideration," said Thelin, an expert in higher education history. "The problem is that there are always going to be a handful of really successful programs that will lead the pack.
Building The Program
Most of the attention on the football team is focused on the coaches and players. But building a successful program requires help from a lot of other places as well:
• Maisel: Maintaining success
• Bennett: Facilities growth
• Sherman: The recruiting budget
• Hooker: Recruiting budget audit


• Adelson: Winning with less

"But in places like the MAC, I don't know how they'll keep up. They could issue bonds and keep raising student fees, but I think at some point, those are going to max out. Even at the self-supporting schools, I think the donors are going to max out at some point."
For now, though, schools will keep looking for new ways to attract recruits and gain an edge on the competition. Georgia's McGarity says he thinks the next big trend will be in technology, as schools tailor their new facilities around the iPad generation's needs and incorporate increased fan connectivity into their game-day experiences.
"That's the challenge all schools face in whatever they design for the future -- keeping up with the kids and what's important to baby boomers like me," McGarity said. "You have to make sure you're ahead of the curve as much as you can possibly be."
And that means, like an amusement park, the power programs will continue to build more and more new attractions every year.
College Football
ESPN.com Big Ten reporter.
Joined ESPN.com in 2008.
Graduate of the University of Kentucky.
EDITORS' PICKS
Bold predictions heading into spring.
Miller »

These 10 teams need a big spring in recruiting.
Hamilton

The 10 redshirt freshmen to know this spring.
Tom Luginbill
MORE COLLEGE FOOTBALL HEADLINES

MOST SENT STORIES ON ESPN.COM