Penn State sanctions: $60M, bowl ban
Updated:
July 24, 2012, 10:54 AM ET
ESPN.com news services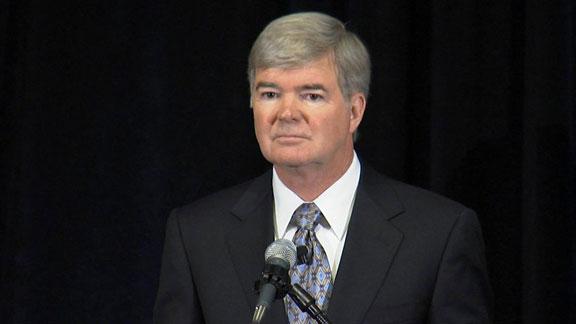 NCAA Announces PSU Sanctions
NCAA Announces PSU Sanctions
NEXT VIDEO
The NCAA has hit Penn State with a $60 million sanction, a four-year football postseason ban and a vacation of all wins dating to 1998, the organization said Monday morning. The career record of Joe Paterno will reflect these vacated records, the NCAA said.
Penn State also must reduce 10 initial and 20 total scholarships each year for a four-year period.
More on NCAA sanctions

Penn State created a new class of misconduct during its handling of the Jerry Sandusky scandal. The NCAA responded to its deceit, inaction and arrogance with a new class of punishment, writes Gene Wojciechowski. Story


On one of the darkest days in Penn State history, the devastating sanctions levied against the Nittany Lions were met with mostly silence, writes Mark Schlabach. Story


Mark Emmert and the NCAA chancellors and presidents dealt with an unprecedented situation with unprecedented speed. Let's hope that their impatience doesn't get in the way of their intentions, writes Ivan Maisel. Story


The financial penalties are huge. But the scholarship reductions Penn State is facing could cripple its football program for years to come, writes Adam Rittenberg. Story

• Van Natta: Totally unprecedented
• O'Connor: NCAA's No. 1 fraud
• Dosh: True costs to Penn State TBA
• Complete Big Ten blog coverage
The NCAA revealed the sanctions as NCAA president Mark Emmert and Ed Ray, the chairman of the NCAA Executive Committee and Oregon State's president, spoke at a news conference in Indianapolis at the organization's headquarters.
"In the Penn State case, the results were perverse and unconscionable. No price the NCAA can levy will repair the grievous damage inflicted by Jerry Sandusky on his victims," Emmert said, referring to the former Penn State defensive coordinator convicted of 45 counts of child sex abuse last month.
The NCAA said the $60 million was equivalent to the average annual revenue of the football program. The NCAA ordered Penn State to pay the penalty funds into an endowment for "external programs preventing child sexual abuse or assisting victims and may not be used to fund such programs at the university."
"We had our backs to the wall on this," Penn State president Rodney Erickson told the Centre Daily Times of Pennsylvania in an interview later Monday, saying the school accepted the penalties to avoid the so-called "death penalty" that could have resulted in the suspension of the football program for at least one year. "We did what we thought was necessary to save the program."
In response to Erickson's comments, Ray, speaking to ESPN.com's Adam Rittenberg, said the NCAA did not threaten Penn State with the death penalty, and that the sanctions issued were unanimously agreed upon by the NCAA Executive Committee.
"It was a unanimous act," Ray said earlier during the news conference. "We needed to act."
In interview with ESPN's John Barr, Erickson reiterated his fear of the death penalty, not handed down since SMU was forced to drop football in 1987 because of extra benefits violations. The school decided not to play the next season, either, as it tried to regroup.
"The alternative was really far worse," Erickson said in the interview with ESPN. "The [death sentence] was a possibility. Various numbers were tossed around, four being the highest. The [death sentence] is traumatic for everyone. It's traumatic for the student-athletes involved. It's traumatic for the university. It's traumatic for the university, particularly smaller ones, kind of like we are here in central Pennsylvania."
"That's simply the answer," Erickson said. "I thought it was better to go down this path than face a multiple-year death penalty."
With the wins from 1998-2011 vacated, Paterno moves from 409 wins to 298, dropping him from first to 12th on the winningest NCAA football coach list. Penn State also will have six bowl wins and two conference championships erased.
The Penn State athletic program also will be put on a five-year probation and must work with an athletic-integrity monitor of NCAA's choosing. Any current or incoming football players are free to immediately transfer and compete at another school.
"There is incredible interest in what will happen to Penn State football," Ray said at the news conference. "But the fundamental chapter of this horrific story should focus on the innocent children and the powerful people who let them down."
The Big Ten fully supports the NCAA's actions, saying in a news release it is condemning and censuring the school for "egregiously" failing on "many levels -- morally, ethically and potentially criminally."
NCAA Sanctions Against Penn State

• $60 million fine
• Vacating of wins from 1998-2011 (112 wins)*
• Four-year postseason ban
• Four-year scholarship reduction (10 initial; 20 total)
• Players may transfer and play immediately at other schools
• Athletic department on probation for five years
* Joe Paterno record now 298-136-3; fifth on FBS all-time list

More:
• Big Ten blog: Reaction, analysis
The conference also will place the university on a five-year probation to run concurrently with the NCAA's and has declared the football program ineligible for the Big Ten championship game for the four years in which the NCAA banned the Nittany Lions from postseason play.
Penn State's proceeds from Big Ten bowl revenues from the four years, amounting to an estimated $13 million, will be allocated "to established charitable organizations in Big Ten communities dedicated to the protection of children," the conference said.
Penn State, in a statement released less than an hour after the NCAA sanctions were revealed, said it will accept them and that the "ruling holds the university accountable for the failure of those in power to protect children and insists that all areas of the university community are held to the same high standards of honesty and integrity."
"The tragedy of child sexual abuse that occurred at our university altered the lives of innocent children," Erickson said in the news release. "Today, as every day, our thoughts and prayers continue to be with the victims of Mr. Sandusky and all other victims of child abuse."
Adam Taliaferro, a former player for Paterno who has since recovered from a spinal cord injury he suffered in a 2000 game, expressed frustration in a post on Twitter.
"NCAA says games didn't exist," tweeted Taliaferro, who was elected to Penn State's board of directors in May. "I got the metal plate in my neck to prove it did..I almost died playing 4 PSU..punishment or healing?!? #WeAre."
The penalties came a day after Penn State removed its Paterno statue outside Beaver Stadium, a decision that came 10 days after a scathing report by former FBI director Louis J. Freeh found that Paterno, with three other top Penn State administrators, had concealed allegations of child sexual abuse made against Sandusky.
SN Voices: Penn State Sanctions

Did the NCAA go too far in punishing Penn State? Did it not go far enough? Was it justified in giving out punishment? Vote
• Your voices: Appropriate punishment?
• Current, former players react
The Freeh report concluded their motive was to shield the university and its football program from negative publicity.
"Today we receive a very harsh penalty from the NCAA and as head coach of the Nittany Lions football program, I will do everything in my power to not only comply, but help guide the university forward to become a national leader in ethics, compliance and operational excellence," Penn State football coach Bill O'Brien said in the statement. "I knew when I accepted the position that there would be tough times ahead. But I am committed for the long term to Penn State and our student athletes."
By vacating 112 Penn State victories from 1998-2011, the sanctions cost Paterno 111 wins. Penn State finished last season 1-3 with Tom Bradley as coach after Paterno was fired in November, days after Sandusky was charged.
Former Florida State coach Bobby Bowden will now hold the top spot in the NCAA record book with 377 major-college wins. Paterno will be credited with 298 wins. Vacated wins are not the same as forfeits -- they don't count as losses or wins for either school.
"I didn't want it to happen like this," Bowden told The Associated Press. "Wish I could have earned it, but that's the way it is."
The late Grambling State coach Eddie Robinson has the overall NCAA Division I record with 408 wins.
The Paterno family released a statement Monday afternoon.
What did Penn State sign?

When Penn State president Rodney Erickson signed the consent decree imposed by the NCAA, he and the school agreed not only to the punishments but also to the monitoring, the supervision and to an enforcement process. This is not just a settlement contract. It is the document that governs enforcement and provides for penalties if Penn State screws up.

These agreements are typically negotiated by two organizations in the middle of a dispute. There is no indication of a negotiation or even a minimal role by Penn State or its president and his lawyers. A typical decree would say that Penn State neither admits nor denies wrongdoing. This decree is all about wrongdoing with Penn State admitting everything.

Consent decrees are ordinarily sterile legal documents, but this one expresses outrage. The decree states the evidence against Penn State "presents an unprecedented failure of institutional integrity leading to a culture in which a football program was held in higher esteem than the values of the institution, the values of the NCAA, the values of higher education, and, most disturbingly, the values of human decency."

Penn State did not negotiate this document. Penn State surrendered to the terms of this document.

It is possible for a wealthy alumnus, a season-ticket holder, a coach, a taxpayer or even a student-athlete to file a lawsuit challenging the sanctions and the consent decree. But any lawsuits are doomed to failure. Erickson's signature on the consent decree means that the university has agreed to the sanctions and to be bound by them for five years.

No one has the standing or the authority to challenge what Erickson and the university have agreed to do. Penn State expressly agrees that it cannot be challenged with "judicial process." Anyone who files a lawsuit would face not only an early dismissal of the case but also the payment of the legal fees incurred by the NCAA and Penn State as they obtain the dismissal. The lawsuit would be an expensive failure.

-- Lester Munson
"The sanctions announced by the NCAA today defame the legacy and contributions of a great coach and educator without any input from our family or those who knew him best," the statement said. "That the president, the athletic director and the board of trustees accepted this unprecedented action by the NCAA without requiring a full due process hearing before the Committee on Infractions is an abdication of their responsibilities."
The scholarship reductions mean that Penn State's roster will be capped at 65 scholarship players within a couple of seasons. The normal scholarship limit for major college football programs is 85. Playing with 20 fewer is crippling to a program that tries to compete at the highest level of the sport.
The NCAA is considering waiving scholarship limits for programs to which Penn State players transfer, provided they reduce proportionately in the next year. For example, the limit is 25 new scholarships per year to a total of 85 scholarships. If the limits are waived in 2012-13 to accommodate one Penn State student-athlete who wishes to transfer to a particular school already at the limits, in 2013-14 the school will be limited to 24 new scholarships and 84 total scholarships.
The NCAA took unprecedented measures with the decision to penalize Penn State without the due process of a Committee on Infractions hearing, bypassing a system in which it conducts its own investigations, issues a notice of allegations and then allows the university 90 days to respond before a hearing is scheduled.
After the hearing, the Infractions Committee then usually takes a minimum of six weeks, but it can take upward of a year to issue its findings.
But in the case of Penn State, the NCAA used the Freeh report -- commissioned by the school's board of trustees -- instead of its own investigation.
"We cannot look to NCAA history to determine how to handle circumstances so disturbing, shocking and disappointing," Emmert said in the statement. "As the individuals charged with governing college sports, we have a responsibility to act. These events should serve as a call to every single school and athletics department to take an honest look at its campus environment and eradicate the 'sports are king' mindset that can so dramatically cloud the judgment of educators."
A former Committee on Infractions chairman and current Division I Appeals Committee member told ESPN.com's Andy Katz on Sunday the NCAA's penalizing of an institution and program for immoral and criminal behavior also breaks new ground.
The former chair, who has been involved with the NCAA for nearly three decades, said he couldn't use his name on the record because the case could come before him and the committee he still serves on in an appeals process.
"This is unique and this kind of power has never been tested or tried," the former chair said. "It's unprecedented to have this extensive power. This has nothing to do with the purpose of the infractions process. Nevertheless, somehow (the NCAA president and executive board) have taken it on themselves to be a commissioner and to penalize a school for improper conduct."
The chair said that the NCAA was dealing with a case that is outside the traditional rules or violations. He said this case does not fall within the basic fundamental purpose of NCAA regulations.
"The purpose of the NCAA is to keep a level playing field among schools and to make sure they use proper methods through scholarships and et cetera," the chair said. "This is not a case that would normally go through the process. It has nothing to do with a level playing field. It has nothing to do with whether Penn State gets advantages over other schools in recruiting or in the number of coaches or things that we normally deal with."
The NCAA, the chair said, had never gotten involved in punishing schools for criminal behavior.
"The criminal courts are perfectly capable of handling these situations," the former chair said. "This is a new phase and a new thing. They are getting into bad behavior that are somehow connected to those who work in the athletic department.
"This is an important precedent. And it should be taken with extreme care."
The NCAA, heavily criticized for its sometimes-ponderous pace in deciding penalties as scandals mounted at Ohio State, Auburn, USC and elsewhere, acted with unprecedented swiftness in arriving at the sanctions for a team that is trying to start over with a new coach and a new outlook.
Emmert had put the Penn State matter on the fast track. Other cases that were strictly about violating the NCAA rulebook have dragged on for months and even years. There was no sign that the infractions committee so familiar to college sports fans was involved this time around as Emmert moved quickly, no doubt aided by the July 12 release of the report by Freeh and what it said about Paterno and the rest of the Penn State leadership.
The investigation focused partly on university officials' decision not to go to child-welfare authorities in 2001 after a coaching assistant told Paterno that he had seen Sandusky sexually abusing a boy in the locker room showers. Penn State officials already knew about a previous allegation against Sandusky by that time, from 1998.
The leaders, the report said, "repeatedly concealed critical facts relating to Sandusky's child abuse from authorities, the university's board of trustees, the Penn State community and the public at large."
Sandusky is awaiting sentencing after being convicted last month of sexually abusing 10 boys over 15 years.
In a cell phone conversation on Monday afternoon, Sandusky's attorney Joe Amendola told ESPN legal analyst Roger Cossack, that Amendola "is disappointed that the NCAA has taken such harsh action before a full and complete legal investigation has occurred."
Amendola, who has yet to speak to Sandusky in reaction to the NCAA sanctions, told Cossack he "is also disappointed in the Penn State Board of Trustees agreeing to a consent decree based on allegations which are currently unsubstantiated involving Joe Paterno and other Penn State administrators."
Emmert had warned Penn State last fall that the NCAA would be examining the "exercise of institutional control" within the athletic department, and said it was clear that "deceitful and dishonest behavior" could be considered a violation of ethics rules. So, too, could a failure to exhibit moral values or adhere to ethics guidelines.
The Freeh report also said that Penn State had "decentralized and uneven" oversight of compliance issues -- laws, regulations, policies and procedures -- as required by the NCAA.
Recent major scandals, such as improper payments to the family of Heisman Trophy winner Reggie Bush while he was at Southern California, and players at Ohio State trading memorabilia for cash and tattoos, have resulted in bowl bans and the loss of scholarships.
Under NCAA rules covering postseason bans, players are allowed to transfer without sitting out a season as long as their remaining eligibility is shorter than or equal to the length of the ban.
Information from ESPN.com senior writers Andy Katz and Mark Schlabach, ESPN's Joe Schad, and The Associated Press was used in this report.
SPONSORED HEADLINES
MORE COLLEGE FOOTBALL HEADLINES
MOST SENT STORIES ON ESPN.COM
Nike Men's Penn State Nittany Lions Coaches Performance White Polo Shop »