Tyrann Mathieu covets LSU return?
Updated:
August 14, 2012, 1:48 PM ET
By
Joe Schad
| ESPN
Former LSU cornerback Tyrann Mathieu has expressed interest in sitting out this season, enrolling in classes and hoping for a return to the program in 2013, if it can be worked out with the school, according to sources.
SN: Could Mathieu Come Back?

Tyrann Mathieu reportedly wants to return to LSU in 2013. Would the school ever take him back?
Comment and vote!
LSU senior associate athletic director for NCAA compliance Bo Bahnsen told Gannett Newspapers on Monday that Mathieu is "permanently ineligible" to play for LSU again.
But sources said early and later Monday that it would not be accurate to state there was no chance Mathieu could ever play for LSU again and that the possibility had been discussed.
Asked about Bahnsen's comments, LSU senior associate athletic director Herb Vincent said: "LSU has not changed its position. We're not speculating on (Mathieu's) football future."
Mathieu is considering staying at LSU and paying his own way for classes this year even if the chance to play football there again does not exist, a source close to Mathieu said. The source cited the "support system" available at LSU as well as the belief that this is a time to focus on his maturity and character, not just playing football this year.
More on LSU
For full coverage of the Tigers, check out the LSU blog, part of ESPN's College Football Nation. Blog

More:
• LSU's clubhouse page
• ESPN.com's SEC blog
Mathieu was dismissed from the team Friday after failed substance-abuse tests, but he was not dismissed by the university. The possibility of reinstatement would have to be approved at many levels, including university administration as well as coach Les Miles, and it is being discussed.
Mathieu has visited McNeese State, and that remains an option, according to a source close to Mathieu.
And although other FCS schools, including Jackson State and Prairie View A&M, have expressed interest, they are not options at this time. At any of those schools, Mathieu could play one season before entering the NFL draft.
Mathieu has been described as "heartbroken" and "grieving" since his dismissal from the team.
MATHIEU KICKED OFF LSU TEAM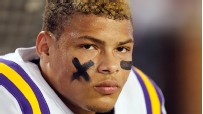 LSU dismissed 2011 Heisman Trophy finalist Tyrann Mathieu on Friday for violating school and team rules. Story »
MORE MATHIEU
VIDEO
AUDIO
FROM ESPN THE MAGAZINE
MORE COLLEGE FOOTBALL HEADLINES