Devon Walker alert, responsive
Updated:
September 10, 2012, 7:41 PM ET
Associated Press
LeGrand: 'Everything Unknown Is So Scary'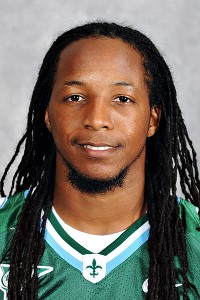 Devon Walker's neck fracture Saturday was reminiscent of a 2010 injury to Eric LeGrand in which the Rutgers defensive tackle was initially paralyzed from the neck down, a prognosis that came the Sunday after his own spinal fracture.
But Walker's doctors say the extent of his injury remains uncertain and could remain so until midweek.
"Right now, he is in shock," LeGrand told USA Today in a telephone interview. "He has no idea what is going to happen to his body or how his life is going to change. Basically everything that is unknown is so scary. It's one of the scariest things in life because you have no idea where your life is about to take you."
Indeed, the swelling can impair neurological function and make it difficult to tell immediately how much is truly lost and how much may return as a patient stabilizes and the swelling decreases.
Generally speaking, and with no specific knowledge of Walker's exact medical situation, there is a significant amount of swelling following any serious injury to the spine.
On Saturday, when reports came out that he had significant swelling and was being treated for it, they were most likely administering high doses of steroids (common after such injuries) to try to decrease swelling before proceeding to surgery -- which will be done to stabilize the fracture.
LeGrand, who is now able to stand using an upright metal structure, said he will reach out to Walker and his teammates as soon as possible.
"A few guys on my team did not want to play football anymore, they just wanted to give it up," LeGrand told USA Today. "It is important to know, don't go back out there scared because of what happened. Don't let it change the way you play the game."
There are so many things that are touch-and-go in the early phases following a high level cervical spine injury that it is hard to be definitive about a prognosis in any form.
Walker's doctors are being judicious in this regard because they are waiting for the injury to "declare itself" as opposed to speculating.
Over the next few days his doctors will monitor Walker medically and also watch to see what type of return he starts to get as far as motor, sensation, etc.
But LeGrand is proof there is hope.
"That is why I believed I healed so fast," he said, "because everyone was so positive."
-- ESPN.com senior writer Stephania Bell
TULSA, Okla. -- It's still too early to know the long-term effects of the Tulane safety's spinal injury, the school's athletic director said Monday.
Devon Walker was in stable condition Monday, recovering in an intensive-care unit after Sunday's three-hour surgery to stabilize his spine at St. Francis Hospital in south Tulsa. He was injured in a head-to-head collision with a teammate during Saturday's game at Tulsa.
"It is too early in Devon's recovery process to draw any conclusions about his progress," said Tulane athletic director Rick Dickson. "When the neurosurgeons here at Saint Francis have more definitive information, they will co-consult" with the team's doctor. Until then, Dickson said, there will be "constant monitoring, care and attention" for Walker.
Dickson, speaking at a Monday news conference at the hospital, described Walker as "alert and responsive" following his surgery, but said he did not know when Walker could be released.
Dickson also read a message from Walker's parents, Inez and Booker Walker, who have requested privacy while their son is treated.
"We have been overwhelmed by the amount of concerned well wishes we have received from all over the world," the statement read. "Although we cannot respond individually to all, we thank everyone for the love and support shown to Devon and our family."
The University of Tulsa announced Monday that it had established a fund to benefit Walker's family.
Dickson described Walker, a senior majoring in cell and molecular biology, as a leader on and off the field.
"Devon's a very, very well-known, popular, well-respected man on our campus," he said. "He really represents the best of what we are. He's a true Tulane student athlete."
Dr. Greg Stewart, Tulane's director of sports medicine, said doctors don't yet know what the long-term implications and outcomes are going to be for Walker.
Stewart said he was with Walker on the field, in the ambulance and at the hospital Saturday. He said Walker was put into a cervical collar and couldn't see much of what was happening, so Stewart explained what was going on. Walker was talking with doctors as he was being treated, Stewart said.
Walker's injury occurred on the final play of the first half Saturday during Tulane's Conference USA opener. Tulsa was leading 35-3 and facing a fourth-and-2 with the ball at the 33-yard line when the Golden Hurricane called timeout. Tulane then called timeout.
When play resumed, Tulsa quarterback Cody Green tossed a short pass to Willie Carter, who caught it at about the 28, and turned upfield. He was tackled around the 17-yard line, with defensive tackle Julius Warmsley and Walker sandwiching him and smashing their helmets together.
FOX Sports reported a hush went over the crowd at H.A. Chapman Stadium as Walker was attended to, and that several coaches were in tears as he was taken away in an ambulance. Spectators bowed their heads as someone on the field led the stadium in prayer.
Dr. Buddy Savoie said during a postgame news conference that Walker never completely lost consciousness and was breathing on his own.

Copyright 2012 by The Associated Press
EDITORS' PICKS
Utah still hasn't settled on its starting QB.
3-Point Stance »

The CFB playoff committee should explain its rankings.
Dinich »

Nick Saban sends Texas A&M to the Bottom 10.
Ryan McGee »