Manti Te'o wondered about prank
Updated:
January 20, 2013, 11:05 AM ET
By
Rick Reilly
| ESPN.com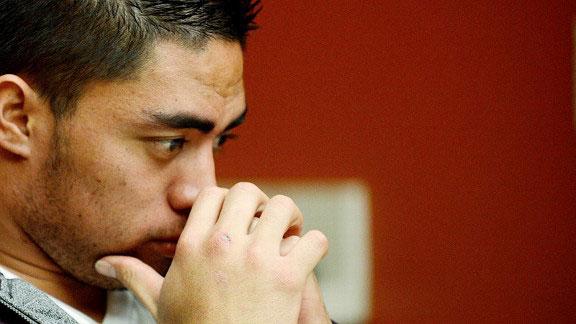 Manti Te'o Speaks
Jeremy Schaap reacts to Manti Te'o interview.
Manti Te'o Speaks
NEXT VIDEO
[+] Enlarge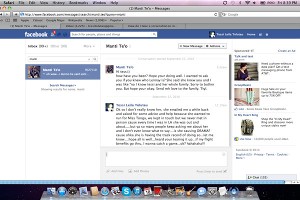 Tessi Tolutau Manti Te'o sent Tessi Tolutau a Facebook message in 2010 about Lennay Kekua.
Notre Dame linebacker Manti Te'o was completely and cruelly fooled in a fake girlfriend hoax, and clearly not in on the con, one of his childhood friends said Friday.
Tessi Tolutau, a former Miss South Pacific, grew up five doors from Te'o in Hawaii. She has Facebook messages from Te'o as far back as September 2010, checking on the legitimacy of the fictitious Polynesian beauty Lennay Kekua, who would become his "girlfriend." Te'o even wondered out loud if Kekua might be "a prank."
Tolutau responded that she only knew Kekua from online messaging, and wondered if she was causing trouble.
Te'o ignored his own instincts and eventually began an online and phone "relationship" with her, the start of a three-year ruse that ended in national humiliation for him this week.
[+] Enlarge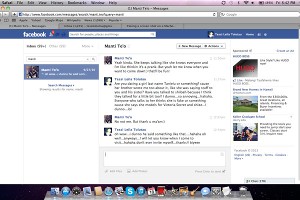 Tessi Tolutau Tessi Tolutau and Manti Te'o exchanged Facebook messages about Lennay Kekua in 2010.
"Manti wasn't in on this," says Tolutau, 25. "He checked with a lot of us about her. I believed she was real. We all did."
Tolutau said Kekua messaged her "out of the blue" on Facebook in late 2008, pretending to want information on beauty pageants and dance teams.
"She told me she played volleyball at Stanford, and that she was an aspiring model, and that she modeled for Victoria's Secret," Tolutau said Friday night via phone from her home in Utah. "She said she dated Mark Sanchez for a while. I thought, 'OK, she's trying to make herself sound really good.' But the picture of her was of a tall, skinny, really pretty dark-haired girl. I totally believed she was a real person, so I can see how Manti would."
Tolutau even planned to have lunch with Kekua, "but she canceled." It was probably not a coincidence that in LA, Tolutau wound up meeting a man named Ronaiah Tuisasosopo, who Te'o now says was one of three people -- two men and one woman -- behind the elaborate con.
[+] Enlarge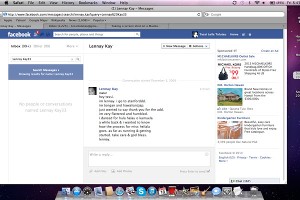 Tessi Tolutau Tessi Tolutau received a Facebook message from Lennay Kekua on Dec. 3, 2008.
She doesn't remember exactly how she came to meet Tuiasosopo, but does remember what he looked like.
"He was about 5-8, with sort of chubby cheeks," Tolutau said. "He took me to another dance team's practice. I thought that was kinda weird."
After that day, Tolutau didn't see or hear from either Tuiasosopo or his creation, Kekua. Only when the hoax went public Wednesday did she realize she'd been played.
"It suddenly hit me. I thought, 'Oh, my God. This is huge,' " Tolutau said.
Columnist, ESPN.com
11-time National Sportswriter of the Year
Author of "Tiger Meet My Sister ... And Other Things I Probably Shouldn't Have Said."
2014 Inductee: National Sportswriters and Sportscasters Hall of Fame
SPONSORED HEADLINES
MORE COLLEGE FOOTBALL HEADLINES
MOST SENT STORIES ON ESPN.COM
MANTI TE'O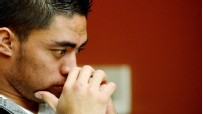 Manti Te'o denied being part of a hoax involving a relationship with a person online whom he considered his girlfriend, during an interview with ESPN on Friday night. Story »
COMMENTARY
STORIES
AUDIO & VIDEO