Tuiasosopo family to plan response
Updated:
January 21, 2013, 12:16 AM ET
ESPN.com news services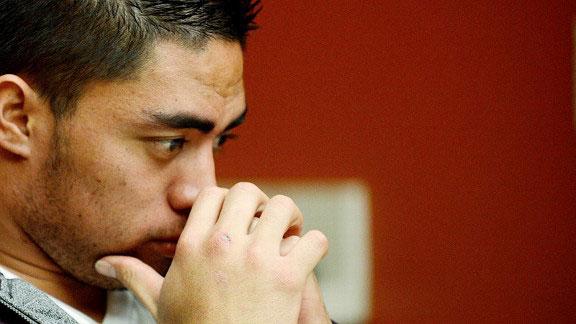 Manti Te'o Speaks
Jeremy Schaap reacts to Manti Te'o interview.
Manti Te'o Speaks
NEXT VIDEO
LANCASTER, Calif. -- The person cast as the mastermind of the hoax involving Notre Dame's Manti Te'o may tell his side of the story, a family member said Sunday.
Peter Navy Tuiasosopo, uncle of Ronaiah Tuiasosopo, says the family plans to hold a meeting this week to determine when and how his nephew would talk about the bizarre prank.
"We want to do it right," he said, also noting that the family has hired an attorney. He never directly mentioned the hoax or his nephew being involved.
More Manti Te'o Coverage

Manti Te'o's sprawling dialogue Friday night answered many questions but made the shocking turn of events no less dumbfounding, writes Ted Miller. Story
---

The elaborate prank that may or may not be Manti Te'o's love life has a long and distinguished history in the annals of comedy, writes Jeff MacGregor. Story
• Hill: Fighting Irish stumble again
• Fortuna: Support for Te'o in Indiana
• Complete interview transcript
Te'o insisted he had no role in the hoax involving his "dead" girlfriend and told ESPN on Friday night that he was duped by a person who has since apologized to him.
A spokesman for Te'o, Mathew Hiltzik, told ESPN's Jeremy Schaap on Sunday that Te'o is "grateful and appreciative of all the support he's gotten from people who say they believe in him. He's also grateful for the many other people who have come forward, through social media and personal contacts, to say they were victims of similar hoaxes. Total strangers have reached out to him to say they've been through similar experiences."
In an off-camera interview, Te'o identified that person as Ronaiah Tuiasosopo, a 22-year-old acquaintance who lives in California. He said the young man contacted him shortly before Deadspin.com broke the news on Wednesday. The Deadspin story indicated Ronaiah Tuiasosopo was involved, and suggested Te'o was, too.
"We're just a family of faith. The family is holding up well," Peter Navy Tuiasosopo said. "They're holding up the way I would expect a family to. This is a storm."
He made the comments after attending a two-hour service at the Oasis Christian Church, where his brother, who is Ronaiah's father, is pastor.
Titus Tuiasosopo, the father, choked up as he thanked people for their prayers.
"I've been practicing how to say 'no comment' in 20 languages," the pastor told his congregation. The family has not commented publicly since news of the hoax broke.
Ronaiah Tuiasosopo wasn't seen in attendance, and two church members said he was not there.
Earlier in the day, ABC News announced that Te'o would do his first television interview with Katie Couric. The interview will air Thursday on Couric's daytime talk show and Te'o's parents will be with him. ABC was not releasing details of when the interview would take place or where.
Also, in a story published in Sunday's South Bend Tribune, a Notre Dame spokesman said the university decided against disclosing the hoax before the Irish played Alabama in the BCS championship game on Jan. 7 because it wasn't in the best interest of the teams.
Information from The Associated Press was used in this report.
SPONSORED HEADLINES
MORE COLLEGE FOOTBALL HEADLINES
MOST SENT STORIES ON ESPN.COM
MANTI TE'O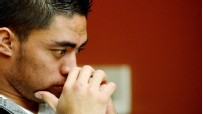 Manti Te'o denied being part of a hoax involving a relationship with a person online whom he considered his girlfriend, during an interview with ESPN on Friday night. Story »
COMMENTARY
STORIES
AUDIO & VIDEO