Paterno report has clear agenda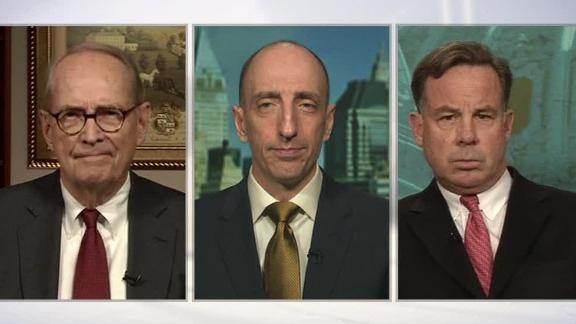 Review Of The Freeh Report
Former Pennsylvania Gov. Dick Thornburgh discusses what Louis Freeh did incorrectly or not substantially in his report.
Review Of The Freeh Report
Let's pretend for a moment that the Paterno family-bankrolled report is impartial (which it isn't), contains no factual errors (there is at least one glaring mistake) and avoids the same leap-of-faith conclusions that it accuses the big, mean Freeh report of doing (which it doesn't).
[+] Enlarge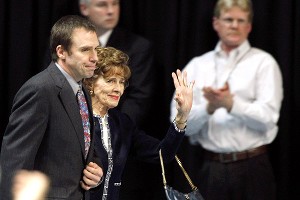 AP Photo/Alex BrandonThe Paterno family paid for an investigation to clear Joe Paterno's name.
Let's also pretend that this grave and serious 237-page report paid for by the Paterno family isn't going to be followed by a carefully orchestrated Monday appearance by matriarch Sue Paterno on "Katie" -- the same Katie Couric daytime talk show that explores such heavyweight topics as Superstar Psychic Mediums, The Men Of "Silver Linings Playbook," and Busting Mommy Myths.
I can save you the time of reading through the entire report. It goes like this: Joe Paterno … good. Freeh report … bad. So whaddya say, let's return the statue of JoePa to Beaver Stadium and, hey, Peachy Paterno ice cream cones for everybody!
Anyway, that's what the authors of the Paterno-commissioned report want you to believe. And just in case you're confused about whose legacy is getting a facelift, the authors don't waste any time. The title of the report leaves no wiggle room: "The Rush To Injustice Regarding Joe Paterno."
Not, "The Rush To Injustice Regarding Former Penn State President Graham Spanier." Or former athletic director Tim Curley. Or former school vice president Gary Schultz. Nope -- just Joe Paterno. If those three mopes want some bleach applied to their soiled reputations, they'll have to commission their own report on their own dime. And good luck getting the talent booker for "Katie" to return your calls.
According to the Paterno family report, the Freeh report unjustly and wrongly excoriated Paterno for his alleged role in a cover-up relative to the child sex abuse scandal involving former longtime Penn State assistant football coach Jerry Sandusky. In a nutshell, says the Paterno report, Joe Paterno didn't know much, and of what he knew, he passed along to his "superior," Curley. And when he was done with that bit of uncomfortable business, he resumed his duties as a coach and educator.
Van Natta: Measured but no less damning

The Joe Paterno family's response to the Freeh report raises troubling, wide-ranging questions, Don Van Natta writes. Story



The Paterno-family report should be read and considered, but also taken for what it is: a document with an agenda. And the agenda was to clear Joe Paterno's name, writes Gene Wojciechowski. Story
I'm not saying the Freeh report is perfect. It isn't. Despite its $6.5 million price tag, there were some holes in its investigative net, beginning with its lack of subpoena power. Mistakes were made.
I'm also not saying the Paterno family report should be ignored. It shouldn't. It should be read, considered, but also taken for what it is: a document with an agenda. And the agenda was to clear Joe Paterno's name.
Listed in the summary of the report is "prominent Washington attorney Wick Sollers." Sollers is not only prominent, he's the Paterno's family lawyer. He has a dog in the fight.
Another of the report's "independent experts," former U.S. attorney general Dick Thornburgh, knew Joe Paterno. But, says Sollers, Thornburgh and Paterno "were not close."
This is the same Thornburgh whom, as governor of Pennsylvania, shared the stage with Paterno at Orange and Fiesta Bowl airport pep rallies, spoke to the Penn State team and all but waved blue and white pompoms.
This is the same Thornburgh whom Paterno, at the request of the late Alabama coach Bear Bryant, asked that a highway lane between State College and Harrisburg be closed so the Crimson Tide bus wouldn't get stuck in postgame traffic.
The Paterno Family Reports
• Summary
• Full report
• Berlin report
• Clemente report
• Thornburgh report
• Dr. Fred Berlin bio
• Dick Thornburgh bio
• Jim Clemente bio
• Wick Sollers bio
• Paterno family website

And this is the same Thornburgh whose initial comments about the Freeh report prompted this lead in the July 13, 2012, Allentown (Pa.) The Morning Call: "Former Gov. Dick Thornburgh said the Freeh report into the child sex-abuse scandal at Penn State will be required reading at colleges and university across the country."
Interesting. Last July it was required reading. Now it's "seriously flawed."
Speaking of flawed, the Paterno family report also didn't have subpoena power. It criticizes the Freeh report for failing to interview, among others, Joe Paterno, Curley and Schultz. But as Louis Freeh pointed out himself in a Sunday statement, Paterno is the one who chose not to speak to Freeh report investigators. However, Paterno did find time to speak to a Washington Post columnist, as well as his biographer.
By the way, the Paterno family report investigators also didn't speak directly to Curley or Schultz. Instead, they spoke with their lawyers.
And Spanier was interviewed by Freeh report investigators. But the Paterno family report finds fault in this because it came six days before the release of the Freeh report. In other words, the Freeh report "was likely in near final draft."
Freeh Statement

Louis J. Freeh issued a statement Sunday responding to a report commissioned by the Paterno family that refuted some of his July 2012 investigation. Statement
• Gary Schultz email of Feb. 28, 2001
• 'Contemporary letter' of Feb. 25, 2001

So? The Freeh report wasn't printed on a Guttenberg press. Is Thornburgh suggesting that Freeh report authors couldn't digest Spanier's answers in six days or use the cut and paste keys on their laptops before the report's release?
And, sorry, but the Paterno family report botched it by saying in its summary of key points that the NCAA "never identified a single infraction of NCAA rules based on Sandusky's crimes, much less an infraction by Penn State."
Actually, the NCAA said Penn State's actions relative to the Sandusky scandal were, "unprecedented, amounting to a failure of institutional and individual integrity far exceeding a lack of institutional control or individual unethical conduct." It then listed Penn State as having violated Articles 2.1, 6.01.1 and 6.4 of the NCAA constitution and bylaws 10.01.1, 11.1.1, 10.1 and 19.01.2.
Sounds like an infraction to me.
And the Paterno family report takes issue with the Freeh report's assertion that Joe Paterno wielded "excessive influence" at Penn State. Quibble over "excessive" if you want, but Paterno had 46 years of head coaching equity at Penn State. He absolutely influenced decisions made off the football field (Curley was his hand-picked choice as AD).
[+] Enlarge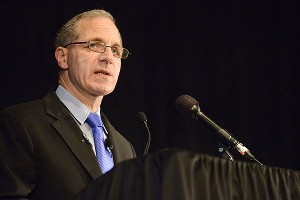 William Thomas Cain/Getty ImagesThe Paterno-family report took issue with former FBI director Louis Freeh's investigation.
Paterno wasn't just a coach; he was a potential Pennsylvania Republican gubernatorial candidate in the mid-1970s and was on the GOP's wish list to replace U.S. Sen. John Heinz in the early 1990s. He gave one of the seconding speeches for George H.W. Bush at the 1988 Republican National Convention. Paterno was a man of stature, power and influence.
In the end, he was also a man who did the absolute minimum when it came to the Sandusky scandal. Paterno should have shone a Klieg light on the situation. Instead, he held up a single matchstick and then quickly blew it out.
In that 1988 seconding speech, Paterno dared anyone to criticize the nominee, then-Vice President Bush.
"I'll be damned if I'll sit still while people who can't carry George Bush's shoes ridicule him," thundered Paterno that day at the Superdome in New Orleans.
That's what this Paterno family report is all about. It is about not sitting still while the legacy of JoePa is compromised. It is about carrying Paterno's shoes through the muddy waters.
It is also too little and too late.
Columnist / College Football reporter
ESPN.com senior national columnist
Joined ESPN in 1998
Author of "The Last Great Game"
EDITORS' PICKS
Mississippi State leads LSU in Baton Rouge.
Watch

After an ugly first three quarters, Alabama took over in the fourth.
Analysis »

Georgia Tech stays undefeated, tops Virginia Tech.
Story »