Penn State deserves a parole hearing
Now that Penn State's probation officer, Sen. George Mitchell, has issued another glowing quarterly review of the university's rehabilitation efforts, it's time for the NCAA to do what was unthinkable seven months ago.
Reduce the sanctions.
Penn State and its football program have earned the right to have its NCAA sentence commuted. Not all at once, of course, but in year-sized chunks. At the very least, it has earned the right to have its asphyxiating football penalties reviewed by NCAA jailers.
[+] Enlarge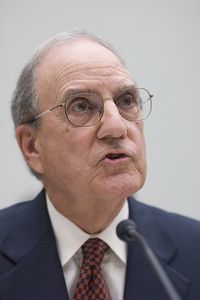 Scott J. Ferrell/Congressional Quarterly/Getty ImagesFormer Sen. George Mitchell is overseeing Penn State's compliance with the NCAA sanctions.
On July 23, 2012, Penn State president Rodney Erickson signed a binding NCAA consent decree that amounted to a Nittany Lions guilty plea. With Erickson's signature, Penn State accepted the findings of the university-commissioned Freeh report, accepted debilitating sanctions, accepted the provisions of an NCAA-mandated athletics integrity agreement (with Mitchell as its monitor) and forfeited all rights to an appeal process.
The sanctions, which went into effect in 2012, are harsh: a four-year bowl ban, four years of scholarship reductions and a $60 million fine. The Big Ten added its own penalties, declaring the program ineligible for the conference championship game and bowl-related revenue until 2016.
But as the mileage between then and now grows larger, so does the context and perspective of the situation. And with that context comes the realization that Penn State deserves a parole hearing.
Erickson had little choice but to accept the NCAA's terms seven months ago. For years a pedophile named Jerry Sandusky had operated with virtual impunity within the walls of the Penn State football program. And Penn State's leaders, from its former president, former vice president, former athletic director and former head football coach, had responded with ignorance or arrogance when confronted with the realities of Sandusky's actions. Sandusky had preyed on innocents and Penn State's leaders had reacted -- if they reacted at all -- with the speed of a glacier.
And while NCAA president Mark Emmert, the NCAA Executive Committee and the NCAA Board of Directors ultimately voted not to impose the so-called Death Penalty on Penn State's football program, it was certainly an option at that point. So Erickson signed the Consent Decree and has since been branded a traitor by those obsessed with Joe Paterno's legacy, or by those who contend the NCAA punishment doesn't fit the crime or, even more incredibly, that Penn State committed no crime.
But it is the final sentence of the decree that should give Penn State hope. It reads: "This Consent Decree may be modified or clarified by mutual written consent of the parties."
In other words, said an administrator familiar with the agreement between the NCAA and Penn State, the sanctions can be reviewed and amended. The administrator spoke on the condition of anonymity.
Of course, the NCAA, which is as transparent as chocolate milk, won't tell you this. It won't tell you anything, other than Penn State can't appeal the sanctions. When I asked an NCAA official if the NCAA had the option to reduce the length and breadth of the penalties, a spokesperson replied, "We don't have anything more to share beyond our previous statements on this matter."
This is one of the many reasons why the NCAA is the piñata of college athletics. Ask a simple question, get a non-answer.
But the NCAA isn't alone in its reluctance to discuss the issue. Interview requests to Sen. Mitchell, Oregon State president Dr. Ed Ray (former NCAA Executive Committee chair), Michigan State president Lou Anna Simon (present chair of the Executive Committee, Division I Board of Directors member), Northern Illinois president John Peters (member of Executive Committee and DI Board of Directors), Wake Forest president Nathan Hatch (chair of the DI Board of Directors, member of Executive Committee) all were declined.
A Penn State spokesperson said the school also would have no comment.
Meanwhile, Pennsylvania Gov. Tom Corbett presses forward with his antitrust lawsuit against the NCAA, all in the hopes that a federal court tosses the sanctions out the car window.
This is the same Corbett who issued a statement last July saying that in order to "repair the damage" done to Penn State by the Sandusky child sex abuse scandal, the sanctions were a necessary component in the "corrective process."
Now the governor apparently suffers from amnesia. So let me refresh his memory: As the state's attorney general, his office waited 33 months after first learning of allegations of Sandusky's criminal behavior before arresting the former Penn State assistant coach.
And despite Corbett's claim in the lawsuit that the NCAA conducted an "arbitrary decimation of the PSU football program," here's something to remember about the strength and will of those still remaining in that program: The Nittany Lions finished 8-4 this past season, appeared frequently on TV and, according to the ESPN RecruitingNation rankings, signed the 24th-best recruiting class in the country, including the top quarterback prospect and one of the best tight end prospects. Only three other programs in the Big Ten -- Ohio State (3), Michigan (6) and Nebraska (23) -- were ranked higher.
So, decimated? No. But there's no denying the cumulative effect of four years' worth of sanctions.
Anyway, Corbett's lawsuit is an insult to the victims of Sandusky's twisted crimes. How can anyone think that Penn State's inertia didn't help enable Sandusky? Or that the NCAA wouldn't step in and issue punishment?
Meanwhile, Penn State Board of Trustee member Anthony Lubrano wages his public war against the NCAA and those sanctions.
"I think there should be injunctive relief and the sanctions should be removed, period, end of story," he said in a telephone interview. "And I'd go so far as to say that the NCAA ought to pay us damages for the harm they've caused."
[+] Enlarge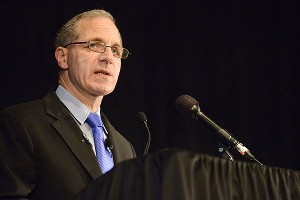 William Thomas Cain/Getty ImagesThe NCAA meted out sanctions based on Louis Freeh's report. Could they now adjust them?
Lubrano said he is the only Penn State trustee who hasn't signed the NCAA-mandated Athletic Integrity Agreement. "Because, as I told Sen. Mitchell, I don't believe we have an integrity issue," Lubrano said.
The Freeh report disagreed. So did the NCAA. So did then-Pennsylvania Attorney General Linda Kelly, who charged former Penn State president Graham Spanier, former VP Gary Schultz and former AD Tim Curley with five criminal counts each for their alleged role in what she described as a "conspiracy of silence."
Responded Lubrano: "It would be easy for us to just move forward and leave in our wake some people who helped make us what we are and who we are, particularly Joe [Paterno]. And that would be wrong. That would be wrong. That would be walking away from all that we represent.
"I think Mark Emmert's a sanctimonious hypocrite and he's proven me right time and time again."
But if the lawsuits fail (and by the way, Penn State isn't a party to any of them), then the NCAA is the only one that can reduce those sanctions. That's why Mitchell's quarterly reports are so important. That's why Penn State deserves that parole hearing.
Do something like this: If Penn State continues to get high marks from Mitchell in 2013, then eliminate the sanctions in 2014. If Penn State does the same in 2014, then eliminate the final year of sanctions in 2015.
In this scenario Penn State still will have suffered two years of crushing competitive and financial penalties, as well as feel the residual effects of those sanctions in seasons to come. But the scenario also incentivizes the university, rewards change and shows compassion. And here's guessing the Big Ten, which followed the NCAA's lead relative to a postseason ban and loss of revenue, would adjust its penalties accordingly.
So let Corbett flip-flop on his stance and use lawsuits as a weapon choice.
Let Lubrano thunder about Joe Pa and the "soul" of Penn State.
But it was the NCAA that imposed the sanctions and it is the NCAA that can reduce them. The sanctions were written in pencil, not ink. Time for the NCAA to bring out the eraser.
Columnist / College Football reporter
ESPN.com senior national columnist
Joined ESPN in 1998
Author of "The Last Great Game"
SPONSORED HEADLINES
MORE COLLEGE FOOTBALL HEADLINES
MOST SENT STORIES ON ESPN.COM
EDITORS' PICKS
Charlie Strong says he won't change at Texas.
Olson »

Washington presents new challenges for Chris Petersen.
Gemmell »

Teams that will dominate 2015 recruiting.
Crabtree
Nike Youth Penn State Nittany Lions Blue #28 Football Game Jersey Shop »