Coach chides Teddy Bridgewater
Updated:
September 9, 2013, 1:14 PM ET
ESPN.com news services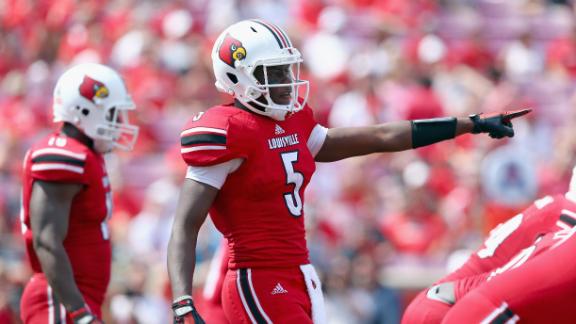 Bridgewater Waves Off Punt Team
Bridgewater Waves Off Punt Team
LOUISVILLE, Ky. -- Teddy Bridgewater can throw the ball all over the field and celebrate with fans in the stands. There's still some things the Louisville quarterback can't do.
Waving the punt team off the field is one.
"

I told him to get off the field. We have enough coaches on the field. We have enough coaches on staff. The punt team is coming. You don't send them off the field. "

-- Charlie Strong on Teddy Bridgewater
Bridgewater tried just that late in the first half against Eastern Kentucky on fourth-and-2.
But coach Charlie Strong made it clear that the junior doesn't have that authority, no matter how highly ranked the Cardinals might be or how much a Heisman Trophy candidate his quarterback might be.
"I told him to get off the field. We have enough coaches on the field. We have enough coaches on staff," Strong said he told Bridgewater when ordering him to the sideline. "The punt team is coming. You don't send them off the field."
Bridgewater turned in another strong performance, throwing for 397 yards and four touchdowns in the seventh-ranked Cardinals' 44-7 win over Eastern Kentucky on Saturday. He completed passes to eight different Cardinals for a second straight game and threw TDs to three different players.
But Strong was not pleased with Bridgewater's attempt to convert the fourth-and-2.
"You can't call off the punt team, not in that situation where that ball was," Strong said. "It was a 1:10 left before [the] half, and plus our side on the 50. No, we were going to punt that football."
Bridgewater, who inspired a T-shirt worn by at least one fan against Eastern Kentucky that simply said "Teddy Heisman," also explained what happened when he called off the punt team with less than 2 minutes left in the first half. He said it was a little confusing because of the no-huddle tempo.
"The offensive line was already at the line waiting for the ball to be snapped when the punt team ran on the field," Bridgewater said. "So I was just thinking, 'I know we run the play and get the first down.' Coach is a genius, and he calls the plays and he wanted to punt."
Strong was asked if Bridgewater is just so comfortable with the keys to the Louisville offense he wanted to keep going. Strong said sometimes keys have to be taken away from kids.
"That was one time we had to take them," Strong said.
Bridgewater also sounded frustrated by a lack of production in the run game and graded himself as only average completing 23 of 32 passes.
"Everyone may see 397 yards ..., but what I see is the less than 100 yards rushing," Bridgewater said. "I build my success around complete offense and total offense. I may have thrown for 397 yards, but there are some things I'm going to have to work on ... My check game, getting better looks for the running backs. I'm going to watch the film and evaluate."
Against FCS-level Eastern Kentucky, the Cardinals (2-0) ran the ball 28 times for 78 yards, averaging 2.8 yards per carry. Senorise Perry scored on a 5-yard touchdown run, and both he and Dominique Brown had an 8-yard run apiece. They just couldn't get first downs when needed with Bridgewater helping pick up 15 of the 20 first downs through the air.
Louisville ran the ball pretty well in the season opening win over Ohio, showing plenty of balance behind Perry, Brown and former Auburn running back Michael Dyer. The Cardinals totaled 199 yards in that game.
Strong said the Cardinals didn't stay on their blocks longer.
"We have to create the seams, and we didn't create the seams," Strong said.
Information from The Associated Press was used in this report.
SPONSORED HEADLINES
MORE COLLEGE FOOTBALL HEADLINES
MOST SENT STORIES ON ESPN.COM
EDITORS' PICKS
Who's No. 1 in the first mock of 2014?
Todd McShay »

On the road with junior college recruiters
Crabtree »

Fans and the BCS will soon part ways for good.
Miller »

Rawlings Louisville Cardinals Game Time Full-Sized Football Shop »