Oregon changes: Maybe for the better
Originally Published:
September 12, 2013
By
Ivan Maisel
| ESPN.com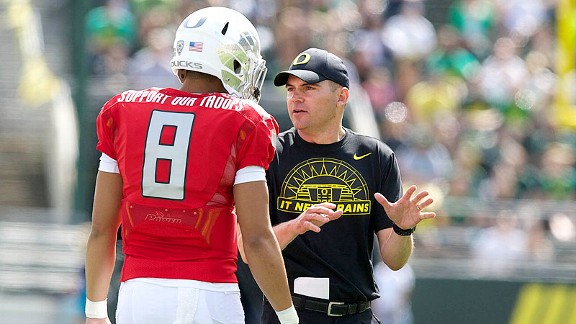 Scott Olmos/USA TODAY SportsMarcus Mariota and Mark Helfrich have continued Chip Kelly's pace at Oregon.
If Tennessee held a glimmer of hope that Oregon would wobble after the departure of Chip Kelly, one look at the video of the No. 2 Ducks' 59-10 rout at Virginia last Saturday might have made the Vols go wobbly themselves.
The Ducks played the same fast-break offense, scoring points quickly and often. They played the same defense, sending waves of players onto the field all game long. The architect of Oregon's rise may be gone, wearing green three time zones to the east, but the Ducks are carrying on nicely in his absence.
"The culture we built here hasn't changed at all," quarterback Marcus Mariota said. "Coach [Mark] Helfrich was within the program and he understands kind of the way we run things around here. As it continues to go on, I think guys understand that this culture is successful, and why change it?"
Two games may not qualify as a data sample, but the Ducks appear to have changed only in the typical ways from last season. Mariota is a year older and a year smarter. De'Anthony Thomas is getting the ball in more ways, befitting someone in his third season. The Ducks committed 11 penalties for 119 yards, nearly all of them mental errors befitting an early game. But like a flight crew on a G5 flying around the world, Kelly handed the controls to his successor and the jet continued without a hitch.
And still very, very fast.
Oregon scored eight touchdowns at Virginia, with only one drive lasting longer than three minutes. That is old news, but the way the offense operated is not. Mariota, the redshirt sophomore who quietly became a revelation a year ago, finished second in the FBS with an 87.8 QBR, is doing what upperclassmen do. He is taking on more responsibility.
[+] Enlarge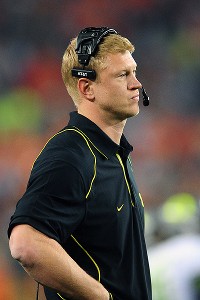 Mark J. Rebilas/USA TODAY SportsScott Frost stepped into the offensive coordinator role, adding play-calling duties for a potent offense.
"I think he's even more dangerous with the ball in his hands," offensive coordinator Scott Frost said. "He's bigger and faster. I think he has a better grasp of the game and the game plan so we can ask him to do more. Last year he was a distributor and made some plays when they came to him. This year we want him to be a playmaker."
Mariota could tuck his ego into a sandwich bag and still have room for lunch. He described his role as a point guard, distributing the ball around the court. But this season he may look more like Chris Paul, calling his own number on occasion. Take last Saturday, the moment during the Ducks' first possession when he saw the Cavaliers defense give him the look the offense had prepared for all week. Mariota took the snap, split a seam and raced 71 yards down the middle of the field.
"We were hoping to get a certain coverage in empty, and we did, and he read it right," Frost said. "And he's pretty fast."
Mariota is also changing protections, even changing plays at the line. On third-and-eight at the Virginia 22 late in the third quarter, Mariota checked into a pass to wide receiver Bralon Addison for 11 yards.
The Duck defense, forever in the shadow of its flashy, point-a-minute teammates, looked to be in November form against the Cavaliers, who ran 86 plays, yet gained only 298 yards and, of course, scored only a touchdown and a field goal. Veteran coordinator Nick Aliotti used 21 players in the first half to shoulder the extra workload.
"We played four inside backers, four outside backers, seven D-linemen, and six secondary guys," Aliotti said. "Twenty-one is OK. Twenty-three, 24 is what we're shooting for because of the way that games are played now."
Oregon has very good players on both sides of the ball. It has eight of its 10 coaches back from last season, but some of them are sitting in different chairs or watching the game from different places. Helfrich is on the sideline instead of in the press box for the first time in years. He isn't calling the plays anymore. He ceded that responsibility to Frost. But Helfrich creates the offensive game plan, and the two of them yak all week and during the game.
"Different vantage point," he said. "I'm getting used to all on-the-job training stuff that you can't really practice: penalties, emotion, dealing with those guys on the sideline, making sure everybody is pointing in the right direction."
One thing hasn't changed, Frost said -- Helfrich's ability to dissect a defense.
"It's unbelievable how much he sees from the sideline," Frost said. "I can see everything form the box. You'd expect to see everything from the box. He's so used to looking at it he can see it -- he and Chip do the same thing. Those guys are so used to it they can see all 22 from the sideline, which is hard to do."
Actually, a lot of things haven't changed. Oregon is still acquiring touchdowns like it's shopping from Sam's Club. The defense remains unheralded. And the Ducks are in the top five. They aren't wobbling at all.
Senior Writer, ESPN.com
ESPN.com senior college football writer
Four-time FWAA award winner
27 seasons covering college football
SPONSORED HEADLINES
MORE COLLEGE FOOTBALL HEADLINES
MOST SENT STORIES ON ESPN.COM