Jadeveon Clowney working to return
Updated:
October 9, 2013, 1:56 PM ET
By
Chris Low
| ESPN.com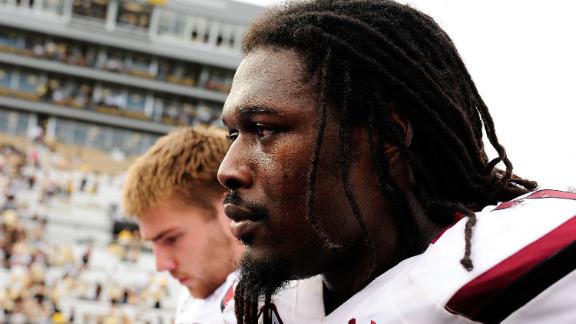 Clowney's Status Uncertain For Saturday
Trevor Matich discusses Steve Spurrier's comments about Jadeveon Clowney and Clowney's status for Saturday against Arkansas.
Clowney's Status Uncertain For Saturday
South Carolina coach Steve Spurrier said Tuesday he wanted to "clear the air" about Jadeveon Clowney and that "we all handled it poorly" last week when Clowney told the Gamecocks' coaches at the last minute he was too injured to play in the game.
More from ESPN Insider

Will sitting out hurt Jadeveon Clowney's stock? It's not going to change any minds in the short term, writes Todd McShay. Draft Blog
---

Jadeveon Clowney still leads the Big Board, Mel Kiper's ranking of the top 25 NFL prospects in college football. But other pass-rushers are moving up. Big Board
• Vote: Has Clowney hurt draft stock?
Clowney, who has a muscle strain near his rib area, remains questionable for Saturday's game at Arkansas, but Spurrier said his star defensive end was doing all he could to get back onto the field.
"He was in pain. It was diagnosed later, and obviously we all handled it poorly. All of us did," Spurrier said.
Clowney didn't tell the coaches that he couldn't play last week against Kentucky until after the team arrived at the stadium.
Afterward in his postgame press conference, Spurrier was clearly upset over the way it all went down. He said at the time that he would welcome Clowney back to "come play for the team if he wants." Spurrier then added, "But if he doesn't want to play, he doesn't have to play. Simple as that."
Clowney said he wasn't upset with his coach's postgame comments.
"He's really competitive," Clowney said Tuesday. "He was just saying stuff. It's all right."
Since then, there have been questions about whether the potential No. 1 pick in next year's NFL draft was shutting it down for the season.
"That's people's opinions," Clowney said. "I'm here with my team every day, practicing with my team."
"Am I fully committed? Always,'' Clowney said. "I could've sat out. I'm not looking to sit out. I'm not that type of guy. I'm here for the team.''
Tale of Two Seasons
South Carolina DE Jadeveon Clowney is way off last season's pace when he finished with 13 sacks, was a unanimous All-American and won the Ted Hendricks Award:
| 4-game totals | 2012 | 2013 |
| --- | --- | --- |
| Tackles | 17 | 12 |
| Tackles/loss | 7.0 | 3.0 |
| Sacks | 4.5 | 2.0 |
During his regular weekly press conference on Tuesday, Spurrier's tune had changed, and he went out of his way to defend Clowney. Spurrier explained that he now had all the information. He said that the proper procedure is for the player to tell the head trainer whether he can play and then for the trainer to tell the head coach.
"But we all didn't do that, and it caused some confusion," Spurrier said.
In stark contrast to his comments Saturday, Spurrier also said: "Let me say this about Jadeveon: If he never plays another snap here, we all should be thankful and appreciative that he came to South Carolina. We've won 26 games, two 11-2 years, the greatest seasons we've had in the history of this school, so none of us need to be upset at Jadeveon, none of us.
"I'm all for Jadeveon and his future, and when he's ready to play, we're going to put him out there."
Spurrier said Clowney has been receiving treatment twice daily since missing the game Saturday. Clowney, who didn't practice Monday, has also been plagued this season by bone spurs in his right foot and a stomach bug.
"When I get back healthy, I'm going to play and do my job and take care of business on the field," Clowney said.
Information from The Associated Press was used in this report
SPONSORED HEADLINES
MORE COLLEGE FOOTBALL HEADLINES
MOST SENT STORIES ON ESPN.COM
EDITORS' PICKS
Ivan Maisel catches up with several Pac-12 coaches.
Podcast

Laundry room among secret recruiting weapons.
Willis »

Nick Saban discusses his fear of Santa and wears a Luigi hat.
Story »
Under Armour Men's South Carolina Gamecocks #7 White Replica Football Jersey Shop »