Commentary
The selection committee got it right
Originally Published:
October 16, 2013
By
Ivan Maisel
| ESPN.com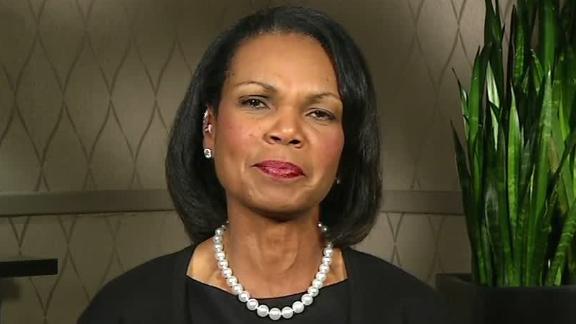 Condoleezza Rice Talks Panel Selection
Condoleezza Rice Talks Panel Selection
The College Football Playoff announced Monday that Jeff Long would chair the selection committee, and immediately the inquiry light glowed red. The Southeastern Conference representative in charge? Puh-leez. It's like putting Walter White in charge of the D.A.R.E. program at J.P. Wynne High. The conspiracy theorists, their backroom scenarios in tow, are sure to believe that the (insert conference here) will be deprived of its rightful place among the college football elite.
First of all, anyone who recalls Long's decision-making concerning Bobby Petrino and his choice of motorcycling companions should have no concern about Long's integrity. Second, I feel certain that Long will show no favoritism to the school where he played football and baseball. There is no chance that Ohio Wesleyan will get a leg up on one of the four berths available for college football's national playoff.
[+] Enlarge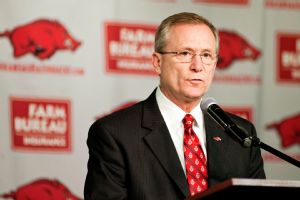 Beth Hall/USA TODAY SportsArkansas athletic director Jeff Long has been involved in collegiate athletics at several levels and across many conferences.
Long is the athletic director at Arkansas, which is in the Southeastern Conference, which has won the last seven BCS championships. Long's 30-plus years in athletic administration include jobs in the Big 12 (Oklahoma); ACC (Virginia Tech, Duke and North Carolina State); Big Ten (Michigan); Conference USA (Rice); and Mid-American (Miami, Ohio). Depending on how strict the committee makes its recusal rule, Long may be in the room only long enough to discuss Oregon.
All kidding aside, the committee is in good hands. And even if Long took the job and proved to be as dense as Bertie Wooster, executive director Bill Hancock is there to act as Jeeves.
The entire committee was announced Wednesday at a news conference in Dallas. Once the traditionalists unknot their shorts over the inclusion of former Secretary of State Condoleezza Rice, they will realize that Hancock and the commissioners who assembled the committee performed good work.
CFP Selection Committee

Get ready, selection committee. The torches, pitchforks and message boards will be coming your way very soon, writes Ted Miller. Story

The College Football Playoff selection committee wasted no time appointing a woman, despite the initial outcry at Condoleezza Rice's inclusion, writes Andrea Adelson. Story

Committee blends members with broad ranges of experience across college football, writes Ivan Maisel. Story
The committee includes one member who won a national championship (USC athletic director Pat Haden) as a player, one as an assistant coach (Wisconsin athletic director Barry Alvarez) and one as a head coach (Nebraska icon Tom Osborne). It includes former quarterbacks who threw (Haden and West Virginia athletic director Oliver Luck), one who ran (three-time head coach Ty Willingham) and one who did both (National Football Foundation chair Archie Manning).
In the end, however, if the committee works as it is expected to work, the style of play with which the committee members are familiar won't matter. Neither will the schools where the members work or used to work, or the weather, or the number of stars at the resort where they meet.
George Mason athletic director Tom O'Connor served on the NCAA Division I Men's Basketball Committee for five seasons, chairing it six years ago.
"If you trust the people that are working with you, they can work through all of the discussions," O'Connor said Monday. "That was relatively easy when I was on the committee, because there was a high level of trust. ... You find out that people are all working for the same goal and the same objective: to get it right, and get it right for, first and foremost, the student-athlete, then to get it right for everyone else, the school, the fans and what not."
[+] Enlarge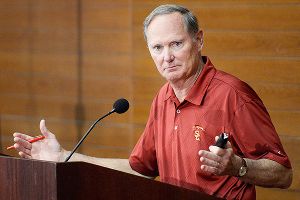 Kelvin Kuo/USA TODAY SportsCommittee member Pat Haden knows players' perspective from winning a national title as a quarterback at USC, and now serves as the school's athletic director.
O'Connor remembers his first season on the committee, when he felt like a rookie. The football committee is starting from scratch. They are all rookies. A few have served on the basketball committee, including former Big East commissioner Mike Tranghese. A decade ago, Tranghese served as BCS chair, a tenure best remembered for his reaction during the 2003 fiasco, when No. 1 USC somehow failed to make the BCS National Championship Game.
"I think we made a mistake," Tranghese said at the time.
Tranghese, an early and vocal proponent of a selection committee, will smooth the path ahead. There are already plenty of relationships among the group -- Rice and Willingham are good friends; Alvarez not only served as a Big Ten AD with Osborne, but he played for the Huskers in the late '60s when Osborne served as an assistant coach to Bob Devaney.
But as hokey as it sounds, and as much as it raises the hackles of the cynical, what O'Connor said really will drive these deliberations. Athletic directors and coaches alike got into the business for the same reason. They had a coach who influenced their lives for the good and they want to pay it forward. The good ones in the business never forget why they got into it. If they keep that responsibility, this committee will be fine.
Unless we see Ohio Wesleyan playing Oregon.
Senior Writer, ESPN.com
ESPN.com senior college football writer
Four-time FWAA award winner
27 seasons covering college football
EDITORS' PICKS
A look at QB Blake Sims' road to starting for Alabama.
Schlabach »

Notre Dame's Joe Schmidt is fulfilling his childhood goal of anchoring the Irish defense.
Matt Fortuna »

Our reporters break down all things SEC.
SEC show replay