Blue Ribbon Preview: Air Force Falcons
Updated:
July 3, 2012, 6:14 PM ET
Blue Ribbon College Football Yearbook
Editor's Note: ESPN Insider has teamed with Blue Ribbon College Football Yearbook to provide a comprehensive look at all 122 FBS teams. To order the complete 2012 edition of Blue Ribbon College Football Yearbook, visit www.blueribbonyearbookonline.com or call 1-877-807-4857 Monday through Friday from 9 a.m. to 5 p.m. Eastern. This information is up to date as of June 25, 2012.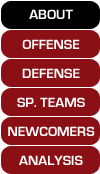 ABOUT
One streak ended while another remained intact for Air Force football under coach Troy Calhoun.
The Falcons won eight or more games in Calhoun's first four seasons, but despite having a veteran team, some key injuries resulted in only seven victories and they and finished a disappointing fifth in the Mountain West. But Air Force played in its fifth consecutive bowl game, where it lost 42-41 to Toledo in the Military Bowl. Still, Calhoun is the only coach in 100-plus years of service academy football to have such success.
2012 Schedule
Sept. 1 -- Idaho State
8 -- @Michigan
22 -- @UNLV
29 -- Colorado State
Oct. 6 -- Navy
13 -- Wyoming
20 -- New Mexico
26 -- Nevada
Nov. 3 -- @Army
10 -- @San Diego State
16 -- Hawaii
24 -- @Fresno State
•
2011 Schedule and Results
•
2011 Statistics
Air Force also won its second straight Commander-in-Chief's Trophy, and has won five straight games against Army and Navy. In service academy football, those feats are bigger than bowl games and conference titles.
"We've had a heck of a run here," Calhoun said.
For that run to continue may take one of the best jobs to date for Calhoun and his staff. Air Force graduated 27 seniors and returns only three starters on offense and two on defense. However, there are several players projected to start or play this season that have seen game action.
"I'd expect this fall we're going to play a bunch of sophomores, yet sprinkle in some juniors and seniors," Calhoun said. "Every team always has to find their new path. This team, more than any other team I've been around, is going to have to find what their niche is. … It's an eager group. We have a bunch of new blood in there.
THE STAFF
MOUNTAIN WEST TEAMS
Head Coach: Troy Calhoun (Air Force '89)
Record at school: 41-24 (5 years)
Career record:41-24 (5 years)
Assistants:
• Clay Hendrix (Furman '86) Assoc. Head Coach/Off. Coordinator
• Steve Russ (Air Force '95)Assoc. Head Coach/Def. Coordinator/Secondary
• Matt Thiessen (Air Force '01) Assistant Head Coach/Receivers
• Charlton Warren (Air Force '99) Assistant Head Coach/Recruiting
• Blane Morgan (Air Force '99) Off. Coordinator/Quarterbacks
• Ron Burton (North Carolina '87) Defensive Line
• Jake Campbell (Air Force '96) Offensive Assistant
• Ben Miller (Air Force '00) Tight Ends/Special Teams
• Jake Moreland (Western Michigan '00) Tight Ends
• Lt. Col. Bill Price (Air Force '91) Offensive assistant
• Capt. John Rudzinski (Air Force '05) Outside Linebackers/Recruiting Coordinator
• Lt. Col. Darryl Sumrall (Air Force '89) Assistant Coach
• Matt Weikert (Ohio '02) Inside Linebackers
SPONSORED HEADLINES
MORE COLLEGE FOOTBALL HEADLINES
MOST SENT STORIES ON ESPN.COM
BLUE RIBBON: MWC PREVIEWS
"Blue Ribbon College Football Yearbook" previews the 2012 season for each Mountain West school. Take a look:
Mountain West
Blue Ribbon Central