Blue Ribbon Preview: Arkansas
Originally Published:
July 6, 2012
Blue Ribbon College Football Yearbook
Editor's Note: ESPN Insider has teamed with Blue Ribbon College Football Yearbook to provide a comprehensive look at all 122 FBS teams. To order the complete 2012 edition of Blue Ribbon College Football Yearbook, visit www.blueribbonyearbookonline.com or call 1-877-807-4857 Monday through Friday from 9 a.m. to 5 p.m. Eastern. This information is up to date as of June 25.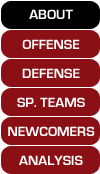 ABOUT
The Arkansas Razorbacks played on Thanksgiving weekend at No. 1 LSU as the No. 3 team in the Bowl Championship Series rankings, with a shot at playing for all the marbles. Less than five months after that loss in Baton Rouge, which featured less-than-gentlemanly actions by coach Bobby Petrino, the Razorbacks were looking to replace the man who built Arkansas into a national title contender after his ill-timed wipeout on his Harley-Davidson on April Fool's Day.
Arkansas athletic director Jeff Long pulled a bit of a stunner when he responded to a feeler by former Arkansas assistant John L. Smith by re-hiring the affable Idaho native away from his alma mater Weber State for an uncommon 10-month deal worth $850,000.
The return of Smith, who had left in December just before the Razorbacks' Cotton Bowl preparations, was a big winner in the locker room. The team's large core of veterans lobbied Long to keep the coaching staff intact and the Hogs' momentum rolling for at least the 2012 season, and Long obliged.
2012 Schedule
Sept. 1 -- Jacksonville State
8 -- @Louisiana-Monroe
15 -- Alabama
22 -- Rutgers
29 -- @Texas A&M
Oct. 6 -- @Auburn
13 -- Kentucky
27 -- Ole Miss
Nov. 3 -- Tulsa
10 -- @South Carolina
17 -- @Mississippi State
23 -- LSU

•
2011 Schedule and Results
•
2011 Statistics
Smith inherited a coaching staff with whom he had previous working experience, with the exception of assistant head coach Taver Johnson, who re-joined fellow former Ohio State assistant Paul Haynes, the new defensive coordinator, as the Razorbacks skewed younger with defensive staff changes in the offseason.
Smith's presence should ensure that the defense gets plenty of attention and personnel considerations, whereas in the past Petrino sometimes made decisions in the best interest of the offense. Haynes said priority No. 1 in the fall is to become a more rugged run-stopping unit, and the Razorbacks' wealth of defensive tackles should help toward that aim.
Smith conducted a raucous, high-energy introductory press conference on April 24, during which he proclaimed the Razorbacks to be on the cusp of something big.
"I want to say that our expectations are the same, OK?" Smith said. "Nothing's going to slow down. In fact, we're going to speed up.
"Our expectations are that we're going to go ahead and we're going to battle and fight for a national title. It was that way when I walked in the door three years ago, and it's going to continue to be that way."
Quarterback Tyler Wilson said Smith obviously has fun in front of the cameras, but he also has the respect of the team.
"The guys love him. The guys will want to play for him," Wilson said. "That's probably the No. 1 thing, is guys are going to want to take that field, proving to everybody that we made a great decision."
Star tailback Knile Davis said the hiring of Smith was roundly welcomed in the locker room because the team's schemes won't be overhauled. "I love it," Davis said. "I'm glad he's back. … It's a great relief. Like he said, he's going to let his coordinators coordinate. It's going to be pretty much the same."
THE STAFF
SEC TEAMS
Head Coach: John L. Smith (Weber State '71)
Record at School: First year
Career Record: 132-86 (18 years)

Assistants
• Taver Johnson (Wittenberg '94) ASSISTANT HEAD COACH/LINEBACKERS; Paul Petrino (Carroll College '88) OFFENSIVE COORDINATOR/QUARTERBACKS; Paul Haynes (Kent State '92) DEFENSIVE COORDINATOR/SECONDARY; Bobby Allen (Virginia Tech '83) CORNERBACKS; Steve Caldwell (Arkansas State '77) DEFENSIVE ENDS; Kris Cinkovich (Carroll '84) WIDE RECEIVERS; Tim Horton (Arkansas '90) RUNNING BACKS/RECRUITING COORDINATOR; Chris Klenakis (Carroll '86) OFFENSIVE LINE; Kevin Peoples (Carroll '95) DEFENSIVE TACKLES
BLUE RIBBON: SEC PREVIEWS
"Blue Ribbon College Football Yearbook" previews the 2012 season for each SEC school. Take a look:
SEC East
SEC West
Blue Ribbon Central
MORE COLLEGE FOOTBALL HEADLINES