Blue Ribbon Preview: Arkansas State
Originally Published:
July 4, 2012
Blue Ribbon College Football Yearbook
Editor's Note: ESPN has teamed with Blue Ribbon College Football Yearbook to provide a comprehensive look at all 122 FBS teams. To order the complete 2012 edition of Blue Ribbon College Football Yearbook, visit www.blueribbonyearbookonline.com or call 1-877-807-4857 Monday through Friday from 9 a.m. to 5 p.m. Eastern. (The information in these previews is current through June 25, 2012.)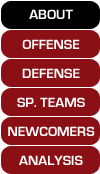 ABOUT
Gus Malzahn set some lofty goals when taking over as Arkansas State's coach. On multiple occasions, he's commented that one of his goals is to make the Red Wolves' program the Boise State of the South.
"I'm a dreamer. And I want my players to dream," Malzahn said. "Jonesboro is one of those hidden gems, I believe. It's a great location.
"And Boise State, if you rewind to eight years ago, we feel we're in just as good position as they were eight years ago. We're going to build new facilities. It's going to be a new day here at Arkansas State. We really believe we're going to get it done."
If Malzahn intended to whip the Red Wolves' fan base into a frenzy with those remarks, he accomplished his mission. A record crowd of more than 6,000 turned out for the Arkansas State spring game.
Malzahn showed similar ambition after spring practice concluded. First, he and his staff visited all 215 high schools in Arkansas in a five-day span in late April. Then, Malzahn personally canvassed the state to give 15 stump speeches in 14 different locales -- covering more than 1,100 miles in the process.
As a result, the expectations and enthusiasm around the Arkansas State program are at all-time highs -- even though Malzahn is the Red Wolves' third coach in as many years. He stepped in to replace Hugh Freeze, who led ASU to a program-best 10 wins and an undefeated run through the Sun Belt Conference in his solitary season in charge before leaving to replace Houston Nutt at Ole Miss.
2012 Schedule
Sept. 1--@Oregon
8--Memphis
15--@Nebraska
22--Alcorn State
29--Western Kentucky
Oct. 4--@ Florida International
13--South Alabama
23--@Louisiana-Lafayette
Nov. 3--@North Texas
8--Louisiana-Monroe
17--@Troy
Dec. 1--Middle Tennessee
•
2011 Schedule and Results
•
2011 Statistics
Malzahn definitely took the road less traveled to become one of 124 head coaches in the FBS. After spending 14 years as a head coach at Springdale High School in Arkansas, Malzahn made the jump to college's premier level as offensive coordinator for the University of Arkansas. Stints as the offensive coordinator at Tulsa and Auburn followed, and Malzahn called the shots during the Tigers' run to the BCS championship in 2010. Vanderbilt and Maryland both reportedly pursued Malzahn for their vacant head coaching positions, but he elected to remain on the staff at Auburn. Now, Malzahn returns to his native state for his first tour of duty as an FBS coach -- and as the highest-paid coach in the Sun Belt with a total annual compensation topping $800,000.
Arkansas State will run Malzahn's up-tempo, no-huddle offense -- the same scheme that dates back to his days at Springdale High. Play-calling will be a joint effort between Malzahn and offensive coordinator Rhett Lashlee, a former pupil of Malzahn at both Springdale and Arkansas. Lashlee also worked under Malzahn at Auburn as his quality control assistant.
"Even when we were at Auburn, he was my right hand man. And I really relied on him a lot. We're used to working together," Malzahn said.
Both Malzahn and Freeze built their reputations as coaches with high-powered offenses, but Arkansas State won the Sun Belt last year thanks to a stingy defense. The losses on that side of the ball are profound. Arkansas State must replace 16 lettermen, including seven starters and four first-team all-conference selections.
"We lost just about everybody. We're really starting over," Malzahn said of the defense. "You should see that group improve as the year goes on."
Defensive coordinator John Thompson actually was the second choice for that duty. Keith Patterson, the original hire, left after about a month to join the West Virginia staff.
THE STAFF
Sun Belt Teams
Head Coach:Gus Malzahn (Henderson State '90)
Record at School: First year
Career Record: First year

Assistants
• Rhett Lashlee (Arkansas '06) OFFENSIVE COORDINATOR/QUARTERBACKS
• John Thompson (Central Arkansas '78) DEFENSIVE COORDINATOR
• Eliah Drinkwitz (Arkansas Tech '04) RUNNING BACKS/SPECIAL TEAMS COORDINATOR
• J.B. Grimes (Henderson State '77) OFFENSIVE LINE
• David Gunn (Arkansas '87) CORNERBACKS
• Brandon Hall (Oklahoma '00) LINEBACKERS
• Kenny Ingram (Arkansas State '99) DEFENSIVE LINE
• Dean Jackson (Wichita State '81) TIGHT ENDS
• Casey Woods (Tennessee '06) WIDE RECEIVERS/RECRUITING COORDINATOR
BLUE RIBBON: SUN BELT
"Blue Ribbon College Football Yearbook" previews the 2012 season for each Sun Belt school. Take a look:
Sun Belt
Blue Ribbon Central
MORE COLLEGE FOOTBALL HEADLINES