Blue Ribbon Preview: Army
Originally Published:
July 4, 2012
Blue Ribbon College Football Yearbook
Editor's Note: ESPN Insider has teamed with Blue Ribbon College Football Yearbook to provide a comprehensive look at all 120 FBS teams. To order the complete 2011 edition of Blue Ribbon College Football Yearbook, visit www.blueribbonyearbookonline.com or call 1-877-807-4857 Monday through Friday from 9 a.m. to 5 p.m. Eastern. This information is up to date as of June 25.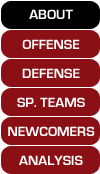 ABOUT
Give Army head coach Rich Ellerson credit; he's not afraid to think creatively.
After watching his team go 3-9 last year, Ellerson shook things up
2012 Schedule
Sept. 8 -- @San Deigo State
15 -- Northern Illinois
22 -- @Wake Forest
29 -- Stonybrook
Oct. 6 -- Boston College
13 -- Kent State
20 -- @Eastern Michigan
27 -- Ball State
Nov. 3 -- Air Force
10 -- @Rutgers
17 -- Temple
Dec. 8 -- Navy*
* Lincoln Field, Philadelphia
•
2011 Schedule and Results
•
2011 Statistics
In the spring, moving several players to new positions, and even tweaking the Black Knights' practice schedule to maximize his team's "recovery cycle, nutrition, and time management."
Ellerson conducted all his spring practices in the morning, to, he hoped, give his players an advantage over their rigorous schedule, which is unique to other non-military academy teams. Morning practices worked so well, Ellerson said, he's considering using them during the fall, to cut down on injuries and get the most out of his team.
"We've like what we've seen so far," Ellerson said. "We don't want to get ahead of ourselves, [but] I'm encouraged by the quality of work that's been done, and what I'm seeing tells me it's a positive. We're chipping away at the nutrition, and the rest-recovery model looks to be better, but we don't want to get caught rooting for something. We want to make sure we step back and look at it objectively. So far, the initial data points we've gotten have been positive."
THE STAFF
INDEPENDENT TEAMS
Head Coach: Rich Ellerson (Hawaii '77)
Record at school: 15-22 (3 years)
Career record: 75-63 (12 years)
Assistants:
• Gene McKeehan (Utah State '68) Associate Head Coach/Offensive Guard/Centers
• Ian Shields (Oregon State '94) Offensive Coordinator/QBs
• Payam Saadat (Washington State '95) Co-Defensive Coordinator/LBs
• Chris Smeland (Cal Poly '74) Co-Defensive Coordinator/Safeties
• John Brock (Curry College '02) Rovers/B-Squad
• Tony Coaxum (West Point '00) Cornerbacks
• Andy Guyader (Cal Poly '97) Wide Receivers
• Capt. Clarence Holmes (West Point '03) Defensive Tackles
• Robert Lyles (TCU '94) Whip Linebackers
• John Mumford (Pittsburgh State '79) Ddefensive Ends
• Luke Thompson (Assumption '98) Fullbacks/Special Teams
• Bill Tripp (Bridgeport '70) Offensive Tackles
• Tucker Waugh (DePauw '93) Slot Backs/Recruiting Coordinator

SPONSORED HEADLINES
MORE COLLEGE FOOTBALL HEADLINES
MOST SENT STORIES ON ESPN.COM
BLUE RIBBON: INDEPENDENT PREVIEWS
"Blue Ribbon College Football Yearbook" previews the 2012 season for each Independent school. Take a look:
Independents
Blue Ribbon Central