Blue Ribbon Preview: Clemson
Originally Published:
July 2, 2012
Blue Ribbon College Football Yearbook
Editor's Note: ESPN has teamed with Blue Ribbon College Football Yearbook to provide a comprehensive look at all 122 FBS teams. To order the complete 2012 edition of Blue Ribbon College Football Yearbook, visit www.blueribbonyearbookonline.com or call 1-877-807-4857 Monday through Friday from 9 a.m. to 5 p.m. Eastern. (The information in these previews is current through June 25, 2012.)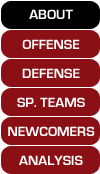 ABOUT
By leading Clemson to the 2011 ACC title, head coach Dabo Swinney received an automatic pay raise of more than $400,000. Swinney told the university to distribute the bulk of that incentive among his assistant coaches.
Swinney, who holds an MBA and was a former real estate developer, considers such a move an investment in the long-term future of the program.
"I have a goal of building this program into a national champion and being a top-10 program year in and year out," Swinney said. "That's my goal, and you're only as good as the staff you surround yourself with. It's a competitive market out there these days.
2012 Schedule
Sept. 1 -- Auburn
8 -- Ball State
15 -- Furman
22 -- @Florida State
29 -- @Boston College
Oct. 6 -- Georgia Tech
20 -- Virginia Tech
25 -- Wake Forest
Nov. 3 -- @Duke
10 -- Maryland
17 -- NC State
24 -- South Carolina
•
2011 Schedule and Results
•
2011 Statistics
"I don't think you're going to see guys leave here for more money. That's how committed I am to where we need to be from a staff salary structure standpoint."
Swinney's bank balance probably won't miss the $265,000 spread among his staff members. After the Tigers pulled off their first 10-win season and ACC title in two decades, Clemson extended his contract and gave him a raise that increased his base salary to the cusp of $2 million annually and will keep Swinney at Death Valley through the end of the 2017 campaign. Pretty impressive, considering Swinney first got the job on an interim basis after Clemson fired Tommy Bowden at the midpoint of the 2008 season.
"Usually when an interim coach is put in place, it's usually not because things are going great," said Swinney, who has led Clemson to a pair of Atlantic Division titles. "When you look back at where we were, and where we are now, in three years we have accomplished a lot of things that haven't been done here in a long time."
Clemson could have made even more history if not for a late-season fade. The Tigers went into November with an 8-0 record and the No. 5 spot in the national rankings. Given how the BCS standings ended up, Clemson had a shot at becoming the first ACC team in 11 years to compete for the national championship. Instead, the Tigers lost three of their final four regular-season games followed by an ugly 70-33 blowout at the hands of West Virginia in the Orange Bowl.
One week after the bowl, Clemson announced Kevin Steele's exit as defensive coordinator -- Steele said he was fired, while the school insisted he resigned. Regardless, it looked like the bowl loss was what ran off Steele. But Clemson battled defensive issues all season long. The Tigers surrendered at least 30 points in half of their 14 games, and the 394 yards per game allowed was the team's worst total-defense average since 2001.
Brent Venables stepped in to replace Steele after spending the previous eight seasons as Oklahoma's defensive coordinator. He faces the task of rebuilding the confidence of a unit whose pride was roughed up against West Virginia. Swinney said it helps that the coaching staff instructs players not to dwell on past events -- whether they're good or bad.
"That's why, when you get in your car, the windshield is as big as it is and the rear-view mirror is real small," Swinney said. "It's important what's behind you and what you've gone through & it's much more important what's in front of you."
It's full-speed ahead on the offense where, in his first campaign as coordinator, Chad Morris orchestrated an attack that set single-season team records for points, touchdowns, total offense and passing offense. All that earned Morris a pay hike last December; he now pulls down $1.3 million, making him the highest paid assistant in college football.
Individually, Clemson produced an All-American in freshman receiver Sammy Watkins while quarterback Tahj Boyd set the ACC single-season record for touchdown passes.
THE STAFF
ACC TEAMS
Head Coach: Dabo Swinney (Alabama '93)
Record at School: 29-19 (4 years)
Career Record: 29-19 (4 years)

Assistants
• Dan Brooks (Western Carolina '76) Associate Head Coach/Defensive Line
• Danny Pearman (Clemson '97) Assistant Head Coach/Tight Ends
• Chad Morris (Texas A&M '92) Offensive Coordinator/QBs
• Brent Venables (Kansas State '92) Defensive Coordinator/LBs
• Charlie Harbison (Gardner-Webb '96) Co-Defensive Coordinator/Defensive Backs
• Marion Hobby (Tennessee '96) Co-Coordinator of Run Game / Defensive Ends
• Robbie Caldwell (Furman '77) Offensive Line
• Tony Elliott (Clemson '02) Running Backs
• Jeff Scott (Clemson '03) Wide Receivers/Recruiting Coordinator
BLUE RIBBON: ACC PREVIEWS
"Blue Ribbon College Football Yearbook" previews the 2012 season for each ACC school. Take a look:
ACC Atlantic
ACC Coastal
Blue Ribbon Central
MORE COLLEGE FOOTBALL HEADLINES
Nike Youth Clemson Tigers White #10 Football Game Jersey Shop »

MOST SENT STORIES ON ESPN.COM