Blue Ribbon Preview: Georgia
Originally Published:
July 6, 2012
Blue Ribbon College Football Yearbook
Editor's Note: ESPN Insider has teamed with Blue Ribbon College Football Yearbook to provide a comprehensive look at all 122 FBS teams. To order the complete 2012 edition of Blue Ribbon College Football Yearbook, visit www.blueribbonyearbookonline.com or call 1-877-807-4857 Monday through Friday from 9 a.m. to 5 p.m. Eastern. This information is up to date as of June 25.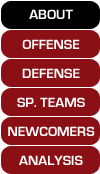 ABOUT
Two games into 2012, the situation looked pretty bleak for Georgia coach Mark Richt. As one of the coaches who entered the season on the proverbial "hot seat" after a 6-7 record the previous year, Richt hadn't exactly helped his shaky status with a disappointing opening defeat to Boise State in Atlanta and a hard-fought home loss to South Carolina the following weekend.
Losing to the Gamecocks meant the Bulldogs would have to face a string of must-win games in order to stay afloat in the SEC East. It seemed each week brought constant pressure onto a team looking to save the job of its long-time head coach, but behind a rapidly improving defense, Georgia responded. Ten consecutive victories included a timely result in Knoxville to trigger Tennessee's slide, a harrowing escape at Vanderbilt, a monumental win in Jacksonville that snapped a four-game losing streak to rival Florida and a surprisingly thorough blowout home victory over Auburn.
By the time Georgia finished its conference run by beating Kentucky, the Bulldogs had done enough to edge the Gamecocks atop the division and clinch their first SEC championship game appearance since 2005, ending all hot seat talk right there. Richt celebrated on the field after the Kentucky game with an extended kiss for his wife, a poignant moment that encapsulated the survival of an embattled coach who battled back to lead a proud program back within reach of previous glory.
But it wasn't a completely happy ending.
Georgia returned to Atlanta as heavy underdogs for the SEC title game against LSU, and though the Bulldogs actually led at halftime, the Tigers broke free in the final 30 minutes to win the conference crown in a rout. Georgia then blew a 16-point halftime lead in the Outback Bowl against Michigan State, losing a thrilling game in triple overtime.
2012 Schedule
Sept. 1 -- Buffalo
8 -- @Missouri
15 -- Florida Atlantic
22 -- Vanderbilt
29 -- Tennessee
Oct. 6 -- @South Carolina
20 -- @Kentucky
27 -- Florida (Jacksonville)
Nov. 3 -- Ole Miss
10 -- @Auburn
17 -- Georgia Southern
24 -- Georgia Tech
• 2011 Schedule and Results
• 2011 Statistics

Consecutive losses to bookend last season left an unsatisfying taste around a program that had already started to peek ahead toward what set up as a very promising 2012.
Richt summarized it after the bowl game as "a good year, not a great year."
"I'm really proud of our team, proud of our coaches and the effort they gave all year long," Richt said. "It's kind of an old story now, but we were certainly fighting a lot of adversity in the offseason and early in the season, going 0-2. For everybody to just keep staying together, keep believing, and making a 10-win run … that was great. Ten wins is great. Eleven would have been better, but we didn't get it."
So now a Georgia program that took a large step back toward relevancy is expected to take another one in 2012. With a very favorable schedule and key players back on both sides of the football, the Bulldogs can be considered a legitimate top 10 preseason team.
The team's motto for 2012 -- "Our Team. Our Time. No regrets" -- reflects a sense of urgency toward claiming Georgia's first SEC title since 2005 and perhaps even more.
"It's everywhere. We talk about it," linebacker Christian Robinson said. "It's motivation to keep that in the back of your mind, what we're playing for and this unique opportunity. … We have the tools to do it. We can compete at that high level."
There have been positive signs. The Bulldogs exited spring healthy without one player in danger of missing summer conditioning. Richt also retained his entire coaching staff during the offseason and made notable upgrades in the strength and conditioning department, hiring a speed coach in Sherman Armstrong and John Thomas, Joe Paterno's head strength coach for 20 years at Penn State.
The biggest hurdles since January have involved players off the field, with arrests, reports of failed drug tests and subsequent suspensions that will hit the Bulldogs hard to start the upcoming season, particularly in the secondary.
Nonetheless, the Bulldogs return nine starters from a defense that ranked fifth nationally in coordinator Todd Grantham's second season installing his 3-4 system. As would be expected, Grantham's seasoned defense largely got the better of the offense during spring and tossed out some hints at what could be coming in the fall.
"We have a chance to be really good on defense period, in my opinion," Richt said. "I've seen enough of us when we're all healthy and rocking and rolling. We're going to be a tough defense to deal with. So everybody has just got to get in the best condition they possibly can. Everybody has got to stay focused, and everybody has got to get to the gate. Once everybody is up and running, I think we'll be very stout. But you've got to prove it. You've got to get there, and you've got to prove it."
THE STAFF
SEC TEAMS
Head Coach: Mark Richt (Miami '82)
Record at school: 106-34 (11 years)
Career record: 106-34 (11 years)
Assistants:
• Rodney Garner (Auburn '90) ASSISTANT HEAD COACH/DEFENSIVE LINE/RECRUITING COORDINATOR
• Mike Bobo (Georgia '97) OFFENSIVE COORDINATOR/QUARTERBACKS
• Todd Grantham (Virginia Tech '89) DEFENSIVE COORDINATOR/OUTSIDE LINEBACKERS
• Tony Ball (UT-Chattanooga '83) WIDE RECEIVERS
• Bryan McClendon (Georgia '05) RUNNING BACKS
• Will Friend (Alabama '98) OFFENSIVE LINE
• John Lilly (Guilford '90) TIGHT ENDS
• Kirk Olivadotti (Purdue '96) INSIDE LINEBACKERS
• Scott Lakatos (Western Connecticut '88) SECONDARY
BLUE RIBBON: SEC PREVIEWS
"Blue Ribbon College Football Yearbook" previews the 2012 season for each SEC school. Take a look:
SEC East
SEC West
Blue Ribbon Central
MORE COLLEGE FOOTBALL HEADLINES