Blue Ribbon Preview: Hawaii
Originally Published:
July 4, 2012
Blue Ribbon College Football Yearbook
Editor's Note: ESPN Insider has teamed with Blue Ribbon College Football Yearbook to provide a comprehensive look at all 122 FBS teams. To order the complete 2012 edition of Blue Ribbon College Football Yearbook, visit www.blueribbonyearbookonline.com or call 1-877-807-4857 Monday through Friday from 9 a.m. to 5 p.m. Eastern. This information is up to date as of June 25, 2012.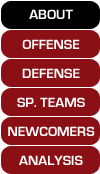 ABOUT
Norm Chow inherited a team that couldn't produce a winning record in the lowly Western Athletic Conference in 2011. Imagine the task the Warriors face in 2012 at their new Mountain West Conference digs, with non-league games at USC and BYU thrown in for good measure.
Phase I of Chow's rebuilding plan was implemented this spring as he overhauled the offense, defense and special teams of the Warriors, who finished 6-7 last season, prompting head coach Greg McMackin to retire a year earlier than planned. He received a nice cash prize of $600,000 to move on, clearing the way for Chow, who agreed to a $545,000 yearly salary to coach the flagship school of his home state.
Most people turning 66 are thinking about trips to the grandkids' house on the weekend, not visiting the homes of the mighty USC Trojans or BYU Cougars. But to hear Chow tell it, this is something he's waited for since his prep days on Oahu too many years ago to count.
"It's an honor and a privilege to be able to come home and be head coach of Hawaii," Chow said. "We have a lot of work ahead of us. We want to make this football team something the state of Hawaii can take pride in. It's a challenge, but one I'm excited about."
Chow put his touch on practically everything since leaving behind Utah at the Sun Bowl as offensive coordinator for the Utes. A local reporter covering the game, won by Utah over former Hawaii offensive coordinator Paul Johnson's Georgia Tech Yellow Jackets, had to run after Chow all the way to the parking lot just to get his thoughts.
The former assistant at BYU, NC State, USC and UCLA, as well as a three-year stint as OC of the Tennessee Titans, didn't have time to talk about the win. By then, it was already ancient history in Chow's eyes. His next task was as a head coach, the first time he could call himself that since his prep days on Oahu 40-something years ago.
He had coaches to hire, players to recruit, hands to shake, functions to attend. It was almost more than one man could handle, but Chow did it. He ditched the run-and-shoot for his own version of the West Coast offense. He hired a defensive coordinator whose belief in controlled aggression is shared by Chow. And he hired a coach just for special teams. Nothing was left to chance.
2012 Schedule
Sept. 1 -- @USC
15 -- Lamar
22 -- Nevada
28 -- @BYU
Oct. 6 -- @San Diego State
13 -- New Mexico
27 -- @Colorado State
Nov. 3 -- @Fresno State
10 -- Boise State
16 -- @Air Force
24 -- UNLV
Dec. 1 -- South Alabama
•
2011 Schedule and Results
•
2011 Statistics
Spring ball was tough, no doubt about it. There were days when making the right plays on any side of the football were few and far between. Exiting the spring game, Chow couldn't choose a starting quarterback and might settle on a guy who was No. 4 on the depth chart in March.
Opening in his old USC haunt is certainly an eye-opener for Chow. The Trojans figure to be one of the nation's best teams. Trips to BYU, San Diego State and Air Force will get all of his attention as well.
"We are moving up into a tough conference with difficult places to play," Chow said. "That's part of the fun and excitement of playing big-time football. But we want our guys to be properly prepared to do their best."
Hawaii returns only a dozen starters from last year's team. If you look closely at the depth chart released after spring football, eight of the projected starters on offense are underclassmen. The defense has more experience with six upperclassmen in the starting ranks, but Chow is fielding a young football team.
"We've got a lot of inexperience, especially our offensive front," Chow said. "It's going to take some time to adjust to the way we want to get things done. This is all part of the process. But I'm confident we have some young men who can get the job done on and off the football field."
THE STAFF
MOUNTAIN WEST TEAMS
Head Coach: Norm Chow (Utah '68)
Record at School: First year
Career Record: First year

Assistants
• Tommy Lee (Williamette '63) Offensive Coordinator/Receivers
• Thom Kaumeyer (Regents '93) Defensive Coordinator
• Chris Wiesehan (Wabash '94) Run Game Coordinator/Offensive Line
• Chris Demarest (Northeastern '88) Safeties/Special Teams Coordinator
• Daronte Jones (Morgan State '01) Secondary
• Lewis Powell (Utah '04) Defensive Line
• Philip Rauscher (Ucla '07) Tight Ends/Recruiting Coordinator
• Tony Tuioti (Hawaii '99) Linebackers
• Keith Uperesa (Byu '84) Running Backs
SPONSORED HEADLINES
MORE COLLEGE FOOTBALL HEADLINES
MOST SENT STORIES ON ESPN.COM
BLUE RIBBON: MWC PREVIEWS
"Blue Ribbon College Football Yearbook" previews the 2012 season for each Mountain West school. Take a look:
Mountain West
Blue Ribbon Central