Blue Ribbon Preview: Louisville
Originally Published:
July 4, 2012
Blue Ribbon College Football Yearbook
Editor's Note: ESPN Insider has teamed with Blue Ribbon College Football Yearbook to provide a comprehensive look at all 120 FBS teams. To order the complete 2011 edition of Blue Ribbon College Football Yearbook, visit www.blueribbonyearbookonline.com or call 1-877-807-4857 Monday through Friday from 9 a.m. to 5 p.m. Eastern. This information is up to date as of June 25.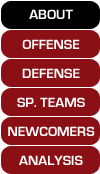 ABOUT
Charlie Strong is reminding his players exactly how seriously they should take any preseason predictions -- even those made by esteemed publications like this one. Before the 2011 season, nobody expected the Cardinals to do much of anything, except lose a bunch of games.
Louisville lacked a quarterback. Its offensive line was shaky. There was a decided lack of playmakers throughout the roster. In other words, eighth place looked about right.
Instead, the Cards went 5-2 in the Big East -- tying Cincinnati and West Virginia for first -- and enter this season as just about everybody's favorite to take the conference. Thus Strong's reminder about preseason predictions. If everybody was so wrong last year, what's keeping them from being tragically incorrect in 2012? The worst thing his players can do is accept the early praise as fact and make it prevent them from working as hard as possible to improve.
2012 Schedule
Sept. 2 -- Kentucky
15 -- North Carolina
22 -- @FIU
29 -- @Southern Miss
Oct. 13 -- @Pitt
20 -- South Florida
26 -- Cincinnati
Nov. 3 -- Temple
10 -- @Syracuse
24 -- Connecticut
29 -- @Rutgers
•
2010 Schedule and Results
•
2010 Statistics
"They are going to hear it out there," Strong said. "They'll hear it from family and friends. The key for us is to have managed expectations. No one gave us a chance last year, and you didn't buy into it then. Don't buy into it now."
There are several reasons the Cardinals are the favorites this year. The first is the upheaval throughout the Big East. Last year this time, the conference was ready to welcome TCU to the fold and seemed as if it was ready to stabilize itself. Now, TCU is with the Big 12. So is West Virginia. Pitt and Syracuse will most likely leave after this season, and neither of them is preparing for a huge campaign. Temple is on board. Meanwhile, Connecticut, Rutgers, USF and Cincinnati are trying to gather momentum. In other words, in lieu of a big-time favorite, Louisville is it.
That's not a backhanded compliment for the Cardinals, not by any stretch. Strong has it going on in horse country. His recruiting is picking up. The Cards are getting tougher, particularly on defense. And in sophomore QB Teddy Bridgewater, he has a real talent, someone who can help Louisville's offense thrive for several years. Just because Louisville is the king of a weak realm isn't reason to bash the Cards.
Strong may be a quiet guy, but he knows how to win. His Florida pedigree proves that. He was part of the Urban Meyer Show in Gainesville, so he knows what's expected of top teams and how much work goes into building a champion. He was happy with last year's 7-5 regular season because it kept the Cardinals in the postseason, but he knows that the type of program he wants to captain isn't close to ready in Louisville.
"We're nowhere near where we should be," he said. "We have a lot of work to do."
The good news is that the message is being delivered. The Cardinals may not be an SEC-quality contender yet, but they are improving. More importantly, they are ingesting and processing what Strong wants them to know and do.
"They're buying into it," he said. "In order for someone to buy into something, you have to have a level of success. We have small signs, but we're still growing as a football team. We're still learning."
Strong would like it if those around the program took the same interest in it his players appear to be taking. In late March, as Louisville went through its spring drills, the school's men's hoops team was making its Final Four run. In a state like Kentucky, where basketball rules, the local media was particularly distracted by the round ball. That didn't make Strong too happy. So, he banished the local media from practice for more than a week. He wanted the people to understand that the football program at Louisville was not going to sit in the back seat of the car, even if people thought of the place as a "basketball school."
"I wasn't trying to flare up anybody," Strong said. "I was just saying, 'Look, there are two sports. Cover them.' "
If the "experts" are right, there should be plenty of reason to pay attention to the Cardinals this season. The Big East title is a definite possibility, and it's time for Louisville to get after it. If that means disregarding the preseason praise, so be it. They can start listening at the end of the year, when the hosannas could be loud and clear.
THE STAFF
BIG EAST TEAMS
Head Coach: Charlie Strong (Central Arkansas '82)
Record at school: 14-12 (2 years)
Career record: 14-12 (2 years)
Assistants:
• Clint Hurtt (Miami '01) Associate Head Coach/Defensive Line/Recruiting Coordinator
• Shawn Watson (Southern Illinois '82) Offensive Coordinator/QBs
• Vance Bedford (Texas '82) Defensive Coordinator
• Dave Borbeley (DePauw '81) Run Game Coordinator/Offensive Line
• Kenny Carter (The Citadel '90) Running Backs/Special Teams
• Ron Dugans (Florida State '99) Wide Receivers
• Brian Jean-Mary (Appalachian State '98) Linebackers
• Sherrone Moore (Oklahoma '08) Tight Ends
• Tommy Restivo (Georgetown '06) Defensive Backs
BLUE RIBBON: BIG EAST PREVIEWS
"Blue Ribbon College Football Yearbook" previews the 2012 season for each Big East school. Take a look:
Big East
Blue Ribbon Central
MORE COLLEGE FOOTBALL HEADLINES