Blue Ribbon Preview: Michigan
Originally Published:
July 3, 2012
Blue Ribbon College Football Yearbook
Editor's Note: ESPN has teamed with Blue Ribbon College Football Yearbook to provide a comprehensive look at all 122 FBS teams. To order the complete 2012 edition of Blue Ribbon College Football Yearbook, visit www.blueribbonyearbookonline.com or call 1-877-807-4857 Monday through Friday from 9 a.m. to 5 p.m. Eastern. (The information in these previews is current through June 25, 2012.)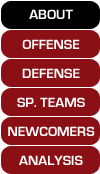 ABOUT
As debuts go, this one was as smashing as it was satisfying for a Michigan fan base unaccustomed to the poor results and worse defense of the brief Rich Rodriguez era.
Brady Hoke came in and recruited right away, bucking the idea that an off-season hire can't put together a top-10 class. He talked toughness and defense and he backed it up by leading the Wolverines to 11 wins -- just four fewer than Rodriguez had in three seasons -- and a Sugar Bowl win over Virginia Tech.
Is Michigan back? Did it ever really go away? The winningest program in college football history finally suffered the dip that it hadn't seen since before Bo Schembechler was hired in 1969. But a couple bad seasons don't erase the tradition, resources and fans at Michigan's disposal, and now the Wolverines again have a coach who fits and understands how to win in the Big Ten.
Those fans should probably understand that Hoke may have a tough time duplicating his 11-win debut in 2012. The schedule is tougher and the Wolverines lost some key seniors in the trenches on both sides of the ball.
On the other hand, Hoke has dynamic senior quarterback Denard Robinson back as a third-year starter, and there's hope that another year in the program will help some young players come along and fortify the Wolverines at uncertain spots. As will be the case every year for Hoke, he intends to go after the championship he just missed on in 2011.
2012 Schedule
Sept. 1 -- Alabama (Arlington, Texas)
8 -- Air Force
15 -- UMass
22 -- @Notre Dame
Oct. 6 -- @Purdue
13 -- Illinois
20 -- Michigan State
27 -- @Nebraska
Nov. 3 -- @Minnesota
10 -- Northwestern
17 -- Iowa
24 -- @Ohio State
•
2011 Schedule and Results
•
2011 Statistics
"I think we know each other a little better, and I think we know the system a little better in all three phases," Hoke said. "I think we're further along in terms of their mindset, how they condition, how they do things, how they lift in the weight room and how we want to practice. The tempo and those things. I think that part of it is becoming more ingrained every day.
"I don't know if I feel any different than how I felt last year at this time. I think you look at what kind of summer you have. What kind of leadership your seniors give you. The work ethic. The bond and chemistry is an important part.
"So I don't know. I'm sure two weeks into fall camp we'll have a little better idea of where we're at. I think we'll be a young football team in some ways, and that's always good. And I think at the same time, if seniors continue to grow as a class together, then we can be a better football team."
THE STAFF
BIG TEN TEAMS
Head Coach: Brady Hoke (Ball State '82)
Record at school: 11-2 (1 year)
Career record: 58-53 (9 years)
Assistants:
• Al Borges (Cal State-Chico '81) Offensive coordinator/quarterbacks
• Greg Mattison (Wisconsin-LaCrosse '71) Defensive coordinator
• Dan Ferrigno (San Francisco State '78) Special teams coordinator/tight ends
• Darrell Funk (Colorado State '88) Offensive line
• Jeff Hecklinski (Western Illinois State '97) Wide receivers/recruiting coordinator
• Curt Mallory (Michigan '92) Secondary
• Fred Jackson (Jackson State '72) Running backs
• Jerry Montgomery (Iowa '02) Defensive line
• Mark Smith (Purdue '79) Linebackers
BLUE RIBBON: BIG TEN PREVIEWS

"Blue Ribbon College Football Yearbook" previews the 2012 season for each Big Ten school. Take a look:
Big Ten Legends
Big Ten Leaders
Blue Ribbon Central
MORE COLLEGE FOOTBALL HEADLINES