Blue Ribbon Preview: Navy
Originally Published:
July 4, 2012
Blue Ribbon College Football Yearbook
Editor's Note: ESPN has teamed with Blue Ribbon College Football Yearbook to provide a comprehensive look at all 122 FBS teams. To order the complete 2012 edition of Blue Ribbon College Football Yearbook, visit www.blueribbonyearbookonline.com or call 1-877-807-4857 Monday through Friday from 9 a.m. to 5 p.m. Eastern. This information is up to date as of June 25, 2012.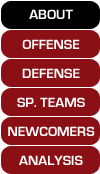 ABOUT
Navy head coach Ken Niumatalolo knows that there's plenty of blame to go around for his team's poor performance last year, in which the Midshipmen finished 5-7, and failed to go to a bowl game for the first time in eight years. A good portion of it, Niumatalolo believes, belongs to him.
"I look at myself, and I think I got a little soft," Niumatalolo said. "I got caught up in the little things, like worrying about what our team meal was going to be, or what hotel we were staying at, or when we were going to have our power milk. I got caught up in the details."
2012 Schedule
Sept. 1 -- Notre Dame
15 -- @Penn State
22 -- VMI
29 -- San Jose State
Oct. 6 -- Air Force
12 -- @Central Michigan
20 -- Indiana
27 -- East Carolina
Nov. 3 -- FAU
10 -- @Troy
17 -- Texas State
Dec. 8 -- Army**
*Dublin, Ireland *Lincoln Financial Field, Philadelphia
•
2011 Schedule and Results
•
2011 Statistics
Niumatalolo wasn't the only person who got soft. It was bad enough that Navy turned in a sub-.500 record. But what made it worse was the fact the Midshipmen arrived at their record by being pushed around by other teams. Navy ranked 86th out of 120 FBS teams in total defense, including 92nd in rushing defense.
"We weren't as physical as we needed to be, not up front, not in the pass, not in the run, not anywhere," defensive coordinator Buddy Green said.
With the bad taste of last year still in their mouths, the Mids focused on toughness during the spring to try and return to their winning ways. They even made it one of their mantras. Niumatalolo said several times that his team was trying to "establish a culture of toughness."
Now's a good time to start establishing that type of culture, because Navy will need it in 2015, when it becomes part of the Big East.
"The Big East will be a monumental task for our program," Niumatalolo said.
THE STAFF
INDEPENDENT TEAMS
Head Coach: Ken Niumatalolo (Hawaii '90)
Record at school: 32-21 (4 years)
Career record: 32-21 (4 years)
Assistants:
• Ivin Jasper (Hawaii '94) Offensive coordinator/quarterbacks
• Buddy Green (NC State '76) Defensive coordinator
• Chris Culton (Georgia Southern '01) Offensive line/tackles
• Justin Davis (Maine '01) Defensive line
• Tony Grantham (Radford '00) Outside linebackers
• Ashley Ingram (North Alabama '96) Offensive line/centers and guards
• Steve Johns (Occidental College '91) Inside linebackers/special teams coordinator
• Keith Jones (The Citadel '75) Secondary
• Mike Judge (Springfield College '05) Fullbacks
• Shaun Nua (BYU '05) Defensive Line
• Danny O'Rourke (West Georgia '00) Slot backs
• Dale Pehrson (Utah '96) Defensive line/recruiting coordinator
• Mick Yolkitis Wide receivers
BLUE RIBBON: INDEPENDENT PREVIEWS
"Blue Ribbon College Football Yearbook" previews the 2012 season for each Independent school. Take a look:
Independents
Blue Ribbon Central
MORE COLLEGE FOOTBALL HEADLINES