Blue Ribbon Preview: TCU
Originally Published:
July 2, 2012
Blue Ribbon College Football Yearbook
Editor's Note: ESPN has teamed with Blue Ribbon College Football Yearbook to provide a comprehensive look at all 122 FBS teams. To order the complete 2012 edition of Blue Ribbon College Football Yearbook, visit www.blueribbonyearbookonline.com or call 1-877-807-4857 Monday through Friday from 9 a.m. to 5 p.m. Eastern. (The information in these previews is current through June 25, 2012.)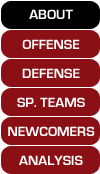 ABOUT
For 16 years Texas Christian meandered through the college football wilderness the way Roman general Maximus fought to the Coliseum in the movie Gladiator. TCU competed in the highly regarded Southwest Conference for 73 years but was jettisoned to mid-major status when the league folded in 1996. The school successfully worked its way from league to league with an eye toward reaching a high-level conference once again.
In November 2010, the Horned Frogs announced they would join the Big East, a league with an automatic Bowl Championship Series bid, beginning in 2012. But in October 2011, those plans changed.
The Big 12 Conference, which plucked the cream from the Southwest Conference crop in 1996, needed a member to replace SEC-bound Texas A&M last fall. The league asked TCU to join, and the school happily accepted. College football's wayward sons found their perfect fit in their own backyard.
"Joining the Big 12 brings us back to sharing a rich tradition with a lot of schools we already had natural rivalries with," TCU Chancellor Victor Boschini, Jr. said when the school announced its plans to join the Big 12.
2012 Schedule
Sept. 8 -- Grambling State
15 -- @Kansas
22 -- Virginia
29 -- @SMU
Oct. 6 -- Iowa State
13 -- @Baylor
20 -- Texas Tech
27 -- @Oklahoma State
Nov. 3 -- @West Virginia
10 -- Kansas State
24 -- @Texas
Dec. 1 -- Oklahoma
•
2011 Schedule and Results
•
2011 Statistics
In the Big 12, the Horned Frogs will reignite rivalries with Baylor (107 games), Texas (82) and Texas Tech (54) each year. Many of the trips are a short drive for the Horned Frogs to those schools plus their Oklahoma brethren as compared to the regular cross-continent journeys in the Mountain West Conference.
"We have had some history," TCU Coach Gary Patterson said. "We have played at some of those places, but not recently. So we've got to be ready to go."
TCU now has the home it always wanted -- both literally and figuratively. The school just completed a $164 million renovation to Amon G. Carter Stadium, which seats 45,000. The school sold all 30,000 of its season tickets for the first time in school history, up from 22,500 last year and 14,000 just three years ago. The tiny private school in Fort Worth with an alumni base of 70,000 and only 9,500 undergraduates has captured the attention of the Dallas Metroplex in a way no one would have dreamed even 10 years ago.
"I think the fans and the state, the TCU fans and just overall fans, I think there's a lot of excitement," Patterson said. "But really we've got to keep our head down.
"It'll be the first time the Metroplex will ever have a football team in [a major conference] since SMU and TCU were part of the Southwest Conference."
THE STAFF
BIG 12 TEAMS
Head coach: Gary Patterson (Kansas State '83)
Record at school: 109-30 (11 years)
Career record: 109-30 (11 years)
Assistants:
Eddie Williamson (Davidson '74) Assistant Head Coach/Offensive Line; Dick Bumpas (Arkansas '73) Defensive Coordinator/Defensive line; Jarrett Anderson (New Mexico '93) Co-Offensive Coordinator/Running Backs; Rusty Burns (Springfield '78) Co-Offensive Coordinator/Quarterbacks; Chad Glasgow (Oklahoma State '95) Safeties; Trey Haverty (Texas Tech '04) Wide Receivers; Clay Jennings (North Texas '96) Cornerbacks; Dan Sharp (TCU '85) Tight Ends/Special Teams; Tony Tademy (Louisiana Tech '83) Linebackers
BLUE RIBBON: BIG 12

"Blue Ribbon College Football Yearbook" previews the 2012 season for each Big 12 school. Take a look:
BIG 12
Blue Ribbon Central
MORE COLLEGE FOOTBALL HEADLINES

MOST SENT STORIES ON ESPN.COM