Blue Ribbon Preview: UCLA
Originally Published:
July 5, 2012
Blue Ribbon College Football Yearbook
Editor's Note: ESPN has teamed with Blue Ribbon College Football Yearbook to provide a comprehensive look at all 122 FBS teams. To order the complete 2012 edition of Blue Ribbon College Football Yearbook, visit www.blueribbonyearbookonline.com or call 1-877-807-4857 Monday through Friday from 9 a.m. to 5 p.m. Eastern. This information is up to date as of June 25, 2012.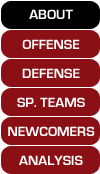 ABOUT
And, now, it's Jim Mora's turn. He'll take his place in the uninspiring lineup of Bob Toledo, Karl Dorrell and Rick Neuheisel atop the UCLA football program, hoping he will be the one capable of returning the Bruins to the Rose Bowl for the first time in 14 years and the one who actually wins one for the first time since the 1984 Classic.
Mora will try to establish the Bruins atop the city of L.A., wresting regional supremacy away from USC. And he'll try to carve out a place in the upper reaches of the Pac-12 -- and, no, last year's South Division title doesn't count, not when you go 5-4 to get it.
And he'll try to do it all without the benefit of a single game of head-coaching experience on the collegiate level. In fact, Mora has never even been a full-time college assistant; his sole experience as a staffer at that level came when he was a graduate assistant at Washington in 1984.
But Mora isn't somebody the Bruins picked off the street. He has ample NFL experience, including two stints (Atlanta 2004-06, Seattle 2009) as a head coach.
After one spring with the team, a few things were pretty clear to Mora. First, the Bruins have some talent and some answers. Second, the journey to the top will be long and filled with hurdles.
"We're getting there, but we're not close to where we need to be," Mora said. "The team responded favorably, but it needs to build consistency and get to the point where it's not always the coaches pulling it out of them. It has to be innate. We'll get there."
Though Mora has NFL experience, he was just 34-36 during his four seasons and reached the playoffs just once. Perhaps that's why he's coaching in college now. He's a West Coast guy, and he has a West Coast staff, so the Bruins should be able to get in with some top prospects throughout the Pacific time zone. The question is whether they can close the deal. To do that, they must create some excitement quickly, especially because the Pac-12 has new coaches at four schools (including UCLA), and three of them (Arizona's Rich Rodriguez, Washington State's Mike Leach and Arizona State's Todd Graham) will at least put some points on the board this year with their spread offenses, creating at least the illusion of excitement.
Mora inherits a team that should be able to play some defense. And, if he can settle on a quarterback capable of running the team and get the line in, well, line, the offense should percolate a bit.
"I like this football team," he said. "I like its willingness to work and its willingness to conform to what we want to do here. We're not satisfied, though. We've got a ton of work to do. We're not even close."
2012 Schedule
Aug. 30 -- @Rice
Sept. 8 -- Nebraska
15 -- Houston
22 -- Oregon State
29 -- @Colorado
Oct. 6 -- @Cal
13 -- Utah
27 -- @Arizona State
Nov. 3 -- Arizona
10 -- @Washington State
17 -- USC
24 -- Stanford
The Bruins are going to abandon the Pistol formation that characterized their last two seasons under Neuheisel and go to more of a spread hybrid that makes use of multiple-wideout sets but can also pound the ball on the ground some. UCLA is switching to a 3-4 defense, and Mora is cheered by the fact that he has some athletes on the outside capable of playing in space while still getting to the passer.
The key, as it has been with all UCLA teams during the last 10-plus years, is whether Mora can attract the kind of talent necessary to challenge the Pac-12's best, particularly Oregon. Neuheisel was unable to take advantage of two years of Trojan probation and make inroads into the L.A. market. If he couldn't do it while 'SC was down, it's going to be harder for Mora now that the Trojans have been sprung from NCAA jail and can get back to the business of winning double-digit games every year.
Mora is counting on his NFL experience to help choose and convince top talent to come to Westwood and then the knowledge of how the best of the best do it to turn the players into winners. It's a tall order, and for the third straight time, UCLA has gone with an unconventional hire. It's time to see if Mora can get the job done, where others couldn't.
Pac-12 Teams
THE STAFF
Head Coach: Jim Mora (Washington '84)
Record at school: First year
Career record: First year
Assistants:
• Noel Mazzone (New Mexico '80) Offensive Coordinator/Quarterbacks
• Lou Spanos (Tulsa '94) Defensive Coordinator
• Adrian Klemm (Hawaii/Excelsior '08) Running Game Coordinator/Offensive Line
• Demetrice Martin (Michigan State-Excelsior '06) Passing Game Coordinator/Defensive Backs
• Steve Broussard (Washington State '90) Running Backs
• Angus Mcclure (Sacramento State '95) Defensive Line/Recruiting Coordinator
• Marques Tuiasosopo (Washington '01) Y Receivers
• Jeff Ulbrich (Hawaii '00) Linebackers/Special Teams Coordinator
• Eric Yarber (Idaho '95) Wide Receivers
BLUE RIBBON: PAC-12 PREVIEWS
"Blue Ribbon College Football Yearbook" previews the 2011 season for each Pac-12 school. Take a look:
Pac-12 North
Pac-12 South
Blue Ribbon Central
MORE COLLEGE FOOTBALL HEADLINES