Blue Ribbon Preview: Utah State
Originally Published:
July 4, 2012
Blue Ribbon College Football Yearbook
Editor's Note: ESPN has teamed with Blue Ribbon College Football Yearbook to provide a comprehensive look at all 122 FBS teams. To order the complete 2012 edition of Blue Ribbon College Football Yearbook, visit www.blueribbonyearbookonline.com or call 1-877-807-4857 Monday through Friday from 9 a.m. to 5 p.m. Eastern. (The information in these previews is current through June 25, 2012.)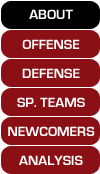 ABOUT
Utah State followed its breakout 2011 season with some terrific news in May: The program will join the Mountain West Conference in 2013.
"It's great to be solidified," coach Gary Andersen said. "It's great to be able to recruit into that environment, which is a stable environment."
For one more year, however, the Aggies will remain in the gutted WAC -- giving them their last and best chance to win the league title. Louisiana Tech and Utah State are the two favorites.
Fresno State, Nevada and Hawaii moved to the Mountain West this year, following Boise State's 2011 exit.
"It's become a lot more evenly matched," Andersen said. "The margin of the teams in this conference top to bottom from four years ago is drastically different. ... We're fortunate to have the quarterback position solidified. A lot of other teams in the conference are a little up in the air."
The Aggies are coming off a 7-6 campaign that culminated with a gut-wrenching loss to Ohio in the Famous Idaho Potato Bowl, the Aggies' first bowl appearance since 1997.
They got there with five straight wins to close the regular season, all by a touchdown or less.
Andersen hopes that success provides a launching pad for his team -- and that the bowl loss provides a little inspiration.
"As a head coach, it was very gratifying to see them be able to finish some games and see the kids reach levels of success that some of them who had been in the program for five years hadn't been close to getting," he said. "It was a great experience to have that. Now the key is to grow from it. The expectation level from the kids as far as getting a taste of it, I think their expectation level has gone up.
"Now the challenge is for them to realize how hard it is to get back. ... If you're going to be a consistent winner, you have to find a way to not make every game come down to the wire.
"... We want to get in position to win a championship. When you win a bowl game, you win a championship. We want to get that done."
The Aggies enter the season with two major changes on their coaching staff.
Quarterbacks coach Matt Wells replaces Dave Baldwin as offensive coordinator. Baldwin left for Colorado State.
Wells plans to keep the same offensive scheme, which he calls a "power spread" attack -- one that features the run game and utilizes tight ends but also uses spread passing concepts. Andersen hired former UNLV head coach Mike Sanford to join the offensive staff and provide a veteran sounding board for Wells.
"We're going to spread it out and play up-tempo and try to be as aggressive as we can," Wells said.
2012 Schedule
Aug. 30 -- Southern Utah
Sept. 7 -- Utah
15 -- @Wisconsin
22 -- @Colorado State
29 -- UNLV Oct. 5 -- @BYU
13 -- @San Jose State
20 -- New Mexico State
27 -- @UTSA Nov. 3 -- Texas State
17 -- @Louisiana Tech
24 -- Idaho

•
2011 Schedule and Results
•
2011 Statistics
On defense, Andersen hired Dave Aranda from Hawaii as coordinator after a one-year experiment. Andersen, the former Utah defensive coordinator, ran the defense himself last season after thinking he was not involved enough in the games.
He quickly learned that there are consequences to trying to be a coach/coordinator, too. He turned over some of the coordinator duties to his staff in the last third of the season.
"The bottom line is I think it's important for me to take care of the kids in the program first," Andersen said. "I refuse to take a step back from that to be a coordinator. Maybe I'm not smart enough to do both of those. I guess I'm not. I'll continue to focus on the most important thing that we do other than take care of the kids, and that's recruiting."
Like Wells, Aranda will keep the scheme -- a 3-4 system that is only a year old. The system features a lot of flexibility in personnel and alignment. Aranda will add his spin in passing situations -- zone blitzes and unorthodox pressures.
"I was looking for a guy I felt could just get the kids every single day working and grinding and being focused," Andersen said. "We don't need a bunch of tweaks in our scheme. Dave Aranda has done that exactly. They're excited to play for him. He brings a different angle than my old-school ways. I'm more of a grease-board guy; he's more of a computer guy. It's the way kids learn. It's been a fresh way for them to look at things."
THE STAFF
WAC TEAMS
Head Coach: Gary Andersen (Utah '86)
Record at School: 15-22 (3 years)
Career Record: 19-29 (4 years)

Assistants
• Bill Busch (Nebraska Wesleyan '88) Associate Head Coach/Special Teams/Safeties
• Mike Sanford (Usc '78) Assistant Head Coach/Running Backs/Tight Ends
• Matt Wells (Utah State '96) Offensive Coordinator/Quarterbacks
• Dave Aranda (California Lutheran '99) Defensive Coordinator
• Jovon Bouknight (Wyoming '06) Wide Receivers
• Kevin Clune (Cal State Fullerton '00) Linebackers
• Frank Maile (Utah State '07) Defensive Line
• Kendrick Shaver (Missouri State '02) Cornerbacks
• T.J. Woods (Azuza Pacific '02) Offensive Line
BLUE RIBBON: WAC PREVIEWS
"Blue Ribbon College Football Yearbook" previews the 2012 season for each WAC school. Take a look:
WAC
Blue Ribbon Central
MORE COLLEGE FOOTBALL HEADLINES

MOST SENT STORIES ON ESPN.COM