Blue Ribbon Preview: Washington
Originally Published:
July 5, 2012
Blue Ribbon College Football Yearbook
Editor's Note: ESPN has teamed with Blue Ribbon College Football Yearbook to provide a comprehensive look at all 122 FBS teams. To order the complete 2012 edition of Blue Ribbon College Football Yearbook, visit www.blueribbonyearbookonline.com or call 1-877-807-4857 Monday through Friday from 9 a.m. to 5 p.m. Eastern. This information is up to date as of June 25, 2012.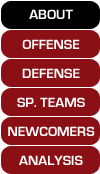 ABOUT
Steve Sarkisian built his reputation in the coaching profession as an offensive guru, but it's the defense that has tripped up Washington during his tenure as head coach of the Huskies.
The 2011 campaign represented the low point. UW ranked next to last in the Pac-12 and among the bottom 20 in the FBS in both total defense and scoring defense. Finishing on the ugly end of the highest-scoring regulation bowl game ever, a 67-56 Alamo Bowl loss to Baylor, represented the 10th time in 38 games under Sarkisian that Washington had yielded 40-plus points.
And so Sarkisian decided to make a change, dismissing defensive coordinator Nick Holt and revamping the entire staff on that side of the ball. New coordinator Justin Wilcox, a native of the Pacific Northwest, returns close to home after spending the last two seasons overseeing Tennessee's defense.
Peter Sirmon followed Wilcox from Rocky Top to become the linebackers coach. Keith Heyward came in to coach the defensive backs and Tosh Lupoi now oversees the defensive line.
"Our new defensive coaches have done a nice job of teaching scheme, teaching technique, teaching fundamentals, implementing the defense," Sarkisian said. "But I think one of the biggest things that they've done is they've implemented confidence and a little bit of swagger and our guys are playing with a great deal of energy. They are playing with amazing effort right now and it shows."
Expect the Huskies to show a 4-3 look -- hearkening back to the base defense used by Holt -- and a 3-4 alignment as well.
2012 Schedule
Sept. 1 -- San Diego State
8 -- @LSU
15 -- Portland State
27 -- Stanford
Oct. 6 -- @Oregon
13 -- USC
20 -- @Arizona
27 -- Oregon State
Nov. 2 -- @California
10 -- Utah
17 -- @Colorado
23 -- @Washington State

•
2011 Schedule and Results
•
2011 Statistics
Washington also has a new offensive coordinator -- Eric Kiesau, who was also part of the Cal staff -- but there's greater personnel continuity on that side of the ball. Washington brings back eight offensive starters, a group headlined by honorable-mention all-conference quarterback Keith Price.
The Huskies will call an NFL venue home in 2012. Washington is playing its six home games at CenturyLink Field -- the home venue of the Seattle Seahawks -- while renovations at Husky Stadium are completed.
"It's loud, so I don't think we lose much that way except for the luxury of walking out of our own tunnel and taking the field. We are embracing it," Sarkisian said. "I think our kids are excited to get to play in a state-of-the-art NFL stadium until our very own state-of-the-art stadium gets done."
THE STAFF
Pac-12 Teams
Head Coach: Steve Sarkisian (BYU '97)
Record at school: 19-19 (3 years)
Career record: 19-19 (3 years)

Assistants
• Joel Thomas (Idaho '98) Associate Head Coach/Running Backs
• Johnny Nansen (Washington State '97) Assistant Head Coach/Special Teams/Recruiting
• Eric Kieseau (Portland State '96) Offensive Coordinator/Quarterbacks
• Justin Wilcox (Oregon '99) Defensive Coordinator
• Dan Cozzetto (Idaho '79) Run Game Coordinator/Offensive Line
• Jimmie Dougherty (Missouri '01) Pass Game Coordinator/Wide Receivers
• Tosh Lupoi (California '05) Defensive Run Game Coordinator/Defensive Line
• Keith Heyward (Oregon State '02) Defensive Backs
• Peter Sirmon (Oregon '99) Linebackers
SPONSORED HEADLINES
MORE COLLEGE FOOTBALL HEADLINES
MOST SENT STORIES ON ESPN.COM
BLUE RIBBON: PAC-12 PREVIEWS
"Blue Ribbon College Football Yearbook" previews the 2011 season for each Pac-12 school. Take a look:
Pac-12 North
Pac-12 South
Blue Ribbon Central