Category archive:

NCAA Men Soccer
November, 21, 2011
11/21/11
10:14
AM ET
Things didn't go well for the host conference of the NCAA men's College Cup. Conference USA got four teams into the NCAA tournament, but all were eliminated by the second round.
That included the official host school, UAB. The Blazers, the No. 11 seed overall, were knocked out Sunday by Charlotte, 3-1. Meanwhile, in the same quarter of the bracket, defending national champion Akron eliminated another C-USA team, No. 6 seed SMU, 3-2.
Also seeing its season end Sunday was Central Florida, which fell 2-1 to South Florida. The other C-USA team, South Carolina, was defeated 4-3 on penalty kicks in the first round by Wake Forest after a 1-1 tie.
While the Mustangs were the second-best seed thus far to be defeated, it was less of a surprise considering it was the Zips who did it. Darren Mattocks had two of the goals for Akron, which will travel to Charlotte for next Sunday's third round.
There have been plenty of upsets through two rounds, with only one quarter of the bracket advancing all four of its seeded teams. Those are No. 2 Creighton, No. 7 South Florida, No. 10 New Mexico and No. 15 UC Santa Barbara.
The Bulls and Lobos will meet in Tampa, Fla., and New Mexico coach Jeremy Fishbein said before the tournament that how teams played on the road likely would go quite a way in deciding who would make it to the Birmingham, Ala., suburb of Hoover for the College Cup.
Creighton, trying to make it to the program's fourth College Cup, will have even more of a home-field advantage next week against No. 15 seed UCSB if the weather is anything like it was Sunday: 30 degrees at Morrison Stadium in Omaha, Neb. The Bluejays advanced with a 3-0 victory over Northern Illinois.
The Gauchos are left to carry the banner of the Big West after No. 8 seed UC Irvine was upset by Saint Mary's 2-1 on Sunday. The No. 9 seed, St. John's, was also eliminated, falling to Brown 1-0 despite having 17 shots to the Bears' nine.
It's the second year in a row that Brown has come up with an upset of a Big East team in the second round; last year, the Bears beat Connecticut.
Probably the biggest upset of Sunday, though, was Rutgers' victory at No. 4 seed Boston College. The Eagles had played well in the ACC tournament, beating both Maryland and Duke on the way to a championship-game loss to North Carolina.
But the Scarlet Knights advanced to the NCAA tournament's third round for the first time since 2001 thanks to Ibrahim Kamara's equalizing goal in the 86th minute, followed by a 4-3 penalty kicks victory.
Mechelle Voepel is a columnist for ESPN.com. She can be reached at mvoepel123@yahoo.com.
Follow ESPN.com's college sports coverage on Twitter @ESPN-College and on Facebook.
January, 7, 2011
01/07/11
10:17
PM ET
There will be several early goodbyes for NCAA champion Akron's men's soccer program, but all of the happy variety. That includes junior forward/midfielder Darlington Nagbe, who Friday in St. Louis was named the men's winner of the Hermann Trophy.
Nagbe was the second consecutive Akron player to earn the honor; Teal Bunbury won soccer's equivalent of the Heisman Trophy last year. Nagbe, a consummate playmaker, had seven goals and 13 assists this season for the Zips, who won their school's first NCAA title in any sport with a 1-0 victory Dec. 12 over Louisville.
Since that championship, five underclassmen from Akron have signed contracts to move on to the professional ranks and will be available in the MLS SuperDraft on Jan. 13.
Nabge, a 5-foot-9 junior from Lakewood, Ohio, was the Mid-American Conference player of the year. His father, Joe, played for Liberia's national team.
Nagbe and fellow juniors Michael Nanchoff and Kofi Sarkodie, sophomore Zarek Valentin and freshmen Perry Kitchen all will leave the Zips, as they have signed with the Generation adidas program. It is a joint venture between MLS and the U.S. national team that provides players with scholarship money to continue their educations whenever they are finished playing professionally.
December, 12, 2010
12/12/10
9:25
PM ET
December, 12, 2010
12/12/10
9:22
PM ET
December, 11, 2010
12/11/10
10:06
PM ET
Editor's note: Follow ESPN.com's coverage of the NCAA men's College Cup on Twitter (@ESPNUcom) and on Facebook.
Akron's Zarek Valentin talks about going for a men's soccer national championship, something his brother, Julian Valentin, won with Wake Forest in 2007. Zarek's Akron faces Louisville in this year's final.
December, 11, 2010
12/11/10
3:47
AM ET
Editor's note: Follow ESPN.com's coverage of the NCAA men's College Cup on Twitter (@ESPNUcom) and on Facebook.
Akron soccer player Kofi Sarkodie talks about his game-winning goal in a 2-1 victory against Michigan in the College Cup semifinals, and what it would mean to the Zips to win a national championship.
December, 11, 2010
12/11/10
3:31
AM ET
Editor's note: Follow ESPN.com's coverage of the NCAA men's College Cup on Twitter (@ESPNUcom) and on Facebook.
SANTA BARBARA, Calif. -- The match had barely just begun, and Akron was already in the hole. But things didn't stay that way.
The Zips, who've been fueled for the last year by the way the 2009 College Cup ended, have a chance to put a much better finish on this season's version. But they'll have to beat the No. 1 seed, Louisville, to do it.
[+] Enlarge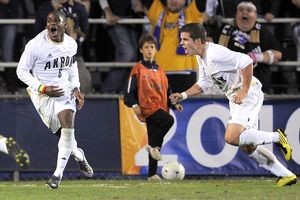 AP Photo/Mark J. TerrillKofi Sarkodie and Hamoody Saad teamed up to tally one of Akron's goals.
Akron defeated Michigan 2-1 in Friday's second semifinal at Harder Stadium, rebounding after the Wolverines scored just over a minute in. Michigan's Justin Meram sent a rocket past Akron goalkeeper David Meves from the top of the circle.
The Zips conceded it was just a great shot. But they didn't let it rattle them. After all, they had defeated Michigan 7-1 in October. And even with as much as the Wolverines have improved since then, Akron still knew it was going to get its chances.
The Zips did; a fair amount of them in fact. Akron coach Caleb Porter thought his team had enough opportunities that it should have been up by a few goals by halftime. Instead, the Zips were even at 1-1, on Perry Kitchen's pure strike from about 30 yards out in the 33rd minute.
"This team I have here is a resilient team," Porter said. "They believe so much that they're going to get the result, that no matter what happens over the course of the game, they'll respond."
The score stayed knotted until the 74th minute, when Michael Nanchoff sent a free kick in front of the goal and teammate Kofi Sarkodie headed it in. Sarkodie had scored three goals in the Zips' regular-season win against the Wolverines.
"Mike found me in a good spot," said Sarkodie, who had missed a chance shortly before the one he put in. "That first chance was unlucky … it just skipped off my head. I was telling myself, 'If I get another chance, I have to make sure I put it away.' I owed that to the guys."
Akron's only loss this season was Oct. 30 to Cleveland State. Last season, the Zips were nearly flawless until the NCAA championship match against Virginia, which they lost on penalty kicks.
Porter said that the work for this year started pretty much the day last season ended. But to take that final step and give Akron its first NCAA title in any sport, the Zips will have to beat a Louisville squad that is coached by the former longtime leader of Akron.
Ken Lolla spent 13 seasons with Akron, leaving for Louisville after the 2005 season.
"He's a guy I respect a lot, and he did great things at Akron," Porter said. "One of the reasons I took the job was that there was a strong foundation and good culture there."
Porter has expanded on that, while Lolla has taken Louisville to its first NCAA title match in men's soccer.
Sunday's final couldn't be much more evenly matched. Both teams figure it's exactly where they belong.
"I think in order to win the national championship, you have to truly deep down believe you're going to be there," Porter said. "We expected to be in the championship."
December, 11, 2010
12/11/10
1:28
AM ET
December, 11, 2010
12/11/10
1:25
AM ET
December, 9, 2010
12/09/10
11:46
PM ET