Category archive:

NCAA Women Soccer
November, 29, 2011
11/29/11
12:35
PM ET
It may be the weekend that decides the national championship in women's soccer, but No. 1 seed Stanford and No. 1 seed Florida State lend a little international flair to one College Cup semifinal in Kennesaw, Ga. Following in the footsteps of former stars like Sel Kuralay (Australia), Sanna Talonen (Finland) and Mami Yamaguchi (Japan), current Seminoles Janice Cayman (Belgium), Ines Jaurena (France) and Dagny Brynjarsdottir (Iceland) are all key figures for a team playing more like its No. 1 seed at the moment than its sixth-place ACC finish. The overall No. 1 seed, Stanford answers with Teresa Noyola and Alina Garciamendez, who while both born in the United States played for Mexico in last summer's Women's World Cup.
How No. 1 Stanford (23-0-1) got to Kennesaw
(NCAA tournament wins: Montana, California, No. 4 Boston College, No. 2 Oklahoma State)
Stanford's run of College Cups began, at least in part, when it cajoled former star Kelley O'Hara to leave Georgia for the West Coast (granted, Palo Alto is not a tough sell). Now the Cardinal head to Georgia for a fourth consecutive appearance in the semifinals because the system proved to be bigger than any one player, including alums like 2009 Hermann Trophy winner O'Hara and 2010 winner Christen Press. The current seniors lost just one regular-season game in their careers, and that came four seasons ago. This year's team ranked fourth in the nation in scoring offense and second in goals-against average, both marks tops among teams in the College Cup.
Stanford players to watch
Camille Levin: The psychology major is a master of multiple personalities on the field, excelling anywhere coach Paul Ratcliffe asks her to play. And he asks her to play just about everywhere. As an outside back, she's a fearless tackler and half of the most dangerous pair of fullbacks in the nation, along with Rachel Quon. In the midfield, where she often shifts during the course of a game, she's a creative playmaker with a forward's finishing touch.
Lindsay Taylor: At some point this weekend, you're going to hear about Taylor's talents as a finisher, so we might as well get the meme going. Ratcliffe talks about it, teammates talk about it, and opponents lament it. She has terrific range from outside the box and a nose for the back of the net inside it. She leads the team with 20 goals this season, and No. 20, the overtime winner against Oklahoma State, moved her past Julie Foudy for fourth all time at Stanford.
[+] Enlarge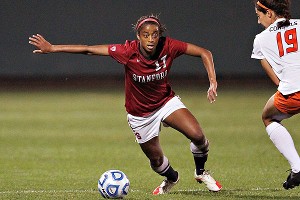 Rick Bale/Stanford AthleticsStanford has relied on Lindsay Taylor's goals this season and it will likely be no different at the College Cup.
Teresa Noyola: No other player in the College Cup has more assists than the engine of Stanford's midfield, an avid Barcelona fan who very much fills an Andres Iniesta-like role for the Cardinal. With four College Cups and a trip to the 2011 Women's World Cup with Mexico under her belt, she's as experienced as a player can be at this level.
Question for the Cardinal to answer: How will they fare so far from home?
Yes, it's picking at the smallest of nits, but the Cardinal don't leave much at which to pick. And as good as they have been all season, they have not, at least to date, been nearly as prolific away from the comforts of home. In nine regular-season road games, they scored more than two goals just twice, drew 0-0 at Maryland and needed overtime to register a 1-0 win at Washington. Is the resulting 8-0-1 road record, with a 17-3 scoring margin, cause for concern? Maybe not, but Stanford has exited the past three College Cups on the wrong end of 1-0 scores (twice in finals), despite entering each of those events ranked among the top six in the nation in scoring offense.
How No. 1 Florida State (18-6-1) got to Kennesaw
(NCAA tournament wins: Samford, Portland, Louisville, No. 2 Virginia)
Even with a couple of players stretching to make it to 5 feet, the Seminoles were tall enough to ride a roller coaster of a season to the College Cup. Ranked No. 5 in the preseason, they found themselves on the outskirts of the Top 25 and within shouting distance of failing to qualify for the ACC tournament, only to climb back to an NCAA No. 1 seed after winning the conference tournament for the first time in program history. Even with that seed, they're the only team in Kennesaw that had to go on the road to get there, beating Portland and Louisville in Memphis after scheduling conflicts sent them packing from Tallahassee for the second and third rounds.
Florida State players to watch

Toni Pressley: The Seminoles allowed more goals this season than any of the other semifinalists, but they may have the best defender in the field. The 5-foot-10 Pressley is imposing enough to disrupt any target forwards (and potentially some FCS running backs) and athletic enough to hold her ground against the most nimble of strikers. Every look at goal is valuable in the College Cup, and Pressley's free kicks give the Seminoles an added offensive tool.
[+] Enlarge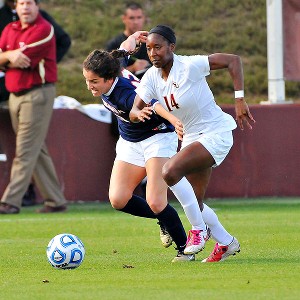 Larry Novey/FSU Sports InfoFlorida State missed Tiffany McCarty during last season's campaign; the Seminoles' leading scorer this season redshirted in 2010.
Tiffany McCarty: A season that ends in the quarterfinals isn't a disappointment most places, but there was something missing from a Florida State team that exited last season's NCAA tournament in a 5-0 loss at Stanford in the fourth round. Namely, goals. No player reached double digits in goals for the first time since 2004-05. Not coincidentally, McCarty missed the campaign with an injury. She doesn't just poach goals against weak opponents. Of her team-high 18 goals, eight came against ranked opponents, which doesn't even include a Sweet 16 goal against Louisville.
Tori Huster: She's the kind of player you can't fully appreciate until you see her play in person or on television -- and you will see her, popping up time and again when the opportunity arises to either stifle an opponent's buildup or prolong the same for the Seminoles. She has six goals and four assists, but her greatest work goes unrecognized in the box score.
Question for the Seminoles to answer: Is the defense an asset or a liability?
The Seminoles didn't just allow more goals than any of the other semifinalists, they allowed more goals in 10 ACC games (17) than any of other three teams did all season. But through seven postseason games in the ACC and NCAA tournaments, they've allowed just three goals -- and the lone tally against them to this point in the NCAA tournament came when Portland scored in the 85th minute of a game it trailed by three goals. Much of the goal damage was done during a midseason stretch in which Pressley was pushed up the field as the Seminoles battled offensive stagnation (and partly during a stretch when freshman midfielder Brynjarsdottir was out of the lineup). All the dominos are upright again in front of talented redshirt sophomore keeper Kelsey Wys.
Graham Hays covers women's college soccer and softball for ESPN.com. Email him at Graham.Hays@espn.com. Follow him on Twitter: @grahamhays.
Follow ESPN.com's college sports coverage on Twitter @ESPN_College and on Facebook.
November, 29, 2011
11/29/11
11:53
AM ET
Every good rivalry needs a winner and a loser, and No. 1 seed Duke and No. 1 seed Wake Forest will settle bragging rights along with a spot in the NCAA tournament championship game when they meet for a third time this season in Friday's second national semifinal in Kennesaw, Ga. Duke beat Wake Forest 2-0 on the road in the regular season, helping propel the Blue Devils to the ACC regular-season title, but the Demon Deacons evened the series on a neutral field in the semifinals of the conference tournament. This is Duke's first appearance in the College Cup since 1992 and the first appearance for Wake Forest, but perhaps the sight of a familiar foe will minimize any nerves from the surroundings.
How No. 1 Duke (21-3-1) got to Kennesaw
(NCAA tournament wins: Radford, Georgia, Ohio State, Long Beach State)
Duke's season began in August, but getting back to the College Cup for the first time in nearly two decades began well before that. A year ago, the Blue Devils welcomed a recruiting class that included the likes of Mollie Pathman, Laura Weinberg, Kaitlyn Kerr, Natasha Anasi and Gilda Doria, all names you'll hear again this weekend. The final piece of the puzzle arrived this season in the form of Kelly Cobb, meaning the Blue Devils had the personnel, particularly on offense, to dictate play against the best the ACC had to offer.
Duke players to watch
Kelly Cobb: The highly touted Alaskan who chose Duke over North Carolina lived up to her advance billing. Her strike-rate slowed as the season progressed, a function both of attention from opponents and the grind of a first college season, but she remains an imposing 5-foot-9 target who also has the ability to create her own chances. Whether or not she's scoring, she commands attention at all times from defenses and opens space for teammates.
Kaitlyn Kerr: It's not a coincidence that each team in the College Cup has a dynamic midfield presence behind a star forward or forwards who claim much of the spotlight. Kerr's 10 goals this season mean she's getting more and more of that attention, but she retains a scrapper's soul.
Natasha Anasi: Coach Robbie Church's teams always play organized, composed defense (it doesn't hurt having former United States national team standout Carla Overbeck as an assistant overseeing the back line), but this group exceeds even those standards. The Blue Devils still own a two-goal cushion in chasing the program record for fewest goals allowed in a season (and have played more games than either of the teams that allowed just 13 goals). Part of that aforementioned loaded sophomore class, Anasi anchors the defense in front of keeper Tara Campbell.
Question for the Blue Devils to answer: Will the goals be there?
Name recognition notwithstanding, Duke won the ACC regular-season title with defense more than offense. And in both the third and fourth rounds, the Blue Devils left things until very late before eliminating unseeded Ohio State and Long Beach State. A year ago, Boston College and Ohio State failed to score in their College Cup debuts, as did Florida State and Princeton in their first appearances in the past decade. The Duke program has been here before, but these players haven't, and the College Cup is a different stage. Duke possesses the lowest-scoring offense among the semifinalists and only USC in 2007 won the championship in the past decade with that distinction. The challenge is there for the Blue Devils to prove they can turn talent into tallies.
How No. 1 Wake Forest (18-3-4) got to Kennesaw
(NCAA tournament wins: Oakland, Boston University, No. 4 Penn State, Central Florida)
[+] Enlarge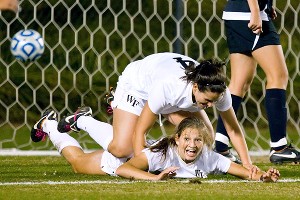 Brian Westerholt/Sports On FilmWake Forest will make its College Cup debut on Friday, meeting Duke for the third time this season.
Not unlike its semifinal opponent, Wake Forest laid the groundwork for its current success last season, winning the ACC tournament for the first time in program history in 2010. It did so by following the lead of a sensational freshman in Katie Stengel, who hardly succumbed to any sophomore slump with 19 goals this season. With Rachel Nuzzolese, Stengel's classmate and partner up top, healthy after injuries derailed a similarly splendid freshman campaign, the Demon Deacons broke the 50-goal plateau for the first time since 1998.
Wake Forest players to watch Katie Stengel: The sophomore has 35 goals in 47 career games for a team that plays in the nation's toughest conference. But it isn't just the production, even if the production is more than enough. Stengel is the kind of physical presence that tests the resolve of an opponent over 90 minutes. You aren't going to knock her off the ball easily, and she's going to keep moving toward the goal until you do.
Rachel Nuzzolese: As good as Stengel is, she's even better alongside a healthy Nuzzolese, who totaled nine goals in 11 games during an injury-shortened freshman season a year ago. This time around, only Florida State's Tiffany McCarty and Virginia's Caroline Miller scored more goals in ACC competition than Nuzzolese, another big, athletic forward at 5-8 who is a handful for defenders anywhere in the attacking third.
Aubrey Bledsoe: It's not all about the strikers. Wake Forest has a second-year player with All-America potential at the other end of the field, too. As is often the case, there aren't any weak links in net in this quartet of teams. But Bledsoe may be the best shot-stopper of the bunch, a skill set she showed off with 11 saves in a 4-2 win against Penn State in the Sweet 16. That wasn't her first clutch showing on the postseason stage; she was the MVP of the 2010 ACC tournament, in large part for her effort in a penalty shootout against Maryland in the final.
Question for the Demon Deacons to answer: Who steps up?
All the same questions of inexperience for Duke apply to a Wake Forest team that is making its first College Cup appearance and didn't start a senior in its quarterfinal win against Central Florida. But there's another question this team would surely love to put to rest. Wake Forest has 22 goals this season from players other than Stengel and Nuzzolese. Duke has 30 from players other than its two leading scorers (on the other side of the bracket, Florida State has 30 and Stanford has 40). So the question, in two parts, remains how much can Stengel and Nuzzolese provide, and can their teammates keep being opportunistic? To the latter end, the concentration of scoring aside, 14 Wake Forest players have scored this season, tying Stanford for the lead among the four semifinalists.
Graham Hays covers women's college soccer and softball for ESPN.com. Email him at Graham.Hays@espn.com. Follow him on Twitter: @grahamhays.
Follow ESPN.com's college sports coverage on Twitter @ESPN_College and on Facebook.
November, 20, 2011
11/20/11
8:48
PM ET
There are still two weekends and seven games to play in the college soccer season, but before a ball is kicked in the NCAA women's tournament quarterfinals, we know the College Cup will have a different look this season.
Florida State and Stanford are familiar faces hoping to return to the final weekend, but Wake Forest, Oklahoma State and Long Beach State are looking for a first trip to the semifinals. And while Central Florida, Duke and Virginia have been before, each team would like to make the trip for the first time in the lifetimes of many of its players.
Whatever happens, wild weekends during the second and third rounds guaranteed there will be a first-time champion crowned on Dec. 4 in Kennesaw, Ga.
How did we get to these quarterfinal matches?
Quarterfinal: No. 1 seed Duke vs. Long Beach State


Duke: The Blue Devils had little difficulty dispatching Georgia in the second round, scoring the first three goals of the game (the first courtesy of an own goal by the Bulldogs) en route to a 3-1 win. Ohio State proved more troublesome Sunday, as the Buckeyes carried a 1-0 lead into the second half before Kelly Cobb and Kaitlyn Kerr gave Duke a 2-1 win. Blue Devils coach Robbie Church talked early in the season about Kerr as the unsung midfield star behind three high-profile forwards, but four goals in the first three rounds is a good way to become sung.

Long Beach State: Just 0-2 in two previous trips to the NCAA tournament (2008, 2010), Long Beach State finds itself one game and about 400 miles from the College Cup as it heads to face Duke in Durham, N.C. The 49ers followed their big first-round upset against No. 3 Pepperdine with two more 1-0 wins in their own backyard, against Miami in the second round and San Diego in the third round in games hosted by UCLA.
Freshman substitute Ashley Roese scored the winner in the Sweet 16, her first goal of the season after playing just 95 minutes in eight appearances prior to her stint against San Diego.
Quarterfinal: No. 1 seed Florida State vs. No. 2 seed Virginia


Florida State: This doesn't look much like a sixth-place team at the moment, even if that's where Florida State finished in the ACC. The Seminoles beat Portland 3-1 in the second round, avenging an early-season loss to the Pilots, and blanked Louisville 2-0 in the third round. Both games were played in Memphis because of homecoming conflicts in Tallahassee. They get to play at home this week in a quarterfinal rubber match against Virginia, a team they beat 2-1 in the ACC tournament after a 4-3 overtime loss during the regular season.

Virginia: Virginia led all teams on the weekend with seven goals, beating Washington State 3-0 in the second round and Virginia Tech 4-0 in the third round. Freshman Morgan Brian and senior Lauren Alwine each scored a pair of goals over the two games. Already the school's all-time assists leader, Alwine also picked up two more to have a hand in four of seven goals.
Quarterfinal: No. 1 seed Stanford vs. No. 2 seed Oklahoma State


Stanford: Efficiently and quietly (would it kill the Cardinal to join the new century and stream their postseason games?), the nation's No. 1 overall team rolled right along. A pair of 2-0 wins against quality opposition (South Carolina in the second round and No. 4 Boston College in the third round) provided little in the way of drama but did make it three shutouts in three tries thus far in the NCAA tournament. The Cardinal's goals came from four players, and they outshot their opponents 47-13, including 18-6 in shots on goal.

Oklahoma State: The Cowgirls pulled out back-to-back 1-0 wins at home, beating Illinois in the second round and Maryland in the third round. Sixth-year senior Annika Niemeier scored both goals, getting the winner against Maryland in the fourth minute after getting on the board against Illinois in the 25th minute. The Cowgirls will travel to Stanford for their second quarterfinal appearance in as many seasons and their second all time.
Quarterfinal: No. 1 seed Wake Forest vs. Central Florida


Wake Forest: It took the Demon Deacons nearly the full 90 minutes to solve the riddle of Boston University's defense in Friday's second-round match, but they didn't stop scoring the rest of the weekend. After two late goals provided a 2-0 win against the Terriers, Wake Forest beat Penn State 4-2 in the third round, scoring four unanswered goals after ceding the game's first tally. This marks the program's second quarterfinal appearance in three seasons, the only two such appearances it has.

Central Florida: It's the first season in which the second and third rounds were played the same weekend, but it's going to be be a long, long time until a team has a more impressive run in the format than unseeded Central Florida did in Gainesville. After beating No. 2 Florida 3-2 in the second round, the Golden Knights eliminated No. 3 North Carolina in a penalty shootout after a 1-1 draw. Central Florida surrendered leads in both games but came out with wins behind clutch goalkeeping from Brazilian Aline Reis and undaunted play (UCF was outshot just 24-19 over the two games).
Best team performance: Oklahoma State
This has very little to do with soccer, even for a team that recorded a pair of shutouts despite playing without one of its best defenders, Carson Michalowski, against Maryland. Sports were secondary in Stillwater following the plane crash last Thursday that took the life of women's basketball coach Kurt Budke and assistant coach Miranda Serna, along with two others. And like so many on the campus, the soccer team had its share of connections to the tragedy. Senior Melinda Mercado played basketball for Budke as a freshman. And assistant coach Karen Hancock lost her husband, Will, in the plane crash 10 years ago following a men's basketball game at Colorado.
For the soccer players who were part of a larger university community dealing with a second fatal plane crash in a decade, the games could have reasonably represented a welcome escape from the shock, an unwanted intrusion on their grieving or just about any other emotional response. A loss would have been understandable. Two wins don't heal the real pain. But for whatever small corner of the big picture it occupies, the effort turned in said a lot about why people like Budke and Serna wanted to spend lives that should have lasted much longer around athletics.
Best individual performance: Chantel Jones, Virginia
Jones was slighted in this space last week after setting the NCAA career record for shutouts in a 2-0 win against Long Island in the first round, so we'll give top billing to extending that record with two more clean sheets against Washington State and Virginia Tech (granted, after the offensive display her teammates put on she would probably be the first to admit these weren't the toughest in her record run). It is a banner year for great college keepers, but when you look around the bracket at who is still standing, Jones is there with any of them.
Best intersection of soccer and history: Central Florida beating North Carolina
Central Florida may be one of two unseeded teams remaining in the bracket, but don't confuse that with newcomer status. The Golden Knights are one of only 17 programs to reach multiple College Cups, even if it has been awhile since those glory days in 1982 and 1987. So it was appropriate that a program that goes back to the beginning of North Carolina's NCAA dominance, losing to the Tar Heels in the 1982 title game, was responsible for adding some unwanted history to that program's annals. The Golden Knights became the first unseeded team to eliminate the Tar Heels, who have dropped their only two penalty shootouts in 120 games in NCAA tournament play (110-8-2).
Graham Hays covers women's college soccer and softball for ESPN.com. Email him at Graham.Hays@espn.com. Follow him on Twitter: @grahamhays.
Follow ESPN.com's college sports coverage on Twitter @ESPN_College and on Facebook.
November, 17, 2011
11/17/11
1:54
PM ET
By the end of the weekend, we'll be down to eight teams in the NCAA tournament. But with 32 directions to look at the moment, here are a few players and teams to watch:
Three second-round games to watch
Auburn vs. Maryland (Stillwater, Okla.): Along with Georgia's game against No. 2 Duke, this is one of two second-round meetings between the SEC, which lost half of its eight teams in the opening round, and the ACC, which remarkably saw all nine of its entries advance to the second round. Is this game on a neutral field a referendum on conference competitiveness? Of course not, but it's an intriguing contrast between an Auburn program that has long been among the SEC's best and a Maryland program on the rise in the nation's toughest conference in recent seasons. The Terrapins weren't as dominant in the first round as a 5-1 score against La Salle might suggest, benefiting from two penalty kicks in the first hour and piling up goals at the end against an overstretched opponent, but they were mighty good. Even when playing on an even footing, few teams have better quick-strike capability than Jasmyne Spencer and Haley Brock.
[+] Enlarge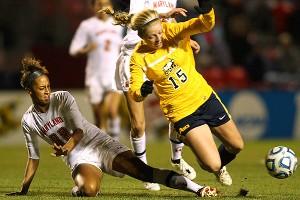 Tony Quinn/Icon SMIMaryland faces Auburn in the second round in an ACC-SEC clash.
Baylor vs. North Carolina (Gainesville, Fla.): Even on a neutral field, the Tar Heels are heavy favorites against a program that won its first ever NCAA tournament game last week against Texas State, but Baylor provides a fascinating contrast in coaches. Nobody following the tournament needs a refresher on Anson Dorrance, but Baylor's Marci Jobson has worked wonders in Waco since hanging up the cleats following a playing career that included a spot on the U.S. roster for the 2007 World Cup. Consider that in 1994, Dorrance led the Tar Heels to their 12th NCAA championship. That same year, Jobson (then Marci Miller) earned all-freshman accolades at Wisconsin. Now she and a team that can put up goals, led by juniors Dana Larsen (11 goals) and Lisa Sliwinski (nine goals), get an opportunity to win a game that would announce their arrival to the entire college soccer world.
Boston University at Wake Forest (Winston-Salem, N.C.): The top-seeded Demon Deacons did what they needed to do in the first round; their output in a 2-0 win against Oakland wasn't representative of their domination. But even if the other No. 1 seeds face second-round games against bigger schools (No. 1 Duke against Georgia; No. 1 Stanford against South Carolina) or higher-profile programs (No. 1 Florida State versus Portland), Wake Forest may be the one with the trickiest path to the Sweet 16. The Terriers have missed just two NCAA tournaments since 2000 and none since 2004, so they know the surroundings. They beat Portland and Washington in Seattle earlier this season and tied Boston College on the Golden Eagles' home field. And if there's an underdog that has a chance to keep its cool against gifted, relentless strikers such as Katie Stengel and Rachel Nuzzolese, it's the Terriers, who in addition to allowing just 11 goals in 22 games have yet to pick up a single yellow card. As noted by BU sports information guru Scott Ellis, no other team remaining in the bracket has fewer than three yellow cards.
Three second-round players to watch
Natalie Kulla, GK, Marquette: A high-powered offense in front of her means she's had less to do this season than in campaigns past, but the Marquette senior is an athletic, commanding presence in the box. After blanking Toledo in the first round a week ago, she's one shutout away from matching Erin Guthrie's NCAA career record as she faces Penn State.
Christabel Oduro, F, Memphis: She was the offensive star of the first round, piling up four goals and an assist in a 7-0 rout of Tennessee-Martin, including a hat trick in just 34 minutes. The competition gets considerably tougher this week, and a spot in the Sweet 16 could hinge on which sophomore from Ontario shows the finishing touch: Oduro or Louisville's Christine Exeter, the Big East Offensive Player of the Year.
Annika Niemeier, MF, Oklahoma State: It's best not to make too much of a 9-1 win against an overmatched Arkansas-Pine Bluff team in the first round, but Neimeier's two goals and an assist on 12 shots are notable nonetheless. The German midfielder missed most of last season with a knee injury and 10 more games this season. When she's at full strength, she gives the Cowgirls a playmaking mind in midfield unlike anyone else on the roster.
Three questions for the Sweet 16
Will the upset bracket continue to gloriously unravel?
As long as you aren't one of the favorites exiting, it's fun to see a part of the bracket crumble under the weight of upsets. And with the winners of Miami-Long Beach State and Milwaukee-Ohio State guaranteed spots in the Sweet 16 in the same quadrant, it's clear where the chaos is this year. But will any of them derail a UCLA-Duke quarterfinal? Or might a team like San Diego, which faces the Bruins in the second round, beat them to it?
Will any teams win on the road?
A year ago, Notre Dame, Ohio State, Washington and Georgetown won Sweet 16 games on the road. The difference between then and now, as we've discussed at length, is all had a full week to prepare for those games. With the exception of Florida State, which faced homecoming-related complications in Tallahassee, the top eight seeds in the tournament will play at home in the second round Friday and again in the Sweet 16 on Sunday, should they advance. Replacing Florida State with Memphis, the eight host schools are 80-6-5 at home this season. Wake Forest and Florida account for five of the six losses.
What's the best potential game?
There are plenty of worthy options, including a potential rematch of last year's semifinal between Stanford and Boston College and Florida State potentially playing Memphis on the latter team's field. But it's difficult to come up with anything better than Texas A&M and Virginia. The Aggies, who face Virginia Tech in the second round, bring the nation's most prolific offense to Charlottesville, Va. The Cavaliers, who face Washington State in the second round, rank in the top 30 in goals-against average and have more home wins (13) than any team hosting this weekend. Throw in contenders for national freshman of the year, A&M's Kelley Monogue and Virginia's Morgan Brian, and it only gets better.
Graham Hays covers women's college soccer and softball for ESPN.com. Email him at Graham.Hays@espn.com. Follow him on Twitter: @grahamhays.
Follow ESPN.com's college sports coverage on Twitter @ESPN_College and on Facebook.
November, 13, 2011
11/13/11
7:18
PM ET
With all this newfound time on our hands before the second round kicks off on Friday, let's look at what we learned in the opening round of the NCAA women's soccer tournament.
The new format is neither evil incarnate nor a perfect solution. The old format for the NCAA tournament featured 16 sites for the opening weekend, each hosting four teams playing out two rounds. Generally, although geography and travel costs sometimes intervened, the 16 national seeds had an opportunity to host. The format on display this year reduced the opening weekend to one round played at 32 sites.
The NCAA's stated goal in altering the format was to enhance the experience of the opening round -- to give more student-athletes an opportunity to play NCAA tournament games in front of a home crowd and to give more fans an opportunity to watch their team in the postseason without driving hundreds of miles.
The early results suggest some success toward that goal, but they do little to answer a fundamental question: At what cost to competitive integrity is such an aim achieved?
An announced attendance of 254 for Alabama at Miami notwithstanding, there were good crowds at games between unseeded teams that would have been at neutral sites in seasons past. Oregon State drew 1,503 for its game against Portland, thanks to a surge of traveling Pilots fans. South Carolina and Kentucky each drew more than 1,000 fans for games against Texas and Washington State, respectively.
Wisconsin-Milwaukee drew 757 fans, the fourth-largest crowd in program history and enough to fill a small venue and create a genuinely fun atmosphere against Illinois State.
"I know there were some disagreements from some teams that tend to go further in the tournament every year," Milwaukee coach Michael Moynihan said of the new format. "Some of them weren't happy, they felt that the game schedule as the tournament went on got too congested, and it wasn't in the best interests of soccer at that level. But I really like it. I think it benefits the student-athletes, the whole experience. Being here tonight, it was a fantastic crowd, a lot of students were out at the game."
The flip side is the issue of competitive fairness. Consider the case of No. 3 Texas A&M, which attendance history suggests would have drawn one of the biggest crowds of the tournament for a second-round game at home. Instead, it will play Virginia Tech on a neutral field in Charlottesville, Va., on Friday. Exactly how neutral it is will depend on how many Hokies fans make the drive from Blacksburg, Va., but the Aggies are getting the short end of the stick regardless, playing that game on Friday and, if they win, having to turn around and play No. 2 Virginia on its home field two days later.
Some other thoughts from the opening weekend:
Maybe it isn't the SEC's year
Well, that didn't go so well. After crowding the top of the RPI all season, the SEC landed eight teams in the NCAA tournament and seemed in position to finally make a multifront splash in November. Instead, four of eight teams are out after the first round, most notably No. 4 Tennessee crashing out in a 3-0 loss at home against Ohio State.
To be sure, it wasn't an unmitigated disaster. Georgia earned a 2-0 road win at Kansas. Only Tennessee and LSU were beaten soundly of the four losers, and the Tigers put on an entirely respectable performance at Texas A&M before yielding to a potent offense. Alabama and Kentucky had chances to win in overtime, the Crimson Tide falling at Miami and Kentucky at home against Washington State. And familiar faces Auburn, Florida and South Carolina join Georgia in the second round. But when a conference with the ample resources and scant postseason history of the SEC gets eight bids, it doesn't get the luxury of having the results graded on a curve.
Best duel: Bianca Henninger vs. California
Santa Clara's first penalty taker in its shootout against California didn't have a long walk to the spot. Henninger, the Broncos standout goalkeeper and Hermann candidate, took and converted the first PK and then gave her team the upper hand by saving the next shot from California. But give the Bears credit for boldness. Instead of sticking with starting keeper Emily Kruger for the shootout, they turned to redshirt freshman Kathleen Messinger. When she saved Santa Clara's fifth attempt, Cal claimed a place in the second round and bested the college game's best keeper.
Best individual performance: Kaitlyn Gustaves, Long Beach State
Picking one performance from 32 games is a fool's errand, but it's difficult to imagine anyone was better than Long Beach State's senior keeper. Gustaves made 12 saves to help upset No. 3 Pepperdine 1-0 in overtime. The Waves entered the game 8-0-1 at home this season, with a 21-match unbeaten streak (17-0-4) at Rokus Field overall.
Best team performance: Texas A&M
Oklahoma State and Memphis took top scoring honors, with the Cowgirls routing Arkansas-Pine Bluff 9-1 and the Tigers doing the same to Tennessee-Martin by a 7-0 score, but the honor goes to the Aggies. Facing good opposition, the nation's most prolific offense looked ready to keep things going in the postseason, controlling tempo, outshooting LSU 26-6 (including 9-1 in shots on goal) and earning 11 corner kicks.
Biggest surprise: Ohio State routing Tennessee
Pepperdine's loss was a surprise, but not nearly as big a surprise as the fact that the Waves, No. 10 in the final public RPI, had to play a team ranked No. 31 in the RPI in the first round. The stunner was in Knoxville, where Ohio State finally put up a result in line with its College Cup run last season. There's no way of knowing for sure, but the Buckeyes likely received one of the final at-large bids after a 10-8-2 regular season and seventh-place finish in the Big Ten. They didn't play like it against the Lady Vols, taking a lead in the ninth minute but still controlling the attack enough throughout to double Tennessee's shots, including both more shots and corners in the second half.
Biggest piece of history: Illinois beating Notre Dame
Notre Dame exits the tournament in the first round for the first time since 1993, and the first time ever since the field expanded to 64 teams. It's the first time since 1999 the defending national champion was eliminated in its first game (Florida lost to Hartford in the second round after a bye in the first round). What shouldn't be lost in the history is just how hot the Illini are as they head to Oklahoma State. The Big Ten tournament champions are 11-0-1 in their past 12 games and allowed just six goals in that stretch.
Graham Hays covers women's college soccer and softball for ESPN.com. Email him at Graham.Hays@espn.com. Follow him on Twitter: @grahamhays.
Follow ESPN.com's college sports coverage on Twitter @ESPN_College and on Facebook.
November, 10, 2011
11/10/11
9:38
PM ET
Friday's three games to watch
La Salle at Maryland: The Terrapins are good at home -- their lone home loss came via a miracle Boston College comeback, and Stanford's only non-win came in a 0-0 draw in College Park. But La Salle's Kelsey Haycook and Renee Washington are good enough to test an ACC defense, and the Explorers are one of the nation's stingiest defenses.
LSU at No. 3 Texas A&M: It's some gift the Aggies get in exchange for winning the Big 12 tournament and earning a No. 3 seed. What was second prize, the Boston Breakers? LSU gives up some goals, potentially trouble against the nation's best offense, but this is a team that went to Florida on Oct. 23 and came away with a 1-0 win.
Portland at Oregon State: It's almost unthinkable that two-time national champion Portland is playing a first-round road game in its own state, but the Pilots have to be thrilled to be in the field. Portland won at home in the first game between these teams, a 2-1 overtime decision in which Oregon State's tally was an own goal by Portland.
Friday's three players to watch
Stephanie Ochs, San Diego (vs. UC Irvine): The senior with 25 goals and 28 assists in her career is a complete offensive player. The Torreros, whose Past three NCAA tournament games ended in 1-0 defeats, need her at her mesmerizing best.
Maya Hayes, Penn State (vs. Army): The Nittany Lions haven't had many 27-goal scorers to call on. Actually, they've had just two: Christie Welsh and Tiffany Weimer. That's pretty good company for the fleet-footed Hayes.
Kayla Grimsley, South Carolina (vs. Texas): Check out this excellent video feature for more on Grimsley and South Carolina, but the diminutive striker is a workhorse who rarely leaves the pitch and doesn't lack for technical skill.
Friday's big question: What kind of statement will No. 1 Wake Forest make?
This isn't to say the Demon Deacons should be looking to hang a crooked number on Oakland, or that the Summit League champions will be obliging extras. But this is uncharted territory for coach Tony Da Luz's team as a No. 1 seed. Both Wake Forest and fellow No. 1 Florida State have something to prove -- neither finished high enough in the ACC to even host a conference tournament quarterfinal yet claimed prime NCAA tournament seedings based on strong RPI numbers and good conference tournament runs.
Saturday's three games to watch
Harvard at Boston University: A second consecutive first-round derby for Boston University, which pushed eventual College Cup participant Boston College to the limit last season. Coach Nancy Feldman's Terriers were 12-0-0 at home this season, including a 3-0 win against Harvard, en route to a fifth consecutive America East title.
Ohio State at No. 4 Tennessee: The Lady Vols reaped the benefits of a tough nonconference schedule to earn an NCAA tournament seed and a home game. But anyone who watched Ohio State goalkeeper Katie Baumgardner in the College Cup last season knows she's capable of fueling an upset.
Virginia Tech at West Virginia: It's a regional rivalry, if not exactly a local one. But it's also a clash of conference pride between the best the Big East has to offer and a mid-table ACC team. The Hokies have faced plenty of good offenses, but the Mountainers are No. 14 in goals per game among NCAA tournament teams.
Saturday's three players to watch
Sydney Leroux, UCLA (vs. New Mexico):
After scoring eight goals in the NCAA tournament as a sophomore, Leroux had just one score in three games last season. The next few weeks could seal her place as an all-time great.
Natalie Kulla, Marquette (vs. Toledo): One of the features of this tournament is phenomenal goalkeepers, and while Kulla doesn't always get the attention some of her peers do, she's in the middle of any discussion of the best.
Rachel Tejada, Illinois State (at Milwaukee): Only two players in the country scored more goals. It just happens that one of them, Sarah Hagen, will be in the other uniform. Tejada had one of three goals in her team's 3-1 win against Milwaukee two weeks ago.
Saturday's big question: What will No. 3 Pepperdine and No. 4 Memphis show?
Both the Waves and Tigers spent much of the second half of the season in and around the top five in the major polls, but both are looking at just one home game in the NCAA tournament because of seeding. Pepperdine has the tougher matchup against Long Beach State, while Memphis takes on Tennessee-Martin, but both teams will have every opportunity to play the respect card if they come up with the kind of wins befitting their combined 36-1-2 record this season.
Graham Hays covers women's college soccer and softball for ESPN.com. Email him at Graham.Hays@espn.com. Follow him on Twitter: @grahamhays.
Follow ESPN.com's college sports coverage on Twitter @ESPN_College and on Facebook.
November, 6, 2011
11/06/11
7:57
PM ET
All we can do is wait and wonder what the NCAA tournament selection show will bring Monday. But if wait we must, let's at least put the wondering into words with some pre-bracket questions about the women's soccer tourney.
1. How important is it to be one of the top eight seeds?
The prize in past seasons was one of 16 national seeds, a designation that more often than not came with the chance to host first- and second-round games during the tournament's first weekend. But a change in format means eight of those seeds are now hollow rewards. With the first round a stand-alone event the opening weekend, and second- and third-round games paired together on the second weekend, only the top eight seeds are likely to host more than one game.
What does it all mean? Instead of playing a second-round game at home and resting for a week before a Sweet 16 road trip, potential seeded teams like North Carolina and Texas A&M could face neutral-site games in the second round, followed by a third-round game two days later on an opponent's home field. Memphis, Oklahoma State, UCLA and Florida State were Nos. 5-8 in last week's RPI and only Oklahoma State lost over the weekend (on a 90th-minute goal by top-eight contender Texas A&M in the Big 12 championship game).
2. What will become of last season's College Cup participants?
Will Stanford, unbeaten and ranked No. 1 in the major polls for much of the season, earn the No. 1 overall seed? The Cardinal were second behind Duke in last week's RPI, but an ACC tournament semifinal loss by the Blue Devils may remove the lone potential obstacle for the Cardinal to take top honors.
Will Boston College earn a national seed, albeit one of those aforementioned hollow eight? The Eagles were No. 16 in last week's RPI but lost at home to Wake Forest in the ACC quarterfinals.
The bubble risk is minimal for Notre Dame, but will it get to play even one home game? Half the field will host first-round games this year, but Notre Dame was No. 33 in last week's RPI -- and that came out before it lost in the Big East semifinals against Louisville. With Wisconsin-Milwaukee, Dayton and Illinois all candidates to host first-round games, the defending champs could hit the road early.
And finally, will Ohio State survive the bubble? The Buckeyes were No. 55 in last week's RPI, typically an at-large bid death sentence, but a 4-7-2 record against RPI top-100 teams, including 2-3-1 against top-50 teams, may be enough to sneak in.
3. How many ACC teams will make it?
It's difficult to imagine a team ranked 25th in the final publicly-released RPI not receiving an NCAA tournament at-large bid. It's also difficult to imagine a team that doesn't qualify for an eight-team conference tournament receiving an at-large bid to the bigger tournament. Welcome to the Miami conundrum. The Hurricanes finished ninth in the ACC during the regular season, missing out on the conference tournament. But with the aforementioned RPI and two wins against RPI top-25 teams in Maryland and Boston College (albeit in eight such games), it's tough to leave them out.
The ACC has received at least seven bids in each of the past eight seasons, but it hasn't seen nine bids since 2004.
4. Which teams hurt themselves last week?
Georgetown: The scope of a 5-1 loss to host West Virginia in the semifinals of the Big East tournament doesn't hurt Georgetown's paper credentials to any greater degree than a more competitive score would have, but it doesn't help from an aesthetic perspective. The Hoyas didn't play a strong nonconference schedule and had a 2-5-0 record against teams in the top 100 of last week's RPI. A win against Notre Dame was their lone top-50 victory, and that may not be enough to earn an at-large bid, even with an RPI at No. 40 last week.
La Salle: Talk about a harsh reality. La Salle put together the greatest regular season in program history, going 15-0-3 and allowing just six goals doing it. But a 1-0 loss against Massachusetts in the semifinals of the Atlantic 10 tournament puts the Explorers squarely on the NCAA tournament bubble. La Salle was No. 29 in last week's RPI, typically an unassailable position for at-large contenders, but it has just two top-100 wins and one top-50 win. The regular-season success may be enough, but it's going to be a nervous wait.
Stephen F. Austin/Central Michigan: Each team entered its respective conference tournament as the top seed and with a top-50 RPI. But each lost, Stephen F. Austin in the Southland final against Texas State and Central Michigan in the MAC semifinals against Western Michigan, and at-large prospects don't look good.
5. Which teams helped themselves last week?
Florida State: This has nothing to do with the bubble, but it could have something to do with soccer in Tallahassee for weeks to come. The Seminoles struggled to a sixth-place finish in the ACC regular season, but they beat North Carolina and Virginia outright in the conference tournament and claimed the title by eliminating Wake Forest on penalty kicks in the final. Those wins could help an already strong RPI stand up when it comes to landing a top-eight seed.
Alabama: No bubble team made a stronger closing run than Alabama, although it admittedly had a lot of ground to make up. After closing the regular season with wins against Tennessee and Auburn and a tie against Georgia (all RPI top-50 teams), the Crimson Tide upset top seed South Carolina in the quarterfinals of the SEC tournament. A win against Florida in the semifinals might have locked up an at-large bid, but a 2-1 loss in that game didn't end their hopes. No bubble team played more than Alabama's 16 games against RPI top 100 teams (6-8-2). The math says they're in.
Portland: This is more functional help than anything else, as a 3-0 win at home against Gonzaga to close the regular season isn't a big boost on its own. But the win lifts Portland to .500 for the season (9-9-1 overall, 4-4-1 WCC) and makes it eligible for at-large consideration. Three top-50 RPI wins, including a top-10 win against Florida State, help the Pilots stand out in a weak bubble crowd.
Graham Hays covers women's college soccer and softball for ESPN.com. Email him at Graham.Hays@espn.com. Follow him on Twitter: @grahamhays.
Follow ESPN.com's college sports coverage on Twitter @ESPN_College and on Facebook.
October, 20, 2011
10/20/11
4:35
PM ET
Danielle Foxhoven accepted one of the more daunting challenges in college soccer when she chose to follow in the footsteps of three legendary goal scorers who helped tiny University of Portland become as big a name as there is in the women's game. Like putting on the pinstripes after Babe Ruth, Joe DiMaggio and Mickey Mantle, putting on Pilots purple and playing forward means living up to the legacies of Shannon MacMillan, Tiffeny Milbrett and Christine Sinclair, players who collectively totaled 300 college goals and went on to similarly prolific feats after graduation.
[+] Enlarge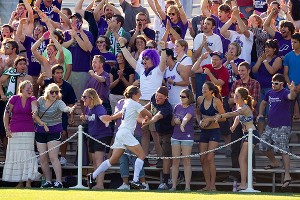 UP AthleticsDanielle Foxhoven's contributions will live on at Portland, but the senior forward has made her mark off the field as well.
"I definitely knew coming here that I wanted to make my mark, just like the three people ahead of me did, and that was in terms of doing what we all do best and that's scoring goals," Foxhoven said. "I knew that's what my strength is, and I wanted to bring that to the program and really shine for myself and for the program, through the program."
She held up her end of the bargain on the field. The senior will finish her career with more goals, 54 and counting, than any Pilots player save the aforementioned trio and ensure her No. 9 jersey has its own place in program lore.
Yet it's what she thought to do with the rest of her gear that truly defines her.
Even in the midst of a frustrating season the likes of which Rose City fans have never seen, it's what gives the senior a legacy that stands on its own.
Shortly after Portland's 2010 season came to a rather stunning close with a second-round exit from the NCAA tournament at the hands of rival Washington, Foxhoven was charged with the annual chore of getting rid of excess equipment the team no longer needed. One of the perks of being a Division I athlete, one nevertheless often taken for granted, is the steady flow of fresh new clothing and equipment. Foxhoven found herself thinking of those without similar advantages, which left little time to wallow in the disappointment of a lost postseason.
"It kind of killed me inside to know that this was just going to go to waste or we didn't really have anything to do with it," Foxhoven recalled. "So I just came up with this idea that I wanted to help get that equipment overseas."
The idea germinated in her brain until an encounter in February with Nick Gates, director of Coaches Across Continents and a guest speaker in Foxhoven's social entrepreneurship class. Gates' organization uses soccer as a teaching tool to, according to its mission statement, "improve the health and well-being of disadvantaged children in developing countries." Foxhoven eagerly pitched her idea and found a receptive ear. From that initial encounter was born Equipment Across Continents.
Equipment Across Continents collects used gear from groups like local youth soccer clubs and distributes it overseas to programs affiliated with Coaches Across Continents, mostly in Africa. Companies donate overstock items, along the lines of apparel and athletic bags, which are sold online via eBay's Giving Works service to raise the money necessary to ship the gear. The program's founder and its director, Foxhoven oversees operations that include a warehouse in Florida from which volunteers distribute the collected materials.

I think this project is very reflective of who Danny is. [She's] obviously very involved in sport, but she's not looking at sport as 'How can Danielle Foxhoven better from it?' She immediately started looking at some of the issues from different organizations and what do people do with all this stuff that they have.
--Portland coach Garrett Smith
From her pitch to Gates to the first online sale, the whole thing went from idea to reality in about four months.
"I think this project is very reflective of who Danny is," Portland coach Garrett Smith said. "[She's] obviously very involved in sport, but she's not looking at sport as 'How can Danielle Foxhoven better from it?' She immediately started looking at some of the issues from different organizations and what do people do with all this stuff that they have."
Unfortunately, a storybook senior season isn't part of the equation. The injury-depleted Pilots already have seven losses in their first 14 games, more than in Foxhoven's first three seasons combined, and have major work to do just to avoid missing the NCAA tournament for the first time since 1999. But even as she talks about the newfound adversity on the field, you get a sense of someone who understands the bigger picture.
"I'm not going to lie; it has been hard," Foxhoven said of the 6-7-1 record through Thursday. "As a competitive person -- not even as a competitive person, as anyone -- it's more fun to win. But in saying that, it's a part of life, it's a part of sports. With wearing your heart on your sleeve and with exposing yourself and working as hard as you can and putting everything out there comes sometimes winning and sometimes, unfortunately, there comes failure."
She would like to continue playing soccer beyond graduation and certainly has the skills to follow a host of former Portland players already competing in Women's Professional Soccer. Whether working from the inside or not, she hopes to bring professional teams into the mix for Equipment Across Continents and looks forward to an opportunity to travel overseas with some of the equipment, getting a firsthand look at the children it's helping -- and a firsthand look at what still needs to be done.
Foxhoven embraced the chance to follow in the footsteps of greatness when she came to Portland. In helping those around her, she found a way to take the lead.
"It brings you back to a sense of just pure joy for the game," Foxhoven said of the community involvement. "I think a lot of times that's lost in our competitive spirit and our circumstances of a season, of the pressure of playing. And [it reinforces] being able to be a part of a community, even being a part of kids' lives here in the Portland area and just seeing how happy they are when they watch us play or whatnot. And that spreads to Africa, seeing how happy they are when they play.
"It just brings you back to a sense of why we started playing the game and the joy we have in such a simple thing as kicking a ball and chasing after it."
Even at a place where people have kicked it and chased it better than almost anywhere else, that's a legacy worth celebrating.
Graham Hays covers women's college soccer and softball for ESPN.com. Email him at Graham.Hays@espn.com. Follow him on Twitter: @grahamhays.
Follow ESPN.com's college sports coverage on Twitter @ESPN_College and on Facebook.
October, 16, 2011
10/16/11
11:06
PM ET
Few athletes have demonstrated talent beyond their years quite like young Sydney Leroux.
Yet as she concludes her college career and tries to lead UCLA back to the College Cup, the asset that might ultimately separate success from disappointment is the wisdom of her years.
[+] Enlarge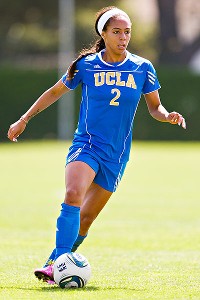 Scott Chandler UCLA has benefited from an influx of freshmen this season, but the mainstay for the Bruins has been senior Sydney Leroux.
At 14 years old, Leroux was the youngest player in the 2004 Under-19 Women's World Cup when she took the field for Canada. At 18 years old, she started all season as a freshman for a UCLA team that didn't lose a game with her in the lineup, missing the team's eventual College Cup loss because she was occupied with winning the Golden Ball for the United States, her adopted home, in the 2008 Under-20 World Cup.
It seems like she has been around the scene forever, a feeling only heightened now that she's surrounded by teammates who almost literally just got here yesterday. UCLA regularly starts five freshmen and often plays 10 of them during the course of a game -- of the 143 starts made through the team's first 13 games this season, 70 came from freshmen.
A trip to the Bay Area this past weekend offered a cold dose of reality for the previously unbeaten and once-drawn Bruins, producing a 0-all draw at California and a 4-1 loss at No. 1 Stanford, but something is working for a team that began the season ranked No. 16 and entered the game against the Cardinal ranked No. 3 despite its inexperience.
Coming off a disappointing 2010 season in which an injury-plagued team managed just a 13-8-2 record and a Sweet 16 NCAA tournament exit, not to mention an offseason in which Jill Ellis surprised many by stepping down as coach, starting from scratch might have been cause for trepidation. Few doubted what the incoming class would have in the future, but a senior's only chance to win comes in the present.
Yet Leroux saw opportunity.
"It wasn't so much that I was worried; I was more excited," Leroux said. "Last year we had a tough run, and we knew that we needed some new players. Luckily, I'd gotten a chance to play with some of them or against them in the [Under-20] World Cups. I was excited. I think we needed a young spark and that excitement that sometimes you lose as you go through sophomore, junior into your senior year. I think you lose that excitement you have as a freshman."
In her case, another part of the recent past might have helped shape her outlook. In addition to UCLA's struggles last season, Leroux was a co-captain on the United States team that exited the 2010 Under-20 World Cup in stunning fashion, bounced by Nigeria in a quarterfinal penalty shootout. As she brings up without being prompted, she took and missed the final penalty for the Americans on that day in Germany, securing a captain's double whammy of tangible and intangible blame, fair or not.
She said the experience made her a better person and a better soccer player. People say that kind of thing a lot. At least through the prism of leadership on a soccer field, Leroux's actions suggest they were more than words.
"There have been times that we forget that we are just freshmen, and we have to earn our spot on the team just like everyone else," freshman Samantha Mewis said. "I think Syd has had to do a couple of hard things to make us realize that, but you definitely need someone like that on the team. We all look up to her and we all respect her."
B.J. Snow is in his first year as coach at UCLA, but he's been a key part of the program, as well as the youth national team, throughout Leroux's career. He's seen the maturation manifest itself in her game.
"Where I think her growth has been the most fun to watch is to see her soccer-playing ability, her technical ability, adapt to the point where she doesn't have to rely on her athleticism," Snow said. "It comes to a point, especially when you're going to try to reach the levels of the full national team, that your athleticism only takes you so far. And her decision to start putting in the work to make herself a better overall player, to be a student of the game, to study tape, to stay after practice to work on finishing, all those types of things, that's the thing that's fun to watch."
It will be fun to watch UCLA's talented newcomers make that same climb in the years to come. For now, Leroux just needs them to come far enough to let her take them the rest of the way.
"Our final pass is not there yet," Leroux said of a team with four goals in its past five games. "It's also because there's a lot of freshmen and the game is a lot faster. Sometimes it's hard -- sometimes even for me, I have trouble finding that final pass. I think once we get that, and once we get one of those really good wins where it's like a 3-0 game, I think that's going to open the gates."
She speaks from experience. A player who once defied age now has an opportunity to use it to her advantage.
Graham Hays covers women's college soccer and softball for ESPN.com. Email him at Graham.Hays@espn.com. Follow him on Twitter: @grahamhays.
Follow ESPN.com's college sports coverage on Twitter @ESPN_College and on Facebook.
January, 8, 2011
01/08/11
12:27
AM ET
There is no shame in finishing second to a worthy opponent. Christen Press knows that better than she might like, as a part of two Stanford women's soccer teams that reached the national championship game unbeaten, only to fall against teams that played better on those particular days.
[+] Enlarge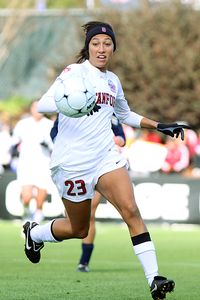 Andy Mead/YCJ/Icon SMIChristen Press led the country with a goal per game.
But now it's the rest of the college soccer world that can take solace in knowing there's no shame in finishing second to Press, winner of the Hermann Trophy as the nation's best player.
In a field of finalists that included Notre Dame junior forward Melissa Henderson, who earned a deserving nod as the College Cup's Most Outstanding Player en route to a national title; and Cal senior forward Alex Morgan, who scored what proved to be the goal that clinched World Cup qualification for the United States national team; Press was nevertheless the clear choice, and the right choice for the Hermann.
From the first game in the heat and humidity of August to a final played one day after snow squalls rolled through Cary, N.C., and interrupted Stanford's practice, the Cardinal were the team to beat and Press the player that made them so. That Notre Dame hit its stride in time to play brilliant postseason soccer didn't change that, but instead only emphasized that the question of the season, left unanswered until its final 90 minutes, was: Could anyone stop Stanford? And could anyone stop Press?
The Fighting Irish won the title; Press defined the season.
The numbers alone are staggering. Press was the only player in Division I to average a goal per game this season, finishing with 26 goals in 26 games. And -- not that there were a lot of soft spots on a schedule that included 19 games against NCAA tournament teams -- but she produced those goals consistently, scoring at least once in all but seven games. That she finished her career as Stanford's all-time leader in goals and assists might not have direct bearing on an award meant to honor the best of a single season, but those milestones do reveal something about the versatility that made her such a headache for opponents as a senior. While she was the nation's leading goal scorer this season, she tied for the national lead in assists as a junior. Even this season, asked to carry the weight of finishing so many goals, she managed eight assists, a playmaking mark exceeded by no more than 50 or so of the thousands of Division I players.
Stanford missed out on the program's first national championship, but the Cardinal did make history thanks to Press. For the first time, a program other than North Carolina produced back-to-back Hermann wins by different players, Press' win coming on the heels of Kelley O'Hara capturing the award last season. And, numbers aside, the most impressive aspect of Press' performance as a goal-scoring machine this season might have been her adaptability to the circumstances under which it came. After all, there are few more timeless themes in team sports than the perils of going from complement or understudy to the leading role. A handful of memorable performers -- Steve Young following Joe Montana, Diana Taurasi following Sue Bird and Swin Cash, Casey Nogueira following Heather O'Reilly -- manage it to championship effect. Fewer still do it with the grace and skill Press displayed in taking the reins, and taking the full brunt of opposing defenses.
Like those others, she didn't just clear the bar; she raised it higher for whomever comes next.
Press made almost everything she did look effortless, be it running by anyone and everyone, dancing around defenders in the box with the ball at her feet or unleashing a shot on frame from outside the 18-yard box. Nobody who wins the Hermann looks like a fish out of water on a soccer field, but something about Press made it particularly easy to miss both the effort behind her grace and the competitive fury behind the often-smiling visage.
"Everyone's always talking: 'Wow, Christen's so good, she's so fast, she's so smart.' And I feel like everyone just thinks those things are a given," Stanford senior Allison McCann said at the College Cup. "But the amazing thing about Christen is she's earned all of that. She's the first one out to practice and the last one staying after, doing extra shooting, asking for extra video.
"She does everything to make herself that great. The reason she is that incredible is because of how hard she's worked."
Nobody need feel wronged finishing second in this race. Press is finally alone in first, and that's precisely where she belongs as she exits the college stage.