Category archive:

Arizona Wildcats
February, 11, 2011
02/11/11
10:03
AM ET
Editor's note: Graham Hays kicked off the 2011 season with a look at his top 20 teams.

No. 1 Arizona
Last season: 52-14, lost in Women's College World Series championship series
Who returns: People who hit lots and lots of home runs, for one thing. The Wildcats hit 241 home runs over the course of the past two seasons, and 177 of them are still represented in the names coach Mike Candrea can write on his lineup card. The Wildcats have lots of good hitters, but Brittany Lastrapes and Stacie Chambers occupy a place of prominence all their own, both in Tucson and in the wider world. Lastrapes led the team with a .413 batting average in 2010, but Chambers led in both slugging percentage (.803) and on-base percentage (.519).
Other power comes from sophomore third baseman Brigette Del Ponte (21 home runs, 1.127 OPS) and junior designated player Lini Koria (17 home runs, 1.095 OPS). Senior Lauren Schutzler (.468 OBP, 13 stolen bases) and junior Karissa Buchanan (.458 OBP) join Lastrapes in the outfield and give the Wildcats the kind of table-setting presences at the top and bottom of the order, respectively, that Candrea craves.
Kenzie Fowler's freshman season was eventful -- encompassing everything from a penchant for putting people on with walks, arm woes that cropped up late in the season and a rash of illegal pitches in the World Series -- yet she was everything she was supposed to be as a much-hyped freshman.
Who departs: K'Lee Arredondo started 232 games during her time with the Wildcats, mostly at shortstop over the past three seasons, so seeing a lineup without her is going to take some getting used to. Sarah Akamine's long-relief performance to earn the win in the super-regional clincher against BYU summed up the best of her career. She took the ball whenever the Wildcats, often short on pitching depth, needed her and gave her offense a chance to win.
Who arrives: What do you expect in Tucson, other than a class with plenty of potential contributors? Shelby Babcock has the résumé of someone who could handle enough of the pitching chores to keep Fowler's workload lighter than last season. The only obvious starting position up for grabs is shortstop, and Chelsea Suitos is in the mix, although returnee Matte Haack got the opening-day start.
Preseason question: Why is Arizona not like other recent runners-up?
Watch out for that last step; it's a doozy. It has been 15 years since Arizona won the 1996 national championship one season after losing the title game against UCLA. It's the last time a team that finished second one season improved on that finish the next season.
For the most part, the second-place finishers over the past decade and a half at least returned to the World Series the next season, but even that wasn't guaranteed. Last season, Florida broke a stretch of back-to-back misses by teams coming off second-place finishes (Tennessee missed the World Series in 2008 and Texas A&M missed in 2009). It is growing ever more difficult to be a part of the Oklahoma City octet, and as anyone who sat and sweltered through the action in recent seasons can attest, it's getting more and more difficult to find any cheap wins once you get there, a state of affairs Arizona's coach recently summed up.
"You go back to the early '90s when it was Arizona and UCLA," Candrea was quoted as saying in a preview published on the Arizona site. "Now you have many teams across the nation competing for a national championship. We have to do our part to not only play a competitive nonconference schedule, but to play a competitive schedule in Pac-10 play. You play in a regional that you never know where it's going to be at, and then you play a super regional against a very good opponent just to get to the College World Series and then you have to play well there, so it's a much tougher road now."
All of which is why it's no surprise to see experience rewarded. Look at recent second-place finishers and you come across a lot of senior stars playing their final game. That was the case for Florida's Stacey Nelson in 2009, Texas A&M's Megan Gibson in 2008 and Tennessee's Monica Abbott in 2007. It has been an entire generation, in terms of college matriculation, since Northwestern and UCLA made it to the championship series with non-seniors as their signature players in the batting order, and more significantly, in the circle.
Rare is the team that can survive the marathon of a long season and the grueling sprint of the World Series as anything less than the maximum of the potential on its roster. But that's just what the Wildcats did in making it to the championship series last June with a freshman pitcher nearing 300 innings and a lineup loaded with underclassmen.
And if Arizona really is a better team this season, there's only one potential outcome.
February, 11, 2010
02/11/10
12:49
PM ET
1. Is the Pac-10 stronger than ever?
When Florida and Alabama opened last season atop the polls, the question of the moment was whether the SEC had caught the Pac-10 as the sport's pre-eminent power base.
By the time Washington finished celebrating its first national championship on the field at ASA Hall of Fame Stadium, it was clear the softball arms race -- ironically in one of the kindest seasons to batters in recent memory -- was nowhere near such a neat and tidy resolution.
The SEC and others are moving ahead full steam, but they're chasing a moving target.
Washington opens this season poised to defend its title and ranked No. 1. The first Pac-10 team other than Arizona or UCLA to win a national championship when it did so in 2002, Cal appears back in position to challenge for a spot in the World Series and possibly even a second title. Stanford keeps adding talent and can make a strong case as the best team not to reach the World Series in the past five years. A season after making do without Katie Burkhart well enough to reach Oklahoma City, Arizona State must repeat the process without Katie Cochran. But the Sun Devils have more than enough talent to avoid falling off the pace set by their 2008 title team.
And those are just the contenders that didn't win 19 of the first 24 NCAA championships, loot divvied up between UCLA (10 titles and one vacated title) and Arizona (eight titles).
[+] Enlarge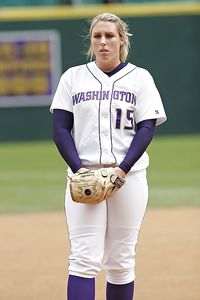 University of Washington Athletic Department If Washington makes it back to the WCWS, Danielle Lawrie will be a threat.
Is the rest of the country catching up to Arizona and UCLA? With as much talent as there is this season in Tucson and Westwood, it's undoubtedly so. It's just that to a greater degree than ever before, despite the Pac-10's long history of large World Series contingents, the rest of the country includes places like Tempe, Ariz.; Berkeley and Palo Alto, Calif.; and Seattle.
2. Is Washington the team to beat?
Even if you don't subscribe to the theory that the champions deserve that label until it's taken from them, the Huskies qualify strictly on the merits of the here and now.
That isn't to say coach Heather Tarr's team is unquestionably better than last season's version. It lost a huge tangible piece in All-American second baseman Ashley Charters and perhaps an equally noteworthy intangible piece in catcher Alicia Blake, Danielle Lawrie's catcher for three seasons. But the pieces the Huskies return -- and there are a lot -- should be better. Sophomores Kimi Pohlman and Niki Williams have a year of success to build on, while junior third baseman Morgan Stuart has a year of work at the hot corner to build on after shifting from shortstop. And senior Jennifer Salling, whose midseason arrival necessitated Stuart's shift, won't have to jump in midstream.
And there is, of course, Lawrie. After pitching through a stress fracture in her pitching arm for much of last season, she's healthy and without peer in the college ranks now that former Florida ace Stacey Nelson has moved on. Last year, Lawrie pitched through two road trips in regionals and super regionals, plus a long elimination day against Georgia in the World Series; in so doing, she proved she can overwhelm opponents when she's at her best and blink past when she's not.
3. Which player could alter the college softball landscape?
[+] Enlarge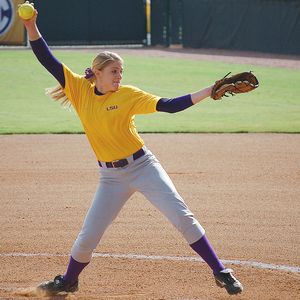 Matt Dunaway/LSU Athletics LSU's Rachele Fico has the potential to set herself apart from the crowd.
How's that for a buildup? But when you threw perfect games by the dozens in high school in Connecticut, helped a Florida travel ball team upset the softball establishment in knocking off the California powers to win the prestigious ASA Gold title, pitched against Team USA after your junior year in high school and earned space on "SportsCenter" and in The New York Times, lofty expectations get packed for school right along with the notebooks and clothes.
LSU freshman Rachele Fico is just one of several highly touted freshman pitchers dotting big-time rosters around the country, but she has the potential to set herself apart from the crowd.
All the accomplishments and experiences predating her arrival in Baton Rouge help, as does her place in a program with perhaps the richest softball tradition in the SEC but that, like the rest of the conference, is still looking for its first national championship. It also doesn't hurt that Fico has both the ability to blow pitches past batters and a sense of spin and control beyond her 18 years.
She even sounds like a seasoned vet in passing credit to her defense -- a defense that isn't likely to get a lot of work on days when she's on top of her game.
"I'm extremely comfortable with my team; I know I have a great defense behind me," Fico said a few days before her debut. "So I'm not scared to throw pitches and I know if they do get put into play my teammates are going to make the plays behind me."
The sport is also evolving to give freshman pitchers a greater shot at success. While Connecticut high schoolers still throw from 40 feet, Fico's experience in travel ball and pitching for the elite Stratford Brakettes amateur team (alongside players like former LSU catcher Killian Roessner) means pitching from a consistent 43 feet in college is actually something of a relief, rather than a challenge to overcome.
"My biggest adjustment to 43 feet with pitching was probably my changeup," Fico said. "When I switched to 43 feet, I had to work on getting the ball to get there a little bit more. But it's really nice to have those extra three feet because it gives us so much time to make the ball spin and get a little bit more break on it."
4. Which team could make a surprise trip to Oklahoma City?
There is almost always at least one team that sneaks up on fans and pundits. Two seasons ago, Louisiana-Lafayette went from No. 20 in the preseason Top 25 to the World Series. Last season Missouri and Georgia rose from Nos. 23 and 19, respectively, to Oklahoma City.
Now it's about time No. 19 Florida State ends its World Series hiatus.
The Seminoles will need more consistent run production this season, no small task considering they lost their best hitter, Kaleigh Rafter. A team that slugged an anemic .366 in 2009 has some work to do, but senior outfielder Carly Wynn (.530 slugging, .409 on-base percentage) is a good place to begin building a lineup. The Seminoles should once again get a boost from the transfer market -- like they did with Rafter -- with the arrivals of Jen Lapicki from Tennessee and Tory Haddad from Ohio State, patient hitters with the ability to add to the team's extra-base hit totals.
The good news is Florida State doesn't need to set scoring records as long as Sarah Hamilton and Terese Gober are splitting innings in the circle. The two combined to go 44-16 with 519 strikeouts and just 87 walks in 421 1/3 innings, reminiscent in some ways of Northwestern's duo of Eileen Canney and Courtnay Foster in that program's breakout 2006 campaign.
5. Who are three players who deserve a brighter spotlight?
Carly Normandin, OF, Massachusetts The Minutewomen might have been one of the best teams in the country last season. They just had the misfortune to play 22 innings against Danielle Lawrie on the final day of regionals. Ace Brandice Balschmiter is gone, which will make a repeat performance difficult, but Normandin was one of the toughest omissions from this season's ESPN.com All-America team. Her bat is streaky, but the end product (.727 slugging, .457 on-base percentage) is indisputably great. And what never wavers is her defense. It's tough to make declarative defensive statements without more widely available video and statistics, but I know this: I've never seen a better outfielder.
Kylie Reynolds, P, Kent State All she's done for the past three years is strike out batter and win games. A season ago, she finished sixth nationally in strikeouts per seven innings -- and it was the first season in which she didn't win MAC Pitcher of the Year honors (Ball State's Elizabeth Milian ended her run). In 236 innings, Reynolds struck out 345 batters and limited opponents to a .190 batting average. And Reynolds isn't just a MAC phenomenon. Last season alone, she struck out 11 in a loss at Arizona State, didn't allow an earned run in 7 2/3 innings in a loss against Iowa and shut out a good Texas State team for an upset win.
Melissa Roth, C, Louisville The Big East may not be the Pac-10 or SEC -- it may not even be the Big Ten or ACC -- but if you hit .444 with an .870 slugging percentage and .566 on-base percentage, you can get it done in any uniform. That includes the Team USA uniform Roth wore in the Pan American Games. Her only problem is she's caught, pun intended, at what's surprisingly one of the deepest positions when it comes to elite hitters, joining the likes of Sam Marder, Chelsea Bramlett and Stacie Chambers in fighting for recognition behind the plate.
Graham Hays covers softball for ESPN.com. E-mail him at Graham.Hays@espn3.com.
February, 11, 2010
02/11/10
11:06
AM ET
It's time to take a quick tour -- two by two this year -- through some of the best teams out there.
No. 3 Arizona
There may not be words to describe just how good Arizona's offense was last season. But there are numbers -- lots and lots of numbers.
[+] Enlarge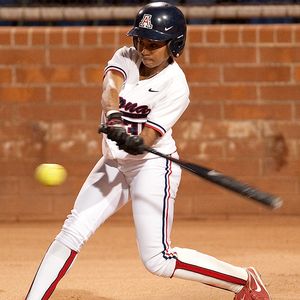 Luke Adams/Arizona AthleticsBrittany Lastrapes keys Arizona's offense.
If you want to take the scenic route, consider the Wildcats reached the World Series despite finishing ranked No. 125 in team ERA, behind Quinnipiac, Saint Mary's, Texas A&M-Corpus Christi and Robert Morris, for the school of Nancy Evans, Jennie Finch, Alicia Hollowell and so many more aces of distinction.
As for the more direct approach, coach Mike Candrea's team averaged better than one run per game more than UCLA or Arizona State in conference play -- UCLA ranked third nationally in slugging percentage and ninth in runs per game; Arizona State ranked eighth and second, respectively.
Arizona operated in a different hitting stratosphere than the rest of the country for much of 2009.
Good thing the team from Tucson graduated the players who ranked third and seventh in OPS from that lineup (Jenae Leles and Sam Banister, respectively) or it might be unfair.
In truth, both players are significant subtractions from the lineup, particularly Leles, but the wealth of hitting talent that remains is remarkable. Stacie Chambers hit more home runs (31) and drove in more runs (96) than just about anybody in Arizona not named Mark Reynolds … and Chambers is almost without a doubt not the most valuable hitter on the team as long as Brittany Lastrapes is around.
So what happened in Oklahoma City, where the Wildcats went two-and-barbeque at the World Series and managed just seven hits in two shutout losses? Bad luck and good pitching are generally underrated explanations with that small a sample size, but it's easy to wonder if a team that spent all season feeling like no amount of runs were enough just hit a wall after falling behind in the first inning of each game.
If freshman pitcher Kenzie Fowler eliminates that, allowing Sarah Akamine to fill a No. 2 role that she's quietly grown entirely capable of filling, watch out. I can't help wondering if Fowler might be Candrea's version of Maya Moore, who joined a Connecticut team ready to make a leap with Tina Charles and Renee Montgomery.
No. 4 Florida
Florida would not be the first team to graduate an ace and still manage a trip to the World Series. Granted, the list is a lot longer on the other side, but reaching the WCWS isn't unprecedented.
After winning a national championship in 2006, Arizona turned things over to Taryne Mowatt and repeated. Arizona State couldn't defend its championship last season, but it did make a return trip to Oklahoma City, albeit with a bit of an assist from North Dakota State when the Bison stunned Oklahoma in regionals only to run out of gas against the Sun Devils the next week. Even within the SEC, Alabama bounced back from losing Stephanie VanBrakle after the 2006 season to push Washington to the limit in a thrilling super regional on the road in Seattle.
The point is there is life after Stacey Nelson, particularly if you return the core of a lineup that ranked fourth in the NCAA in slugging percentage, four regulars who got on base more than 40 percent of the time and a defense that was more than steady, if not always spectacular.
And if you believe Stephanie Brombacher is the real deal. Put me in that category.
Brombacher is the biggest reason the 2007 Arizona team may be the most apt comparison for the Gators. Like Arizona's Taryne Mowatt, Brombacher put up outstanding numbers as the team's No. 2 pitcher the season before she took over (in Mowatt's case, behind Alicia Hollowell). And like Mowatt, Brombacher was an afterthought in Oklahoma City, although she at least got the benefit of throwing four innings of relief for the Gators. The junior's undefeated record through her first two seasons shouldn't be dismissed, but the numbers that matter more are how she pitched through those wins -- she's not going to get herself in trouble with a lot of walks.
Graham Hays covers softball for ESPN.com. E-mail him at Graham.Hays@espn3.com.
May, 27, 2009
05/27/09
7:28
PM ET
OKLAHOMA CITY -- Sometimes things are exactly as simple as they seem. Consider coach Mike Candrea's assessment of his team after Arizona's 2-2 start to the season.
"We're depending on two kids on the mound that haven't had a lot of time," Candrea said back in February. "So you've got to go through the growing pains with them, try to stay positive and try to get better."
More than 130 home runs later, the Wildcats are back on familiar turf in Oklahoma City with a record-setting, high-octane offense. But if the bats fueled the program's 21st trip to the Women's College World Series, the growth of the pitchers (three in all, as it turned out) kept things from breaking down.
Arizona's pitching hadn't been great, certainly by the program's own lofty standards, but as Lindsey Sisk epitomized last weekend against Stanford, it has been resilient.
After pitching just 14.1 innings in April, and allowing 23 hits and 11 earned runs in the process, Sisk recorded two relief appearances of varying degrees of success in the first two games of the super regional against Stanford. But when called out of the bullpen in the first inning of the decisive third game, she responded with 14 strikeouts and seven innings of sterling relief to earn the win.
"She's been a kid that has kind of struggled to find herself this year," Candrea said Wednesday. "And the thing I give her credit on is that she has never quit working. She's worked hard to continue to be ready when her number was called. And it was called in Stanford, and [she] threw a phenomenal game for us.
"I think that's a great thing for young people to see, is that's part of the game sometimes. You go through the struggles, but if you keep your head screwed on, which is something that we preach as much as possible, that good things are going to happen."
Partly because of Sisk's struggles this season, senior Jennifer Martinez earned a spot in the pitching mix that Candrea referenced as a two-person derby in February. Behind Sarah Akamine, who emerged as a go-to workhorse, the Wildcats finished with the highest ERA of Candrea's tenure -- but also an ERA better than three Pac-10 teams, including defending champion and World Series entrant Arizona State.
"I think our entire [pitching staff has] improved tremendously, and I give a lot of that credit to Teresa," Candrea said of first-year pitching coach Teresa Wilson. "I brought her in for a reason because I knew I had some projects. And if you're going to be able to get them up to the level that they need to be, then you need to have someone that brings some experience to the table, that I think is a good teacher of the game and has been there and knows what the expectations are."
Akamine is almost certain to get the ball to start Arizona's showdown with Florida on Thursday night, and perhaps any other game the team plays here. She has outstanding control, having walked more than two batters in a game just once in 41 appearances (177.1 innings) this season. That makes for fewer runners on base when she does give up extra-base hits (53 so far).
"Put it this way: I feel better this week calling her number than I did a month ago," Candrea said of Sisk. "But I think time will tell -- we're going to look at the best matchup, and it might be Lindsey Sisk, it might be Akamine, it may be Martinez."
• With one major coaching vacancy already in play at Oregon, Wilson's name is likely to assume a prominent place in the offseason rumor mill. For his part, Candrea didn't sound particularly concerned about the prospect of finding a fourth pitching coach in as many seasons if the former Washington and Texas Tech coach, among other stops, chooses to pursue another head coaching position.
"I don't worry about losing anyone," Candrea said. "I think that's part of the job is to be a platform for assistant coaches to move on."
May, 17, 2009
05/17/09
12:11
AM ET
AMHERST, Mass. -- As one of the early hitchhikers on the South Dakota State bandwagon in women's basketball, I'll admit there's a certain allure to the idea of North Dakota State potentially playing on the biggest of softball stages at the Women's College World Series.
There's just something fun about getting the Dakotas involved in the sporting scene (other than ice hockey, of course). It's like watching the Olympic skier from Azerbaijan or the Faroe Islands' World Cup qualifying entry -- only with the added bonus that the underdog might win.
Then again, for all the hand wringing about when Oklahoma will get back to the event that takes place just a few miles up the road from its campus, it might be equally fun to cover one of the Sooner State's other teams making the trip to Hall of Fame Stadium.
The short of it is that either North Dakota State or Tulsa will be playing in a super regional next week, and that's the kind of thing that makes May worth the effort.
And strange as the words are to type, North Dakota State is in full control of its postseason destiny after finishing off an upset win against Oklahoma on Saturday morning and rallying to beat Tulsa later in the day. Win once more against Tulsa on Sunday and it's on to a super regional.
A shining example of why it's more useful to lose some games early in the season than run through a schedule devoid of postseason material, the Bison played Arizona three times, Kansas twice, Nebraska twice, Creighton twice and Jacksonville State once before opening up in the Summit League. It won only two of those games (one each against Kansas and Creighton), but that's from a program that was playing Bemidji State and New York Tech in Division II as recently as 2004.
And the credit goes to Andi Padilla for the current run. With 125 strikeouts and 110 walks in 232.1 innings this season, Padilla's numbers don't jump off the stat sheet. But the senior, who hadn't pitched more than 52 innings in any of her first three seasons, provided all the quality innings you could hope for in the Norman Regional.
There are still a few games remaining tonight, but since the Courtyard Marriott folks casting curious glances my way may at some point catch on to the fact that I'm not actually staying at their hotel, I'm going to hit a few big Saturday performances and hit the road.
Lisa Sweeney, Lehigh
Trying to get two wins in one day against Florida is less an uphill climb than a 90-degree incline, but Sweeney and Lehigh deserve credit for earning the right to try. For the second time in four years, Fran Troyan's program will play on a regional Sunday with a chance to advance to a super regional. Sweeney drove in a run in a win early Saturday against Florida A&M and then pitched a complete game to beat Texas A&M in the nightcap.
Stacie Chambers, Arizona
At first glance, it seemed perhaps Chambers had finally figured out how to hit the elusive five-run home run in an 18-4 win against Louisville. She's hit every other kind of home run enough times this season to presumably unlock any hidden Easter eggs. As it turned out, her nine RBIs on two hits actually came from mere mortal means, courtesy of two home runs, a sacrifice fly and a bases-loaded walk.
Anna Cahn, Cal Poly
Cahn opened the day by not only shutting out Portland State but outhitting them, picking up three hits to the two she allowed in the circle in a 5-0 win. She turned things over to Helen Pena in the day's second elimination game against Nevada. Pena tossed a complete game, allowing just four hits and one earned run in a 6-1 win.
Lisa Jansen, Mississippi Valley State
Courtesy of the delays that pushed back the schedule in the Tuscaloosa Regional, Mississippi Valley State gets a night to savor the program's first NCAA tournament win since 2004 before squaring off against Texas in an elimination game Sunday morning. Jansen made the one run her team scored stand up, beating Chattanooga with a two-hit shutout. (For more on the game, check out Tommy Deas' coverage of the regional for the Tuscaloosa News).
With Ohio State joining Georgia in the super regionals, it seems a good time to throw out a link to the softball coverage over at allbigten.com, where Andrew Linnehan correctly predicted the Buckeyes would survive.
April, 14, 2009
04/14/09
2:27
PM ET
---
Everything is bigger in Texas, even the statements made by the little guy.
With a month left in the regular season, we already have an unofficial state champion in the Lone Star State. It's not Texas A&M, which played in the final series of the Women's College World Series last season, or Houston, which played in a super regional a year ago.
[+] Enlarge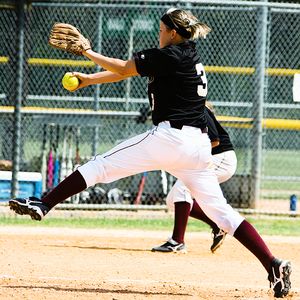 William Newton Chandler Hall's impressive freshman season is running under the radar.
It's not Texas, which held down second place in the Big 12 last week, or Baylor, which replaced the Longhorns this week as the team in closest pursuit of Missouri.
With a 4-1 record against those teams, it's Texas State. The Bobcats also split a Monday doubleheader against Texas Tech, winning the first game 5-1 and losing the nightcap 3-2 in nine innings, so they aren't perfect against in-state rivals (they lost a game to the Longhorns and one to UTEP, in addition to their Texas-based conference foes).
But beating the four highest-profile programs in the state is a feat.
Then again, it's not as if Texas State is new to success. Everyone (in this case constituting Bobcats fans and those, like me, who complain about these things incessantly) remembers it as perhaps the most onerous omission from last season's NCAA tournament field after dominating the Southland regular season before losing in the conference tournament.
But one reason that slight seemed especially unfair from afar was the difficulty the team was surely going to have replacing senior ace Ragan Blake (not to mention senior battery mate Ashton Peters). Returning pitcher Katie Garnett was a proven No. 2 behind Blake last season, but she pitches to contact (102 strikeouts in 218.2 career innings). Garnett is doing her job again this season, with 11 wins and a 1.90 ERA, but there aren't a lot of teams in the NCAA tournament whose staff leaders have strikeout rates along those lines.
Enter Chandler Hall.
The younger sister of current senior Taylor Hall, Chandler is quietly putting together one of the more impressive freshman seasons below the big-conference radar. She took the tough-luck loss against the Red Raiders on Monday, striking out 12 without allowing an earned run while going all nine innings, but she's been in the middle of a lot of the big wins. In fact, in the wins against Texas A&M, Houston and Baylor, she worked 17 innings and allowed just two earned runs and three walks against 12 strikeouts.
With 159 strikeouts in 157.2 innings, she misses bats and takes pressure off a defense that is in the bottom half of the Southland Conference in fielding percentage.
The Bobcats still have work to do to put Nicholls State and McNeese State away in conference, and have a pitching showdown looming between Chandler and Stephen F. Austin's Monika Covington the weekend after next. But they're once again in the mix.
Looking to the great space to the west of Texas …
Look which team is back in familiar territory atop the Pac-10. Granted, Arizona's standing has something to do with the fact that it's played the fewest games -- in the demolition derby that is league play this season, that's the best recipe for success. But there the Wildcats are, in first place, in large measure because of the scariest offense in the country (even if it's the scariest offense in the state by only a small margin), but also because their pitchers are giving those bats a chance to outscore the opposition.
Arizona is going to have to make its run at Oklahoma City without the kind of ace it's used to having. But working within that new paradigm, the fact that the Wildcats are first in the Pac-10 in walk rate may be more important than the fact that they're seventh in team ERA.
Florida ace Stacey Nelson made an interesting point this weekend when I inarticulately butchered a question about her improved walk rate this season (yeah, that walk rate last season really slowed her up en route to All-American honors). Showing the same kind of poise she uses to get out of jams on the field, she noted that despite her improved rate, walks aren't the worst thing in the world for her because they still mean the offense isn't hitting the ball.
In Nelson's case, that's true. Not only does she have an elite defense behind her, she can get herself out of trouble with a strikeout rate near the top of the national charts.
That's not the case for Arizona's pitchers. The lower the strikeout rate, the more balls that are in play and the greater the likelihood that the runners who take first via walks will come around to score. So when Sarah Akamine has just two walks in 19 innings in conference play -- and 19 in 106.1 innings overall -- it's a big deal.
As long as Arizona is giving up one-run doubles and two-run home runs instead of two-run doubles and three-run home runs, its offense is going to come up with a lot of wins. All of which will be put to the test as Mike Candrea's team continues a 13-game stretch in which it plays only Arizona State, Cal, Stanford, UCLA and Washington.
March, 15, 2009
03/15/09
8:53
PM ET
Having been holed up contemplating brackets and bubbles for much of the past week, please pardon the basketball on the brain. Hopefully it's not contagious.
• Forget Courtney and Ashley Paris; Oklahoma's basketball sister act is old hat (well, except for the whole scholarship repayment brouhaha). The new sibling story is the battle of the Akamine sisters on the softball diamond. All right, maybe it's not quite a headlining act yet, but Arizona junior Sarah Akamine and Penn State freshman Lisa Akamine did stage a family reunion of sorts at the Judi Garman Classic. The two weren't actually in the game at the same time, but they were the pitchers of record in Penn State's surprising 9-6 win, which stood as perhaps the tournament's biggest upset until Fullerton handed Washington a getaway day loss Sunday.
Even in defeat against Penn State, Arizona's Stacie Chambers hit two home runs, giving her a mind-boggling 17 home runs through 31 games. Then she went out and hit two more home runs later in the day, pacing the Wildcats to a 10-1 win against Notre Dame. Arizona State's Katie Cochran is typically the hitter that comes to mind when talking about record-setting performances coming out of the state of Arizona these days, but Chambers is more than half way to breaking the NCAA single-season record of 37 home runs, set by former Arizona slugger Laura Espinoza in 1995.
Chambers is a little off record pace and, typically, Pac-10 play would put a break on her pace, but the league doesn't seem to have its standard array of aces. After this weekend's display, at least it's a discussion.
• Missouri's men's basketball team had a good weekend, but the softball team made its own statement as it prepares to pursue its first conference championship since 1997. Wrapping up the last full weekend of nonconference play (Mizzou hosts Western Illinois in a doubleheader Wednesday and plays a midweek, two-game series at Houston later this month), the Tigers swept all four games at a tournament hosted by Coastal Carolina. That sweep included a pair of wins against North Carolina, the first wins against a ranked team this season for coach Ehren Earleywine's squad.
Senior Stacy Delaney capped off the trip with a five-inning no-hitter in Sunday's 8-0 run-rule win against the Tar Heels, but offense was the weekend's story. The Tigers scored 36 runs and have scored five or more runs 19 times this season. Missouri struggled two weeks ago to put runs on the board against UCLA No. 2 starter Whitney Baker (despite drawing seven walks) and San Diego State's outstanding duo of Samantha Beasley and Bailey Micetich. But getting to UNC's Lisa Norris and Constance Orr (Danielle Spaulding didn't play in any of her team's four games in the event after taking a pitch off the wrist against Florida State last week) lends some credibility to a lineup that has an .897 OPS, 56 extra-base hits and 76 stolen bases through 26 games.
With Oklahoma looking at least vulnerable, Missouri is at the front of a class of challengers in what suddenly looks like it could be an intriguing Big 12 race.
• If ever a team's bubble was going to burst, it should be after a weekend spent facing Danielle Lawrie, Morgan Melloh and Donna Bourgeois, in addition to Arizona and Arizona State's batting orders. Well, Michigan stared down that obstacle course and came out with four wins in the span of about 72 hours. Point taken, Wolverines.
Thanks in part to a typically rigorous schedule that included tests well before the weekend in Fullerton, Calif., Michigan didn't have impressive offensive totals entering the Garman. The bottom line on the stat sheet might still pale in comparison to some of the championship competition, but even after Lawrie shut the Wolverines out, scoring 23 runs against Arizona, Arizona State, Fresno State and Louisiana-Lafayette is impressive.
A pair of freshmen, Amanda Chidester and Stephanie Kirkpatrick, were particularly productive over the weekend. Kirkpatrick finished with five hits and four RBIs after collecting just eight hits in her first 22 games. Chidester entered the weekend with the team's best batting average and didn't hurt her cause with six more hits and four RBIs.
As good as Jordan Taylor and Nikki Nemitz are at minimizing mistakes -- they just don't walk hitters -- this team can win with an average offense. It appears it has more than that.
• No Mackin? No problem. At least, that seemed to be the case for Nebraska at the Garman without Robin Mackin. The Cornhuskers closed out the weekend with a 10-1 run-rule win against Penn State on Sunday, then capped on a 4-1 record in Fullerton that included a 2-0 win against Louisiana-Lafayette on Thursday (the Huskers also upset a ranked Lafayette team last season). The team is now 8-1 since Mackin's brief comeback ended with the talented Canadian pitcher opting for season-ending shoulder surgery and hopes for a healthy 2010 season.
Credit senior ace Molly Hill's return to form (10-3, 1.38 ERA) in the circle for some the team's success in Mackin's absence, as well as quality inning from promising freshman pitcher Ashley Hagemann (60 strikeouts in 39.2 innings).
But for the first time in a few years, give the offense equal credit. The Huskers have already hit 17 home runs in 20 games this season, two more than they hit in 53 games last season and three more than they hit in 57 games in 2006. Just as importantly, there are people on base when the Huskers put the ball in the gap or over the fence -- they're well over half way to last season's walk total and have a .406 on-base percentage.
February, 9, 2009
02/09/09
12:04
PM ET
TEMPE, Ariz. -- Not too far from where former NFL coach Dennis Green unleashed his famous soliloquy after watching his Arizona Cardinals melt down, the University of Arizona softball team opened the 2009 season and the Wildcats looked like who we thought they were.
The Wildcats can hit the ball a long way, but as a 2-2 start at this past weekend's Kajikawa Classic suggests, not necessarily far enough to consistently outdistance the competition.
At least for the opening weekend, the highest-profile name the Wildcats had on the pitching side of the ledger was new assistant coach Teresa Wilson. And the longtime head coach, most recently at Texas Tech and most notably at Washington, couldn't even linger in circle longer than the rulebook allowed for visits from the dugout.
Sophomore Lindsey Sisk and junior Sarah Akamine each had their moments against quality competition, but the sum total of their pitching lines added up to 19 hits and 15 earned runs allowed in 27 innings. Each pitcher started twice, with Akamine earning wins against UTEP and Nevada and Sisk taking losses against Kansas and Northwestern.
"We've got a tremendous amount of growth to take place, and we knew that going in," coach Mike Candrea said Saturday. "But on the mound, especially, right now, we've got to grow. And I think when [the current situation] happens, it puts pressure on your offense. And I really feel like we've kind of played the game trying not to lose, instead of playing the game to win, and it kind of shows right now.
"For us to be good, we need a lot of people to really grow up and grow a lot more. And we're depending on two kids on the mound that haven't had a lot of time, so you've got to go through the growing pains with them, try to stay positive and try to get better."
A hitless weekend for Jenae Leles (as rare a sight as the rain that washed out play Sunday) helped hold down the team's overall run production. But between gap power from K'Lee Arredondo, Brittany Lastrapes and Lauren Schutzler (who doubled her freshman total with a pair of two-base hits) and home-run threats in Leles, Stacie Chambers, Laine Roth, Sam Banister and freshman Lini Koria, it's a lineup that offers opposing pitchers few opportunities to catch their breath.
If the bats settle in and the defense contributes -- and the left side of the infield, in particular, looks like something special with Leles and Arredondo -- there does appear to be plenty of potential for the growth Candrea talked about.
The highest ERA in team history was 1.77 in 1996, when the Wildcats lost Nancy Evans to torn ligaments in her foot after just 32 innings. Given the strength of Pac-10 offenses this season, staying under that figure this season comes with long odds. But it's worth noting that the 1996 team also went 58-9 and won a national championship.
Right now, the Wildcats are who we thought they were. Who they will be remains to be seen.
• Louisville put together a quietly impressive opening weekend, sweeping five games at the FIU Combat Classic, including wins against North Carolina and Auburn. Kristen Wadwell picked up three wins and two saves for the Cardinals and didn't allow an earned run in 22 1/3 innings. Former Louisville basketball point guard Patrika Barlow settled into the starting lineup in her first competitive games (not counting fall ball) since high school. But Kristi Cunningham was the star at the plate with three home runs -- equal to half of her team-leading total from a season ago.
• Washington knocked off Tennessee 2-1 behind nine strikeouts from Danielle Lawrie in its opener and seemed to pick up steam from there, rolling to five wins at the Red Desert Classic. And if the school's release recapping Friday's wins against the Lady Vols and BYU is any indication, the rest of the country has its work cut out for it in coming up with a more valuable individual defensive performance than that of Huskies outfielder Alyson McWherter, who took seven runs off the board with some home-run thievery.
• Likewise, if McWherter's defensive effort will prove tough to top, there isn't going to be a better box score all season than the one that showed South Florida's Cristi Ecks as the winning pitcher against Illinois State on Friday. Ecks could have lost her life last season when she collapsed and her heart stopped for nearly three minutes during a practice. Now the senior is healthy, and nothing could be better than being able to talk about the on-field impact she could make for a really good Bulls team.
• Noteworthy upsets proved to be in abundance during the opening weekend, including UTEP beating host Arizona State at the Kajikawa, Baylor taking one of three from Florida in Gainesville, Fla., Massachusetts beating Michigan in Florida and Hawaii knocking off Oklahoma in Honolulu. But the most surprising in my book was Purdue beating UCLA in Westwood, Calif. The Boilermakers managed just one hit and one walk against Donna Kerr but somehow managed to make them count by pairing them together in a two-run fifth inning against the Bruins.
January, 27, 2009
01/27/09
11:31
AM ET
What better team to fill the eighth position in the preseason top 20 than a school founded in 1885 that sits on 8,180 acres and plays in a softball conference with eight teams?
Hey, it was that or a joke about Fibonacci numbers. Although come to think of it, these guys probably know their way around those as well.

No. 8: Stanford
Last season: 49-15 (Lost to Texas A&M in the College Station Super Regional)
Preseason talking point:
When Arizona State freshman Krista Donnenwirth ripped a pitch over the fence in the third inning of the opening game of the Women's College World Series finals against Texas A&M, the blast seemed to confirm that the Sun Devils simply had too much going for them for any opponent to stop.
But capping off a banner debut season, Donnenwirth's hitting heroics also offered a reminder that it's difficult to win a title without freshman production. It's so difficult that no team has done it this century.
Lucky for Stanford, the Cardinal add one of the country's highest-regarded freshman position players to the returning core of their run production. Infielder Ashley Hansen -- the only high school invitee to the selection camp for last year's United States Olympic team -- joins Alissa Haber, Rosey Neill and Maddy Coon, as well as one of the best pitchers in the country in Missy Penna.
Take a look at freshmen position players who started at least 75 percent of a team's games in its championship season. I'm including each player's gross production average, a more accurate measure of a batter's overall offensive production than OPS (to find GPA, multiply on-base percentage by 1.8, add slugging percentage and divide by four to produce a number scaled like batting average … .300 is very good, .400 is terrific, etc.).
2008 Arizona State Sun Devils
Krista Donnenwirth -- 69 starts, .347 GPA
Lesley Rogers -- 55 starts, .288 GPA
2007 Arizona Wildcats
K'Lee Arredondo -- 65 starts, .234 GPA
2006 Arizona Wildcats
Laine Roth -- 65 starts, .261 GPA
Jenae Leles -- 65 starts, .258 GPA
2005 Michigan Wolverines
Samantha Findlay -- 72 starts, .402 GPA
Alessandra Giampaolo -- 72 starts, .302 GPA
2004 UCLA Bruins
Lisa Dodd -- 55 starts, .251 GPA
2003 UCLA Bruins
Emily Zaplatosch -- 57 starts, .333 GPA
Caitlin Benyi -- 61 starts, .281 GPA
Andrea Duran -- 61 starts, .241 GPA
2002 California Bears
Kaleo Eldredge -- 75 starts, .252 GPA
Jessica Pamanian -- 75 starts, .231 GPA
Chelsea Spencer -- 75 starts, .221 GPA
2001 Arizona Wildcats
Leneah Manuma -- 47 starts, .417 GPA
Mackenzie Vandergeest -- 41 starts, .390 GPA
2000 Oklahoma Sooners*
Kellie Braitsch -- 70 starts, .301 GPA
Leah Gulla -- 71 starts, 68 .251 GPA
*The available statistics for Oklahoma's 2000 season didn't include enough information to precisely calculate OBP, so the GPA figures are an estimate.
Only Arizona in 2007 didn't get season-long run production from a freshman starter. And Arredondo, a natural shortstop playing outfield for the first time that season, provided a key glove for the Wildcats and a much-improved .253 GPA in Pac-10 play, when many freshmen tend to wilt. And even players like Cal's Chelsea Spencer found ways to make their presence felt -- in Spencer's case, with a home run in a 1-0 WCWS win against Florida State.
All of which could be good news for Stanford, as it looks to return to Oklahoma City for the third time overall and the first time since 2004. Add five other freshmen to Hansen and the Cardinal core, including speedy outfielder and potential opening day starter Sarah Hassman, and Stanford may have the ideal mix of youth and experience.
January, 26, 2009
01/26/09
2:19
PM ET
The softball preseason top 20 moves on Monday to No. 9, which also serves as both the countdown on days remaining without softball and the number of national championships the team below would like to hold when all is said and done this season.
9. Arizona
Last season: 41-19 (lost to Alabama in the Women's College World Series)
Preseason talking point: From the list of be careful what you wish for:
• Quarterback for the Dallas Cowboys
• Anchor on a network evening newscast
• Free-agent signee by the New York Yankees
• Manager of England's national soccer team
• Host of the Academy Awards
• Ace pitcher for the University of Arizona
Welcome to the club, Lindsey Sisk. Given the cyclical nature of college, the Arizona sophomore and presumptive ace for Mike Candrea's team isn't the first to confront the challenge of taking over in Tucson. But Sisk will be just the second Arizona pitcher in the past decade to take over without having previously thrown 100 innings in a season.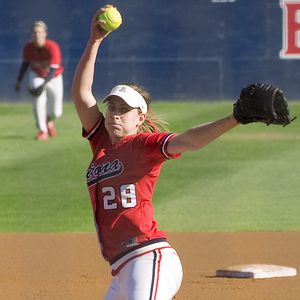 Luke Adams/Arizona Athletics Lindsey Sisk will be put to the test on the mound for Arizona this season.
Granted, it worked out well the first time, with freshman Alicia Hollowell guiding Arizona to the 2003 Women's College World Series and to within a game of playing for the national championship. But therein lurks another potential pitfall for Sisk. Hollowell was one of the nation's top recruits in 2003, having been named Gatorade's High School National Player of the Year the previous season. And looking at recent history, the World Series has typically been the domain of either occasional freshman standouts or experienced veterans. It has rarely been home to sophomores with something to prove.
Of the 22 No. 1 pitchers in the past three WCWS with some college experience, not one had thrown fewer than 100 innings the season before.
2008
Arizona -- Taryne Mowatt (Previous season: 363 IP)
Arizona State -- Katie Burkhart (Previous season: 323 IP)
Florida -- Stacey Nelson (Previous season: 318 IP) Virginia Tech -- Angela Tincher (Previous season: 311.2 IP)
Texas A&M -- Megan Gibson (Previous season: 155 IP)
UCLA -- Anjelica Selden (Previous season: 171 IP)
Alabama -- Kelsi Dunne (Freshman)
Louisiana-Lafayette -- Ashley Brignac (Freshman)
2007
Tennessee -- Monica Abbott (Previous season: 345.2 IP)
Arizona State -- Katie Burkhart (Previous season: 268.2 IP)
Northwestern -- Eileen Canney (Previous season: 262.2 IP)
Washington -- Danielle Lawrie (Previous season: 257.2 IP)
Baylor -- Lisa Ferguson (Previous season: 221.1 IP)
Arizona -- Taryne Mowatt (Previous season: 163.2 IP)
Texas A&M -- Amanda Scarborough (Previous season: 158.2 IP)
DePaul -- Tracie Adix (Previous season: 131.1 IP)
2006
Tennessee -- Monica Abbott (previous season: 392 IP)
UCLA -- Anjelica Selden (Previous season: 325 IP)
Oregon State -- Brianne McGowan (Previous season: 299.2 IP)
Arizona -- Alicia Hollowell (Previous season: 279 IP)
Texas -- Cat Osterman (previous season: 272.2 IP)
Alabama -- Stephanie VanBrakle (Previous season: 260.1 IP)
Northwestern -- Eileen Canney (Previous season: 196.1 IP)
Arizona State -- Katie Burkhart (Previous season: 184.1 IP)
Excluding Dunne and Brignac last season, pitchers compiled an average of more than 250 innings in the season before leading their teams to the World Series.
Sisk threw 86.2 innings for Arizona last season, including just 10 innings in Pac-10 play.
To be sure, none of the history will directly impact a single pitch Sisk throws this season (nor will the future, with super phenom Kenzie Fowler waiting in the wings for 2010). Sisk had her own plaudits coming out of high school, and perhaps if she had gone to a program that didn't already have Mowatt, she might have made the same kind of run Brignac and Dunne made as freshmen. We just don't know.
What we do know is that in replacing the latest in the line of championship pitchers in Tucson (not to mention working with a new pitching coach in Teresa Wilson and Candrea after his Olympic sabbatical), Sisk has a big challenge ahead of her.