Category archive:

Michigan Wolverines
April, 8, 2011
04/08/11
7:46
PM ET
ST. PAUL, Minn. -- How do the final two teams in the NCAA men's hockey tournament stack up? A quick look at the numbers:
Follow ESPN.com's college sports coverage on Twitter: @ESPN_College and on Facebook.
April, 8, 2011
04/08/11
2:07
PM ET
Michigan coach Red Berenson talks about getting everybody on the roster to buy into the team concept and how that turned around the Wolverines' season.
Michigan coach Red Berenson discusses his lengthy career at Michigan and how he has seen it all in the NCAA tournament.
Follow ESPN.com's college sports coverage on Twitter: @ESPN_College and on Facebook.
April, 8, 2011
04/08/11
12:08
AM ET
ST. PAUL, Minn. -- Michigan goalie Shawn Hunwick describes his 40-save performance in the Wolverines 2-0 win over North Dakota in Thursday's Frozen Four.
Follow ESPN.com's college sports coverage on Twitter: @ESPN_College and on Facebook.
January, 27, 2011
01/27/11
8:53
AM ET
Editor's note: Graham Hays is counting down to the start of the 2011 college softball season with a look at each of the teams in his top 20. Check back daily for updates.

No. 12 Michigan
Last season: 49-8, lost in Ann Arbor super regional
Who returns: Start the list with one player who ranked ninth in the nation in slugging percentage and a second who ranked ninth in strikeouts per seven innings and you can almost forget all the seniors now getting letters soliciting alumni donations. First baseman Dorian Shaw, who tied the program's single-season record with 21 home runs, and ace Jordan Taylor lead the returnees. Bree Evans (.358 batting average), Amanda Chidester (.878 OPS) and Steph Kirkpatrick are also returning starters, with Chidester likely to shift from second base to catcher.
There are also nine other returning players, who while perhaps not yet familiar to outsiders, at least know what coach Carol Hutchins is going to ask of them. First among them is sophomore Stephanie Speierman, a highly-touted pitching recruit who saw limited time behind Taylor and Nikki Nemitz last season but will get every opportunity to earn innings this time around.
Who departs: Five players who started in the super regional against Tennessee are gone: Nemitz, Maggie Viefhaus, Angela Findlay, Molly Bausher and Roya St. Clair. All were valuable, but Viefhaus (1.382 OPS) and Nemitz (1.033 OPS and 1.79 ERA) are particularly irreplaceable.
Who arrives: It's a freshman class with plenty of potential. Hutchins said as many as three or four could conceivably end up starting by the opener. Considering she named outfielder Nicole Sappingfield among the players of all classes she's looking to lead through production, expect the Californian to be on that lineup card. Taylor Hasselbach and Lindsey Doyle also seem to be newcomers impressing enough to compete for starting spots out of the gate.
Preseason question: Is Jordan Taylor ready to be the pulse of a team?
Whatever Michigan is in February is likely to be quite different than what it becomes by May. As Hutchins put it, more than most seasons, it's going to be a campaign in which the team evolves. That's perhaps reflected in a schedule that, with the possible exception of Massachusetts or one or two other sleepers, may not bring the Wolverines into contact with a ranked team until the Judi Garman Classic in the second half of March, just before Big Ten play begins.
But whatever Michigan is and can be will have a lot to do with Taylor.
When a player comes in as a freshman and goes 31-4 with a 0.76 ERA, as Taylor did in 2008, it's going to be a struggle to accurately chart progress. Like a high jumper who sets a world record in her first competition and then "merely" wins a bunch of gold medals through the rest of her career, the bar has been set, in this case figuratively, impossibly high.
"It's just been a matter of consistency," Hutchins said. "Jordan is extremely competitive -- her competitive spirit is what I consider top-tier. You get kids with all different levels of competitive spirit, but hers is right what you want. … Jordan's going to show up for the big game, but the key is we need her to show up for every game and treat every game the same. And I think she's matured; certainly as a senior, she's definitely matured."
Why that would be particularly important is that Taylor doesn't have the luxury of being just a pitcher this season. No longer paired with Nemitz, she has to be an ace, with all the pressure -- and possibly extra innings -- that entails. And no longer able to let her elders lead, she and Shaw have to set the tone for a lot of people playing full-time roles for the first time.
So what will Michigan be? Time will tell, but along with Shaw, we know it's Taylor's team for better or worse. And when it comes to Michigan's ace, we're usually talking about the former.
"You want your kids to walk on the mound with the attitude that, 'I can beat you by throwing at you,' as opposed to throwing everything around you," Hutchins said of the mentality that has allowed Taylor to be both a dominant strikeout pitcher and a control artist. "I think my pitching coach Jen Brundage does a great job of improving our pitchers, but a lot of what we got with Jordan, we recruited. She's just a great talent and with great competitive spirit. That's a great combination."
December, 9, 2010
12/09/10
11:40
PM ET
April, 26, 2010
04/26/10
8:42
AM ET
Five teams that moved the needle last week: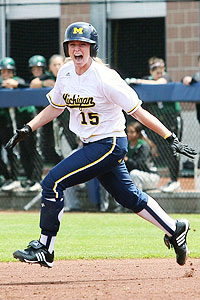 Michigan Athletics Maggie Viefhaus had at least one hit in all four games this week.
Michigan: If the second-ranked Wolverines inherit the No. 1 spot in the polls Tuesday, it won't be solely as the beneficiaries of another Washington loss. It's not that the Huskies deserve to be penalized for merely winning, instead of sweeping, back-to-back series in the country's toughest conference; it's that Michigan is doing some remarkable things.
The Wolverines swept two games at Purdue over the weekend to cap a week that also included a doubleheader sweep at home against Penn State. In those four games, the Wolverines outscored their opponents 33-4. Since losing to Texas at the Judi Garman Classic, the Wolverines have outscored opponents 151-18 in winning 16 consecutive games.
Just in case you glossed over that last part, let's repeat: 151-18.
Sure, the Big Ten is a step below the Pac-10, SEC and Big 12 when it comes to the depth of postseason-caliber competition, especially in a year in which Northwestern is struggling, but all the Wolverines can do is beat the teams on their schedule (which, of course, also includes nonconference wins against Arizona, Alabama twice, UCLA, LSU, Louisiana-Lafayette, Oklahoma State and numerous RPI top-50 teams).
Check that; all the Wolverines can do is obliterate the teams on their schedule.
Maggie Viefhaus had at least one hit in all four games this past week, and finished with two home runs and eight RBIs against the Nittany Lions and Boilermakers. In a year that includes Danielle Lawrie and Jen Yee, USA Softball Player of the Year might be out of reach for everyone else. But if you're looking for that third finalist, Viefhaus -- who also has just three errors at third base -- makes a strong case in a crowded field.
DePaul: After a doubleheader split at St. John's on April 14, DePaul was 21-14 overall and 5-3 in the Big East, including losses against conference afterthoughts Villanova and St. John's. Thanks to a typically rigorous nonconference schedule (including wins against Washington, Hawaii, North Carolina and Fresno State), the Blue Demons weren't exactly in danger of missing the postseason for just the second time since Ryne Sandberg retired, but it wasn't shaping up as the kind of season many expected out of the preseason No. 20.
Eight games and eight wins later, things look a lot better in the Windy City (which makes one for the city's baseball and softball teams). The Blue Demons added to their winning streak this week by sweeping a midweek doubleheader at home against Notre Dame and then taking all three games at South Florida over the weekend. Taking over the cleanup role vacated when Simone Ashkar left the team earlier in the month, Brittney Yniguez went 7-for-20 with seven RBIs between the two series. And working under the tutelage of fellow Texan and pitching coach Cat Osterman, freshman Bree Brown pitched a pair of shutouts in the series against South Florida.
Texas Tech: Perhaps no team needed a week like this as much as Texas Tech, which swept a midweek doubleheader from Oklahoma State and took both games of a weekend series at Kansas. The Red Raiders roared out to a 28-4 start under first-year coach Shannon Hays (who gets bonus points for not needing the wasteful extra "e" in his last name), but while there were wins against Oregon, San Diego State and Florida, there also were a lot of wins against teams well outside the RPI top 100. A 3-8 Big 12 start raised doubts.
The heart of the Texas Tech order, Mikey Kenney and Emily Bledsoe, combined for eight hits and nine RBIs in the week's four games. Freshman Karli Merlich also came up big, earning a win in relief against the Cowgirls and going the distance in the finale against Kansas. All three are underclassmen on a roster with just four juniors and seniors.
UCLA: Strange as it feels to write during the last week of April, the No. 7 Bruins put up their first meaningful series win in Pac-10 play with the sweep of their three-game set at Stanford. If the previous weekend's sweep against Oregon State was one the Bruins had to have to keep pace in the conference race, this one offered more of a statement.
The Bruins tied a season high with 15 hits in the opener, including 12 hits from the first five batters in the order: GiOnna DiSalvatore, Monica Harrison, Megan Langenfeld, Andrea Harrison and Dani Yudin. Langenfeld added a pair of home runs and four RBIs in Sunday's finale, in addition to pitching all five innings in a 10-1 run-rule win. She might not be the best hitter or the best pitcher, but Langenfeld, who has missed 10 games this season, is as valuable as any player this side of Lawrie to a World Series contender.
Florida International: The Panthers kept pace with Sun Belt leader Louisiana-Lafayette by taking two of three at South Alabama over the weekend (Louisiana-Lafayette took two of three at Troy, while North Texas moved into a second-place tie after sweeping Western Kentucky). But the attention grabber of the week came courtesy of an 8-3 midweek win at No. 4 Florida.
The win against the Gators was the first in program history against a top-five team and adds a bit of shine to an NCAA tournament résumé that already featured a decent RPI but not a lot of signature wins. Senior Kasey Barrett went the distance with a five-hitter for that win. Barrett also struck out 15 in another complete game Sunday against South Alabama. Despite pitching one season at South Florida Community College, she's second all time at Florida International in both wins and strikeouts.
Bonus note: Florida's split of a weekend series at Tennessee puts Alabama in control of the SEC race. As Tommy Deas reports in the Tuscaloosa News, the Crimson Tide swept Arkansas on the road despite being without ace Kelsi Dunne because of a violation of team academic policy. If Alabama wins its last six SEC games, it wins the regular-season title.
Graham Hays covers softball for ESPN.com. E-mail him at Graham.Hays@espn3.com.
February, 12, 2010
02/12/10
11:31
AM ET
No. 1 Washington
For more on what makes the defending champion the favorite to become the first team to defend its title with the same No. 1 pitcher since UCLA with Keira Goerl in 2003 and 2004 -- and the first program other than UCLA and Arizona to win back-to-back titles of any kind -- check out the second of five burning questions for the 2010 season.
No. 2 Michigan
[+] Enlarge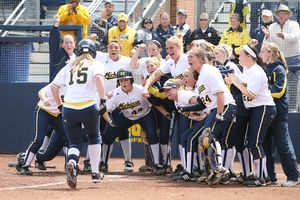 Courtesy Jon LeFaive/Wolverine Photo Michigan looks to be a contender again this season.
"All things being equal" is not a phrase many teams at this level of national contention have much use for when it comes to pitching. Depth in the circle is nice from February through about Memorial Day -- although as Washington, Arizona State and Arizona proved the last three seasons, it's far from a necessity for teams intent on winning a championship. But by the time the season culminates with the World Series, there haven't been a lot of examples in recent seasons of teams still splitting innings on a one-for-one basis.
Then there's Michigan, which alternated starts between Nikki Nemitz and Jordan Taylor all season, including regionals, super regionals and all three games in Oklahoma City. By the end of the season, Nemitz had made 40 appearances with 30 starts and Taylor had made 38 appearances with 29 starts. The two were separated by just 25 innings (215.1 to 190.1), 21 strikeouts (306 to 285) and roughly 3/10ths of a point in ERA (1.07 to 1.40).
They also came on in relief of each other on 20 occasions, giving coach Carol Hutchins both the blessing of the most balanced elite pitching staff in the country and the curse of easy second-guessing.
"I'm the only one that makes the decision without knowing how the outcome's going to be," Hutchins said during last season's super regional. "And everybody watching it gets to judge it. But you go with -- I don't ever make that decision in a vacuum. I sit right next to [pitching coach Jen Brundage], and she calls the pitches, so I know when those pitches are working and when they're a little flat. Jen calls a pitch, and I watch my pitchers react to everything, whether it's what's called or what happens on the mound. The first thing I watch is their reaction. So I look to see if I feel they're confident or they're getting uptight -- the things that occur in the game that really only you know because you work with those kids every day. And then ultimately, just go with your gut. And I've learned over the years, better to make it too early than too late."
It doesn't hurt that in addition to being easy to distinguish in any number of superficial ways -- Nemitz is the 5-foot-7 local product from Michigan who hits, while Taylor is the 6-foot-1 California import who doesn't need a bat -- the two offer Hutchins two completely different looks. Despite her size, Nemitz is a power pitcher who thrives up in the zone, while Taylor is the one who fools hitters, her long release point giving them even fewer fractions of a second to pick up spin and location.
There are other teams, like Alabama, that spread the innings around throughout the season and postseason. There are even others, like Florida State, that do it on essentially equal footing. But nobody has done it quite as well over the past two years as Hutchins. Because while equal footing seems like it ought to be the most natural of states, it's not the easiest thing to pull off with a pair of pitchers.
"We get on each other's nerves sometimes," Nemitz said last spring. "We're always together -- pitchers are always together. If you were with someone all the time, you'd get on their nerves. But it's great, because she's a great person, a great girl, hilarious. We mesh well. And if people butted heads, I don't know if it would work out as well."
Graham Hays covers softball for ESPN.com. E-mail him at Graham.Hays@espn3.com.
February, 5, 2010
02/05/10
11:08
PM ET
MADISON, Wis. -- Boys will be boys, especially when an authority figure isn't around.
So it really shouldn't have been a surprise that after Michigan hockey coach Red Berenson walked down the tunnel leading to the team dressing room inside Camp Randall Stadium early Friday evening before the Wolverines' practice time had ended, his players made creative use of the rest of their ice time.
[+] Enlarge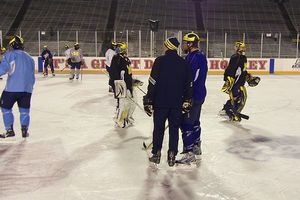 Courtesy David AlbrightMichigan coach Red Berenson talks to Brian Lebler during Friday's practice at Camp Randall Stadium.
One by one they took turns from center ice and tried to launch a puck over the glass and through the goalpost at one end of Wisconsin's football stadium.
A loud ping off the upright by freshman Chris Brown was as close as the Wolverines would get to a field goal on the eve of Saturday's Camp Randall Hockey Classic between the Wolverines (16-12-1) and the Badgers (15-7-4).
A crowd pushing 60,000 is expected to watch these two Big Ten schools skate on the temporary ice surface, which could make it the third largest crowd to watch an outdoor hockey game in North America since 2001.
The Cold War game at Spartan Stadium drew 74,544 when Michigan and Michigan State skated to a 3-3 tie back on Oct. 6, 2001. And the inaugural NHL Winter Classic between Pittsburgh and Buffalo had 71,217 in Ralph Wilson Stadium on Jan. 1, 2008 to witness a 2-1 Pens' shootout victory.
With 53,000 tickets sold as of Friday afternoon, it's already guaranteed to be the No. 2 college draw in history, ahead of Wisconsin's first outdoor venture at the Frozen Tundra Hockey Classic in 2006 at Green Bay's Lambeau Field (40,890) and last month's Frozen Fenway game between Boston University and Boston College (38,472).
"I think it's another big step forward for college hockey in terms of the exposure, the quality of the game and the players," Berenson said. "It just shows you the importance of college hockey and how the exposure now is better than ever. To be able to draw over 50,000 for a college hockey game is pretty impressive."
Regardless of Saturday's final turnstile count, the next outdoor game on the college hockey schedule should surpass them all as Michigan has already announced it is hosting in-state rival Michigan State in a game that's being billed as "The Big Chill at the Big House" next Dec. 11 at Michigan Stadium (capacity 106,201).
But first things first.
You could argue that the novelty of the outdoor game may be wearing off, but the importance of Saturday's matchup -- regardless of the setting -- should not be underestimated.
[+] Enlarge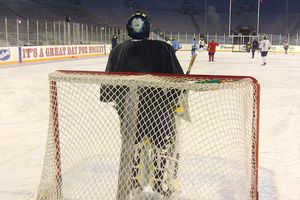 Courtesy David AlbrightThe Wolverines experienced a great day for hockey inside a football stadium.
Michigan currently finds itself very much on the outside looking in with the NCAA Tournament less than two months away. Entering Friday's action the Wolverines were No. 20 in the PairWise rankings, which barring a CCHA title and automatic bid wouldn't get them into the 16-team national field.
The Wolverines beat the Badgers 3-2 in Ann Arbor back in November as part of the annual College Hockey Showcase. Another victory over Wisconsin -- No. 3 in the PairWise entering the weekend -- would give Michigan a three-game winning streak with seven games remaining before the CCHA Tournament.
"This game has not been a highlight game on our schedule -- compared to the [outdoor] game next year," Berenson said. "But now that we're here you realize it's a highlight game."
Both teams tested out the Camp Randall ice, boards, glass, etc. for a mix of practice, "play" and amazement at the surroundings. Reviews of the hockey part of the facility were positive. It will be interesting to see what one of the best college football environments delivers for another sport on Saturday.
"I don't think there were jitters; I think it's just more of the wow factor," Berenson said. "This is awesome. So I think they got that feeling out of the way. We know there's a big hockey game on the line. We've played both Miami and Wisconsin and Wisconsin impressed me as much as any team we've played. We didn't just come here for the wow, we came here to play."
The fans in the stands should get a dose of wow and play from the boys on Saturday.
May, 30, 2009
05/30/09
6:06
PM ET
Michigan vs. Georgia
7 p.m. ET | ESPN, ESPN360
It doesn't hurt to have two pitchers if you're going to make your way out of the losers' bracket. Georgia got the game it needed out of ace Christie Hamilton against Missouri on Saturday afternoon, and odds are that means it's Sarah McCloud's turn to try to keep the season going in an elimination game against Michigan in the nightcap.
A sophomore who is 17-2 with a 2.62 ERA, McCloud is as much of a contact pitcher as there is in the World Series field; she strikes out just 3.2 batters per seven innings (no power pitcher herself, Hamilton still strikes out 5.4 batters per seven innings). That's going to put the pressure on a very good Georgia defense to continue making plays against a Michigan lineup that puts the ball in play -- striking out fewer times per game than any team in the Big Ten.
Michigan coach Carol Hutchins again has a choice of her own at pitcher, but history (and a chance to go lefty-lefty against Georgia slugger Alisa Goler) points to Nikki Nemitz getting the ball. Both Jordan Taylor and Nemitz pitched well against Florida on Friday night, so there's no obvious reason to skip Nemitz in what has been a pretty consistent every-other-game rotation.
The only potentially worrisome factor might be the success Georgia had in the regionals against North Carolina's Danielle Spaulding, another lefty with a good rise ball. The Bulldogs got to her for seven hits and four earned runs on Spaulding's home field on May 16.
Player to Watch: Alisa Goler
The standout sophomore walked and drove in a run against Missouri, but she's still looking for her first World Series hit. The Bulldogs have a dangerous lineup from top to bottom, but unless McCloud comes up with the game of her life, it's probably going to take three or four runs to win. And those are going to be difficult to get if the team's best hitter, and one of the best in the nation, is silent.
May, 30, 2009
05/30/09
1:58
AM ET
OKLAHOMA CITY -- Megan Bush didn't know what pitch she hit Friday night. Opposing pitchers often don't know what hit them when they face Bush and the Gators.
Behind a one-hitter from Stacey Nelson and Bush's one big hit -- a solo home run deep into the left-field bleachers in the sixth inning -- Florida beat Michigan 1-0.
[+] Enlarge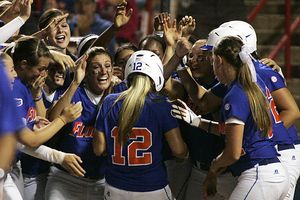 AP PhotoMegan Bush (No. 12) drove home the only run in Florida's win over Michigan on Friday night.
For the second Women's College World Series game in a row (and really the fourth game in a row, including a super regional against California), a Gators offense that averages nearly 6.6 runs per game produced considerably less than that but just enough to back up Nelson's brilliance.
And that's sort of the point. Florida's lineup is one giant fail-safe mechanism.
When all the parts are working, it's a juggernaut. When some parts malfunction, or get taken out of play by great pitchers such as Jordan Taylor and Nikki Nemitz, there are too many redundancies built into the system to ever allow for catastrophic hitting failure.
Consider Bush, the sophomore shortstop who was hitting eighth in the lineup when I first got a glimpse of this year's Gators at a tournament near Palm Springs in February (all she did from that spot was hit a three-run home run off an elite pitcher, Fresno State's Morgan Melloh, to turn a potentially tense game into a run-rule win). Coming off a big home run in Thursday's win against Arizona, Bush found herself hitting fifth against Michigan.
Nemitz said she thought she tipped off the changeup that Bush blasted, but the power-hitting infielder said she didn't really know what pitch it was -- she just saw it come in and swung as hard as she could to send it back the other way. Good as a freshman, when she hit 13 home runs and drove in 41 runs, Bush has been ever better this season. Her average is up nearly 80 points and her strikeout-to-walk ratio has been cut in half.
"I think more than anything, it's just the way she plays with confidence," Florida coach Tim Walton said. "Everybody always talks about the hole in her swing, and they talk about this and they talk about that. But when she swings with confidence -- I don't know what pitch it was either because the kids don't throw real, true changeups; they throw kind of a deviation from an off-speed pitch. When you see her hit and then get long -- I saw her get long, and when she gets that swing, it's going. It just her confidence, no question."
So why was Bush hitting seventh or eighth for so long before Friday night? Because where else was she going to hit? Her move up the lineup card against the Wolverines was part of a series of moves that landed Kristina Hilbreth in the No. 8 spot and Kim Waleszonia in the No. 9 spot. Hilbreth had one of the highest averages of any hitter in conference play and Waleszonia was a first-team all-conference player the past two seasons.
There simply aren't any weak spots in this lineup. And so even when opposing pitchers shut parts of it down for an extended period, someone, somewhere will come up with the necessary run production.
Has Walton ever faced a lineup as deep as the one he torments opposing coaches with?
"I'd have a hard time finding it," Walton said. "Tennessee might have had it a couple of years ago; Arizona always has a deep lineup; UCLA this year has a deep lineup. But to me, we've got some tough outs. We struck out nine times and, I think, eight [Thursday] night, but we've got some tough outs. Your first hit is coming from your eight-hole hitter; Kim gets a hit. I mean, we're pretty tough. We're pretty pleased with where we're at."
Which is one victory from a chance to play for the national championship.