Category archive:

Virginia Cavaliers
May, 30, 2011
05/30/11
8:03
PM ET
Virginia's Matt White talks about the Cavaliers' national championship.
May, 28, 2011
05/28/11
8:13
PM ET
Virginia's Bray Malphrus talks about the Cavaliers' win over Denver to advance to the NCAA lacrosse championship game.
April, 19, 2010
04/19/10
10:41
AM ET
Here are five teams that had an impact in NCAA softball last week.
[+] Enlarge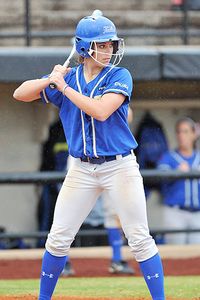 Walt Beazley/The University of TulsaTulsa's Samantha Cobb has 12 homeruns thus far this season.
Tulsa: The Golden Hurricanes lost a chance for a marquee midweek win in a 3-1 defeat at home against Oklahoma State, but got the wins they truly needed Saturday. Down 3-0 after one inning in the series opener against Houston, Tulsa rallied for an 8-4 win in that game and claimed a 7-1 win in the nightcap (Sunday's finale was rained out).
Tulsa opened last week No. 68 in the RPI and in the middle of the pack in Conference USA. It woke up Monday second in the conference heading into a road trip to fourth-place Central Florida, and it makes a strong case for at-large consideration for the NCAA tournament.
Despite the loss against Oklahoma State on Wednesday, Tulsa is 8-5 against RPI top-50 teams, including an earlier win against the Cowgirls in Stillwater.
The wins against Houston even came largely without the services of de facto ace Jackie Lawrence, who coach John Bargfeldt told announcers during Saturday's game had been hit in the head during batting practice. She didn't pitch again after three up-and-down innings in the first game, but freshman Kalynn Schrock came on in relief in both games and walked just three in 8.2 innings (she has a great strikeout rate but had walked 32 in 70.2 innings entering the series).
Shortstop Samantha Cobb, another freshman, had the big hit with a grand slam in the bottom of the sixth in the first game to break a 4-4 tie. With 12 home runs on the season, she's providing good protection for All-America hopeful Lauren Lindsay.
[+] Enlarge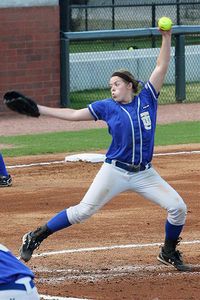 Walt Beazley for ESPN.comFreshman Kalynn Schrock came on in relief for Tulsa in both weekend victories against Houston.
Virginia: The only women's team at Virginia that has never advanced to an NCAA tournament, the Cavaliers bounced back from a bruising trip to Georgia Tech the previous week with four wins, including two to clinch a weekend series at home against fellow postseason hopeful NC State.
Freshman ace Melanie Mitchell went the distance in Saturday's 4-1 win in 10 innings and again in Sunday's 1-0 clincher in regulation. Mitchell is now 21-13 with 235 strikeouts in 214.1 innings. She may be a work in progress, but she gives Virginia the commodity every program needs to turn the corner: a workhorse ace in the circle.
"She's good now, but I don't even think she's really even -- she's going to be so much better in another year or two years, when she gets in the weight room, gets stronger and gets smarter," Virginia coach Eileen Schmidt said during last week's Georgia Tech series in which Mitchell started all three games. "She didn't really come in as high-profile as some of the other [freshmen pitchers] around the country, but she's worked her tail off. She's an engineering major; she's a smart kid."
If the Cavaliers can avoid a disaster at Boston College on Saturday and Sunday, they should be in the NCAA tournament; they already have wins against Michigan, Arizona and Louisiana-Lafayette, plus a top-30 RPI.
[+] Enlarge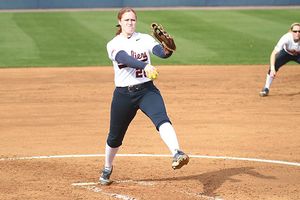 Virginia Athletics Virginia's Melanie Mitchell is a workhorse ace in the circle.
Cal Poly: By the close of business Sunday, not a single team in the Big West was more than a game above .500, the product of brutal early schedules across the board and balanced competition within the league. But even if there's a lot of the regular season left to play without a conference tournament to eat up the final week, Cal Poly helped its cause immensely with three wins against Cal State Fullerton.
The Broncos -- who went 0-10 out of conference against Arizona, Arizona State, Oregon, Stanford and Oregon, and are now 18-7 against everyone else -- claimed sole possession of first place with the sweep. First baseman Krysten Cary, outfielder Dana Perez and catcher Stephanie Correia each had at least one hit in all three games, and freshman pitcher Rebecca Patton won two starts to continue a recent hot streak.
The defending conference champions aren't even halfway home in the league yet, but despite five new starters in the lineup this season, the results look familiar.
Oregon: Hopefully I'll have more on Oregon later this week or soon thereafter, but coming off a sweep of Cal over the weekend, the Ducks defended their home turf as well as any team can reasonably hope to with one win in three starts against Washington's Danielle Lawrie.
It doesn't get any easier, with road trips looming to Arizona State, UCLA and Stanford, as well as a home series against Arizona, but even a hard-earned 4-8 record in those games would give the Ducks double-digit conference wins. First-year coach Mike White has to rank near the top of the list for coach-of-the-year honors for the turnaround he's engineered with a young roster. Freshman Jessica Moore closed out the win against Washington and remains fantastic, but full credit goes to sophomore Samantha Skillingstad for five shutout innings to start that game.
Florida State: Sometimes you move the needle in the wrong direction. Already on the fringes of the debate for an NCAA tournament seed, Florida State dropped two of three games at Virginia Tech and needed Sunday's 3-1 win to snap a five-game losing skid.
The Seminoles scored 14 runs in three games against the Hokies, their most in an ACC series not involving Boston College. But the generally stellar pitching duo of Sarah Hamilton and Terese Gober faltered during a week that also included a pair of losses at home against Florida. Opportunities remain with a home series against Georgia Tech and a trip to Virginia, in addition to the ACC tournament, but it looks more and more like Florida State will have to go the unseeded route in the NCAA tournament, possibly through an SEC landing spot like Gainesville, Fla. or Tuscaloosa, Ala.
Graham Hays covers softball for ESPN.com. E-mail him at Graham.Hays@espn3.com.
October, 25, 2009
10/25/09
11:24
PM ET
With conference tournaments around the corner for some leagues, and championship races taking shape in those that don't stage postseason events, it's now or never for teams looking to make impressions on the NCAA tournament selection committee. A quick look at five teams that enhanced their postseason profiles this weekend -- and five teams that may have seen things slip away.
Auburn: I'll come clean; I wrote off Auburn before the weekend. Sporting a losing record as they prepared for games at Tennessee and home against Georgia, the Tigers were on the precipice of postseason extinction. But after winning both games -- their first all season against top-50 RPI opponents -- they aren't just near the bubble, they're potentially on the right side of it. But they must close the regular season with a win at Alabama next weekend or risk finishing with a losing record in the event of a first-round SEC tournament loss.
Miami: The Hurricanes desperately needed at least four points out of home games against NC State and North Carolina. They managed just that in the unlikeliest manner, beating No. 2 North Carolina 1-0 on Sunday after tying NC State 1-1 on Thursday. It may not be enough. The RPI (43) is strong enough to warrant bubble consideration, but with an 8-8-1 overall record and games remaining at Virginia and Virginia Tech before the ACC tournament, staying at .500 or better will be a chore. But they gave themselves a chance with their fourth win against a top-35 RPI foe.
Oregon State: After watching Stanford take down a very good Washington side by three goals Sunday in Seattle, I'm more convinced than ever that the Pac-10 deserves the attention that could be headed its way with nine teams ranked in the RPI top 35. That said, Oregon State needed Friday's 2-1 win on the road against USC to lend some legitimacy to a record built on a so-so schedule (previously highlighted by wins against Denver and Loyola Marymount and a tie at San Diego State). Take six points from their final four games, and the remade Beavers shouldn't need to worry when the bracket comes out.
San Diego: The toughest team for me to slot at the moment, the Toreros are going to have to leapfrog some teams with better RPI numbers to make the field. They do have a neutral-site win against Rutgers and a tie against UCLA to their credit (they also have ugly losses against Kansas and USC, for what that's worth in the sniff test). But sweeping Loyola Marymount and Pepperdine this weekend, combined with an earlier win against Santa Clara, puts them in the thick of things at the very least.
Virginia: Last season brought the strangeness of an NCAA tournament without mainstays Connecticut and Santa Clara. Virginia looked like the vulnerable traditional power this fall, but while the Cavaliers aren't out of the woods yet, their chances are distinctly more favorable after earning four points with a draw against Wake Forest and a win against Duke. Earlier draws against Arizona State, Maryland and West Virginia plus a win against Hofstra weren't going to get it done, but the profile is now much improved.
Five Teams That Didn't Help The Cause
Minnesota: Tied 1-1 at Michigan; lost 2-1 at Michigan State
California: Lost 1-0 at Washington; lost 2-1 (OT) at Washington State
Colorado: Lost 2-0 at Texas A&M; lost 1-0 (2OT) at Texas
Illinois: Lost 3-0 vs. Ohio State; lost 6-0 at Penn State
South Florida: Lost 1-0 (2OT) at St. John's; lost 3-2 at Syracuse
August, 24, 2009
08/24/09
12:32
AM ET
STATE COLLEGE, Pa. -- Ang Lee, director of the upcoming "Taking Woodstock," likely won't chronicle it 40 years from now, but a horde of humanity descended on this otherwise pastoral backdrop over the weekend. Instead of a music festival, thousands of parents, who were themselves probably in diapers for Woodstock, dropped off their kids during move-in weekend at Penn State.
But for freshmen soccer players, orientation gave way to this: No. 12 Penn State 1, No. 9 Virginia 0.
Welcome to college.
"I think it was a typical first game of the season," Penn State coach Erica Walsh said. "Lot of jitters, especially with the young players, lot of excitement and building blocks."
[+] Enlarge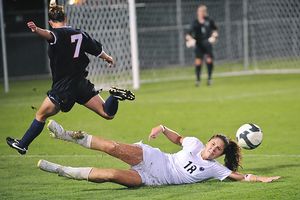 Mark Selders/Penn State Lexi Marton (18) proved herself as a defensive presence in her first game as a Nittany Lion.
Nittany Lions junior Danielle Toney scored the game's lone goal early in the first half on an end-to-end run off an errant Virginia corner. But despite some strong veteran performances, a game with October intensity and August execution was also a showcase for new faces.
Midfielders Christine Nairn and Maddy Evans and defender Lexi Marton began their Penn State careers in Walsh's starting lineup. Virginia coach Steve Swanson started freshmen midfielder Julia Roberts (who can take solace in knowing Colorado basketball standout Brittany Spears hears worse jokes) and defender Morgan Stith, who is one of four new defensive starters.
Marton may have been the lone new piece in a Penn State defense that included senior goalie Alyssa Naeher, senior fullbacks Maura Ryan and Tara Davies and sophomore central defender Emma Thomson, but she didn't look it. Marton marshaled her elders when needed and urged the bench to get louder during Virginia's last-ditch surge. Even when she flirted with disaster, putting in an aggressive tackle in her own box in the second half, she did it confidently and without incident.
"She's obviously a huge heading presence for us," Walsh said of the 5-foot-11 Canadian. "She organizes -- I mean to have a freshman back there who talks and organizes, you just don't find that very often. And because she has international experience, I think she feels comfortable doing it."
Swanson also singled out Marton's strength in the air. It's something that's obviously the product of her size, but also her rise through the Canadian youth national system.
"Coming from Canada, I think we play more of a fast, forward and aggressive style, whereas the American game tends to be more possession and balls to feet," Marton said. "So I need to adjust to defending people dribbling at me rather than the ball's always in the air."
On the opposite side, Swanson was pleased with how his team responded in the second half, especially given all the new faces. Stith, in particular, showed plenty of skill to offset freshman jitters and looked like someone who could anchor a back line, much as a raw group of starters in 2005 matured into last year's star-studded quartet of seniors.
"We came here with that 2005 team, and we got beat 5-2, I think," Swanson said. "So I'm not comparing scores, but I thought this group looked in many ways a lot more -- even though we've got a long way to go -- they're a little further along. It's just a matter of giving them time to gel; that's all. I'm not going to push the panic button."
February, 19, 2009
02/19/09
10:36
AM ET
By
ESPN Statistics
and
Analysis
The ESPN Statistics and Analysis team compiled information from various schools and is hooking you up with some interesting notes about recent and upcoming college competition:
Wrestling
North Carolina vs. Newberry, 5 p.m. ET
The Newberry College wrestling team remained at No. 2 in the NCAA Division II Wrestling Coaches' Association Poll, released Thursday. In total, the scarlet and gray have seven wrestlers nationally ranked in the top eight of their respective weight classes with three ranked in the top three.
Newberry has been ranked in all six polls and began the season ranked seventh in the preseason poll. Newberry's highest-ranked wrestler is Cy Wainwright (Green Cove Spring, Fla.), who is first in the 285-pound weight class. Wainwright is a returning All-American and is undefeated on the season, posting a 27-0 record. Wainwright has dominated his competition this season by defeating all of his opponents by either a pinfall (nine), technical fall (five), major decision (eight) or by default/forfeit (five). Wainwright has defeated four nationally ranked wrestlers this season.
Newberry has gone 21-2 on the season with 12 wins over nationally ranked Division II teams, two wins over Division I opponents and placed second at the prestigious NWCA Cliff Keen National Duals.
Women's swimming/diving
ACC Championships
The Virginia women's swimming and diving team commenced the 2009 Atlantic Coast Conference Championships on Wednesday in record-setting fashion by smashing the conference, school and meet records in the first two events of the meet: the 200 medley and 800 freestyle relays. The championships, which run through Saturday, are being held at Maryland's Eppley Recreation Natatorium.
The team of Mei Christensen, Katherine McDonnell, Liz Shaw and Kristen Wallace completed the 200 medley relay in 1:37.50 -- an NCAA automatic qualifying standard. The conference and meet record of 1:38.59 was previously held by Florida State (set in 2006) while Virginia's school record was set a year ago when Christensen, McDonnell, Stephanie Glover and Hannah Davis clocked 1:40.19 at the conference meet. Megan Evo, Shaw, Wallace and Jenna Harris teamed up to take first-place honors in the 800 freestyle relay, again setting conference, school and meet records. Virginia finished with another NCAA automatic qualifying time of 7:05.72, breaking the ACC and school record set by UVA's Stephanie Glover, Evo, Harris and Jessica Lewis at the 2008 NCAA championships.