Category archive:

UCLA Bruins
February, 7, 2011
02/07/11
11:29
AM ET
Editor's note: Graham Hays is counting down to the start of the 2011 college softball season with a look at each of the teams in his top 20. Check back daily for updates.

No. 5 UCLA
Last season: 50-11, won national championship
Who returns: There won't be a shortage of championship jewelry to store during games, including that belonging to outfielder Andrea Harrison, who capped a brilliant season (1.076 OPS) with four home runs in the World Series. Older sister Monica Harrison returns after solidifying her defensive reputation as one of the nation's best middle infielders last season, while keystone partner GiOnna DiSalvatore (1.090 OPS) also continued to excel. Dani Yudin, Samantha Camuso and B.B. Bates all played big parts in UCLA's juggernaut offense. And a returnee of a different sort might be one of the season's key figures, as All-American outfielder Katie Schroeder returns to the field after missing all but seven games last season.
Who departs: Good enough to emerge as a finalist for USA Softball Player of the Year even before the World Series, Megan Langenfeld was something else entirely in the World Series, an unstoppable forced at the plate (12-of-17 with four home runs) and a grinder superglueing her fingers to fight through blisters in the circle. Julie Burney (18 home runs) and Langenfeld's battery mate, Kaila Shull, each also leaves a decent-sized pair of cleats for someone to fill.
Who arrives: This is UCLA, so it's not exactly surprising that even a relatively small freshman class is loaded with talent across the diamond. Kellie Fox, youngster sister of former Arizona standout Kristie Fox, should find an immediate home in the middle of the infield, possibly allowing DiSalvatore, last season's second baseman, to polish her credentials as one of the college game's most versatile players with another position shift. Alyssa Tiumalu looks like a cornerstone waiting to happen at catcher and Talee Snow will provide depth around the infield. California Gatorade Player of the Year Jessica Hall offers no end of talent in the circle and at the plate (which sounds a bit like someone who just finished her UCLA career).
Preseason question: How difficult will it be to replace 114.1 innings in the circle?
UCLA played 61 games on its way to the national championship. Langenfeld pitched in fewer than half of them and started just eight times, including just four times in the regular season. So while the question of how the Bruins evolve without the pitcher in whose hands they wanted the ball with the season on the line (blisters, not strategy, kept her from starting the finale) is one of the preseason's great unknowns, there is paradoxically a lot known about the unknown.
In other words, two returning pitchers who went 31-8 in 239 innings last season would be an area of strength for most teams. For UCLA, Donna Kerr and Aleah Macon, along with newcomer Hall and sophomore returnee Destiny Rodino, represent a championship-sized question mark.
"We've had some very big names come through the program," coach Kelly Inouye-Perez said. "We had the Jelly Seldens and the Keira Goerls and Lisa Fernandezes that have come through and almost carried the program during their years. Of late, the game has changed, and I strongly believe you have to have more than one pitcher. For us, we do. I look forward to having them get out there and compete and see who is going to earn the ball, but they all know they're going to get an opportunity."
The Bruins might not have an easily discernible ace until at least the postseason. Macon, who got the ball in the World Series when Langenfeld's blisters kept her out of the circle, compiled strong strikeout and strikeout-to-walk rates throughout her first season on the field for the Bruins. But Kerr remains one of the most intriguing talents in the Pac-10, a standout for Team USA while winning the 2007 Junior World Championship who has flashed moments of brilliance through three quality college seasons that nonetheless leave a sense of potential yet unrealized. If that changes, it's entirely possible UCLA could enter the postseason as the prohibitive favorite, something that wasn't the case as the No. 5 seed a season ago.
"The biggest part for Donna is we've got to keep her healthy," Inouye-Perez said. "She's going to be pitching a lot of games this year, and unfortunately, she hasn't been completely healthy through a season. So that's going to be one of our goals. We've been working real hard to build strength and build her endurance to be able to keep her healthy because she has phenomenal pitches. But I think what you'll see in 2011 is she's developed her game. She has more than just a great rise ball; she has all parts of her game."
April, 26, 2010
04/26/10
8:42
AM ET
Five teams that moved the needle last week: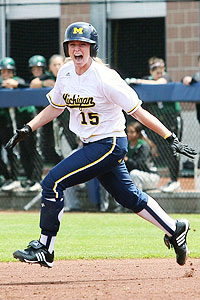 Michigan Athletics Maggie Viefhaus had at least one hit in all four games this week.
Michigan: If the second-ranked Wolverines inherit the No. 1 spot in the polls Tuesday, it won't be solely as the beneficiaries of another Washington loss. It's not that the Huskies deserve to be penalized for merely winning, instead of sweeping, back-to-back series in the country's toughest conference; it's that Michigan is doing some remarkable things.
The Wolverines swept two games at Purdue over the weekend to cap a week that also included a doubleheader sweep at home against Penn State. In those four games, the Wolverines outscored their opponents 33-4. Since losing to Texas at the Judi Garman Classic, the Wolverines have outscored opponents 151-18 in winning 16 consecutive games.
Just in case you glossed over that last part, let's repeat: 151-18.
Sure, the Big Ten is a step below the Pac-10, SEC and Big 12 when it comes to the depth of postseason-caliber competition, especially in a year in which Northwestern is struggling, but all the Wolverines can do is beat the teams on their schedule (which, of course, also includes nonconference wins against Arizona, Alabama twice, UCLA, LSU, Louisiana-Lafayette, Oklahoma State and numerous RPI top-50 teams).
Check that; all the Wolverines can do is obliterate the teams on their schedule.
Maggie Viefhaus had at least one hit in all four games this past week, and finished with two home runs and eight RBIs against the Nittany Lions and Boilermakers. In a year that includes Danielle Lawrie and Jen Yee, USA Softball Player of the Year might be out of reach for everyone else. But if you're looking for that third finalist, Viefhaus -- who also has just three errors at third base -- makes a strong case in a crowded field.
DePaul: After a doubleheader split at St. John's on April 14, DePaul was 21-14 overall and 5-3 in the Big East, including losses against conference afterthoughts Villanova and St. John's. Thanks to a typically rigorous nonconference schedule (including wins against Washington, Hawaii, North Carolina and Fresno State), the Blue Demons weren't exactly in danger of missing the postseason for just the second time since Ryne Sandberg retired, but it wasn't shaping up as the kind of season many expected out of the preseason No. 20.
Eight games and eight wins later, things look a lot better in the Windy City (which makes one for the city's baseball and softball teams). The Blue Demons added to their winning streak this week by sweeping a midweek doubleheader at home against Notre Dame and then taking all three games at South Florida over the weekend. Taking over the cleanup role vacated when Simone Ashkar left the team earlier in the month, Brittney Yniguez went 7-for-20 with seven RBIs between the two series. And working under the tutelage of fellow Texan and pitching coach Cat Osterman, freshman Bree Brown pitched a pair of shutouts in the series against South Florida.
Texas Tech: Perhaps no team needed a week like this as much as Texas Tech, which swept a midweek doubleheader from Oklahoma State and took both games of a weekend series at Kansas. The Red Raiders roared out to a 28-4 start under first-year coach Shannon Hays (who gets bonus points for not needing the wasteful extra "e" in his last name), but while there were wins against Oregon, San Diego State and Florida, there also were a lot of wins against teams well outside the RPI top 100. A 3-8 Big 12 start raised doubts.
The heart of the Texas Tech order, Mikey Kenney and Emily Bledsoe, combined for eight hits and nine RBIs in the week's four games. Freshman Karli Merlich also came up big, earning a win in relief against the Cowgirls and going the distance in the finale against Kansas. All three are underclassmen on a roster with just four juniors and seniors.
UCLA: Strange as it feels to write during the last week of April, the No. 7 Bruins put up their first meaningful series win in Pac-10 play with the sweep of their three-game set at Stanford. If the previous weekend's sweep against Oregon State was one the Bruins had to have to keep pace in the conference race, this one offered more of a statement.
The Bruins tied a season high with 15 hits in the opener, including 12 hits from the first five batters in the order: GiOnna DiSalvatore, Monica Harrison, Megan Langenfeld, Andrea Harrison and Dani Yudin. Langenfeld added a pair of home runs and four RBIs in Sunday's finale, in addition to pitching all five innings in a 10-1 run-rule win. She might not be the best hitter or the best pitcher, but Langenfeld, who has missed 10 games this season, is as valuable as any player this side of Lawrie to a World Series contender.
Florida International: The Panthers kept pace with Sun Belt leader Louisiana-Lafayette by taking two of three at South Alabama over the weekend (Louisiana-Lafayette took two of three at Troy, while North Texas moved into a second-place tie after sweeping Western Kentucky). But the attention grabber of the week came courtesy of an 8-3 midweek win at No. 4 Florida.
The win against the Gators was the first in program history against a top-five team and adds a bit of shine to an NCAA tournament résumé that already featured a decent RPI but not a lot of signature wins. Senior Kasey Barrett went the distance with a five-hitter for that win. Barrett also struck out 15 in another complete game Sunday against South Alabama. Despite pitching one season at South Florida Community College, she's second all time at Florida International in both wins and strikeouts.
Bonus note: Florida's split of a weekend series at Tennessee puts Alabama in control of the SEC race. As Tommy Deas reports in the Tuscaloosa News, the Crimson Tide swept Arkansas on the road despite being without ace Kelsi Dunne because of a violation of team academic policy. If Alabama wins its last six SEC games, it wins the regular-season title.
Graham Hays covers softball for ESPN.com. E-mail him at Graham.Hays@espn3.com.
March, 1, 2010
03/01/10
1:41
PM ET
CATHEDRAL CITY, Calif. -- From a backdrop of snow-capped mountains rising out of the desert to outfield walls mimicking Yankee Stadium, Wrigley Field and Fenway Park to smoke wafting from the barbecue stand, the Cathedral City Classic does its best to leave a lasting impression on the senses. And that's before you even get to the softball, featuring 12 members of the Top 25.
[+] Enlarge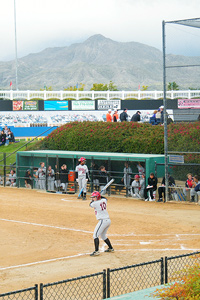 Graham Hays/ESPN.comEleven of the top 25 teams saw action at the Cathedral City Classic.
Some highlights, with the caveat that these are pulled only from what I witnessed (which, with more than 100 total games going on, was more of a sampler platter).
Most Outstanding Player: Danielle Lawrie, Washington
More on Washington and Lawrie later this week, but the reigning USA Softball Player of the Year continues to play above the level of the rest of the college game. Through three weeks, she has 102 strikeouts and just five walks in 56 innings in the circle. In Cathedral City, she started and beat BYU (with a one-hit shutout), Fresno State and Oklahoma and earned a win with five relief innings against Oklahoma State.
"She's just tough," Washington coach Heather Tarr said. "And the cool thing about her in her fifth year is she's learned to be able to compete for every pitch. And that's so hard to do over 200, 300 pitches in one ballgame on both sides."
The mind-bending thing about all of it is that Lawrie has been equally impressive at the plate this season, with eight home runs, 19 RBIs and a .400 average in 13 games.
Most Outstanding Player (Non-Lawrie Division): Jessica Shults, Oklahoma
The race for All-American honors among catchers is going to be a treat to watch and a nightmare to decide for the next four years, with Shults, Texas A&M's Meagan May and California's Lindsey Ziegenhirt already entrenched as program cornerstones behind the plate as freshmen.
"She just looks like a veteran," Oklahoma coach Patty Gasso said of her entrant. "I'm waiting to see her stumble. We've been in huge games these last three weeks and she seems to get better as the game is bigger."
Even against a class of current catchers that includes Mississippi State's Chelsea Bramlett, Ohio State's Sam Marder, Arizona's Stacie Chambers and Louisville's Melissa Roth, Shults might have a shot at earning national honors this year. More on Oklahoma later this week, but when you touch up Lawrie for four RBIs in one game, just half of the freshman's weekend total in four games for the Sooners, you earn special distinction.
Most intriguing win: Baylor 9, UCLA 5
The Bears went 3-2 on the weekend, highlighted by Saturday's win against No. 3 UCLA, a result coach Glenn Moore called "one of our top games in the history of the program."
The intrigue comes from the way Moore parceled out the pitching duties for both that game and Sunday's 3-2 loss against No. 2 Arizona. Sophomore Whitney Canion sat out the first two weeks of the season because of a stress reaction in her pitching arm, similar to the injury in a different part of the arm that forced Moore to shut her down in last year's super regional at Michigan. The plan for Cathedral City was to have her throw 20, 40 and 60 pitches on successive days (she threw 19 on Friday against San Diego State, 72 against UCLA and 81 Sunday against Arizona) as she eased back into action.
Moore said the next step is for Canion to throw twice next weekend and then undergo an MRI. Depending on the results of that test and any pain she feels, the team will make a decision on whether or not to redshirt her.
If she's healthy, Baylor can't be overlooked. Last year's success was built on Canion's dominance, but the offense is off to a stellar start in 2010. The team hit 31 home runs in 1,650 at-bats last season but already has 15 in only 392 at-bats this season, including four each from Jordan Vannatta and Dani Leal. And as always with the Bears, they'll steal and slap their way to the extra bases they don't slug. Coming off last season's knee injury, Kayce Walker has eight steals in 15 games, and some around the program suggested freshman Kathy Shelton might be the fastest player of them all in Waco.
"All throughout our lineup people are capable of making some noise," Moore said. "I don't think we have an area in it that I'm really thinking that, 'We've got to get through this area to get to the top again.' I mean, we're capable of scoring runs throughout our lineup. So it's a pretty solid lineup -- not a scary lineup, but we have a lot of pressure with our speed and a couple of kids that are capable of hitting the ball out of the park."
Graham Hays covers softball for ESPN.com. E-mail him at Graham.Hays@espn3.com.
December, 3, 2009
12/03/09
9:09
PM ET
COLLEGE STATION, Texas -- By the time Notre Dame took the field for the fourth and final practice Thursday at the Aggie Soccer Complex, the wind had calmed and the sun had turned its unfettered access to the sky into something approximating warmth.
Hopefully all involved enjoyed it while it lasted.
Friday's forecast in College Station calls for temperatures never reaching 40 degrees, with a strong possibility of snow showers and sleet in the afternoon (clearing by about the time of the second women's national semifinal, between North Carolina and Notre Dame).
During the morning's chilly but dry proceedings, UCLA coach Jillian Ellis joked about her team packing its thermals for this trip. Stanford's Ali Riley gave thanks for the warmth of the interview room and teammate Kelley O'Hara plopped down on the carpet to stretch, rather than venture outside.
But comedic overtones aside, the weather could be the only new entrant in the Women's College Cup this year (although it was getting close to frigid in Cary, N.C., last year, it was at least dry). As she guided her team through some light work on the field, Ellis warned that certain passes that might otherwise be delivered aerially would have to be made on the ground with force if the field was slick.
It's one intriguing variable for coaches who know each other extremely well.
"If its incredibly slick, you've got to be a bit more conservative in your supporting distance," North Carolina coach Anson Dorrance explained. "You've got to be a bit more conservative in the goal, you've got to be a bit more careful basically clearing the ball. So all the elements of a slick surface are brought to bear. … I think there are going to be some adjustments being made based on the conditions on Friday."
And at least one team might not even mind a little taste of home-field advantage.
"Come on snow; bring the snow," Notre Dame coach Randy Waldrum deadpanned. "Just pound us tomorrow; we're OK with that, absolutely."
• North Carolina didn't maintain dominant form in those early wins against UCLA and Notre Dame -- but considering who the Tar Heels played without, the relative ease with which they still made it to yet another College Cup may be more impressive.
A player who Dorrance has repeatedly called one of the best leaders he's ever had -- a bold suggestion he reiterated Thursday -- Ali Hawkins is almost as a good a talent as a leader. She missed the team's regular-season finale, three games in the ACC tournament and the first three rounds of the NCAA tournament with a sprained knee but returned to play 28 minutes off the bench against Wake Forest last weekend.
"If the season were a couple of weeks longer, I think we'd get her back to 100 percent," Dorrance said. "But she did some great things in practice this week.
"It's really interesting -- I've been using her as a role model for our focus and finishing. She's just a very focused individual."
• Stanford coach Paul Ratcliffe is a man of few words.
It could be said that he makes Bill Belichick look loquacious.
It could be said he make haikus look longwinded.
You get the picture. This is the entirety of his opening statement Thursday.
"We're excited to be back to the final four, and we're looking forward to strong competition."
Fascinating. But Ratcliffe, who is generally no more forthcoming with praise, made a rather bold statement -- briefly, of course -- by saying senior Kelley O'Hara is the best player in women's college soccer at the moment. By his standards, it was a stunner.
O'Hara's reaction to the effusive (and accurate) plaudits? She said she gave him five dollars before they got to the podium to say something nice about her.
December, 3, 2009
12/03/09
4:05
PM ET
COLLEGE STATION, Texas -- Reaching
the College Cup
has become almost as much a staple of the season for UCLA as turkey and holiday sales. The disappointment that comes with falling short of a championship has also become an annual rite for the Bruins.
But as much as coach Jillian Ellis publicly contends each season is a unique journey free of contamination from the past, she offers a more compelling argument for the same every time she hands in a lineup.
[+] Enlarge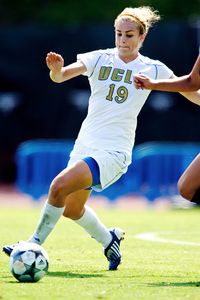 Courtesy of UCLA AthleticsJenna Belcher is starting for UCLA after dealing with illness for two and a half years.
Now a redshirt junior and an anchor on a Bruins back line that has allowed just 13 goals in the 23 games since a season-opening 7-2 loss at North Carolina, Jenna Belcher is proof positive of the present's potential. It's why she keeps a simple message from her mother on her desk:
"It came to pass. It didn't come to stay."
Hardship isn't losing in the College Cup six straight seasons. Hardship is waking up every morning for more than two years unsure why you not only don't have the energy or stamina to play the sport you love, but why you lack the energy to simply get through the day.
So it was for Belcher, a heralded recruit coming out of high school in 2006 who played just 10 college games in the next three seasons, the first at Santa Clara and the next two at UCLA.
"I first met Jenna when she was 13, believe it or not, and I was speaking at a school and this little curly haired kid came up to me and introduced herself," Ellis said. "I think, compassionately, I know Jenna's had struggles physically. And it is -- it's truly special for me to see her on the field but also how she's playing."
As Belcher explains it, her doctors now believe a bout with mononucleosis that she tried to play through as a freshman morphed into a larger viral infection. For more than two years her viral levels remained high but doctors were unable to pinpoint an exact diagnosis -- chronic fatigue syndrome and fibromyalgia were both suspected. There were brief good spells that would give her some hope of returning to the soccer field, but the fatigue, sleeplessness, hot flashes, dizziness and myriad other symptoms would eventually return and knock her out of action.
Finally, an internist at UCLA -- who Belcher jokingly agrees is her story's version of Hugh Laurie's "House" character -- offered the counsel that the virus would likely run its course after two and a half years. Sure enough, at about that juncture this spring, she began to feel better. By summer she felt closer to 100 percent than she had in three years.
And at long last, she was able to take the field and show why she was a prep All-American and a member of the Under-16 and Under-17 national teams. She also got to show a hard-earned maturity to complement the skills.
"Now every opportunity to step on the field is something that could be my last opportunity to do it," Belcher said. "And I think before, I took for granted all the opportunities I was given in soccer. I had been able to be involved with youth national teams, and a little part of me -- and this might sound wrong -- but was like, 'Yeah. I've earned that. I've earned my spot here. I've earned the right to be on the field.'
"And I think now I just feel blessed every single time I get to step out there." There are still days where she feels less than 100 percent, but she takes an array of vitamins and trusts the medical opinions that tell her there likely won't be lasting symptoms. And even the running and conditioning she once loathed (and still isn't exactly a fan of) doesn't seem like quite as much of a chore as it once did.
"A year ago, I was in bed," Belcher said. "So the fact that I'm out here and able to complete this fitness session, what a great accomplishment."
Whatever happens to UCLA, Belcher is proof the past doesn't always come to stay.
November, 29, 2009
11/29/09
11:03
PM ET
Short only a Sonny and Cher song, it will be "Groundhog Day" in College Station, Texas at the women's College Cup.
For the first time since 1986, the previous year's field returns intact. The only difference Friday, 12 months after North Carolina beat Stanford and Notre Dame beat UCLA in the 2008 semifinals, is the draw: Stanford and UCLA meet in a Pac-10 rematch and North Carolina and Notre Dame meet in a rematch of both last season's championship game and a 6-0 win for the Tar Heels in South Bend three months ago.
No. 1 North Carolina vs. No. 2 Notre Dame
Earlier this season: North Carolina pounced on early Notre Dame mistakes at the first game in the Fighting Irish's new stadium on Sept. 4. Courtney Jones scored the first goal just 23 seconds in, off assists from Casey Nogueira and Tobin Heath, and the Tar Heels led 3-0 inside of 30 minutes. North Carolina's back line was fantastic throughout; Notre Dame's Melissa Henderson finished the game with no shots and few opportunities.
"It's just a loss at the end of the day," Notre Dame coach Randy Waldrum said at the time. "None of us are happy with how it went and the kind of loss it was, especially at home opening the stadium with a great crowd. But we'll look back a month from now and it will just be a loss on the record. It's not going to make or break us where we want to be at the end. And I'll relish an opportunity to get to play them again at the end of the year."
North Carolina player to watch: Casey Nogueira
It would be fitting if Nogueira closed a perpetually intriguing career with a third national title. After a very quiet regular season that included two appearances off the bench, she's scored six of her 12 total goals (and accumulated four of her nine assists) in North Carolina's seven games across the ACC and NCAA tournaments. It seems she was born for the big stage.
Notre Dame player to watch: Lauren Fowlkes
Things started to turn around for Notre Dame, which followed the loss to North Carolina with losses against Santa Clara and Stanford in California, when Waldrum moved Fowlkes to forward. As versatile as any player who will be in Texas, she could star on the back line or in midfield. But as a forward, she's found chemistry with Henderson and forced opponents to play both honestly. At 5-foot-10, she's literally a huge problem for opponents on set pieces.
No. 1 Stanford vs. No. 1 UCLA
Earlier this season: The Cardinal broke a 15-year drought by reaching the College Cup last season, but it wasn't until this season that they staked a claim to Pac-10 supremacy by beating UCLA for the first time since 2002. The first goal in that 2-0 home win in October didn't come until there was less than 20 minutes to play -- and it came on an own goal -- but Stanford controlled the run of play throughout the game.
"We've been looking forward to this game since we got here in August," senior Ali Riley said after the win. "Three years now, for the seniors, we've lost to UCLA, and this is so important and this is the No. 3 team -- this is like a Final Four game. So it was a huge win for us."
Stanford player to watch: Kelley O'Hara
The Pavarotti of Stanford's star-studded triumvirate up top, O'Hara has scored 25 goals in 24 games this season alongside Christen Press and Lindsay Taylor. Actually, a better comparison for the 5-foot-5 O'Hara might be Manny Pacquiao; she's gifted, relentless and simply not a lot of fun to be up against in tight confines on a soccer field.
UCLA player to watch: Sydney Leroux
I saw the Bruins at both of their low points this season, the losses at Stanford and at North Carolina, and still came away shaking my head at how good a finisher Leroux is in her second season (she missed last season's College Cup while earning top scoring honors for the United States at the Under-20 World Cup). She already shares the single-season program record with 23 goals this season and is too strong to knock off the ball and too fast to contain.
November, 22, 2009
11/22/09
6:09
PM ET
Stanford and Boston College played little more than a year ago, with the Cardinal coming out on top of a 3-0 decision in Palo Alto. Remarkably, that qualifies as ancient history when it comes to this year's quarterfinals in the NCAA tournament. UCLA and Portland meet for the fourth time in five years in the postseason. Florida State and Notre Dame meet for the fourth consecutive season. And North Carolina and Wake Forest meet for the second time this season.
In a tournament with few surprising results to date, no team will have the element of surprise on its side in the quarters.
No. 1 STANFORD vs. No. 2 BOSTON COLLEGE
Stanford profile: The Cardinal have the best front line in the country, although it overshadows a solid lineup from back to front. Senior forward Kelley O'Hara has emerged this season as the Hermann Trophy front-runner, but opponents find it hard to key on her with Christen Press and Lindsay Taylor alongside. When the midfield gets itself involved consistently, which isn't always the case, the Cardinal are almost impossible to defend.
Boston College profile: Likewise, an attacking third loaded with recognizable names overshadows a strong, composed back line and an athletic keeper. Freshmen Kristen Mewis and Victoria DiMartino might be the two most talented players, but there is plenty of experienced skill, including senior playmaker Gina DiMartino, Victoria's sister. Outside back Hannah Cerrone is valuable going forward and will need to balance that against measuring the Cardinal forwards.
No. 1 UCLA vs. No. 2 PORTLAND
UCLA profile: The Bruins have quietly been steamrolling opponents of late. In their past eight games, including three NCAA tournament games and four other games against NCAA tournament teams, they've put together a 29-4 edge on the scoreboard. A case could be made that forward Sydney Leroux has been the nation's best player over the past month.
Portland profile: You don't lose a Hermann contender like Michelle Enyeart -- injured in the final game of the regular season -- and continue without skipping a beat, but Portland has come close in putting up 10 goals through the first three rounds. There is speed all over the field, particularly on the flanks with players such as Kendra Chandhoke, and forward Danielle Foxhoven is as technical and polished a finisher as there is in the tournament.
No. 1 NORTH CAROLINA vs. No. 3 WAKE FOREST
North Carolina profile: The defending champion obliterated UCLA and Notre Dame 7-2 and 6-0, respectively, but had it share of ups and downs. Without injured speedster Nikki Washington, Tobin Heath and Casey Nogueira remain the most dangerous playmakers. Since allowing four goals in back-to-back losses at Florida State and Miami, a defense keyed by Whitney Engen, Rachel Givan and Kristi Eveland has posted eight consecutive clean sheets.
Wake Forest profile: Outscored 8-7 in their last five games before the NCAA tournament, the Demon Deacons have regained their defensive touch and found the luck any team needs in the postseason (advancing past South Carolina on a last-second header in the third round). Junior keeper Amanda Barasha has been solid since taking over the starting role following the team's 4-0 loss at North Carolina in late September.
No. 1 FLORIDA STATE vs. No. 2 NOTRE DAME
Florida State profile: Goal scorers always get the lion's share of attention, but Tiffany McCarty and Jessica Price deserve every bit of it. And a midfield that includes Amanda DeCosta and Becky Edwards can hold its own on any field. It's a young back line, regularly starting two freshmen and two sophomores, but it's a group with experience at both the college and international level.
Notre Dame profile: Moving Lauren Fowlkes up top proved the move that brought Randy Waldrum's lineup together after a slow start to the season. A less high-profile development, having Haley Ford available (she played 90 minutes in the third-round win against Oregon State after battling injuries for much of the past month) further solidifies an improving defense.
November, 15, 2009
11/15/09
10:00
PM ET
Two rounds are in the books in the women's soccer NCAA tournament, and 12 seeded teams survived to play another week. Here's a quick ranking of those teams and the four surprises.
1. Stanford


The tournament's top overall seed going into the first weekend lived up to the billing. The Cardinal piled up chance after chance in a 2-0 first-round win against Northern Arizona that could easily have produced crooked numbers on the scoreboard.
Third round: vs. 4-seed Santa Clara
2. Florida State


A 3-0 win over California in the second round was the kind of statement that at least momentarily separates the Seminoles from the teams to follow below. Cal matched the Seminoles shot for shot, but that only provided keeper Erin McNulty with a chance to show Florida State has all parts of the field covered.
Third round: vs. Texas A&M
3. Portland


The Pilots demolished Denver in the first round, no small feat against a better team than most of the high seeds faced, but needed a late Halley Kremenski goal (her second of the game) to get by Washington in the second round. Unlike the first meeting between the Pilots and Huskies this season, the WCC champs held a dominant edge on shots (23-3) and corner kicks (10-3), suggesting the offense still has kick without Michelle Enyeart.
Third round: vs. 3-seed Virginia Tech
4. North Carolina


A 1-0 first-round win against High Point raised eyebrows, but a 4-0 win against Georgia on Sunday returned them to their normal resting places.
Third round: vs. 4-seed Maryland
5. UCLA


First, the bad news: UCLA fell behind early in its first NCAA tournament game this postseason. Of course, the good news is it scored the next 12 goals in a pair of romps against Boise State and San Diego State.
Third round: vs. Virginia
6. Notre Dame


Perhaps the beneficiary of the lone notable first-round upset, with Central Michigan knocking off Purdue, Notre Dame rolled past IUPUI and Central Michigan by an 11-1 margin. Melissa Henderson scored a mere six times.
Third round: vs. Oregon State

7. Boston College


The Eagles won the unofficial New England derby, knocking off Harvard and Connecticut to advance to the Sweet 16. But it's getting past the next round that has the attention of a team that has made the third round in five of the past six seasons.
Third round: vs. Wisconsin (location TBD)
8. South Carolina


South Carolina's defense is back, adding a pair of shutouts to a run that began with strong showing the SEC tournament semifinal and final. It's good to have a hot hand at keeper in the postseason, and Mollie Patton's mittens are sizzling at the moment.
Third round: vs. 3-seed Wake Forest
9. Wake Forest


It was an uneventful weekend for the Demon Deacons, exactly what they needed to reach the Sweet 16 for the first time since 1999. Junior Casey Luckhurst scored three times -- the first three goals of her Wake Forest career.
Third round: at 2-seed South Carolina
10. Virginia


The Cavs may not be higher than No. 10, but no team did anything more impressive than Virginia in putting up six goals in 20 minutes to erase a 2-0 deficit in a second-round game against Penn State in State College, Pa.
Third round: at 1-seed UCLA
11. Santa Clara


The Broncos needed three overtime periods and a penalty shootout to get past Michigan State and Oklahoma State, but they're back in the Sweet 16 for the first time since 2005. They've scored one or fewer goals in eight of their past 10 games, but they're officially 6-2-2 in that stretch.
Third round: 1-seed Stanford
12. Texas A&M


The Aggies have just one clean sheet in their past five games, but they proved resilient in the NCAA tournament, scoring twice early to take control against Memphis in the first round and outlasting LSU in penalty kicks (with four conversions in four attempts) in Baton Rouge in the second round.
Third round: at 1-seed Florida State
13. Oregon State


Beat Ohio State on its home field in the first round and No. 3 seed Florida in overtime in the second round. Not too shabby for a virtual NCAA tournament neophyte.
Third round: at 2-seed Notre Dame
14. Maryland


The Terrapins did no wrong in the first two rounds, routing Monmouth and shutting out Washington State 1-0 in the second round. So is this too ranking low? Perhaps, but that three-game losing streak to enter the NCAA tournament is hard to forget.
Third round: at 1-seed North Carolina
15. Virginia Tech


The offense re-awakened against Murray State and Dayton. A 3-1 win against the Flyers in Dayton was especially impressive for a team that is 3-3 in true road games.
Third round: at 2-seed Portland
16. Wisconsin


Not a team that's going to be uncomfortable in low-scoring games. Wisconsin outlasted Arizona State in penalty kicks and protected a first-half goal for a long time in a 1-0 second-round win against Central Florida.
Third round: vs. 2-seed Boston College (location TBD)
October, 18, 2009
10/18/09
10:37
PM ET
STANFORD, Calif. -- Cornerstones of the nation's most prolific offense, No. 1 Stanford's renowned attacking trio of Kelley O'Hara, Christen Press and Lindsay Taylor did everything but put the ball in the back of the net during Sunday's showdown against No. 3 UCLA.
The Cardinal's back line did them one better; they simply did everything.
The result was a 2-0 win, Stanford's first against the Bruins since 2002, a year before coach Paul Ratcliffe arrived and four years before even the current seniors arrived.
"I know definitely it's been on our calendar since preseason started," senior Alicia Jenkins said of the UCLA game.
[+] Enlarge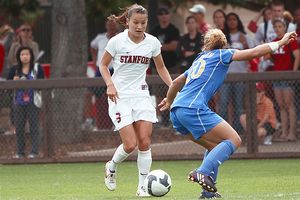 Rick Bale/Stanford AthleticsAli Riley assisted Stanford's second goal in the Cardinal's win against UCLA on Sunday.
The goals came in quick succession midway through the second half -- the first an own-goal deflection from the scramble in the 18-yard box after Press' shot from the top of the box was blocked and the second on Ali Riley's long cross from the left side that Camille Levin headed in at the far post. Yet the Cardinal controlled the game for not just those 116 seconds but much of the entire 90 minutes, finishing with 10 more shots (24-14) and six more corners (6-0) than the Bruins.
Credit the familiar names for a considerable amount of that. The Bruins struggled to catch O'Hara, Press and Taylor from behind and fared little better staying in front of them. Two days after scoring twice in a 4-0 win against USC, O'Hara made a convincing argument for the Hermann Trophy without registering a point.
But in silencing UCLA's own star-studded front line -- not to mention sparking the attack in the second half -- the back line stole the show.
"I thought Alicia [Jenkins] was brilliant today," Ratcliffe said. "I thought Alina [Garciamendez] did a great job and Ali Riley and [Rachel] Quon on the outside, I thought they played very, very well. I was impressed with them, really solid."
Stanford's offense was a known quantity entering the season, but the defense was more of a question mark after losing center backs Marisa Abegg and Allison Falk to graduation. Jenkins, a starter at outside back last season, moved to fill one of the spots in the middle, while freshmen Garciamendez and Quon filled the two vacancies inside and outside, respectively.
The Cardinal gave up five goals in their first three games this season (all wins, courtesy of 13 goals from the offense). But they haven't allowed an opponent to score from the run of play since, conceding just three goals off corner kicks and one penalty kick in the past 12 games.
"It's come together so much," Riley said. "I think we had a little bit of a rough start, just getting to know each other. It's kind of a scary area to be fitting in new players and putting people in different positions. But Alina and Rachel are such talented players, and Alicia has made such a big switch from outside back to center back, that it's come together really well."
Despite giving away size to UCLA's Lauren Cheney and Sydney Leroux, the 5-foot-4 Jenkins gave keeper Kira Maker protection worthy of the Secret Service. And with that behind them, plus the effort others expended defending, Riley and Quon were free to roam up the flanks and create the opportunities.
And for the nation's top-ranked team, an affirmation of sorts.
"This year had a different feel to it," Jenkins said. "We were talking about it before the game -- just a confidence that maybe we haven't had before. And I think it really showed today."
September, 7, 2009
09/07/09
7:39
AM ET
SOUTH BEND, Ind. -- Perhaps No. 1 North Carolina isn't invincible, but any margin for error against the top-ranked team is increasingly miniscule. Against No. 2 Notre Dame, it lasted 23 seconds.
In less time than Sylvia Hatchell's basketball Tar Heels might take to get off a shot, Courtney Jones put home a cross from Tobin Heath in the opening minute of North Carolina's eventual 6-0 rout of the Fighting Irish on Friday in the first women's game at new Alumni Stadium.
7-2 and 6-0.
[+] Enlarge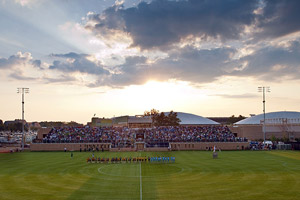 Courtesy of Notre Dame Athletics Notre Dame's Alumni Stadium is a sight to be seen.
Those are the scores North Carolina has posted against first UCLA and now Notre Dame.
Independent of each other, either result might be an anomaly; they certainly don't spell the end of either losing team's season. But those two score lines against those two teams make it easier to envision this North Carolina team as one of historical consequence.
"You're always afraid to talk about that because this game is so bizarre," North Carolina coach Anson Dorrance cautioned after Friday's game. As if on cue, the Tar Heels then dominated possession against Marquette on Sunday but needed a phenomenal second-half shot from freshman Alyssa Rich to escape with a 1-0 win.
But against the best teams, the Tar Heels already show a gear no other team possesses.
"I think what we're trying to do is we're trying to play the game as fast as we can," Dorrance continued. "And obviously the role models we're given are the [English Premier League] teams. I mean, they play at a pace that is just unfathomable.
"We've gotten our kids to watch the EPL a bit, and I think they can get a sense of what the potential of the women's game is. That's our standard. We want to play as fast as Arsenal and some of the top teams in the world, and I think at times we do. And obviously, there's no comparison -- I don't pretend that we would ever be on the field with a team of that caliber. We are trying to play at that speed; we're trying to play the game at a sprint."
• Time and again during the weekend, North Carolina's Whitney Engen showed why, in my mind, she's the best defender in the country. She's also a relative newcomer to the back line in college, having played forward her first two seasons in Chapel Hill. Might Lauren Fowlkes, a midfielder far more often than a member of the back line in her first two seasons at Notre Dame, follow a similar path to becoming one of the game's best defenders?
Fighting Irish coach Randy Waldrum is still in full tinkering mode while looking for the right fits to replace players such as Kerri Hanks, Brittany Bock (who represented the alumni in the stands Sunday), Carrie Dew and Elise Weber. And while there are no guarantees the lineup next weekend against Santa Clara and Stanford will look the same as it did Sunday, he seemed to find something worth trying again with Fowlkes at center back and familiar defender Jessica Schuveiller pushed forward into the midfield.
"I thought it was much better today for all three of those," Waldrum said of Fowlkes, Schuveiller and defender Hayley Ford. "They're all three key people for us, but the question is how do you get those three good players on the field that's going to be the best for you. And I think in some instances, we're still trying to find out way in some positions."
Like Engen, Fowlkes is physically gifted, mentally tough and relentless. And if she finds a home anchoring the back line, one need only look at the Tar Heels to see the impact it could have.