Category archive:

Tennessee Volunteers
February, 4, 2011
02/04/11
11:52
AM ET
Editor's note: Graham Hays is counting down to the start of the 2011 college softball season with a look at each of the teams in his top 20. Check back daily for updates.

No. 6 Tennessee
Last season: 49-15, lost in Women's College World Series
Who returns: All five regulars who slugged .500 or better return, including Lauren Gibson (.910 OPS) and Jessica Spigner (1.052). Raven Chavanne (1.080 OPS), Kat Dotson (1.004 OPS) and Kelly Grieve (.926), but that's only part of the story for a top of the order that also combined for 92 stolen bases and a trio that covers serious real estate in the outfield. Ashley Andrews returns after showing good patience at the plate as a freshman, putting together a .353 on-base percentage despite just a .213 batting average.
Who departs: Tiffany Huff was a fixture in the middle of the lineup for four years and left with the RBIs to prove it. Erinn Webb started 58 games and led the team with nine home runs last season, while Nicole Kajitani started 37 games and ranked fifth on the team in walks.
Who arrives: It's a big group in every respect, with an incoming class of seven freshmen that includes four players listed at six feet or taller. One of the tall arrivals with the biggest prep plaudits, Madison Shipman will start at shortstop from the outset, with Andrews shifting to catcher, the position at which she was recruited. Melissa Davin and Kourtny Thomas are in competition for time at first base, and Chelsea O'Connor is impressing in a crowded outfield picture.
Statistically speaking: With Chavanne in the club, Tennessee came within a Kat Dotson walk or two of becoming only the fourth team with two returning hitters who topped .500 in both slugging and on-base percentage last season. Alabama, Arizona and Georgia are the others.
"I think that probably the unsung player on our team, and I'm really serious about this, is Kat Dotson," co-coach Ralph Weekly said. "If you ask anybody on our team who is the best hitter, they're going to say Kat Dotson."
Preseason question: What about the pitching?
The coaches may find it challenging to divide playing time in a manner that keeps everyone happy in the real games, but Tennessee shouldn't have any trouble playing competitive scrimmages.
That depth came to the forefront when the team did, in fact, play a scrimmage recently, a contest in which Ralph Weekly said freshman Ellen Renfroe graded out as the best pitcher, followed by Cat Hosfield and then Ivy Renfroe. That might come as a surprise to anyone who saw Ivy Renfroe take control of the postseason during Tennessee's run to the World Series, while Hosfield played second fiddle and high school Ellen Renfroe watched her older sister.
The younger Renfroe may only be a year behind her older sister, but it's another SEC ace with height on her side that Weekly used as a point of comparison.
"She's mature beyond her age," Weekly said of Ellen. "She reminds me a lot, and she's certainly not there yet, but she reminds me a lot of [Alabama's] Kelsi Dunne. She's the same kind of pitcher, with a lot of movement. And of course, I think Kelsi Dunne is really good."
That Ellen isn't a carbon copy of her sister potentially works to Tennessee's advantage. Add the Renfroe sisters to Hosfield, who went 17-8 with a 3.26 ERA in 48 appearances and 25 starts last season, and the Lady Vols bring three distinct looks to the circle.
"Ivy throws hard with decent movement and she's improved her changeup," Weekly said. "Cat throws with a good bit of movement and a really good changeup. And Ellen throws in the middle speed; she throws good speed with a lot of movement."
With the SEC shifting to a format for conference play that mimics the Pac-10, with each three-game series spread over three days instead of two days with a doubleheader, there isn't necessarily an advantage to be gained from using three starters on a regular basis. But in addition to simply giving the coaching staff options, the trio of pitchers might also afford Tennessee an opportunity to experiment with something close to a dedicated bullpen (as it is, Tennessee pitchers completed just 21 of 64 starts last season).
"I wouldn't say any of them are like the best pitchers in the country, but I think it's a really good staff," Ralph Weekly said. "And I think they've bought into the fact that all three are going to pitch. I think we're stronger as a team with all three starting -- I'm not looking to have a star pitcher this year."
May, 28, 2010
05/28/10
11:21
PM ET
Tennessee's place in the bracket of this year's Women's College World Series was best written lightly in pencil, if written at all. The tournament's No. 15 seed, after a fifth-place finish in the SEC, the Lady Vols entered the postseason with a freshman and a sophomore in the circle, a lineup littered with even more youth, and worst of all, No. 2 Michigan blocking their path.
Yet the Lady Vols are going to Oklahoma City. And if this trip is a surprise, it may also be all the evidence needed to trade pencil for chisel and lend some permanence to the program's profile.
Southern Mississippi made a pair of trips to the Women's College World Series when it had Courtney Blades to hand the ball to in the circle. It hasn't been back since. Texas hasn't traveled north after Memorial Day since Cat Osterman made the last of three appearances in the World Series. And Virginia Tech sightings have been few and far between since Angela Tincher left.
By completing a sweep of the Wolverines with a 4-3 win in Ann Arbor, Tennessee has etched its name in the stone of softball's story as more than just the place where Monica Abbott pitched.
"I'm not naive enough to think we've totally arrived yet," Tennessee co-coach Ralph Weekly said by phone Friday night. "And I know there are some great teams going and some great teams that aren't -- I mean, I thought Michigan was fantastic. I just thought they were a great team and well-coached and all that and the other. But I do really think we're becoming a program to be reckoned with."
The Lady Vols needed just three seasons to make it back to the World Series without Abbott, who left Knoxville as the NCAA's all-time leader in strikeouts, wins and shutouts but without the NCAA championship that was as close as one win away by the time she was a senior. That's not a long time to retool a roster by just about any standard other than the ones familiar to Arizona and UCLA, but patience is not a luxury at the top of the mountain.
Exit at the hands of Tincher and Virginia Tech in regionals, as Tennessee did at home in 2008, and it's hard to miss the contrast of a program with a once-in-a-lifetime pitcher eliminating a program trying to move on without the same. Exit at the hands of mid-major Jacksonville State in regionals, as Tennessee did at home again in 2009, and whispers become something louder.
Tennessee was good enough, the thinking went, but only Abbott made it great.
"It didn't bother me because, in the first place, Tennessee is a great place to be," Weekly said. "We've got a fantastic stadium, and we've got a great financial base and a great fan base. And I knew we were on the right track. I mean, I've been around a long time, and [co-coach and wife Karen Weekly] is a really hardworking coach. So it didn't bother me, but it just drove me more."
Just how much it drove both Weeklys is evident from the roster that has yet to drop a game in the NCAA tournament. Three freshmen and three sophomores were in the starting lineup for the second game against Michigan, and when freshman pitcher Ivy Renfroe is in the circle, as the team's de facto ace increasingly is on a regular basis, it's four freshman starters. More than half of the players who take the field for the Lady Vols never played a game with Abbott. There are veterans -- seniors Erin Webb and Nicole Kajitani (nicknamed "Peanut" for a reason at 5-foot-3) combined for three home runs in Friday's clincher -- and Tiffany Huff and Kelly Grieve lead.
But this is a new Tennessee. A very good Tennessee.
A potentially great Tennessee.
"We don't in any way think we're any better than anyone else, but we think we're building a pretty good program," Weekly said. "And everybody would say, 'Well, yeah, but you can't go back without Monica.' So we're really happy about that."
Not long after the Lady Vols clinched passage to the World Series, Weekly got a text message from a coaching peer. Five words that said it all.
"Monica has left the building."
And the walls she helped build aren't about to come tumbling down.
Athens Super Regional: Third in the SEC in home runs and third in the nation in slugging percentage, No. 6 Georgia's batters take bases in bunches. The last thing an opponent can afford to do is aid the cause. But that's exactly what doomed No. 11 California from the outset in the opening game of the best-of-three series.
Instead of trailing 1-0 after Alisa Goler's home run in the first inning, the Bears found themselves down three runs because of a walk that put Taylor Schlopy on base ahead of Goler and a subsequent error that allowed an unearned run to cross the plate on what would have been the third out. California starting pitcher Valerie Arioto, whose own tremendous hitting eye at the plate makes her as much of an on-base machine as just about anyone in the country, issued six walks in the circle against the Bulldogs. That after she walked just six in her previous 31 innings, including starts against some dangerous offensive teams in Arizona, UCLA and Ohio State.
On this particular day, given the Bears couldn't plate any runs against Sarah McCloud, perhaps the extra runs were irrelevant. But it also suggests that California, whether Arioto or freshman standout Jolene Henderson starts the second game in the circle, can play much better than it did Friday. And that Georgia will punish it if it doesn't.
Graham Hays covers women's college softball for ESPN.com. E-mail him at Graham.Hays@espn3.com. Follow him on Twitter: @grahamhays.
May, 9, 2009
05/09/09
7:12
PM ET
KNOXVILLE, Tenn. -- As if to remind the two teams atop the softball RPI rankings that nothing is inevitable on the road to Oklahoma City, the remnants of a weather system moving through Tennessee delayed the start of Saturday's SEC championship game between Florida and Alabama.
And as if to suggest it won't mind waiting out anything anyone wants to throw at it during the next three weeks, Florida seized control when Megan Bush lined the 15th pitch of her first-inning at-bat over the fence in left field for a grand slam and a 5-2 lead.
[+] Enlarge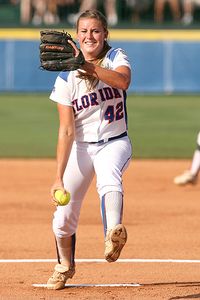 University of Florida Athletics Stacey Nelson struck out eight against Alabama.
Even Mother Nature has some work to do when it comes to slowing the Gators.
Bush's blast wasn't quite enough to provide the winning margin, but it set the day's theme early in forcing the Crimson Tide to play from behind. And when a late rally proved to be too little, too late for Alabama, Florida had an 8-5 win and its second consecutive sweep of the conference regular-season and tournament titles.
"I think Florida is by far the best team in the country," Tennessee coach Ralph Weekly said of the team that earlier eliminated the host Lady Vols by an 11-3 margin in the semifinals. "There's no question about it. It's kind of like playing the New York Yankees."
The championship game itself was anything but a classic, unless you enjoy watching an umpire handle the strike zone like a circus carny setting up the bottles on the ring toss -- no matter how wide the plate looked from the circle, it wasn't big enough to accommodate a softball. The first inning and a half took an hour to play, littered with four walks and three hit batters, as both pitchers tried to work the inside corner -- the only place anyone stood a remote chance of getting a pitch called a strike.
"I don't think I would have wanted to be a pitcher today," Alabama catcher Ashley Holcombe said. "Because sometimes you just feel like you don't know what you have to do to get a strike called. But we had the same situation the first inning -- we had bases loaded with one out. And they hit the grand slam and we didn't."
But if circumstances prevented an aesthetically pleasing show Sunday, the Gators spent their three days on the field in Knoxville shaking off any signs of competitive rust after clinching the regular-season conference title on April 18 (or such competitive rust as existed after winning their final seven regular-season games by a 60-1 margin).
Against Auburn in a quarterfinal, the Gators struck out seven times and walked just once in pulling out a 3-0 win. A day later in an 11-3 semifinal run-rule rout against host Tennessee, they walked five times and struck out once. And it's no coincidence that the one walk they drew against Auburn came to lead off the bottom of the first inning in what became a two-run frame against a quality pitcher in Anna Thompson.
It's not that the Gators necessarily rely on walks (although they did lead the SEC in free passes per game), but when they're drawing them, it's an indication they aren't getting themselves out at the plate. And so far this season, they've had more success getting themselves out than all but a handful of pitchers have fared with the same challenge.
"I thought [in the quarterfinal against Auburn,] we were taking too many good pitches and then we'd go up there and maybe swing at a couple of bad pitches," Florida coach Tim Walton said. "[Against Tennessee,] I thought we did a good job laying off the tough pitches and swinging at the good pitches. You could tell by the walks and the number of hits we had, we did a good job; when they threw strikes over the plate, we were looking for them."
And when the walks were there for the taking early against Alabama, Florida took them and made them count when Bush's shot -- the only hit of the inning -- cleared the fence.
"The hand-eye coordination, that obviously you're born [with]," Walton said. "But I think more than anything, the approach is taught. And that's the approach of our team; we're looking for pitches. You very rarely see us swing at pitches out of the zone in good counts."
The flip side of the equation is the Gators can afford to be patient more than any other team. Among major-conference teams, Arizona and Arizona State average more runs per game than the Gators, but there may not be a more balanced lineup from top to bottom.
With the exception of No. 9 hitter Michelle Moultrie, the eight other hitters in Walton's lineup entered Saturday's game with on-base percentages between .380 and .493 (and seven of them were between .419 and .493). Six starters entered with slugging percentages of .548 or better and six starters entered hitting between .329 and .387.
On and on go the numbers, but in the land of Tennessee whiskey, the truth is easily distilled.
"We've got probably 11 of the toughest outs in the country," Walton said.
Now we can only wait and hope this was only the middle act of a three-act play between these two teams, regardless of what day and what scenario might await a rematch in Oklahoma City at the Women's College World Series. Because even as Florida showed off its offense, Alabama's production hinted that its midseason funk is gone for good.
"I thought it was the best offensively we've done against [Nelson] in two years," Alabama coach Pat Murphy said. "So they should take away a lot of positives from this game."
But like the SEC regular season before it, and likely the overall No. 1 seed in the NCAA tournament ahead of it, those positives don't include the tournament title.
With Florida in the picture, the Crimson Tide will have to wait their turn for those.
January, 16, 2009
01/16/09
3:10
PM ET
The week of our softball preseason top 20 comes to a close with No. 15, which is also the jersey number worn by the University of Florida's Tim Tebow, a reminder guaranteed to annoy the heck out of fans of …
15. Tennessee
Last season: 50-16 (Lost to Virginia Tech in the Knoxville regional)
Preseason talking point: Every pitcher who heads to Knoxville for pretty much the rest of this century is likely to spend an undue amount of time in Monica Abbott's shadow. But the Lady Vols look to have a couple of pitchers capable of sticking up for themselves in sophomore Ashton Ward and freshman Cat Hosfield, so let's spread the wealth and unfairly compare some position players to past Tennessee legends.
[+] Enlarge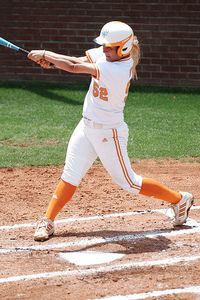 Elizabeth Olivier/UT Athletic Photography Can Tiffany Huff give the Lady Vols power at the plate in 2009?
Forget finding the next Abbott; have the Lady Vols found the next Tonya Callahan and Lindsay Schutzler?
Despite a significant amount of turnover in the past three seasons -- Tiffany Huff, Erin Webb and Nicole Kajitani are the only players remaining who averaged even one at-bat per game as recently as the 2007 season -- the Lady Vols have been remarkably consistent at the plate. Consider the team's on-base percentage and slugging percentage since 2006.
2008: .409/.447
2007: .400/.440
2006: .409/.464
Even on the bases, the results have been similar, as co-head coaches Ralph and Karen Weekly push an aggressive agenda. In 2006, the Lady Vols stole 119 bases in 145 attempts. In 2008, despite still having just 23 of those stolen bases on the roster, they stole 128 bases in 145 attempts. The names change on the lineup card, but the game remains the same.
So as the headliners of their class, are freshmen Jessica Spigner and Ashley Andrews next in a line of succession in which Sarah Fekete and Kristi Durant begat Schutzler and Callahan? The Lady Vols have a couple of statistically productive bats returning with Tiffany Huff and Erin Webb, but both struggled to maintain that production during conference play. In fact, take out departed seniors Callahan and Kenora Posey and the Lady Vols hit .233 in SEC games, slightly worse than their opponents fared at .235.
If Huff and Webb build on last season's nonconference success and Spigner and Andrews are as good as advertised, the Lady Vols might be able to live up to the legacy of Callahan, Schutzler and others. And Abbott's legacy aside, that's good enough for now.