Category archive:

Wisconsin Badgers
February, 5, 2010
02/05/10
11:08
PM ET
MADISON, Wis. -- Boys will be boys, especially when an authority figure isn't around.
So it really shouldn't have been a surprise that after Michigan hockey coach Red Berenson walked down the tunnel leading to the team dressing room inside Camp Randall Stadium early Friday evening before the Wolverines' practice time had ended, his players made creative use of the rest of their ice time.
[+] Enlarge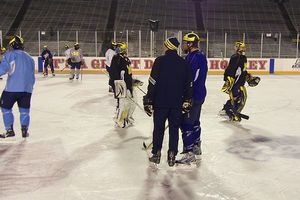 Courtesy David AlbrightMichigan coach Red Berenson talks to Brian Lebler during Friday's practice at Camp Randall Stadium.
One by one they took turns from center ice and tried to launch a puck over the glass and through the goalpost at one end of Wisconsin's football stadium.
A loud ping off the upright by freshman Chris Brown was as close as the Wolverines would get to a field goal on the eve of Saturday's Camp Randall Hockey Classic between the Wolverines (16-12-1) and the Badgers (15-7-4).
A crowd pushing 60,000 is expected to watch these two Big Ten schools skate on the temporary ice surface, which could make it the third largest crowd to watch an outdoor hockey game in North America since 2001.
The Cold War game at Spartan Stadium drew 74,544 when Michigan and Michigan State skated to a 3-3 tie back on Oct. 6, 2001. And the inaugural NHL Winter Classic between Pittsburgh and Buffalo had 71,217 in Ralph Wilson Stadium on Jan. 1, 2008 to witness a 2-1 Pens' shootout victory.
With 53,000 tickets sold as of Friday afternoon, it's already guaranteed to be the No. 2 college draw in history, ahead of Wisconsin's first outdoor venture at the Frozen Tundra Hockey Classic in 2006 at Green Bay's Lambeau Field (40,890) and last month's Frozen Fenway game between Boston University and Boston College (38,472).
"I think it's another big step forward for college hockey in terms of the exposure, the quality of the game and the players," Berenson said. "It just shows you the importance of college hockey and how the exposure now is better than ever. To be able to draw over 50,000 for a college hockey game is pretty impressive."
Regardless of Saturday's final turnstile count, the next outdoor game on the college hockey schedule should surpass them all as Michigan has already announced it is hosting in-state rival Michigan State in a game that's being billed as "The Big Chill at the Big House" next Dec. 11 at Michigan Stadium (capacity 106,201).
But first things first.
You could argue that the novelty of the outdoor game may be wearing off, but the importance of Saturday's matchup -- regardless of the setting -- should not be underestimated.
[+] Enlarge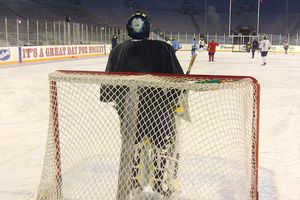 Courtesy David AlbrightThe Wolverines experienced a great day for hockey inside a football stadium.
Michigan currently finds itself very much on the outside looking in with the NCAA Tournament less than two months away. Entering Friday's action the Wolverines were No. 20 in the PairWise rankings, which barring a CCHA title and automatic bid wouldn't get them into the 16-team national field.
The Wolverines beat the Badgers 3-2 in Ann Arbor back in November as part of the annual College Hockey Showcase. Another victory over Wisconsin -- No. 3 in the PairWise entering the weekend -- would give Michigan a three-game winning streak with seven games remaining before the CCHA Tournament.
"This game has not been a highlight game on our schedule -- compared to the [outdoor] game next year," Berenson said. "But now that we're here you realize it's a highlight game."
Both teams tested out the Camp Randall ice, boards, glass, etc. for a mix of practice, "play" and amazement at the surroundings. Reviews of the hockey part of the facility were positive. It will be interesting to see what one of the best college football environments delivers for another sport on Saturday.
"I don't think there were jitters; I think it's just more of the wow factor," Berenson said. "This is awesome. So I think they got that feeling out of the way. We know there's a big hockey game on the line. We've played both Miami and Wisconsin and Wisconsin impressed me as much as any team we've played. We didn't just come here for the wow, we came here to play."
The fans in the stands should get a dose of wow and play from the boys on Saturday.
April, 19, 2009
04/19/09
10:00
PM ET
Five results that matter from the weekend that was.
Ohio State 6, Wisconsin 5 (11 innings)
The Buckeyes rolled to a 10-0 run-rule win in the opener of Saturday's doubleheader on the road, but they trailed 5-1 in the top of the seventh of the nightcap. Then Courtney Pruner's two-run home run cut the deficit to 5-3, and after hits from Rebecca Schultz and Leah Ledford, a two-out wild pitch eventually brought home the tying run.
Aside from good drama, the win, which came via another RBI from Schultz, set the running order as the Big Ten makes the turn for home. The Buckeyes aren't free and clear on the rail, beginning a tough closing stretch with a doubleheader at home against Purdue on Wednesday before trips to Northwestern and Michigan, but they control their own fate. Sweep Purdue and Penn State at home and split with the preseason favorites on the road, and the worst that could happen would be a tie atop the standings at 17-3.
Washington 7, Oregon State 1
Despite going 3-for-3 on the road against Oregon and Oregon State, the most important win of the weekend from Washington's perspective probably came just up the road from Corvallis and Eugene in Portland. But we'll get to that in a minute.
This result mattered because it capped off a winless weekend for the Beavers and dropped them to 22-22 overall with 11 games to play. Given the relatively soft state of the NCAA tournament bubble this season, Oregon State probably can count on an at-large bid if it comes up with a 28-27 record. But even if it gets two wins at UC Davis in Thursday's doubleheader -- no given -- that still would necessitate getting four more wins against the top six teams in the Pac-10. A task that got tougher with this weekend's lost homestand.
Portland State 4, Sacramento State 2
The third win of the weekend at home against Sacramento State, combined with Loyola Marymount's rough weekend against San Diego, put Portland State a game in front of the Lions in the Pacific Coast Softball Conference race. That's great news in Portland (perhaps not good enough to erase the sting of Yao Ming against the Trail Blazers), but it's also good news for folks a few hours north on Interstate 5.
If Portland State makes the NCAA tournament, it puts a non-Pac-10 team in the field that's within driving range of the University of Washington. And assuming the Huskies submit a bid to host regionals, that makes it far more likely they could advance to Oklahoma City without leaving Seattle to do it.
Hawaii 6, San Jose State 5
After dropping the opener of a three-game series at San Jose State, the visiting Rainbow Wahine held on for a one-run win in the second game and clinched the series with an 11-4 win in the finale. The weekend leaves Hawaii tied with Fresno State for second in the WAC, half a game behind league leader Nevada, and able to close out the conference regular season with six games at home. At 22-21 and with a chance to earn the top seed in the conference tournament, it's a big climb for a team that opened the season 3-11.
Watching Bob Coolen's team beat Ohio State and push Alabama to the wire at the Cathedral City Classic, it was easy to come away impressed in spite of the rough early record. Even now, there are a handful of numbers that jump out -- mostly Amanda Tauali'i's .770 slugging percentage and freshman Stephanie Ricketts' 1.99 ERA -- but this remains a team whose accomplishments are more than the sum of its numbers.
Hofstra 6, Georgia State 1
Sunday's win gave the Pride the best-of-three series against Georgia State and sole possession of first place in the Colonial Athletic Association. With just two three-game series remaining for each of the league's teams, that puts the Pride in position to potentially host the conference tournament as the No. 1 seed (they travel to Drexel next weekend and host Delaware to close the regular season).
That's a big deal for a team that has owned this conference over the years but has been pushed by new arrival Georgia State in recent years. Hofstra is 91-9 in its past 100 home games against conference teams. There's also some relevance in the present to accompany that historical dominance; senior ace Kayleigh Lotti is 38-1 in her past 39 starts against Colonial opponents. The one loss? Georgia State last year, of course.
File the Panthers and Pride rivalry under "to be continued." But if it turns out that it's continued on Long Island instead of in Georgia, it's advantage Hofstra.
Seeing Crimson
You know you had a good weekend when you threw seven innings of four-hit ball, striking out nine without allowing a walk or an earned run, and it's not the eye-catching part of your series line. Alabama's Charlotte Morgan put up that effort Saturday against Arkansas, earning win No. 11 in the circle (she got No. 12 Sunday in relief), but it was what she did to pitchers that might earn her national player of the week accolades. Morgan hit a pair of home runs in three games against the Razorbacks and finished the series 7-for-9 with seven RBIs.
The only catch, no pun intended, is Morgan might get a challenge from teammate Ashley Holcombe on a weekend in which Alabama's bats came alive. Always worth the price of admission for her defense behind the plate, Holcombe added eight RBIs on six hits.