Category archive:

Georgia Bulldogs
February, 9, 2011
02/09/11
9:50
AM ET
Editor's note: Graham Hays is counting down to the start of the 2011 college softball season with a look at each of the teams in his top 20. Check back daily for updates.

No. 3 Georgia
Last season: 50-13, lost in Women's College World Series
Who returns: All nine position players who started in the team's World Series opener last season return, as do all three pitchers who took the circle in that win against Washington. And it doesn't end there. Six of those players also started all four games during the team's World Series stay the previous season. At least in terms of Oklahoma City experience, Georgia is without equal.
Alisa Goler, Taylor Schlopy and Megan Wiggins deservedly get most of the accolades, but there's a reason so many players have started for so long. Catcher Kristyn Sandberg (.989 OPS), first baseman Brianna Hesson (1.012) and catcher/designated player Ashley Razey (.969 OPS) are run producers in their own right. Erin Arevalo and Sarah McCloud split starts effectively in the circle, and Alison Owen was a reliable presence in relief all season and as a starter late.
Who departs: Every player who started at least 20 games or pitched significant innings returns.
Who arrives: As might be surmised, there aren't a lot of open positions in Athens. But as all the experience also indicates, Georgia isn't afraid to let young players get on the field. Atop that list this season may be freshman pitcher Morgan Montemayor, an Arizona product who made a distinct impression on Goler when the All-American saw the freshman pitch for the first time.
"I can tell you; it was, 'Wow,'" Goler recalled of her initial reaction. "I hadn't seen her pitch at all until the first [fall] game. None of us had because the pitchers had been having separate practice times. And she came in and the first pitch she threw to the batter was easily high 60s. I was just like, 'Oh, this is going to be really good.' Because a lot of teams have pitchers that can throw gas, and we've got pitchers that like to work on their location a little bit more. But it's kind of nice to add another piece to the puzzle."
Preseason question: Is the third time the charm for a trio of All-Americans?
When Georgia reached the World Series for the first time in program history in 2009, it was the fresh-faced newcomer who didn't know it wasn't supposed to come within a win of the final series or celebrate every out, and sometimes every strike, like a kid having the time of her life.
A sophomore who enjoyed a breakthrough season for that edition of the Bulldogs, Goler is now a softball old soul, beginning work toward her Master's. Time passes quickly in college years.
"I look back, and whether it's my teammates who are freshmen or just the normal kids on campus, I look back and sometimes I laugh because I can see them stressing out about bus schedules and taking their first test and all that," Goler said. "So I guess I feel old in that sense."
Coaches and pitchers around the SEC would surely concur that Goler, Schlopy and Wiggins have been around a long time -- worn out their welcomes, in fact, in much the same manner as they've worn out opponents. All three started for the Bulldogs from the first time they put on uniforms, and other than injuries that slowed Wiggins as a sophomore, they've been in the starting lineup ever since.
Last season, the three hit a combined .402. Each slugged between .718 and .755, stole at least 10 bases and hit at least 10 home runs. Schlopy is a leadoff hitter in the Rickey Henderson mold, combining speed, power and plate discipline. Wiggins bats second and punishes pitchers who worry too much about Schlopy on first or Goler in the on-deck circle. She struck out just 51 times in 534 at-bats her first three seasons. Goler is the complete hitter batting third, a patient slugger who won't expand her strike zone and won't miss a mistake pitch. Just to make themselves that much more infuriating, all are also outstanding in the field, Schlopy in center, Wiggins in left and Goler at third base.
Coming from California (Schlopy), Georgia (Wiggins) and Illinois (Goler) they knew only of each other before arriving in Athens, but it became apparent there was a connection more significant than a shared talent for stuffing box scores.
"I think that you can learn a lot about someone by the way they practice every day because you see them all the time, whereas spectators only see you on game day," Goler said. "For me, playing in college here was the first time I was ever on a team that had such phenomenal players to play with, like those two. And being around them every day and seeing how hard they work and then also seeing how they were off the field, I would say within the first semester, I knew."
Dubbed "The Triangle" as freshmen by, well, themselves, they begin their final season together as the best top of the lineup in the country. They are older, wiser and still entirely quirky (witness the triangles they often flash each other with their fingers while on the bases). And the core of Georgia's championship aspiration is summed up by a single simple sentiment.
"It's kind of cool to start off every game with the three of us," Goler said.
April, 29, 2010
04/29/10
11:17
AM ET
If the revolution is coming, expect to be notified by bullpen phone.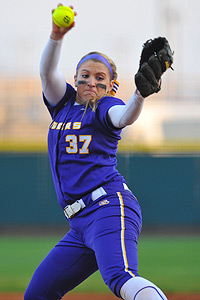 Courtesy of Steve FranzFreshman Rachele Fico is LSU's secret weapon.
When No. 8 Georgia visits No. 12 LSU Thursday (ESPN, 8 p.m. ET) and Friday (ESPNU, 9 p.m. ET) in a key SEC showdown in advance of the conference tournament two weeks hence, it will be a contrast of styles. The Bulldogs enter the game ranked fifth nationally in slugging percentage; the Tigers enter ranked fourth nationally in ERA. It's a Georgia lineup with its five hitters slugging better than .600 against an LSU pitching staff and its three pitchers with ERAs under 1.56 -- and a fourth option available with a 2.33 ERA. 
But beyond those differences, it's also a meeting of teams that share an affinity for a part of softball that doesn't always get a lot of attention or respect: the bullpen. 
LSU freshman Rachele Fico earned the most recent SEC pitcher-of-the-week honors on the strength of her work in a three-game weekend sweep at Kentucky. With teammate Cody Trahan on the bench for the series because of disciplinary infraction, Fico started twice and went the distance both times (one a rain-shortened five-inning game). She also added a save in the other game, her fifth of the season. Five saves might not sound like much, but it was good enough to establish a program record at LSU.
In fact, in the history of the SEC, only four pitchers have saved double-digit games in a season. 
One of the nation's mostly highly touted freshmen after throwing 26 perfect games in high school, Fico has made 33 appearances this season, 21 of them as a reliever. 
"I'm trying to change the mentality a little bit," LSU coach Yvette Girouard said. "You see a lot of arm injuries today, more than I've seen in 30 years of my career. And you know, what we all have to understand is [a pitcher's arm] is a rubber band and it only can stretch so much. 
"And maybe we need to be like baseball and bring in closers and relievers and everything else, but these kids have grown up their whole lives trying to complete the game, and they feel like they're a failure if they don't complete the game. I keep trying to reiterate that the bottom line is we just need to win, and if it takes all four of them going two innings, then that's what we're going to do. And maybe by the time Fico and [sophomore Brittany] Mack are seniors, their arms will be far healthier."
Fico leads the Tigers in innings pitched despite the fact she's started fewer games in the circle than Trahan and Mack. If that sounds intuitively strange, it should. It's the only case in the SEC in which a pitcher with the third-most starts leads a team in innings pitched. And there's only one case where a pitcher with the second-most starts for a team leads in innings pitched -- Mississippi's Brittany Barnhill. 
[+] Enlarge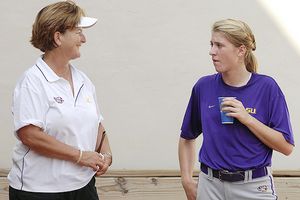 Steve FranzLSU coach Yvette Girouard, left, here with Rachele Fico, uses her bullpen to win games.
Beyond protecting a pitcher's arm, there's a strategic side to going to the bullpen. Sure, if you have a Danielle Lawrie or a Cat Osterman, you can rest easy knowing you have the advantage in the first inning, seventh inning and any other inning. But for the 99.9 percent of the population that constitutes the rest of the softball world, it's potentially advantageous to be able to change what hitters see at just about the same time they might be locking in their timing against the starter. 
"Rachele is just perfect for that scenario, where she comes in and throws strikes right away and throws hard," Girouard said of bullpen duty. "That's kind of what the baseball mentality is with the reliever or the closer, just go in there and throw gas as long as you can and throw as hard as you can for as long as you can."
And while Fico may well start either Thursday or Friday's game, there's a true relief specialist on the other side. Georgia freshman Alison Owens has thrown 58.2 innings for the Bulldogs this season and has yet to make her first start. Not only is she the only pitcher in the league with more than 50 innings who hasn't started a game, she's the only pitcher to throw even 10 innings without making a start. A season after getting 33 complete games from its pitchers in 59 total games, Georgia has just 17. And rather than a sign of vulnerability, it may be evidence of why the team has the pitching to complement its ridiculously good offense as it looks to return to the Women's College World Series.
Player to watch: If you like defense, and if you appreciate offensive value beyond traditional counting stats like batting average and RBIs, keep an eye on LSU third baseman Jessica Mouse. I've had dozens of opportunities to watch Mouse play the hot corner during her time with the Stratford Brakettes amateur team the last few summers (where she teamed with Fico the last two seasons and Georgia shortstop Laura Trout two summers ago), and she's worth the price of admission for her glove alone. 
She's made just three errors in 49 games this season, and no third baseman in the SEC has more assists than Mouse with 89. 
"She just goes out there and -- she's Pete Rose," Girouard said. "She just puts her nose down and she catches everything in sight. I've coached her now three years and I can tell you, I think maybe she's thrown away three balls in practice in three years. So you think of all the reps she's had and how consistent she is."
Graham Hays covers women's college softball for ESPN.com. E-mail him at Graham.Hays@espn3.com. Follow him on Twitter: @grahamhays.
September, 21, 2009
09/21/09
7:20
AM ET
Just as the frost on the windshield Sunday morning in Connecticut offered a reminder of what's ahead, the schedule shows that soccer season is already at its first major fork in the road.
The Pac-10 and West Coast Conference, demonstrating that coast's admirable ability to take life at a more leisurely pace, don't start conference play for another couple of weeks. But putting those two leagues aside for the moment, how do things look elsewhere?
Sadly, Neil Patrick Harris wasn't available to host, so you're stuck with me.
ACC
Early test: Boston College at Florida State, Sunday
Is North Carolina vulnerable after Sunday's 0-0 tie against Auburn? Don't bet on it -- the only two goals the Tar Heels have allowed all season came opening night at the end of a 7-2 rout against UCLA on a sloppy field. But this game in Tallahassee will be a showdown of perhaps the two teams best equipped to challenge the defending champs. After seeing the Eagles on Sunday, I'd put a midfield of Gina DiMartino, Julia Bouchelle and Kristen Mewis up against any group out there.
September surprise: Easily Maryland, which has a 1-0 win against Santa Clara to validate an 8-0-0 start. The Terrapins actually get first crack at the Seminoles, as they'll visit Tallahassee on Thursday.
Big 12
Early test: Kansas at Oklahoma State, Sunday
The Jayhawks got off to a fast start last season but finished under .500 in conference play, including a 1-3-1 record away from Lawrence. Oklahoma State is the defending conference champion but dropped its conference opener against Colorado (the lone Big 12 game played thus far). Texas A&M still seems like the class of the league, especially after beating Portland 3-1 this past weekend, but Sunday's game in Stillwater is a chance for the Jayhawks to show they're a real challenger and the Cowgirls to show they're not ready to be deposed.
September surprise: At this point, we know more about most Big 12 teams' ability to schedule advantageously than their ability to play great soccer, but Nebraska's prolific offense -- paced by freshman Morgan Marlborough's 13 goals -- is worth noting.
Big East
Early test: Rutgers at Georgetown, Friday
Georgetown produced the most emphatic result of the first Big East weekend, drubbing Villanova 4-0 (although the Hoyas then tied Penn 3-3 on Sunday). Like Santa Clara's Jordan Angeli, Georgetown's Sara Jordan returned for a sixth year after an injury-plagued career and has helped in tangible (four goals, four assists) and intangible ways.
September surprise: Minus a lost weekend in Philadelphia (defeats to Drexel and Penn), Pitt has enjoyed a banner September, capped by a win at Ohio State and a tie against West Virginia this past weekend in Morgantown, always a tough stop for Big East teams.
Big Ten
Early test: Penn State at Michigan State, Sunday
The Spartans were 7-0-1 entering Sunday's 1-1 draw at Eastern Michigan, but the result raises questions, given the caliber of opponent in many of those wins. The good news is they get a shot at instant credibility against Penn State. The Nittany Lions took the opposite route early, persevering through six consecutive one-goal games, including four losses, against likely NCAA tournament teams before breezing past Boston University and James Madison.
September surprise: Indiana reached the Sweet 16 two years ago, so surprise is a little strong, but the Hoosiers, at 8-1-0, including a win against Florida, are perhaps ahead of schedule.
SEC
Early test: Georgia at LSU, Friday
Two familiar conference contenders in recent seasons open this year's conference slate. After a disappointing opening loss at home against Memphis, the Tigers have shown a lot of fight, including a 1-0 loss against North Carolina and 2-2 tie against Duke this past weekend. Georgia has played a good schedule, albeit one short on ranked opponents, and will look to return the favor after LSU beat it in Athens last season. (The Bulldogs are 14-4-0 since that loss.)
September surprise: South Carolina is the undefeated SEC team with championship aspirations, but forget the quality of the schedule and give Mississippi State full marks for an 8-0-0 start. That's more wins than in any of the past four full seasons.
May, 31, 2009
05/31/09
6:37
PM ET
OKLAHOMA CITY -- Populated by parents, friends and other insiders of the teams on the field, there are two sections of seats at Hall of Fame Stadium in which fans stand up during games with some regularity. But when the other 8,000 people on hand rise, it's something other than the norm.
And the crowd Sunday was most definitely on its feet and on pins and needles -- or just shaking out the pins and needles in their legs after sitting for more than four hours -- when Georgia's Brianna Hesson drew a bases-loaded walk after fouling off three two-strike pitches to beat Washington 9-8.
It was the highest-scoring game in Women's College World Series history. It was the longest first seven innings in the event's history. It featured a record-setting performance from Washington freshman Niki Williams, who drove in seven runs. It was alternately mind-numbingly slow and breathtakingly dramatic. And it was only the opening act.
"I didn't think the game was going to go this way, but that's why we play the game," Washington coach Heather Tarr said. "You never know what's going to happen. And we've got to be more prepared to control our game. I don't think we did a very good job of that today."
With the dramatic win, in which it both rallied from a three-run deficit and watched a four-run lead evaporate on one swing of the bat, Georgia earns another shot at the Huskies later this evening. One loss from elimination after Thursday's opening round of games, the Bulldogs are now one win from the championship series.
As has been their style since the start of super regionals, the Bulldogs ceded the early momentum after Williams hit a three-run home run off Bulldogs starter Sarah McCloud to give the Huskies a 3-0 lead. That led to the first of four pitching changes and perhaps the most surprising, bringing Taylor Schlopy in from center field to pitch for just the fourth time this season and the first since Feb. 22 against not-quite-WCWS-bound UNC-Greensboro.
Schlopy held up her end of the bargain, getting through Washington's order once unscathed (she would earn another stint later between further duty in center), but it wasn't until coach Lu Harris-Champer turned to freshman Erin Arevalo that the Bulldogs silenced the Huskies. Pitching for the first time since the first week of April, Arevalo threw four shutout innings, allowing four hits and no walks.
"I thought she did an outstanding job," Harris-Champer said. "The best job she's done all season, and I'm extremely proud of her."
Harris-Champer wouldn't say who would get the ball to start the second game. Ace Christie Hamilton lasted just one inning in the first game, throwing 32 pitches and allowing three hits, two walks and four earned runs. At this point, unless there is something physically wrong with Hamilton, the likely bet would be she gets the ball with the suddenly deepened bullpen ready to go at the first sign of trouble.
For Washington, even after 164 pitches on the afternoon, it's Danielle Lawrie's game to win or lose tonight. On the plus side, she pitched 22 innings in two games against Massachusetts on the final day of regionals. On the negative side, she has a season's worth of use like that on her arm, and that regionals performance took place on a cool, New England night -- not under the hot Oklahoma sun.
What started as a massive advantage for the Huskies when Sunday dawned has shrunk to the slightest of edges. Their ace is tired, and the Bulldogs have seen her four times this season and come away with wins twice. For the newly crowned USA Softball Player of the Year to avoid prolonging a streak in which no player has ever won a national championship in the same year she won the award, Lawrie will need to pull out something special.
Georgia is closing fast, even if they have to slow games down and pull pitchers out of nowhere to do it.
"Everybody knows that me and Christie [Hamilton] don't want to stop playing," Kristin Schnake said after the win a night earlier. "We want to prolong this as long as we possibly can. And we want to be in that championship series."
May, 31, 2009
05/31/09
12:12
PM ET
For the first time since 1982 at the Women's College World Series, college softball is guaranteed a first-time champion among its final four teams. That's about where any sense of unfamiliarity in Oklahoma City ends. The four remaining teams have all played each other this season, including multiple games between the two sets of teams squaring off in Sunday's encounters.
Georgia vs. Washington
1 p.m. ET | ESPN
Pitching: Washington ace Danielle Lawrie rated her outing Thursday against Georgia as a B-minus performance. She allowed six hits, two extra-base hits, and walked two in seven innings, which, given Georgia's talents, is a harsh enough grading scale to make even MIT professors blush. That said, whether she's at a B-minus or an A-plus, as she was against Arizona State on Friday, the Huskies have as decisive an edge in the circle against Georgia as a team is going to have at this point of the season.
Coming off a day of rest (and just 85 pitches Thursday), Lawrie will face either Christie Hamilton, who had to throw 13 innings Saturday, or Sarah McCloud. The Bulldogs would have to win two games to advance to the championship series, so it's possible coach Lu Harris-Champer might start McCloud in the first game and hope she can afford Hamilton a few more hours of rest. More likely, they hope Hamilton can get by one more time on guile and cross the bridge of the second game later.
Both Bulldogs pitchers fared well against Washington earlier this season, albeit facing a lineup that didn't include Jenn Salling, and Hamilton held her own Thursday until a home run from Washington freshman Niki Williams. McCloud threw a three-hit shutout to beat the Huskies on March 8 in Tuscaloosa, Ala., but she's been shaky in her past two outings, as the starter here against Arizona State and in the super-regional clincher against Ohio State.
Hitting: Georgia showed Saturday how dangerous it can be at the plate, getting five home runs from four players in two games. Alisa Goler and Taylor Schlopy aren't overmatched against any pitcher in the country, including Lawrie, and their presence buys other hitters good pitches (although for what it's worth, the two combined to go 3-for-16 against Washington's ace in the first three games between the teams). For its part, Washington has gotten key hits from people outside the top four of Ashley Charters, Kimi Pohlman, Salling and Lawrie. When that happens, the Huskies go from merely a good enough offense to support their ace to a good offense in their own right.
Fielding: It's a windy morning in Oklahoma City, and the samba the flags are doing suggests it's not a consistent breeze. That may well die down before the game starts, but if not, fly balls could be an adventure. On the infield, both teams have the potential to be spectacular, but both also rely on the excellence of their infielders. One mistake could upset a delicate balance for either.
Player to watch: Kristin Schnake
She's the emotional heartbeat of the Bulldogs, but perhaps more important from a strategic standpoint, she's the only Georgia player to get at least one hit off Lawrie in all three games between the teams this season. Wedged between Schlopy in the leadoff spot and Goler in the No. 3 hole, Schnake is going to have to see pitches to hit.
May, 30, 2009
05/30/09
6:16
PM ET
Georgia's Christie Hamilton was called for an illegal pitch in the second inning of Saturday's game against Missouri. A right-handed pitcher who lines up at the far right edge of the pitching rubber, Hamilton uses the full width of the pitching lane (marked by two parallel white lines extending from each edge of the rubber) to get extra leverage on her pitches, landing at the left edge of the rubber when she releases the ball.
Speaking to a pool reporter from the AP after the game, Dee Abrahamson, the NCAA softball secretary rules editor, addressed the subject.
"The rule has been, for a long time, that the pitcher has to step toward the plate," Abrahamson said. "We really haven't changed the rule; what we did was added the lines to the pitching lane. These help remind the pitcher of where they are supposed to be and also assist umpires in making the call. It's more of a learning tool than anything else because it hasn't changed the way they pitch. They're supposed to stride forward. By putting those lines in, they need to stride that way. Some part of their foot has to be on or behind the line. No part of their foot can be completely outside the line."
Abrahamson said she felt the rule was properly enforced in the game.
May, 30, 2009
05/30/09
6:06
PM ET
Michigan vs. Georgia
7 p.m. ET | ESPN, ESPN360
It doesn't hurt to have two pitchers if you're going to make your way out of the losers' bracket. Georgia got the game it needed out of ace Christie Hamilton against Missouri on Saturday afternoon, and odds are that means it's Sarah McCloud's turn to try to keep the season going in an elimination game against Michigan in the nightcap.
A sophomore who is 17-2 with a 2.62 ERA, McCloud is as much of a contact pitcher as there is in the World Series field; she strikes out just 3.2 batters per seven innings (no power pitcher herself, Hamilton still strikes out 5.4 batters per seven innings). That's going to put the pressure on a very good Georgia defense to continue making plays against a Michigan lineup that puts the ball in play -- striking out fewer times per game than any team in the Big Ten.
Michigan coach Carol Hutchins again has a choice of her own at pitcher, but history (and a chance to go lefty-lefty against Georgia slugger Alisa Goler) points to Nikki Nemitz getting the ball. Both Jordan Taylor and Nemitz pitched well against Florida on Friday night, so there's no obvious reason to skip Nemitz in what has been a pretty consistent every-other-game rotation.
The only potentially worrisome factor might be the success Georgia had in the regionals against North Carolina's Danielle Spaulding, another lefty with a good rise ball. The Bulldogs got to her for seven hits and four earned runs on Spaulding's home field on May 16.
Player to Watch: Alisa Goler
The standout sophomore walked and drove in a run against Missouri, but she's still looking for her first World Series hit. The Bulldogs have a dangerous lineup from top to bottom, but unless McCloud comes up with the game of her life, it's probably going to take three or four runs to win. And those are going to be difficult to get if the team's best hitter, and one of the best in the nation, is silent.
May, 30, 2009
05/30/09
5:56
PM ET
OKLAHOMA CITY -- The team buses all come and go the same way at the complex that house Hall of Fame Stadium, but not all exits from the World Series are created equal. And so while Missouri's stay here this week bordered on stormy, the Tigers have at least a couple of potential routes to travel after bowing out of their first Women's College World Series in 15 years.
For now, the team's stay in the World Series may be primarily remembered for coach Ehren Earleywine's displeasure. After the team's opening loss against Arizona State, he voiced his displeasure about an infield he felt was unduly hard, to the detriment of his fielders against the Sun Devils' slap hitters. After Saturday's 5-2 loss against Georgia in an elimination game, illegal pitches were the focus of the discussion (although in this instance, Earleywine was more witness than prosecutor in answering postgame questions about his conversations early in the game with umpire Sally Walker).
But at some point in the next few weeks, the story will shift to how Missouri reached the World Series and whether or not it is positioned to make the trip a regular occurrence.
Many tackle the question; few come up with an answer.
For perennial participants along the lines of Alabama, Arizona or UCLA, an early World Series exit need not be a program-defining moment. But for many more programs, it does often represent a quiet end to the high-water mark for at least a few cycles of recruiting classes.
Many of those are teams that ride the momentum of a senior ace. Think Virginia Tech with Angela Tincher last year, Baylor with Lisa Ferguson in 2007 or Oregon State with Brianne McGowan in 2006. No matter how many other players return the next season for those programs, getting back to the World Series comes down to an ability to reload in the circle.
Oregon State is still searching for another ace in that mold, and Virginia Tech struggled this season without one. After an initial dip last season, Baylor took a step toward solidifying its place in the upper class when it landed freshman pitcher Whitney Canion and returned to a super regional this season.
But with Chelsea Thomas back for three more seasons, Missouri is in a different situation. No matter what befell her in Oklahoma City, Thomas has a chance to be the kind of pitcher who makes a team a contender every season.
"As long as she'll stay to the plan and be open-minded, she could end up being one of the best to have ever thrown because she does throw so hard," Earleywine said earlier this week.
And in paying tribute after Saturday's loss to the seniors he inherited three years ago, Earleywine simultaneously hinted at a confidence that he will surround Thomas with more and more pieces.
"We're playing with a lot of girls that weren't recruited by too many schools," Earleywine said. "I'm proud of the job that they have done. No one would really expect a group of kids that weren't recruited like they weren't to be able to make it this far. We had a great season. We recorded the most wins in Missouri softball history and made it to the World Series for the first time in 15 years."
That sounded a lot like Arizona State coach Clint Myers, who after his team lost its first two games in Oklahoma City in 2007 made clear that the returning players would need to learn from that feeling -- because there were new players coming in to push them. New and old celebrated a title last season.
Whether or not Earleywine's returning players -- and seven players who started against Georgia will be back next season -- make the same progress that Sun Devils such as Kristen Miller, Mindy Cowles and Rhiannon Baca made will go a long way to determining if Missouri's two-and-done this week is a one-and-done for the program as a championship contender.
And if Earleywine gets a chance for a slightly less combative trip to the big stage.
May, 30, 2009
05/30/09
1:32
AM ET
OKLAHOMA CITY -- It doesn't take long for the endless optimism of the opening ceremonies to transform into cold reality at the Women's College World Series. Tuesday night, fireworks greeted eight teams dreaming of a championship. By the end of the day Saturday (weather permitting), only half that number will remain in Oklahoma City.
Elimination day gets underway with two win-or-else games Saturday afternoon.
Missouri vs. No. 6 Georgia (ESPN/ESPN360, noon ET)
The Bulldogs have shown surprising resiliency for a team that's composed almost entirely of underclassmen playing for a program with a mixed postseason pedigree.
They dropped a 2-0 decision against Washington on March 7 and bounced back to run-rule Baylor later that day and exact revenge on the Huskies the next day. They dropped both games of a doubleheader against Florida on March 11 to open conference play in the SEC and bounced back to beat LSU three days later. They were swept in a three-game series at Alabama in early April, the last two by a combined three runs, and came back to beat Georgia Tech three days later.
And they trailed in both games of a super regional against Ohio State, only to rally for wins both times.
So bouncing back from a 3-1 loss against Washington in the opening game of the Women's College World Series on Thursday doesn't exactly shape up as an impossible challenge.
Senior Christie Hamilton and sophomore Sarah McCloud have alternated starts to this point in the postseason. But playing for the first time with a full day off between games, it will be interesting to see if coach Lu Harris-Champer puts her team's fate in the hands of the senior.
There are some notable similarities between Missouri and both North Carolina and Ohio State, earlier conquests for the Bulldogs -- all three teams led their respective leagues in walks and have lineups with several power threats.
Ironically, given the coach Ehren Earleywine's complaints about a hard field after his team's loss against Arizona State on Thursday, the biggest difference may be Missouri's ability to get things going with its running game. That should set up a nice battle between the Tigers, with speedsters such as Rhea Taylor, and a Georgia team that led the SEC in fewest sacrifices against and ranked second in fewest stolen bases against.
No. 9 Arizona vs. No. 4 Alabama ( ESPN/ESPN360, 2 p.m. ET)
For a team that would love to escape its World Series history, Alabama faces a very familiar challenge in Saturday's elimination game against Arizona. It's the second year in a row the two teams have met following disappointing opening-day setbacks.
Pitching decisions will be one of the stories leading into the game. Arizona coach Mike Candrea went with Lindsey Sisk in Thursday's game against Florida, bypassing de facto top choice Sarah Akamine in hopes of confounding the Gators and riding the momentum of Sisk's surprising performance in a super regional finale against Stanford. Neither angle proved successful, as the Gators hit two early home runs before Akamine came in and threw five-plus inning of shutout relief (then again, if Candrea hadn't played his gut by turning to Sisk against Stanford, his team might not have been in Oklahoma City at all).
Presumably Akamine will get the start this time, but it's conceivable that her control (132 strikeouts, 33 walks in 182.1 innings) may work to her detriment against an Alabama team that should be aggressive after an off day to digest missed opportunities.
Alabama coach Pat Murphy faces a quandary of his own, choosing between Dunne and Charlotte Morgan. One year ago, Dunne walked eight and hit three batters in an opening loss against Arizona State but got the ball two days later against Arizona. The Wildcats managed just five hits against Dunne that day, including a collective 0-for-8 from K'Lee Arredondo, Jenae Leles, Sam Banister and Lauren Schutzler (Brittany Lastrapes and Stacie Chambers did manage singles).
But after another game in which Dunne struggled to adapt to an uninviting strike zone, and knowing it's going to take two wins Saturday regardless, might Murphy turn things over to Morgan against a Wildcats team that can turn two walks into a three-run home run more easily than any other team?
May, 23, 2009
05/23/09
4:00
PM ET
Georgia's offense lived up to the advance billing in rallying past Ohio State twice in the Athens super regional with the kind of big innings teams can string together with a lineup that collectively slugs close to .600 with an on-base percentage better than .400. But it wasn't the most impressive part of the team's repertoire against the Buckeyes.
Not when Alisa Goler times a leap perfectly, grabs a high infield chopper at its peak and throws to first in one smooth motion to beat a speedy runner by half a step.
Not when Megan Wiggins charges a flare to short left and makes a diving, sprawling catch -- one that wasn't necessitated, as is so often the case, by a poor route to the ball.
Not when Kristin Schnake all but throws up barbed wire and sentry posts to keep any ball hit on the ground in about a 45-degree range from getting through the infield.
The Bulldogs are headed to Oklahoma City for the first time because they can hit, but also because even without a pitching ace, they make it difficult for opponents to hit.
Georgia didn't commit an error in two games against Ohio State. It didn't commit an error in three games in the Chapel Hill regional. It's no coincidence that North Carolina and Ohio State, two teams with the kind of raw talent that seemed to make them even matches for Georgia, combined for seven errors in four losses the past two weeks.
The No. 6 seed has committed just 28 errors in more than 340 innings this season, earning a .980 fielding percentage, which leads the nation.
But even that ranking doesn't do this defense complete justice. It's not just leading the nation; it's lapping the field.
Defensive efficiency, as explained by Baseball Prospectus, is "the rate at which balls put into play are converted into outs by a team's defense." In approximated form, it's essentially the flip side of batting average on balls in play.
Fielding percentage is a measure of how effectively a team handles the balls it reaches. That's useful, but a sure-handed team with great range is more valuable than a sure-handed team with average range.
Georgia's sure hands come with the range of a camel crossing the desert.
And behind a pitching staff that simply doesn't strike out batters at anything close to a high rate, it's a defense that is phenomenal at getting to balls and turning them into outs.
In the last statistical release from the NCAA, the top 10 in fielding percentage were separated by almost nothing (Georgia led at .979, while Creighton rounded out the top 10 at .975). But consider the defensive efficiency ratings for those same teams.
1. Georgia: .789
2. UCLA: .778
3. Florida: .773
4. Tennessee: .752
5. East Carolina: .754
6. Mississippi State: .703
7. Georgia Tech: .748
8. North Dakota State: .745
9. Baylor: .703
10. Creighton: .769
If you want to get to the World Series with a pitching staff that will arrive in Oklahoma City with fewer combined strikeouts than most of the aces from the other teams, it helps to have hitters like Alisa Goler, Taylor Schlopy, Megan Wiggins and Kristin Schnake. It also helps to have fielders like them.