Category archive:

Notre Dame Fighting Irish
December, 6, 2010
12/06/10
3:21
PM ET
Editor's note: ESPNU.com got inside access to the women's College Cup. Follow us on Twitter (@ESPNUcom) and on Facebook. Ellin Bartindale is a junior defender for Notre Dame.
[+] Enlarge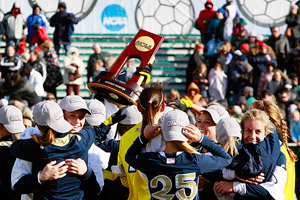 (AP Photo/Gerry BroomeNotre Dame's third national championship was especially sweet.
Never have 25 minutes gone so slowly, but now we are on the last 30 seconds. We actually did it. 25 seconds. It is really happening. 20 seconds. My hands are numb. 15 seconds. I am jumping up and down and STARING that clock down. 10 seconds. I make eye contact with Haley [Chamberlain]. We did it. 9, 8, 7. We are all jumping forward. 6, 5, 4. We are on the field at this point, as Rose [Augustin] juggles the ball while the final whistle blows. I am in a mad sprint onto the field. My teammates are all jumping and screaming in the middle of the field hugging each other. It is craziness as I try and wrap my mind around this. We did it. This moment that I have dreamed about my entire life has happened. Those legends, the 1995 and 2004 teams, which we idolize on the walls of our locker room and hear about from Coach [Randy Waldrum] are now my peers.
Championship T-shirts are handed out. The ones that we watched North Carolina put on last year, and now they are ours. The euphoria overtakes us and it is all a blur.
How to convey the feelings of the last few weeks in a few paragraphs? Perhaps I can share moments … moments remembered like a dream … moments that add up to a season and culminating victory that I will never forget.
The home wins against to-40 ranked teams like New Mexico and USC … so sweet to beat the Trojans the week before the football team did. Going to North Carolina, our nemesis, our archrival. Coming away with a convincing victory in their house, yet Coach [Anson] Dorrance's final gracious gesture to me and my teammates was as kind as it was unexpected. Going out to Stillwater for Thanksgiving.
And then the Final Four … and we were in the unfamiliar role of underdogs. Coach prepared us perfectly for each match building us up against UNC and Stanford, making sure we didn't take the OSUs (Oklahoma and Ohio) too lightly. That Saturday before the finals there were signs in the air, signs of victory if one were watching. The local church was Sacred Heart just like the Basilica at home. The ceiling filled with gold stars like the basilica, but the sky was Carolina blue rather than navy. But Carolina was not there. The uncharacteristic Irish snowfall that blanketed the ground.
And it was game time and the team played flawlessly. First to every ball, unselfish and controlling, playing the beautiful game. But an incredible goalie stood in our way until the 63rd minute when she couldn't stop yet another shot. She did turned away two more after the goal, but our defense was solid as usual. We were the national champions. [University President] Father [John] Jenkins was there and prayed a prayer of Thanksgiving afterward. [Athletics Director Jack] Swarbrick phoned back to South Bend to tell them to turn on the lighted No. 1 on top of Grace Hall so it will greet us when we return. Hearing Jess [Schuveiller] tell us that the victory was everyone's, that players that play 90 minutes and those that don't play any. The look on Coach's face after we won.
The first two National Championship teams are legends to us. They are talked about all the time and their photos adorn the wall in our beautiful new Alumni Stadium. We will join their ranks. We will never forget today. Thank you, Notre Dame Our Mother.
December, 5, 2010
12/05/10
4:36
PM ET
Editor's note: ESPNU.com got inside access to the women's College Cup. Follow us on Twitter (@ESPNUcom) and on Facebook.
An unexpected visitor arrived in Cary, N.C. yesterday afternoon as almost half an inch of snow covered the soccer fields of the WakeMed Soccer Park. For the Stanford women's team, the precipitation was a fun and welcomed surprise. Taking a break from both the rigors of preparing to play in the national championship today against Notre Dame as well as studying for final exams, which will begin for the Cardinal players tomorrow, they hit the snow. Junior midfielder Kristy Zurmuhlen was crowned 'best snow angel,' after her creation even included a halo. The New Hampshire native might've had an advantage, given her roots. The women conducted impromptu snowball fights, laughing and relishing in the realization of an undefeated (thus far) season.
Meanwhile, the Notre Dame Fighting Irish found their own ways to relax before the title game, listening to some of their favorite team tunes (popular numbers from the hit TV show "Glee") and enjoying some down time. As noted by their media relations staff, they spent a good deal of the day resting and focusing on the one game left. As Notre Dame junior Ellen Bartindale told us yesterday in her blog for ESPN.com, "When we began our journey to the College Cup back in November, Coach told us, "Six games. Six games and you've won a national championship … we are now going to the national championship."
Both teams have had their share of experiences in arriving to the College Cup, from Stanford's airline travel delays on Tuesday evening to Notre Dame's arrival in three different groups. They've also both had to spend a good deal of their non-playing time hitting the books, as Stanford's finals commence upon their return home. Win or lose, both schools remind that their educations are the primary focus, though admit that it's sometimes hard to focus on studying given the exciting distractions of sport.
Notre Dame head coach Randy Waldrum has Tweeted throughout the week about the joyful experiences in Cary and the Fighting Irish family that has followed them here. As Bartindale noted, a crowd of Notre Dame alumni organized a congratulatory dinner and gathering for the team on Friday night at a local restaurant, giving the squad a feel of 'home' even when they're far away.
Family has been ever-present as well, such as our interview with Fighting Irish junior Melissa Henderson's proud mother on Friday night. And though Stanford's campus may be over 2,000 miles away, family and friends arrived to cheer the undefeated, No. 1-ranked team. After Friday night's victory, Christen Press had her parents, sisters, aunts, uncles and cousins surrounding her post-game. As the media relations staff tried to encourage her toward the press conference, her own cousins asked for her autograph. One boy cousin, about 10 years old, even asked her to sign his forehead. Press refused, probably on account of his parent's eventual disproval, but the star player did note that her cousin was yelling for her the WHOLE game -- and probably annoyed the other fans around her.
December, 5, 2010
12/05/10
3:16
PM ET
December, 4, 2010
12/04/10
4:49
PM ET
Editor's note: ESPNU.com is taking you inside the women's College Cup. Follow us on Twitter (@ESPNUcom) and on Facebook. Ellin Bartindale is a junior defender for Notre Dame.
We did it. Step 5 of 6. As soon as that final whistle blew it was a feeling of joy mixed with relief. I knew we were going to do it, but it was still such a rush to know we are now going to the National Championship. When we began our journey to the College Cup back in November, Coach told us, "Six games. Six games and you've won a national championship." And now we can cross one more off the list!
After the game and the celebration with each other and our parents, we walked into Biaggi's. The local Notre Dame Alumi Club put together an incredible meal for us and we walked in to a round of applause. We sat among family and friends and watched the BC/Stanford game to see who we would face on Sunday. It was a great atmosphere and great food after a great win. I left with my parents to get ice cream, and when I returned to the hotel I walked to the elevator and a team of 15-year-olds saw my jersey and congratulated me. I remember when I was one of those 15-year-olds, dreaming to play in the College Cup, and I realize how lucky I am.
When I was a freshman, the traditional lighted #1 sat atop Grace Hall (on the Notre Dame campus) for 15 weeks indicating our #1 ranking. I remember seeing it on my walk back from the library and swelling with pride to know it was for us. I long to see that #1 on top of Grace Hall again when I return.
One more game. I have never had so much faith and so much trust in the girls and coaches that are my family.
December, 3, 2010
12/03/10
8:04
PM ET
Editor's note: ESPNU.com is taking you inside the women's College Cup. Follow us on Twitter (@ESPNUcom) and on Facebook.
Notre Dame freshman Mandy Laddish, who scored the only goal in the Fighting Irish's 1-0 semifinal victory, recaps her game-winning goal and tells us the favored locker room music and pregame meals for her squad.
May, 31, 2010
05/31/10
6:06
PM ET
Thanks to C.J. Costabile's fast-break goal five seconds into the first overtime period, Duke claimed its first NCAA championship, and became just the eighth men's lacrosse champion in modern history. A few thoughts on the game:
How the game was won:
By not giving up. Both teams had to deal with the heat, and Notre Dame forced Duke to play at a much slower pace that it's used to. But the Blue Devils stuck to their game plan and were able to take advantage of an opportunity in overtime to win the game.
Unsung hero:
I hope Duke's Steve Schoeffel, a senior midfielder, does not get overlooked. He was an absolute stud today, when many of the players on the field looked slow and a bit tired after the quick turnaround from Saturday's semifinal. The Charlottesville, Va., native is always hustling and never makes dumb plays. He was the difference in this game.
Player of the game:
Notre Dame goalie Scott Rodgers might deserve the MVP trophy even in a loss. He was the reason the Irish were able to make it to overtime. However, let's give it to Costabile -- not only for the game-winning goal, but for hopping up and providing a great battle at the X.
Final thoughts:
I was not a fan of the game from top to bottom. I like fast-paced, quality lacrosse. This was quality lacrosse, but just not my speed. Notre Dame's defense should hold its head high -- shutting down Duke's prolific duo of Ned Crotty and Max Quinzani (both held scoreless, one assist each) to the point that they were visibly frustrated is a tough task. Congrats to Duke and coach John Danowski for finding a way to win.
Brett Hughes is a former Virginia All-American, Major League Lacrosse All-Star and current LXM pro player, as well as the co-founder and vice president of Lacrosse the Nations. You can check out the group's work here.
May, 29, 2010
05/29/10
7:29
PM ET
Notre Dame advanced to its first NCAA final with a 12-7 win against No. 7 seed Cornell. A quick look at how the Irish pulled off the upset:
How the game was won:
The game was won in the goal by Notre Dame. Irish goalkeeper Scott Rodgers was simply the man. Cornell could not get inside on the Irish. The Big Red started second-guessing shots and were never able to get into a groove.
Turning point:
When Cornell cut it to two goals before the half, I thought we'd see a game, but Notre Dame came out in the third quarter fired up and reclaimed the momentum early.
Unsung hero:
Notre Dame's defense pulled together and kept Cornell star Rob Pannell from playing his game. That was a team effort, and while Rodgers gets a ton of credit, those boys shook up the Cornell offense as a unit.
Player of the game:
I'll say it again -- Scott Rodgers came up huge Saturday. He will need to continue his hot play Monday, as Virginia or Duke will put the heat on!
Brett Hughes is a former Virginia All-American, Major League Lacrosse All-Star and current LXM pro player, as well as the co-founder and vice president of Lacrosse the Nations. You can check out the group's work here.
December, 5, 2009
12/05/09
7:30
PM ET
COLLEGE STATION, Texas -- In September, when North Carolina and Notre Dame met for the first time, I asked Tar Heels freshman Lucy Bronze about the biggest differences between women's soccer here and in her native England.
"In America, it's a lot more intense and everyone's more up for it," Bronze said on Sept. 4 after playing 33 uneventful minutes off the bench in a 6-0 win. "Whereas in England, it's a lot harder to train because of money and facilities and stuff. Whereas everyone in America supports the soccer teams, so you've got more facilities, more time, lots of things English teams don't have."
[+] Enlarge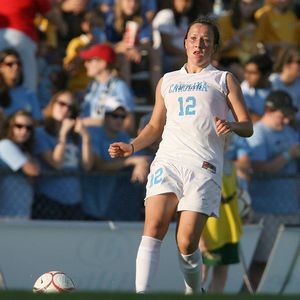 Andy Mead/YCJ/Icon SMILucy Bronze's training in England gave her different strengths than most of her teammates.
The intensity was on full display Friday night in the national semifinal rematch, as were the instincts of a player raised in a soccer culture that American training regimens have not yet duplicated. In UNC's 1-0 victory, Bronze's beautiful run down the right side, fed by Tobin Heath, set up Casey Nogueira's winning goal in the final 10 minutes.
After the game, UNC coach Anson Dorrance said the Tar Heels originally recruited Bronze, who attended camps in Chapel Hill from the time she was 12 years old, to play defense and warned her that meant she'd see little time behind a veteran back line this season. But with Nikki Washington's season-ending injury, Bronze began getting time in the midfield. Her three NCAA tournament goals before Friday's assist demonstrate a decided knack for the big stage.
"But the interesting thing that Lucy gives us out there, and we keep nagging our girls about, is if we can get the kids in this country to watch the [English Premier League], more of the highest level of the game on a regular basis, they're going to gain a polish and sophistication that just playing the game will never give you," Dorrance said. "The thing that Lucy Bronze has -- she's not the most athletic player on the field, she's not the strongest, she's not the most skillful, but she has a savvy that she has because she's just brought up watching the EPL."
Despite drawing a pair of Fighting Irish defenders on her late run, Bronze still managed to get the ball to the end line and deliver a perfect cross to Nogueira in front of goal.
"It wasn't like she sprinted by her -- the defender stepped and she could sense the defender's momentum was moving toward her and then she touched it by her," Dorrance said. "I mean, that's an elite move. And then she just, again, she didn't run away from the girl that was tracking her; she just kept touching it, touching it, touching it.
"We took a lot of shots in that game and we couldn't score, but she made sure the pass that she gave gave us a shot inside four yards with the goalkeeper eliminated."
• North Carolina's famous three-player back line will get as stiff a test from Stanford forwards Kelley O'Hara, Christen Press and Lindsay Taylor in Sunday's championship game (ESPN2, ESPN360.com at 1 p.m. ET). Dorrance's defense relies on pressure up front and three players, plus keeper Ashlyn Harris, to breach whatever leaks develop in the channels sometimes available without a fourth defender.
Dorrance is a leading proponent of teams' playing with three forwards in the women's game, even if it's in a 4-3-3 formation like Stanford's that still offers a more traditional back line. All the while, he knows it could come back to bite him.
Whether or not that's the case Sunday will hinge on Whitney Engen, Rachel Givan, Kristi Eveland and Harris.
"The majority of losses we have in our history have been against three-fronts," Dorrance said. "And certainly the three-front that Stanford's going to throw at us, with pace and skill at all three positions is going to present a wonderful challenge.
"But you know, this isn't life or death for me or the girls. This is a sport. It's going to be a spectacle. There's going to be a lot of attacking, and I think that's what our game needs."
December, 5, 2009
12/05/09
12:46
AM ET
COLLEGE STATION, Texas -- Notre Dame reached the College Cup in each of the past four seasons. Four times coach Randy Waldrum looked to follow up on the national championship he won in 2004 and thereby lift the Fighting Irish to a place only one program has ever gone in winning more than two national titles.
All four times the Fighting Irish came up short. Three times Waldrum came up against that aforementioned program. And all three times North Carolina came away with one-goal wins, the most recent was Friday's 1-0 semifinal result.
[+] Enlarge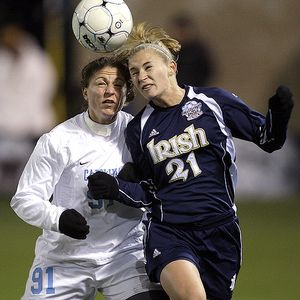 AP Photo/Bob Levey Notre Dame fought but couldn't pull off a win against North Carolina in the College Cup on Friday.
Since 2006, Notre Dame is 2-1 against North Carolina in settings other than the College Cup. It is 0-3 over that same span in that most meaningful setting.
In truth, this was never going to be the year the Fighting Irish solved their College Cup jinx against the Tar Heels. Waldrum's team is young, and if the early-season 6-0 home loss against North Carolina was a misleading score, it wasn't by much. Getting the pieces to match the puzzle well enough to make a fourth consecutive trip here was an accomplishment of its own, and arguably Waldrum's best coaching job in South Bend.
And he wasn't beating around the bush about the would-have-been or could-have-been aspects of a semifinal that remained scoreless until the final minutes.
"They deserved to win tonight," Waldrum said of the Tar Heels in a refrain he reiterated with some feeling more than once. "They were clearly the better team tonight."
Waldrum also went on to say that North Carolina remains the standard every program is trying to reach. But that's not quite the same thing as saying his program should be judged against the standard of North Carolina's entire history. The three one-goal losses in the past four years are distinct from all the titles North Carolina won before.
"I don't want you guys to write this in a negative way because it's not negative, but I'm not sure there's not a lot of other teams in the country now that are equally as good," Waldrum said of the North Carolina program. "I think you've got to look to look at Carolina in the first 20, 25 years of what they've done, and I think you look at Carolina in the last 10 years -- or five or six years or whatever the case may be -- and I think you've got a lot of teams that can boast of a lot of success against them in the last few years.
"They're always going to be good; they're always going to win and compete for national championships. But I think there's a lot of good programs in the country, and because of their history, we'll always -- everybody will always be kind of judged against that."
But in Waldrum's eyes, the gap has closed to the point where North Carolina's history -- ancient and more modern -- doesn't necessarily offer a road map for a future that begins next season with a team loaded with returning talent.
"I thought then, in the early years I was [at Notre Dame], back in the late '90s and the early 2000s, I thought they were clearly better," Waldrum said. "I just thought the gap was still pretty large. We didn't have the depth to compete with them. I thought we had probably, you know, 11, 12 players that could compete. But if it had to go deeper -- which you have to go deeper against Carolina because they use so many different players -- I felt the gap was a lot larger then.
"But I think our history has been great with them the last -- probably since about 2006. I think our kids at that point have realized that they can compete with them."
December, 3, 2009
12/03/09
9:09
PM ET
COLLEGE STATION, Texas -- By the time Notre Dame took the field for the fourth and final practice Thursday at the Aggie Soccer Complex, the wind had calmed and the sun had turned its unfettered access to the sky into something approximating warmth.
Hopefully all involved enjoyed it while it lasted.
Friday's forecast in College Station calls for temperatures never reaching 40 degrees, with a strong possibility of snow showers and sleet in the afternoon (clearing by about the time of the second women's national semifinal, between North Carolina and Notre Dame).
During the morning's chilly but dry proceedings, UCLA coach Jillian Ellis joked about her team packing its thermals for this trip. Stanford's Ali Riley gave thanks for the warmth of the interview room and teammate Kelley O'Hara plopped down on the carpet to stretch, rather than venture outside.
But comedic overtones aside, the weather could be the only new entrant in the Women's College Cup this year (although it was getting close to frigid in Cary, N.C., last year, it was at least dry). As she guided her team through some light work on the field, Ellis warned that certain passes that might otherwise be delivered aerially would have to be made on the ground with force if the field was slick.
It's one intriguing variable for coaches who know each other extremely well.
"If its incredibly slick, you've got to be a bit more conservative in your supporting distance," North Carolina coach Anson Dorrance explained. "You've got to be a bit more conservative in the goal, you've got to be a bit more careful basically clearing the ball. So all the elements of a slick surface are brought to bear. … I think there are going to be some adjustments being made based on the conditions on Friday."
And at least one team might not even mind a little taste of home-field advantage.
"Come on snow; bring the snow," Notre Dame coach Randy Waldrum deadpanned. "Just pound us tomorrow; we're OK with that, absolutely."
• North Carolina didn't maintain dominant form in those early wins against UCLA and Notre Dame -- but considering who the Tar Heels played without, the relative ease with which they still made it to yet another College Cup may be more impressive.
A player who Dorrance has repeatedly called one of the best leaders he's ever had -- a bold suggestion he reiterated Thursday -- Ali Hawkins is almost as a good a talent as a leader. She missed the team's regular-season finale, three games in the ACC tournament and the first three rounds of the NCAA tournament with a sprained knee but returned to play 28 minutes off the bench against Wake Forest last weekend.
"If the season were a couple of weeks longer, I think we'd get her back to 100 percent," Dorrance said. "But she did some great things in practice this week.
"It's really interesting -- I've been using her as a role model for our focus and finishing. She's just a very focused individual."
• Stanford coach Paul Ratcliffe is a man of few words.
It could be said that he makes Bill Belichick look loquacious.
It could be said he make haikus look longwinded.
You get the picture. This is the entirety of his opening statement Thursday.
"We're excited to be back to the final four, and we're looking forward to strong competition."
Fascinating. But Ratcliffe, who is generally no more forthcoming with praise, made a rather bold statement -- briefly, of course -- by saying senior Kelley O'Hara is the best player in women's college soccer at the moment. By his standards, it was a stunner.
O'Hara's reaction to the effusive (and accurate) plaudits? She said she gave him five dollars before they got to the podium to say something nice about her.