WVU's second-ever win against Cavs no surprise
September, 22, 2008
09/22/08
10:26
AM ET
MORGANTOWN, W.Va. -- No. 14 West Virginia 3, No. 7 Virginia 0 Goals: Megan Mischler (2nd minute); Blake Miller (72nd minute); Mischler (84th minute). In honor of Yogi Berra on the final day of play at Yankee Stadium, the biggest surprise about West Virginia beating Virginia might be that it wasn't much of a surprise at all.
[+] Enlarge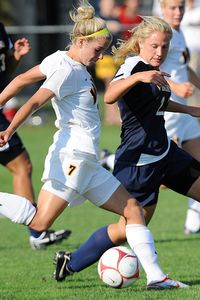 All-Pro Photography/Dale SparksSophomore Megan Mischler netted two of West Virginia's three goals during the Mountaineers' shutout of Virginia on Sunday.
Granted, Sunday's win was just the Mountaineers' second against Virginia since they began playing the Cavaliers in 2001 (with a few postseason games thrown in the mix, the all-time series now stands at 2-7-1 from West Virginia's perspective). Virginia remains one of just three programs, along with Notre Dame and Connecticut, against whom West Virginia is more than two games under .500 all-time. And when sophomore Megan Mischler poked home a goal from the acutest of angles in the second minute, it marked West Virginia's first lead against its ACC rival in nearly 230 minutes. "Virginia is the standard," West Virginia coach Nikki Izzo-Brown said after her program's third win against a top-10 team. "They're the standard team; they're a top-five team. I have so much respect for Steve Swanson. So for us to beat a team that is coached under Steve, and a team like that, says a lot for me and how proud I am for the team." But in terms of its relevance on the proceedings these days, all of that history seemed about as real as the poor soul dressed in buckskins as the mascot on a hot day in Morgantown. West Virginia, which came as close to beating eventual national champion USC in the quarterfinals last year in Morgantown as any team did in the College Cup, has transformed from a starter program 13 years ago into one of college soccer's constants. That much was evident on a day when the team's biggest question mark entering the season became the spark that torched Virginia's defense to a degree unseen since 2005. Coming off last year's NCAA quarterfinal appearance and Big East tournament title, the Mountaineers had to replace Ashley Banks and Kim Bonilla, both in the program's top eight all-time in goals and assists. Even with Deana Everrett, who earlier this season passed Banks for third in all-time goals, the top of the lineup was a question mark. And even as the team eased out to a 5-1-2 start against a challenging schedule, the back line and veteran two-way midfield carried much of the weight. After a 3-0 win against Towson in its opener, West Virginia managed just one goal in each of its next six games. But after seven goals this weekend in wins against Virginia and Pittsburgh, including two from Mischler and two from freshman Erica Henderson in her first two starts, the offense seems to be finding its way just fine. "It takes a lot of practice with each other," Mischler said. "These last two against Pitt and Virginia, we really just clicked up top. We're really just learning where each other likes to run and we're making good runs off the ball. So it's just all working." But more than simply finishing goals, West Virginia's front line impressed when it stayed within Izzo-Brown's plan to contain Virginia's Alex Singer and Sarah Senty. Two of the most offensively gifted outside backs in college soccer, they were silenced for much of the day against the Mountaineers, forced to move side to side rather than directly up the sideline when Everrett, Mischler and Henderson diligently checked back defensively. "We knew that they were going to send those wide backs forward, and we knew what kind of role our forwards were going to have," Izzo-Brown said. "They were going to have a more defensive role today than maybe in the past, to just kind of keep us balanced. So all we want to do is keep ourselves balanced, not lose our shape defensively. And I thought our forwards did a great job on both sides of the coin -- obviously scoring three goals but also defending and keeping those backs contained." If football fans in Morgantown these days are wondering just how their program can turn intermittent short-term success into long-term consistency, they might want to glance at what's happening at Dick Dlesk Soccer Stadium. You know, where the coach who turned down Michigan this offseason still walks the sideline.