BC's Cerrone is one aggressive Eagle
October, 3, 2008
10/03/08
9:11
AM ET
BOSTON -- Seeing Miami sophomore Brittney Steinbruch standing noticeably alone and inactive as her teammates went through pregame drills Thursday, I started to question the wisdom of waiting in traffic in Hartford (a city with no end of gridlock despite the fact that there's nowhere worth going) and running the gauntlet of speed traps on the Mass Pike to get to Boston College. Without the chance to see the ACC's leading scorer in action, passing up the couch and the televised showdown between North Carolina and Duke seemed, well, stupid. When Boston College's Caitlin Hiler headed home a rebound in the fifth minute to make it 1-0 (the Eagles would go on to outshoot the Hurricanes 16-1 in the opening 45 minutes and 31-4 for the game), it seemed no wiser. Without Steinbruch, sitting out her second consecutive game with nagging injuries, this wasn't going to be a game for the ages. But by the time the Eagles wrapped up a 4-1 win that wasn't as close as even that margin suggests, Hannah Cerrone had changed my mind. Sometimes you just have to be there.
[+] Enlarge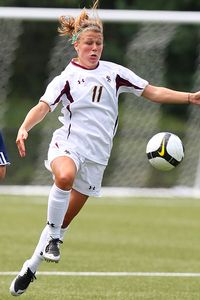 John QuakenbosHannah Cerrone's competitiveness is evident on and off the field.
Cerrone is the kind of player best appreciated from field level. She's a little bit Paul Scholes, a little bit Sean Avery and a little bit nightclub bouncer. She's a pest and a grinder at outside back, but like the best of her brethren, she possesses those traits in addition to, rather than in spite of, significant skill. "Her on-field personality is very similar to her off-field personality; don't ever try to play a game of cards with her," Boston College coach Alison Kulik said. "She's very competitive, so her ability to compete, I think, puts her in a class of her own. She's one of the most competitive kids that I know." When she crashed to the turf after a particularly firm challenge in the first half, nearby teammate Stephanie Wirth couldn't contain a grin and a slight shake of her head as Cerrone stood up and cleared the cobwebs. When she assertively claimed the ball for a throw-in as two Miami players looked on in consternation, you got the feeling that the official probably would have signaled in her team's direction anyway. But only probably. "She hates to get beat, she hates to lose," Kulik continued. "That's, I think, evident to everybody. Sometimes she goes a little over the top with it, and we have to reel her back in, but that's OK. But she's fantastic making forward runs, she can serve a great ball, she can play great balls into the midfield. She's good; she's really good." All in all, it was a strong offensive showing from Boston College, which started the season scoring at an impressive clip but produced just three goals in the four games immediately preceding Thursday's encounter. Kulik said she remained satisfied with the way her team was attacking during those games (a 2-0-2 stretch), but with a crucial game looming Sunday against No. 11 Florida State, Thursday's showing beat the alternative. "I thought we did a great job possessing the ball," Kulik said. "We talked about using our wide channels, and we talked about spreading the field out and getting the ball out to our flanks. And I thought we did that, and then it created some central gaps for us to play in to forwards' feet and created some really good diagonal runs for us." But the box score would have told some of that story. It wouldn't have told Cerrone's story. As it turned out, the drive did provide an opportunity to see one of the ACC's emerging young stars in action.