Slow start leaves Sioux searching for answers
October, 14, 2008
10/14/08
12:38
PM ET
BOSTON -- Raise your hand if you had national No. 5 North Dakota at 0-2 to start the season.
I'll wait. … Anybody? … Didn't think so.
Seeing as though the Sioux hadn't dropped their first two games of a season since 1994-95 (to Northeastern in Grand Forks), it was more than unlikely that Dave Hakstol's club would leave the 12th Annual Ice Breaker Tournament with losses to Boston University and UMass.
[+] Enlarge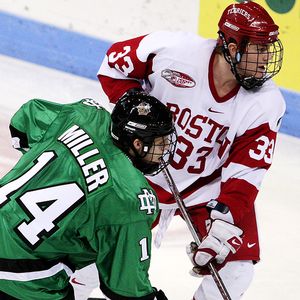 Dominick Reuter/BU AthleticsNorth Dakota's Brad Miller and BU's Colin Wilson match up in the Ice Breaker Tournament on Friday.
But that's exactly what happened after falling 5-1 to the No. 9 Terriers on Friday and then 3-2 to the unranked Minutemen on Saturday at Agganis Arena.
"It's tough to lose two games to start the year, but [Saturday] was a pretty good building block for our team and that's the positive that we'll have to take out of the weekend," North Dakota coach Dave Hakstol said. "I think our team's success is built on work ethic, it's built on character, and these times are no fun to go through, but in the end they're part of the building process."
By all accounts the Sioux were out-everything-ed in Friday's four-goal loss to BU. Saturday was a much better showing as UND was at least competitive despite falling behind 3-1 after two periods.
The biggest problems were the inability to finish (42-16 shot advantage) and the power play. The Sioux were 0-for-12 with the man-advantage for nearly two games until Chris VandeVelde scored to make it 3-2 early in the third. For the weekend, UND went 1-for-14 on the power play.
Despite the slow start, Hakstol's club found one admirer on Saturday -- even if the dozen or so Sioux-jersey-wearing fans didn't have much about which to cheer.
"Once you lose that first game, that second game becomes so pivotal," UMass coach Toot Cahoon said. "You don't want to walk out of here empty-handed. It has implications on all different levels and we wanted some positive feedback.
"[But I noticed] how proud of a program North Dakota is. Two goals down and yet how determined they were in the third period and how much belief they had that if they got that next goal that this game was theirs. Our guys got a chance to observe that and hopefully they'll learn from that -- that's a very proud program and a program that believes that every game, they're going to find a way."
North Dakota found nothing during its road trip to Boston and now must hit the road again this weekend looking to avoid its first four-game losing streak since that same 1994-95 campaign. For you history buffs, that was Dean Blais' first season behind the Sioux bench, and that club finished 18-18-3.
This weekend also marks the opening of WCHA play for UND, which dropped to No. 13 in this week's USA Today/USA Hockey Magazine poll, when it travels to Mankato to face No. 15 Minnesota State for two games. The Mavericks (2-0) opened play with a pair of wins against Bemidji State (5-2 and 4-2).
The biggest question mark for the Sioux -- outside of the early power-play struggles -- would appear to be in goal.
Yes, T.J. Oshie (St. Louis Blues) and Taylor Chorney (Springfield Falcons) bolted early for the pros. And, yes, four seniors from a class that went to four Frozen Fours also left Grand Forks.
Included in that second group was goaltender Jean-Philippe Lamoureux. And the Hobey Baker finalist finished his UND career tied for first in goals against average (2.14) and ranked second in wins (60), save percentage (.920) and shutouts (10).
Filling the pipes this season will be freshman Brad Eidsness (L vs. BU) or senior Aaron Walski (L vs. UMass). The former is a 2007 fifth-round draft pick of the Buffalo Sabres, while the latter had three career games to his credit (1-0, 1.19, .926) prior to Saturday.
I guess that would be part of the "building process" that Hakstol referenced several times before boarding the bus back to the airport. But the WCHA schedule-makers don't exactly account for on-the-job training. After facing Minnesota State, North Dakota opens its home schedule with a weekend set against Wisconsin (Oct. 31-Nov. 1) before making a trip to No. 3-ranked Colorado College (Nov. 7-8).
All of which means 0-2 could turn into oh-no in a hurry.
"It's certainly not by design to come out and lose a couple of games early on," Hakstol said. "But there is a building process that goes on and every team is different. With this team, I think we have the ability to get off to a pretty decent start. You're going to have ups and downs throughout a season and most important is to put together a season that gets you into the national tournament and prepares you to play your best hockey at the end of the year."
Selection Sunday is months away, but double or nothing that North Dakota's name is one of the 16 called on March 22 when the 2009 NCAA tournament field is announced.
Any takers?
Frozen ponderings
• In case you missed it, Boston University (now No. 5 in the poll) won the Ice Breaker thanks to a 3-2 win over No. 11 Michigan State on Saturday night. Named to the 2008 All Ice Breaker team were:
F -- Darcy Zajac, North Dakota
F -- Alex Berry, UMass
F -- Nick Bonino, BU
D -- Jeff Petry, Michigan State
D -- Kevin Shattenkirk, BU
G -- Jeff Lerg, Michigan State
MVP -- Colin Wilson, BU
• Disappointing turnout at Agganis on both days as announced crowds of 3,753 on Friday and 4,207 on Saturday left too many red seats showing. Yes, the ubiquitous Red Sox were playing, but Boston College managed a sellout (7,884) Friday night for its opener against Wisconsin. Yes, there was a national championship banner to raise to the rafters, but most of the Conte Forum seats remained occupied for a very entertaining 5-4 BC win.
• Speaking of the defending champs, senior captain Brock Bradford looked good as he skated right wing on a first line with Joe Whitney and Brian Gibbons. Bradford was limited to just five games after he broke his left humerus twice last season.
• BC coach Jerry York skated four freshmen Friday night. Center Cam Atkinson scored the game-winner on an odd-man rush at 13:30 of the third period. And the first-year player wearing No. 9 at times showed a striking resemblance to Nathan Gerbe as he surged and lurked his way around the ice. It's not fair to compare anyone to Gerbe, let alone a freshman, but left wing Barry Almeida (5-foot-8, 175 pounds) has a lot of speed and is creative with the puck. I'm just saying.
• Wisconsin left its East Coast swing with a pair of losses (to BC on Friday and 5-1 at New Hampshire on Saturday) but the Badgers picked up 120 minutes of experience for its oh-so-young lineup. Against BC, Mike Eaves had a first line that was freshman, freshman, sophomore. And his defensive corps included three freshmen and two sophomores.
• Hockey East went 5-0 against the WCHA last weekend. In addition to the BC, BU and UNH wins, Northeastern beat Alaska-Anchorage 4-2 at the Kendall Hockey Classic.
David Albright covers college sports for ESPN.com. He can be reached at espncaa@gmail.com.