UCLA leaves another College Cup disappointed
December, 6, 2008
12/06/08
8:58
PM ET
CARY, N.C. -- Consider for a moment that the members of the freshman class that will take the field for coach Jill Ellis at UCLA next fall were in the sixth grade the last time the Bruins didn't finish their season in the Women's College Cup.
Whatever else has to be discussed in the wake of a sixth consecutive disappointing conclusion for the Bruins on the college game's biggest stage, the consistency shown in simply getting here year after year provides a remarkable record of achievement in its own right.
[+] Enlarge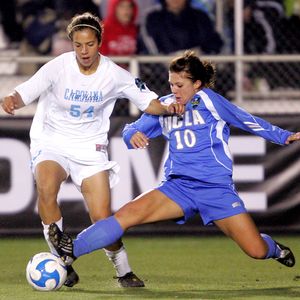 Scott Bales/YCJ/Icon SMI UCLA's Lauren Wilmouth, right, battles North Carolina's Casey Nogueira during Friday's semifinal.
And after a 1-0 semifinal loss Friday to North Carolina and a particularly strong second-half performance in the face of that one-goal deficit, the Bruins had reason to take special pride in this year's performance.
"I think what we always know in the game of soccer is if you're creating the chances, you're in the game," Ellis said after the loss. "I've said that year after year after year. I think that's what continues to motivate me to get back here. Because if you're not coming in here and you're not competing, it's one thing, but I think we competed tonight and we can walk away with our heads held high."
It's not easy for the Bruins to get to the season's final weekend. The NCAA tournament is mostly a regional affair during the first four rounds -- especially during the opening two rounds -- and however nice the weather, Los Angeles isn't a geographically advantageous place to play in that respect. The majority of athletic conferences in the country are east of the Rocky Mountains. Correspondingly, the majority of second-tier NCAA tournament qualifiers come from conferences far removed from UCLA.
When it comes time to fill out a bracket, there simply aren't many minnows to send Westwood's way.
Local competition usually comes from the traditionally powerful West Coast Conference and the Big West, which this season had four teams ranked in the top 100 of the final RPI released by the NCAA. San Diego, UCLA's second round opponent, spent most of the season ranked in the top 20 of every major poll and was No. 23 in the RPI (Notre Dame played No. 36 Michigan State, North Carolina played No. 32 Charlotte and Stanford, facing a complete dearth of local options, played No. 40 Kansas in that round).
All told, North Carolina was the fourth team ranked in the RPI top 25 that UCLA faced in this year's tournament, twice as many as the other semifinalists through five rounds.
None of which is meant to suggest the Bruins are victims; it's the nature of postseason brackets that some roads turn out to be tougher than others. But as is usually the case because of circumstances out of its control, UCLA earned its way here the hard way.
That shouldn't be overlooked, no matter how much attention is paid to another season without a title.
"Well, we wish we would have got one," offered senior Erin Hardy with a poignantly choked laugh after the game. "I think we're just proud that we got here all four years. It's a journey, and it's a hard, long road. And I'm just proud of these girls that we got here all four years. It's special, and I wouldn't trade it."