Softball preseason No. 18: Nevada
January, 13, 2009
01/13/09
10:05
AM ET
Moving on in the softball preseason top 20 to No. 18, a number worn by Boston Red Sox pitcher Daisuke Matsuzaka, whom I'm sure stole the whole "walk three batters to make things interesting and then deftly get out of the jam" routine from former Arizona ace Taryne Mowatt. She worked faster, though.
[+] Enlarge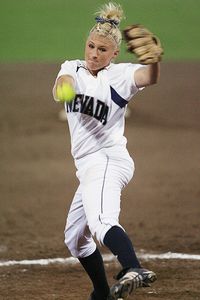 Nevada Media ServicesKatie Holverson should take charge of Nevada's mound.
18. Nevada
Last season: 44-18 (lost to UCLA in Los Angeles regional)
Preseason talking point: If only because of what she had been able to build from the ground up in Reno, it was more than a little surprising to see Michelle Gardner leave Nevada to return to her Big Ten roots by taking over the program at Indiana. For one year, at least, it seems to be no contest which team is poised for bigger things.
Nevada's offense is its calling card after posting a WAC-best .847 OPS last season and returning most of those bats, but it has a pitcher capable of shouldering a heavy load in the circle in Katie Holverson. The diminutive junior routinely punches well beyond her weight class; it doesn't feel like it's really a Kajikawa Classic to me until Holverson stymies Arizona. (And what do you know? Assuming Holverson gets the ball, they could square off for the third year in a row in Tempe on Feb. 7).
Holverson went 22-6 with 219 strikeouts in 207.1 innings last season, and she might have fared better than a 2.26 ERA if not for an eye-popping .294 batting average on balls in play. With a little more help from her defense, Holverson could easily push that ERA under 2.00 this season. (In addition to what a habitually high batting average on balls in play suggests for Holverson and other Nevada pitchers, the Wolf Pack allowed 45 unearned runs last season, compared to 15 for Fresno State and 29 for Hawaii).
One of Gardner's final recruits could be the perfect complement. Nevada might not offer quite the recruiting riches of neighboring Arizona and California, but freshman Mallary Darby looks to represent the very best the state has to offer. A prep standout for four years in Reno, Darby shows the kind of control (10 walks in 96 innings as a senior) that speaks to the mound presence that's often mentioned with her accolades.