Inside a power hitter's head: Katie Cochran
April, 24, 2009
04/24/09
12:59
PM ET
The last words a big hitter wants to hear are: "Ball four, take your base!" However, the better the hitter, the more likely she is to hear those words over and over throughout her career.
For hitters at the collegiate level, it not always easy to stay on top, especially when opposing pitchers continue to pitch around them. This becomes even harder as hitters garner more success. Pitchers get smarter, recruiting gets more in-depth and the good pitches are few and far between.
Arizona State senior Katie Cochran is arguably the most feared hitter in college and rarely sees a good pitch. She was walked intentionally 29 times last season, setting a new NCAA record previously held by Stacey Nuveman (UCLA). This season, she already has been walked 44 times.
[+] Enlarge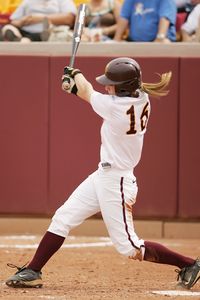 Arizona State UniversityPower hitter Katie Cochran is used to getting to first base -- via walks.
"In four at bats I probably see two or three pitches that are really good to hit," Cochran said. "I might see four of five decent pitches tops."
With those odds, it is amazing that Cochran has found success. Despite the walks, she still managed to hit .439 with 14 home runs and 51 RBIs in 2008. This season, she has an impressive .458 batting average. Needless to say, Cochran is not affected by the lack of good pitches.
"It is not really frustrating for me because I know when I get on, my teammates will score me," Cochran said. ""Instead of driving people in, I'll just score a lot of runs. That's the way I look at it."
When a batter sees minimal pitches in the zone, it can be difficult to stay sharp. Cochran battles this by working harder off the field.
"Basically, I ask my teammates during the games what pitches [the opposing pitcher] is throwing, what is working for her and what's not," Cochran said. "Even when a pitcher is pitching around me, I'm still getting my timing down, tracking the ball and timing the pitcher's rhythm, staying prepared. That way, I'm ready for the pitch when she throws me a good one."
Unfortunately for her opponents, when a pitcher does throw her a good one, Cochran almost always takes advantage of that mistake. However, she admits that waiting for that perfect pitch is the hardest part of her game.
"With great pitchers, most of the time they only give you one good pitch," she said. "The hardest part is waiting for that pitch and staying focused and ready."
To keep that focus, Cochran has a straightforward approach to the game.
"When things are going really well, I'm not thinking about much -- just see the ball, hit the ball," Cochran said. "When I am on deck, I clear my head and get into that mentality. That is when I think about the type of pitches [the opposing pitcher] is throwing and what is working for her."
Cochran has to adjust when she realizes a pitcher is not going to throw her a strike.
"My mentality has to change because obviously I can't be too aggressive or stupid-aggressive on pitches clearly out of the strike zone that I can't drive," she said. "That is when I have to be patient, take my base and run the best I can. I'll let my team come behind me and hit me in."
Being one of the most prolific and deadly hitters in the game, it would be easy for Cochran to feel pressure to perform at the plate, especially when the pitcher is throwing her some good pitches. However, Cochran is confident in her team and does not let pressure get the best of her.
"I feel like if I don't get the job done, my teammates will," Cochran said. "Everyone is consistent, one to nine. It seems like there is a new hero everyday."
If her teammates are heroes, that would make Cochran a softball goddess. Just ask the 18 pitchers she has taken deep this year.