Weekend recap: Penn State-Virginia
August, 24, 2009
08/24/09
12:32
AM ET
STATE COLLEGE, Pa. -- Ang Lee, director of the upcoming "Taking Woodstock," likely won't chronicle it 40 years from now, but a horde of humanity descended on this otherwise pastoral backdrop over the weekend. Instead of a music festival, thousands of parents, who were themselves probably in diapers for Woodstock, dropped off their kids during move-in weekend at Penn State.
But for freshmen soccer players, orientation gave way to this: No. 12 Penn State 1, No. 9 Virginia 0.
Welcome to college.
"I think it was a typical first game of the season," Penn State coach Erica Walsh said. "Lot of jitters, especially with the young players, lot of excitement and building blocks."
[+] Enlarge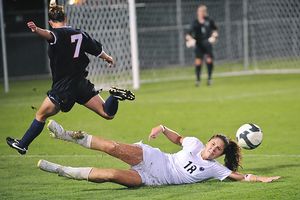 Mark Selders/Penn State Lexi Marton (18) proved herself as a defensive presence in her first game as a Nittany Lion.
Nittany Lions junior Danielle Toney scored the game's lone goal early in the first half on an end-to-end run off an errant Virginia corner. But despite some strong veteran performances, a game with October intensity and August execution was also a showcase for new faces.
Midfielders Christine Nairn and Maddy Evans and defender Lexi Marton began their Penn State careers in Walsh's starting lineup. Virginia coach Steve Swanson started freshmen midfielder Julia Roberts (who can take solace in knowing Colorado basketball standout Brittany Spears hears worse jokes) and defender Morgan Stith, who is one of four new defensive starters.
Marton may have been the lone new piece in a Penn State defense that included senior goalie Alyssa Naeher, senior fullbacks Maura Ryan and Tara Davies and sophomore central defender Emma Thomson, but she didn't look it. Marton marshaled her elders when needed and urged the bench to get louder during Virginia's last-ditch surge. Even when she flirted with disaster, putting in an aggressive tackle in her own box in the second half, she did it confidently and without incident.
"She's obviously a huge heading presence for us," Walsh said of the 5-foot-11 Canadian. "She organizes -- I mean to have a freshman back there who talks and organizes, you just don't find that very often. And because she has international experience, I think she feels comfortable doing it."
Swanson also singled out Marton's strength in the air. It's something that's obviously the product of her size, but also her rise through the Canadian youth national system.
"Coming from Canada, I think we play more of a fast, forward and aggressive style, whereas the American game tends to be more possession and balls to feet," Marton said. "So I need to adjust to defending people dribbling at me rather than the ball's always in the air."
On the opposite side, Swanson was pleased with how his team responded in the second half, especially given all the new faces. Stith, in particular, showed plenty of skill to offset freshman jitters and looked like someone who could anchor a back line, much as a raw group of starters in 2005 matured into last year's star-studded quartet of seniors.
"We came here with that 2005 team, and we got beat 5-2, I think," Swanson said. "So I'm not comparing scores, but I thought this group looked in many ways a lot more -- even though we've got a long way to go -- they're a little further along. It's just a matter of giving them time to gel; that's all. I'm not going to push the panic button."