Camp Randall Hockey Classic Preview
February, 5, 2010
02/05/10
11:08
PM ET
MADISON, Wis. -- Boys will be boys, especially when an authority figure isn't around.
So it really shouldn't have been a surprise that after Michigan hockey coach Red Berenson walked down the tunnel leading to the team dressing room inside Camp Randall Stadium early Friday evening before the Wolverines' practice time had ended, his players made creative use of the rest of their ice time.
[+] Enlarge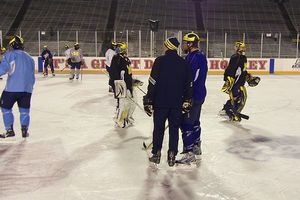 Courtesy David AlbrightMichigan coach Red Berenson talks to Brian Lebler during Friday's practice at Camp Randall Stadium.
One by one they took turns from center ice and tried to launch a puck over the glass and through the goalpost at one end of Wisconsin's football stadium.
A loud ping off the upright by freshman Chris Brown was as close as the Wolverines would get to a field goal on the eve of Saturday's Camp Randall Hockey Classic between the Wolverines (16-12-1) and the Badgers (15-7-4).
A crowd pushing 60,000 is expected to watch these two Big Ten schools skate on the temporary ice surface, which could make it the third largest crowd to watch an outdoor hockey game in North America since 2001.
The Cold War game at Spartan Stadium drew 74,544 when Michigan and Michigan State skated to a 3-3 tie back on Oct. 6, 2001. And the inaugural NHL Winter Classic between Pittsburgh and Buffalo had 71,217 in Ralph Wilson Stadium on Jan. 1, 2008 to witness a 2-1 Pens' shootout victory.
With 53,000 tickets sold as of Friday afternoon, it's already guaranteed to be the No. 2 college draw in history, ahead of Wisconsin's first outdoor venture at the Frozen Tundra Hockey Classic in 2006 at Green Bay's Lambeau Field (40,890) and last month's Frozen Fenway game between Boston University and Boston College (38,472).
"I think it's another big step forward for college hockey in terms of the exposure, the quality of the game and the players," Berenson said. "It just shows you the importance of college hockey and how the exposure now is better than ever. To be able to draw over 50,000 for a college hockey game is pretty impressive."
Regardless of Saturday's final turnstile count, the next outdoor game on the college hockey schedule should surpass them all as Michigan has already announced it is hosting in-state rival Michigan State in a game that's being billed as "The Big Chill at the Big House" next Dec. 11 at Michigan Stadium (capacity 106,201).
But first things first.
You could argue that the novelty of the outdoor game may be wearing off, but the importance of Saturday's matchup -- regardless of the setting -- should not be underestimated.
[+] Enlarge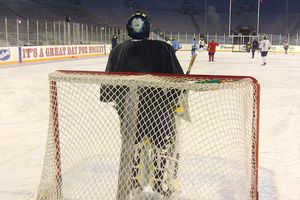 Courtesy David AlbrightThe Wolverines experienced a great day for hockey inside a football stadium.
Michigan currently finds itself very much on the outside looking in with the NCAA Tournament less than two months away. Entering Friday's action the Wolverines were No. 20 in the PairWise rankings, which barring a CCHA title and automatic bid wouldn't get them into the 16-team national field.
The Wolverines beat the Badgers 3-2 in Ann Arbor back in November as part of the annual College Hockey Showcase. Another victory over Wisconsin -- No. 3 in the PairWise entering the weekend -- would give Michigan a three-game winning streak with seven games remaining before the CCHA Tournament.
"This game has not been a highlight game on our schedule -- compared to the [outdoor] game next year," Berenson said. "But now that we're here you realize it's a highlight game."
Both teams tested out the Camp Randall ice, boards, glass, etc. for a mix of practice, "play" and amazement at the surroundings. Reviews of the hockey part of the facility were positive. It will be interesting to see what one of the best college football environments delivers for another sport on Saturday.
"I don't think there were jitters; I think it's just more of the wow factor," Berenson said. "This is awesome. So I think they got that feeling out of the way. We know there's a big hockey game on the line. We've played both Miami and Wisconsin and Wisconsin impressed me as much as any team we've played. We didn't just come here for the wow, we came here to play."
The fans in the stands should get a dose of wow and play from the boys on Saturday.